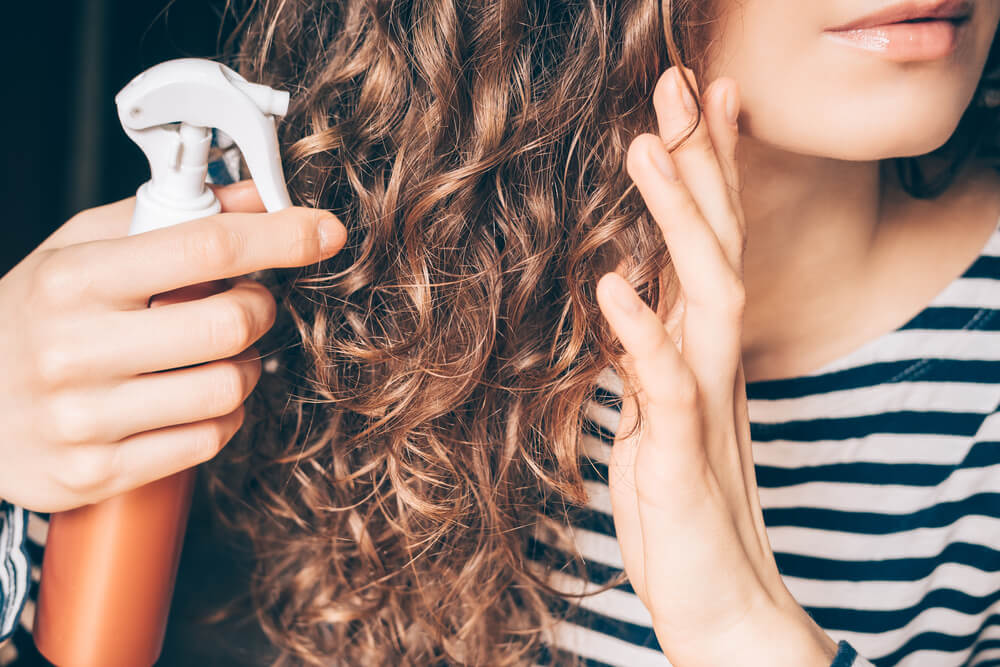 Anybody who has curly hair knows intimately the challenges of trying to maintain healthy-looking, gorgeous locks. Every day can be a fight to try and tame your beautifully unique head of hair. Sometimes, finding ways to manage your curls in a stylish, but the health-maintaining way can be a real challenge! Thankfully, there are some tried and true methods and products that can help you to stop fighting against your curls and start embracing their natural beauty. 
Healthy Hair Starts In The Shower
Healthy hair begins in the shower. 
While people with naturally straight hair may get away with washing their hair more often, experts recommend that people with curly hair refrain from over-washing with harsh products. This could potentially strip your hair of natural oils and cause dehydration. 
Overwashing curly hair can be especially dangerous, resulting in fragile hair susceptible to breakage and split ends. 
Also, when your hair is dry, your curls can not maintain their natural curl pattern. Dry hair equals a frizzy, unruly, tangled mane that defies any efforts to be controlled.
If you feel like you're losing the battle with your hair, don't lose hope just yet!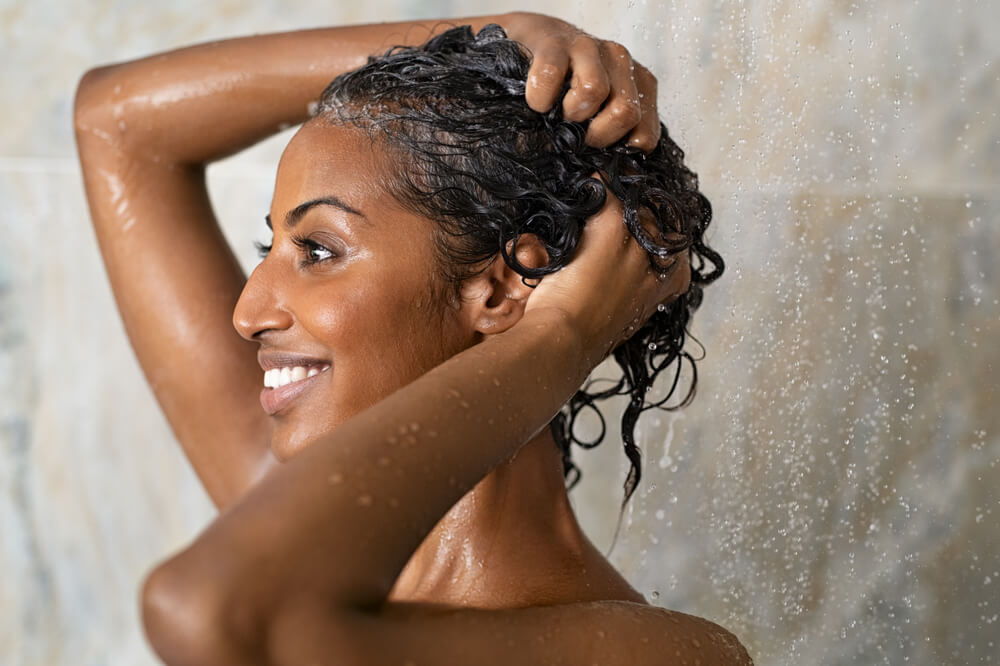 Washing your hair a few times a week with a nutrient-rich moisturizing shampoo can get you on the right track. The Evalectric Moisturizing Shampoo provides the resources your hair needs to thrive. 
What makes this shampoo different from others? Well, let's take a look… 
Enriched with Argan oil and plant proteins, this product comes alongside your own natural curls to leave them feeling fortified and protected thanks to hair-loving ingredients.
Hydration from the roots of your hair to the tips can help prevent the appearance of static and calm the look of frizz that makes detangling and styling so difficult.
You can also try washing your hair with a cooler temperature of water than usual. Hot water can inflict damage to the cuticles of your hair drying it out even more.
Of course, we can't skip out on this essential haircare product…CONDITIONER
The Evalectric Moisturizing Conditioner has a unique combination of ingredients that not only work together to nourish your hair but also deliver abundant moisture to the areas that need it the most.
When applying any product to curly hair it is important to be gentle and avoid "raking" by using the closed-hands (or praying hands) method. You may choose to comb your hair in the shower with a wide-toothed comb before rinsing the conditioner out to make the detangling process easier and less painful.
Your hair can also be rinsed with cold water upside down to avoid flat spots and for added volume and bounce! 
Post-Shower Routine
Now that you are out of the shower with freshly moisturized hair, what are the next steps? 
Styling can easily be the most difficult part of your routine because all of the nurturing you just accomplished in the shower can be undone by not taking proper steps to protect your locks. Curly hair is the most challenging of hair types because of its fragility, especially at this point. Even drying it wrong can affect its health!

Step One
Do not wrap your wet curls in a towel! This can disrupt the natural curl pattern.
Remember to "scrunch" gently instead of "scrub" while drying with a towel. Use a smooth towel such as one made from microfiber material or even an old t-shirt. Another tip to remember is…
If you want to straighten your hair when you style it later, avoid scrunching as this shapes and adds definition to your curls. Instead, wipe or squeeze lightly.
It is ok to leave your hair damp while adding a leave-in treatment. If you have the time to air dry, utilize it because that can help prevent frizz as well.
If you choose to dry with a hairdryer, be sure to use a diffuser. This handy device spreads out the direct flow of heat generated by the hairdryer and creates less friction. Knowing how to handle your tools correctly can help even out your curl pattern. 

Step Two
Use a wide-tooth comb or your fingers instead of a brush to get any knots out of your hair without damaging the curls.
Brushing separates already frail strands and puts unnecessary tension on the weakest points of the curl. This could be more destructive than productive, not to mention causing static and frizz.
Be sure and start at the tips of your hair and work your way towards the roots, working out any troublesome areas a little bit at a time.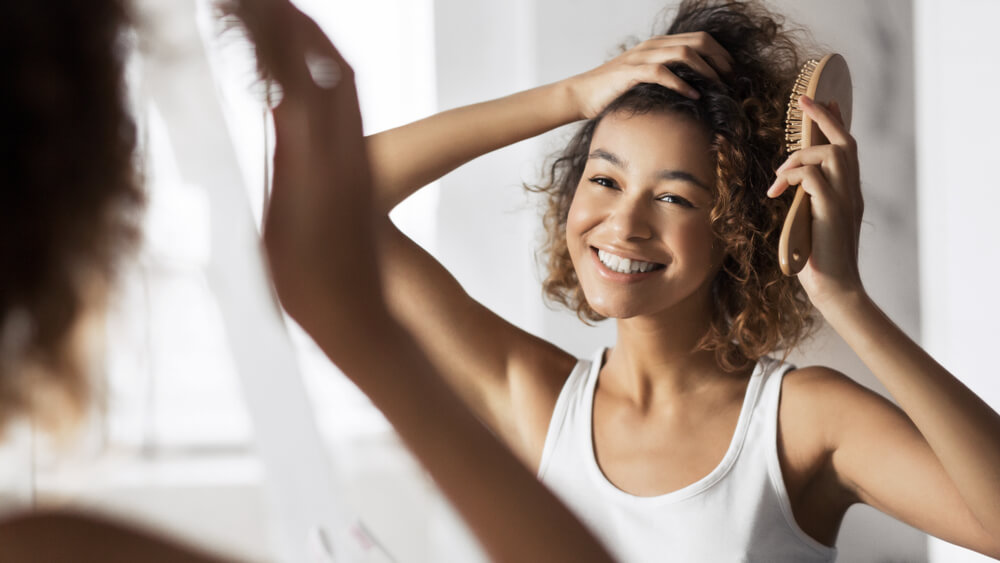 Step Three
Avoid gels and sprays that can leave you with a dry and crunchy after-effect. Instead, go for serums that keep your curls looking healthy and fresh.
The Evalectric Hair Serum can give you hair that looks soft and glossy while not being too heavy or greasy. This serum can be applied to damp hair before administering any heat to seal the look of sneaky split ends that you might have. The effect is reduced fluffiness in exchange for hair that looks shiny and beautiful.  Work the product evenly throughout your hair to ensure each strand is fully coated. 
Step Four
Once your hair is carefully dried, you can style it in any way you desire. It should be much easier to work with once it is feeling thoroughly nourished and healthy.
You might think that you don't need a curling tool if you have curly hair, but many people have discovered they can refresh the look of their curls with a curling wand.
Evalectric supplies a selection of professional curlers that work great with any type of hair. The clipless design, paired with the Teflon-coating creates smooth-looking natural curls while minimizing damage.
Choose the size you need to match the dimensions of your own curls for a natural look. Easily perk up flat spots and add body to just the right areas with any of these tools. More and more people are embracing the look of their natural curls and having the knowledge of how to maintain them is vital to enhance their beauty and splendor.
Step Five
After the day is done, your curls have been through a lot. To keep on track with sustaining your hair, a nutritious hair mask can be exceptionally constructive.
The Evalectric Hair Mask is infused with Argan oil and Vitamin E and is perfect for even the most delicate or over-processed hair. Massage a generous amount into your hair and scalp. Allow 5 to 8 minutes for the mask to fully permeate the layers of your hair before rinsing.
The result will be hair that feels strong and healthy.
Extra Styling Tips
Braiding
If you want to change up your look, plaiting or braiding your curls is a fun styling option with a lot of variety available. Braids can be used to protect your curl pattern during summer heat and humidity or strenuous activities, all while keeping your hair looking on-trend and out of your way! 
An additional benefit that plaiting can give is to lock in moisture from applying a serum or protectant. If your hair is particularly hard to braid, try honing your skills when your hair is unwashed or damp.
Work with your curls instead of against them by taking whole curled locks into the sections instead of trying to separate them (be sure to use a gentle hair tie to secure your braids). 
The texture of your hair might make it more difficult to learn how to create the look you desire; however, the benefits make taking the time to practice worth it! 
Your braids may not look perfectly neat because of the character of your hair, but you have the benefits of volume and texture. So, you can use that to your advantage to create a unique look that embraces your individuality. 
Straightening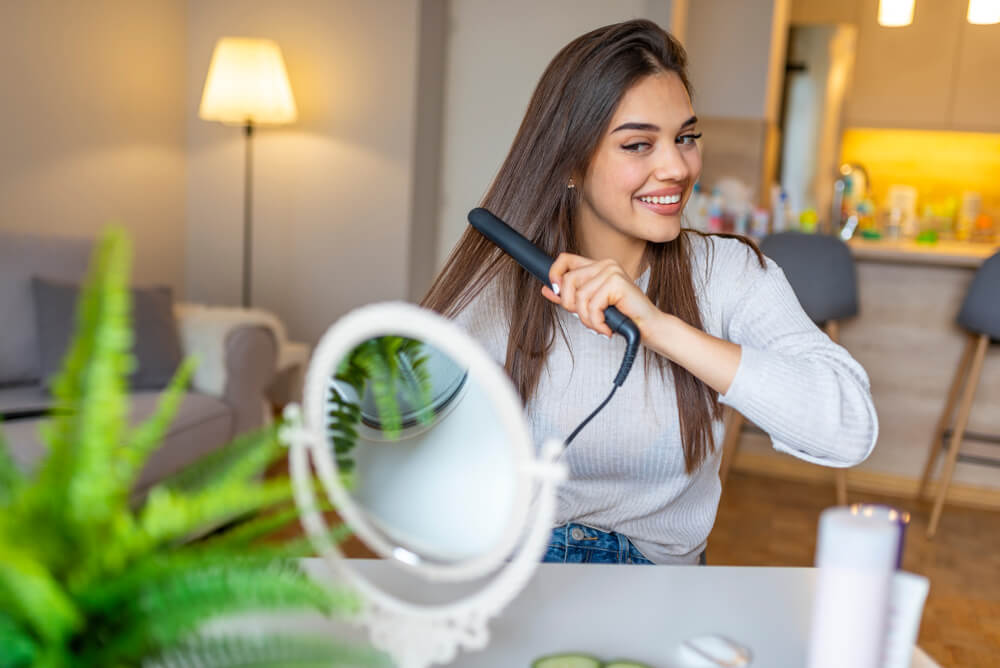 If you are wanting to straighten your curly locks for a special occasion or to add a little variety, there are a few tricks and tools you can take advantage of to try and fend off undoing all the work you have been performing to repair the appearance of your hair. Take the same steps as above, preparing your hair properly to guard against heat damage.  
Once you are ready to dry with a hairdryer, the process changes from the steps it takes to keep your hair's natural form. 
The most effective way to begin the straightening process is to section your hair into small segments and brush the pieces slowly in a descending direction with a round brush.
Do this while pointing the blow drier downward to refrain from creating flyaways.
Be sure and hold your hair dryer at least six inches away to keep from applying too much heat. Evalectric Hair Serum can be used before and after drying and straightening. Remember, a little goes a long way!
Next comes the fun part…
Using a flat iron should not be frustrating or frightening. If you are having difficulty getting your hair to respond to the straightener or it seems like too much, you might be using the wrong type.
Straighteners like Evalectric's line of Titanium plate flat irons are excellent options for curly hair. The floating titanium plates hold and distribute the heat evenly, granting your hair the sleek frizz-free look you crave. Having the right straightener can make styling considerably more enjoyable (or at least, less tedious).
When you invest in a quality straightener it can last a long time, even for those who straighten their hair often. 
You might be tempted to get a large flatiron because it might seem to be faster, but anything bigger than one and a half inches begins to be ineffective.
Try to only go over any of the sections once. To keep from searing and causing irreversible damage to your hair, make sure it is completely dry and try not to move too slowly. It may not even be necessary to have the heat on the highest setting. Start low and work your way up to see what the least amount of temperature is needed.
After you have gone through the work of straightening, you will probably want to maintain it like that for as long as possible. Just like over washing, administering that amount of heat to your hair every day for a long period of time could cause major damage that leads to split ends, frizz, and dullness. 
To keep your hair looking nice without injuring it you can do several things…
Use dry shampoo on the roots to keep your hair from appearing oily.

Avoid moisture. This will cause the curls to crimp up again so shy away from getting your hair wet again. Wrap your hair up and use a shower cap while showering and bathing to keep the humidity from getting to your strands.

Applying

serum

daily can help keep it looking smooth and sleek. 

Carefully touch up any areas that may have curled again. You won't have to do the entire procedure all over again, only the small pieces that need it!

When you go to bed, you can tie or wrap your hair in a scarf or relaxed bun to ward off your bed head or tangles.  
Go Get Your Dream Curls
Knowing what type of curls you have can help you to understand what products and tools are best suited to your unique head of hair.
Experts have been studying the nature of hair types and what works best with each one. This is great news for you! Even if you have the most challenging type or a combination, knowing what would work best for your individual needs is valuable information. 
---