The Secret to Shiny Hair: 17 Expert Tips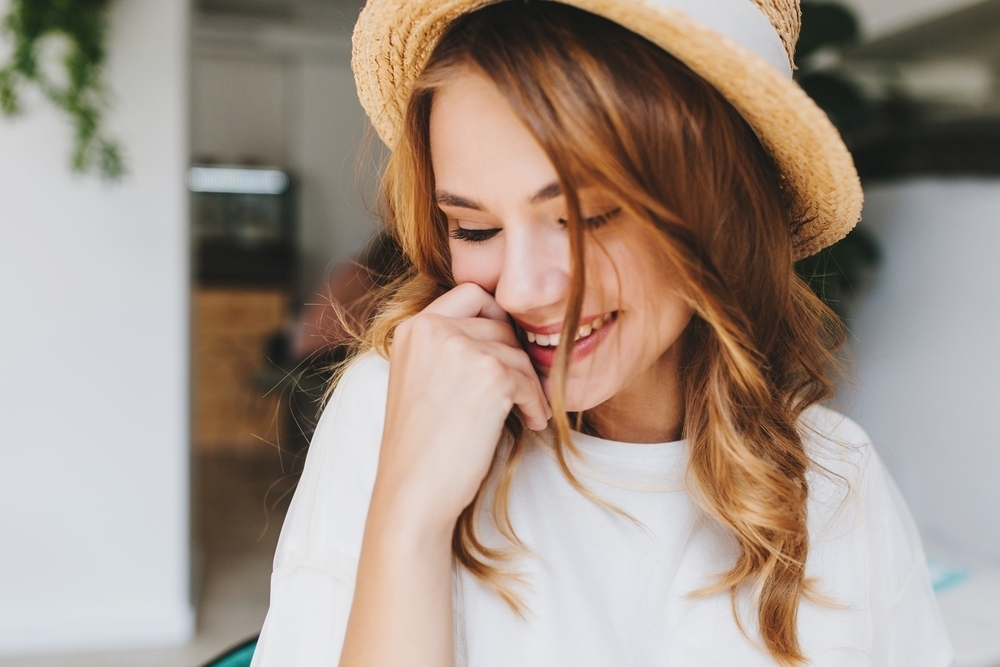 It seems everywhere we look these days we're being told to shine.
Whenever we feel down, we just look at our coffee cups/ tattoos/ mobile apps and find an inspirational message that gives us the strength to hold our heads up and keep glowing on. If only it was so easy for our hair. No matter how many times we encourage our hair to shine on, persuade it to shine, or convince it that it was born to shine, it doesn't respond to our positive energy. 
Unfortunately, as we've discovered, it takes more than positive vibes to make our tresses as shiny as our radiant personalities, and our hair whispering days are over. Now that we know what it takes, we're going to save you the trouble of finding out the hard way. Here are some tips to make your hair shine effectively with a little less talk and a little more action.
Washing Your Hair the Right Way
Lather, rinse, repeat. How could you possibly go wrong with that?
Could it be that even our most trusted Pantene bottles have been misleading us for all these years? For the healthiest locks, begin by rinsing them in the shower. Next, squeeze a quarter-sized amount of shampoo onto your hand, rub it on the roots of your hair, and begin to massage gently. Don't worry about the ends or the repetition.  Rinse your hair and condition it from the mid-length to the ends, allowing the conditioner to sit for a few minutes and give it another rinse. 
And BTW, the "expert" advice about how your hair will look extra shiny if you give it a final cold water rinse? That's so last year. Don't even worry about gritting your teeth for that unhappy ending to an otherwise relaxing shower. Just remember to dry your hair by squeezing it gently with a towel. Rubbing it too vigorously will cause damage and strip your hair of its brilliant shine.
Bonus Tip: If you have light hair, it will look its shiniest right after it's washed. If you have dark hair, it will hit its peak luminosity one day after a deep condition.
Blow Drying Your Hair the Right Way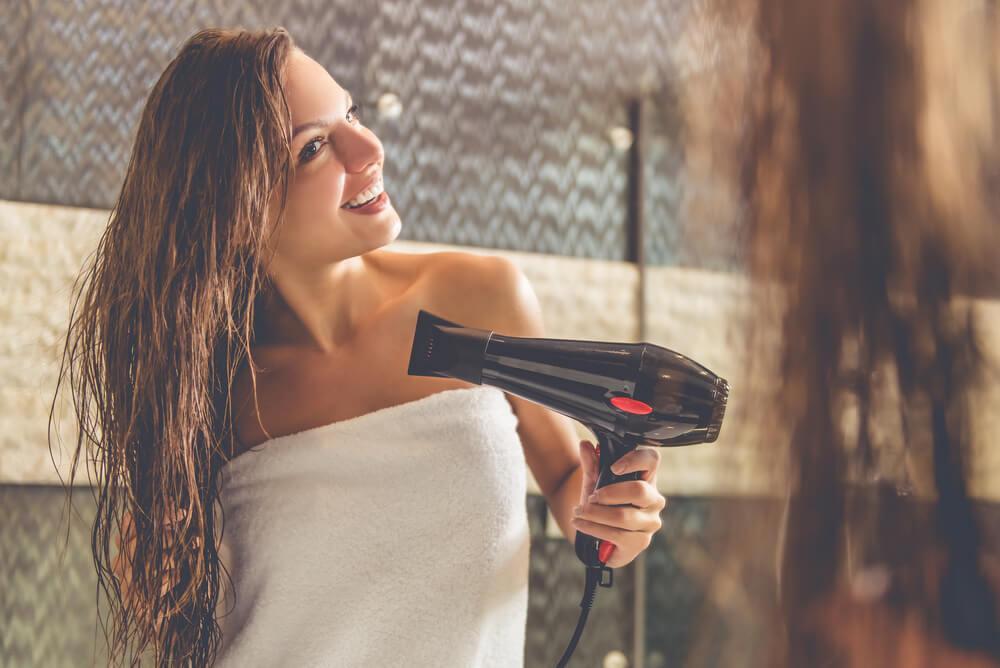 We always thought it was an aim and shoot type of thing, but apparently, we were mistaken. To blow-dry hair for maximum shine: 
Hold the blow dryer a few inches from your head to moderate the heat level.
Blow-dry from root to end in the direction of the cuticle and keep the brush moving while doing so. 
The fluid, continuous movement will flatten the cuticle, resulting in shiny hair.
Use a Clarifying Shampoo (in moderation)
Let's get one thing clear. Your hair is full of crap. That is, it's full of the dirt, grime, and other atrocities that build up during the course of the day (dry shampoo and product among the "usual suspects"). It makes sense that our hair needs some help in the cleaning department.
That's what clarifying shampoos are for…
They strip out all that gunk and leave your hair au natural. However, use that clarifying shampoo too much, and it will start stripping the naturals oil out of your hair as well, so keep it down to once a week at most. 
Expert advice: Aveda's global artistic director, Ian Michael Black, advises following up a clarifying shampoo with a deep conditioner.  
Argan Oil is the New Shimmering Spray
All that glitters is not necessarily gold and all that shimmers is not necessarily healthy hair. While it may seem like a shimmering spray would be the go-to for shining up those tresses, it may be doing more harm than good. Many hair sprays that seem to have glow-tential contain mica, a mineral that will shine up your hair in the long term but ravage it completely in the long term.
Instead, use argan oil, which will make your shiny and improve its texture as well.
Massage Your Scalp with some Vitamin E
On your next Whole Foods run, head over to the vitamin aisle and toss a bottle of Vitamin E capsules into your cart. When you get home, snip the ends off of about a dozen of them and squeeze the oil into a small bowl. Give yourself a pre-shampoo massage using the (admittedly sticky) substance. According to experts, Vitamin E boosts circulation to the scalp, and massaging your scalp with the oil will strengthen your hair, leaving it looking shinier and healthier. 
Treat Your Hair to an Overnight Shine Boosting Mask
These masks give a new meaning to the phrase rise and shine. Before going to sleep, coat hair (lovingly) in a nourishing mask and sleep with a towel over your pillowcase. Coconut oil works wonders. Massage it into your hair from the roots to the ends and pull it back in a ponytail or braid to keep it away from your face while you're sleeping. Shampoo it out in the morning and skip the conditioner.
Eat Some Omega-3 Fatty Acids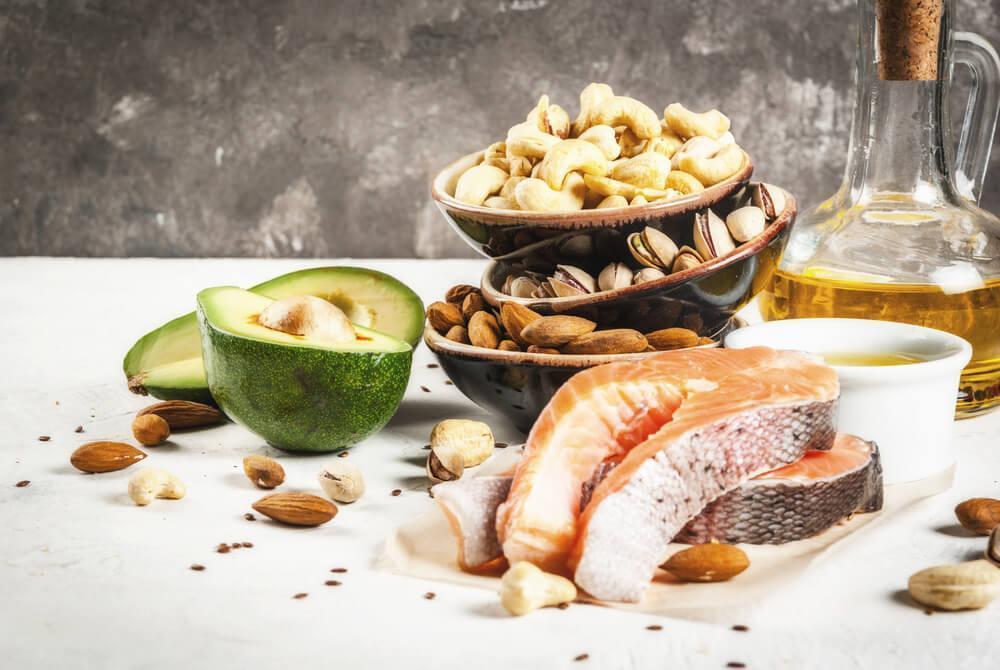 Order some extra anchovies on that pizza. Not only does pizza crust contain omega-3 rich grains, but anchovies also top the list of sources of omega-3s, and boy, do those omega-3's make your hair luminous. Egg yolks and salmon are also excellent sources of Omega-3s, so eat those as your mama told you how.
Leave A Little Extra Conditioner in those Curls
When your hair is straight, the natural oils go from your scalp to the ends of your hair like a Freefall ride in Six Flags. When your hair is curly, it's more like a roller coaster.  With all those twists and turns, the oils have a difficult time working their way down your hair, which can leave it dry and dull-looking. To bring some shine back to your curls, leave a little conditioner in when you're done with your shower. Not only will it soften your hair, but it will also make hair easier to brush through when it's wet. (Brushing wet hair can damage it, so try to do this when you're fresh out of the shower).  
Bonus Tip: For the glossiest results, add a touch of gel to the clumps in your natural curl and let your hair air-dry.
Use Mousse To Keep It Loose
No longer is mousse the product stigmatized by boy bands and bad eighties synth-pop bands. The new mousse is a real shine booster, especially if you dilute it with a little bit of serum. The serum softens the effect of the polymers in the mousse, reducing the hold for a natural shiny look. 
Use Your Styling Tools (Responsibly)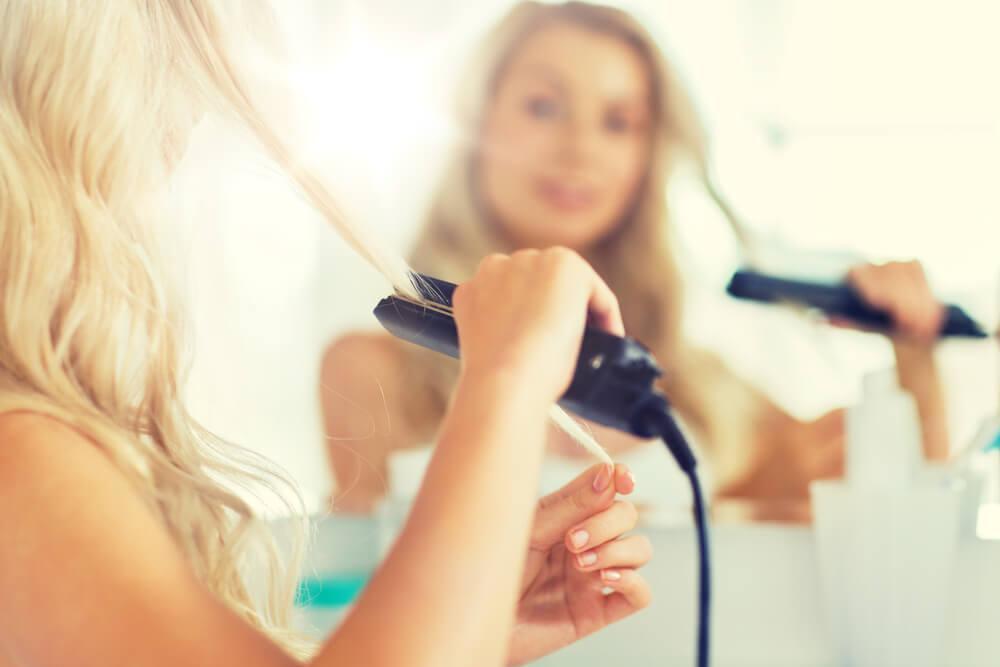 No, those hot styling tools are not going to destroy your hair, but you may want to use a little protection. Using those flat irons, blow dryers and curlers on the regular can dry your hair out and leave it looking less than shiny. So, before things get too heated, try talking to your stylist about a protective product that will work with your hair type.
Be the Ionic Woman
Take the power back over your dull, dry hair by using an ionic blow dryer. Ionic blow dryers produce negative ions that break down the positively charged water molecule. These negative ions don't open the hair shaft, so hair remains sleek and smooth. 
Bonus tip:  Never neglect the nozzle (attachment).  Its sole purpose is to enhance shine and smooth strands. 
Stop Shampooing Your Hair Every Day
Say poo-poo to your shampoo. According to Sally Hershberger's hairstylist, Will Francis, washing less preserves the shine by allowing the natural oils in your hair to do their job. He advises limiting your shampoo to two to three times a week.
Consider Your Cut
If you're going for gloss, think twice about that bedhead look.   According to Mancuso, "simple is usually the shiniest. The more uninterrupted hair surface you have, the more reflective the plane is going to be." Razor haircuts and cuts that involve thinning shears also break up that surface, reducing the amount of light bouncing off.
To take off bulk without losing shine…
"Have your stylist add layers in the under the section that's not visible, so the hair maintains its shine."
A Natural Bristle Hairbrush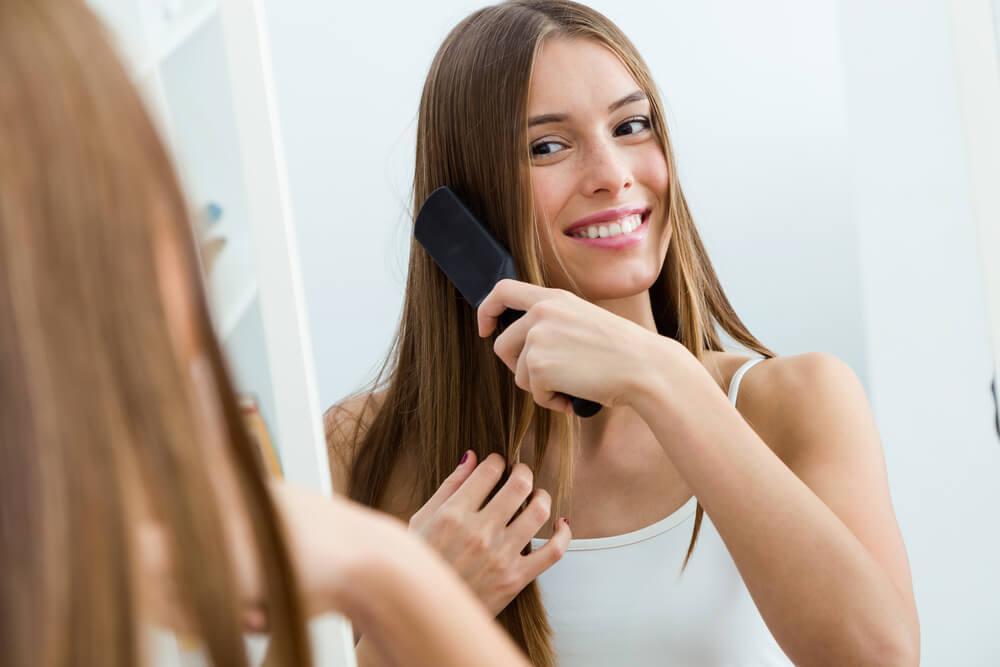 Shampoo commercial models have you bristling with envy? Why not have a brush with something natural?
To get the glossiest results, use a 100% wild boar hairbrush (humanely sourced, of course). The rough, stiff bristles will draw the natural oils from your hair for a lustrous and radiant shine. The brushes also earn bonus points for making fine hair appear thicker.
Keep Your Styling Simple
Now that we know that interrupted surface is so not the road to shiny hair, apply it to your styling. For example, if your hair is curly, the best advice is to leave your ringlets intact as opposed to breaking them up. On the other hand, if your hair is straight and you want to give a little extra volume, use old-school Velcro rollers to create aligned zones that reflect light and involve less damaging friction than alternative methods.
Gloss Up Your Color
Dyeing to add shine to your hair? What a fabulous idea! If you want the secret to Emma Stone's shiny color boost, it's Redkin's EQ cream dye, a dye/conditioning formula containing pomegranate oil and rice protein. And if you're not ready to part with your hue just yet, there's a clear version of the product that adds luster without pigment. 
Increase Your Styling Speed 
While keeping the temperature low on your styling tool matters (keep it in the low 300's for fine or damaged hair), stylists know that the faster you move through your hair is equally important. According to celebrity stylist Kevin Mancuso, "most women move too slowly and press too hard, searing the hair." The prolonged heat exposure weakens your hair and leaves it prone to breakage.  For healthy hair, you want to "get in and get out. Use a smooth gliding motion where you work quickly to prevent hair damage, but not so quickly that you have to go back and do sections again. It's all about finding that sweet spot in terms of speed." 
---