9 Fun Hairstyles to Beat the Blues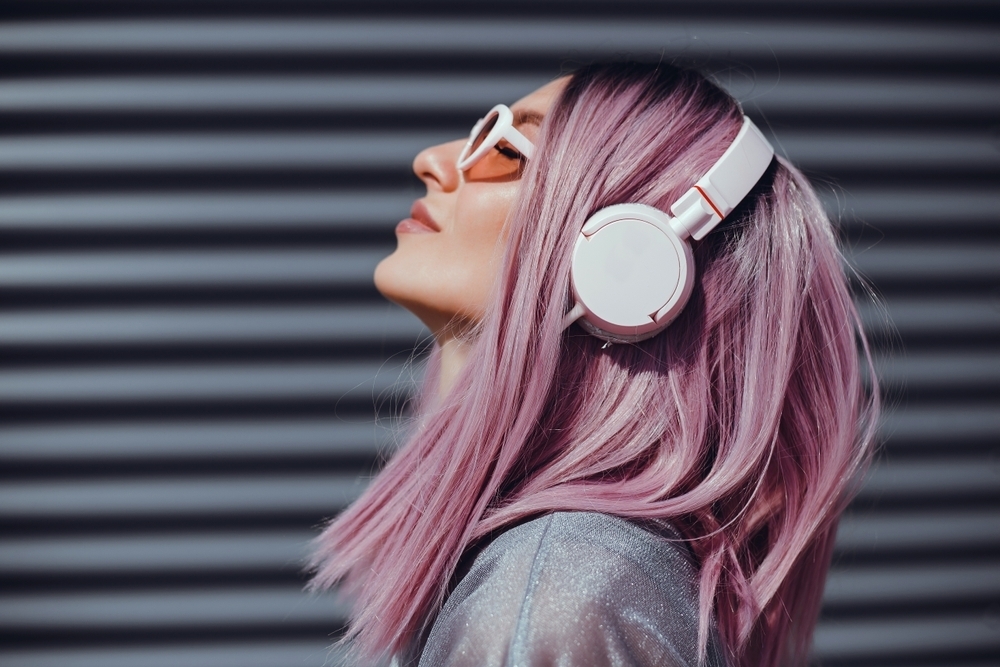 Have you been feeling down lately? 
Here are nine hairstyles that will help you to beat the blues and cheer you back up. 
Boho-Inspired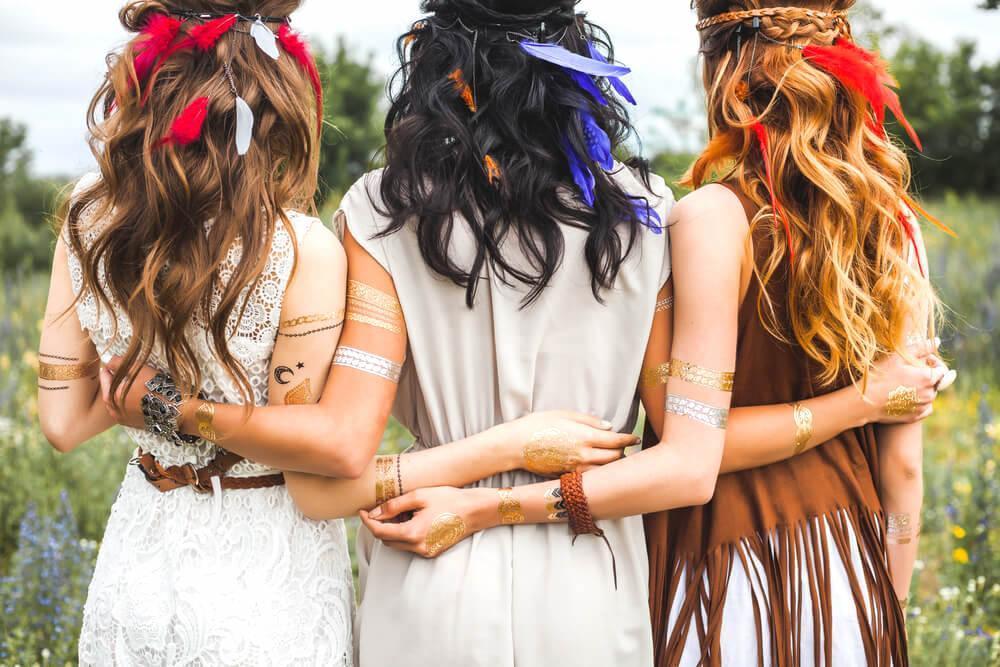 Boho-inspired hairstyles are so much fun and add plenty of color, interest, and vitality to an outfit. 
Boho-inspired styles tend to feature gentle waves, and these can easily be created with a curling iron. 
The trick to boho waves is…
Ensuring that you alternate the direction of the curls you are creating as you make your way through the different sections of your hair. 
Why? 
Because this makes the waves look so much more natural, and this is what the boho look is all about.
Once you are done creating your waves, decide whether or not you want to add in any braids. These can be placed anywhere on your hair you desire, whether you want a waterfall braid along the back or small single braids running through your hair. 
You can then move on to choosing hair accessories. Look for something with feathers, flowers, or beads, as these will perfectly complete your look. 
Glam Curls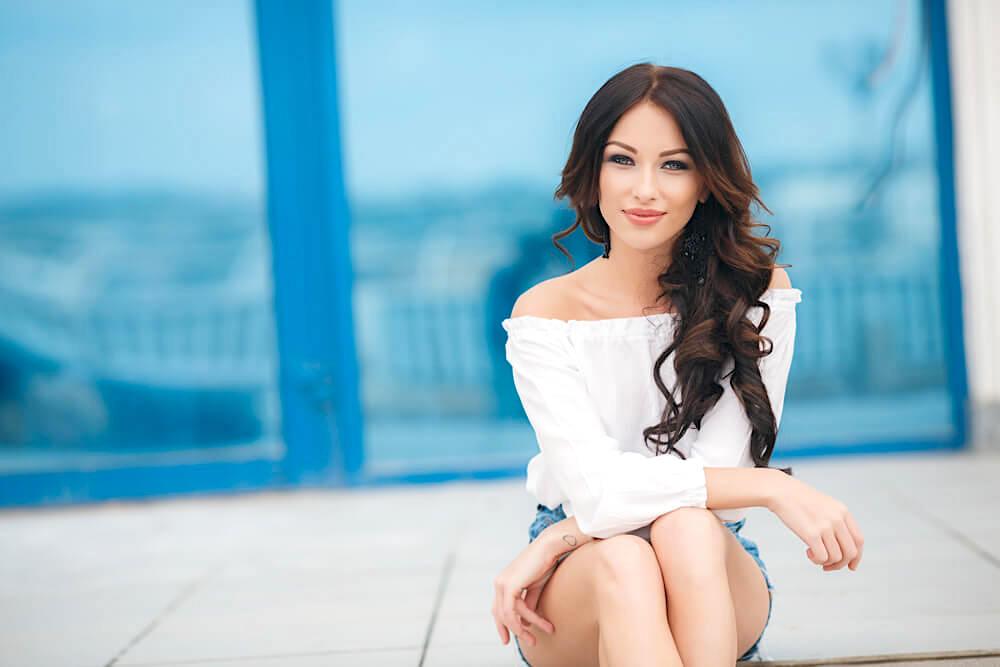 It's hard to feel blue when you have a head full of gorgeous, glamorous, bouncy curls, making this a style that will not only put a smile back onto your face but will also have you oozing with confidence. 
The most common way of creating these curls is with a curling iron, holding each section of hair around the iron for about 10 to 15 seconds, before releasing the curl and moving on to the next section. 
Don't have a curling iron? 
There are other ways in which you can give yourself glam curls, such as: 
With a flat iron 
By braiding or putting your hair up into a bun while it is damp, and leaving it to dry overnight before releasing it 
Using rollers 
Can't seem to get your curls to shine? 
The secret is to use a shine spray. If you don't have one, you could also try mixing equal parts of conditioner and warm water into a spray bottle, and giving your curls a spray whenever they start to look dull or limp.
A Bright New Color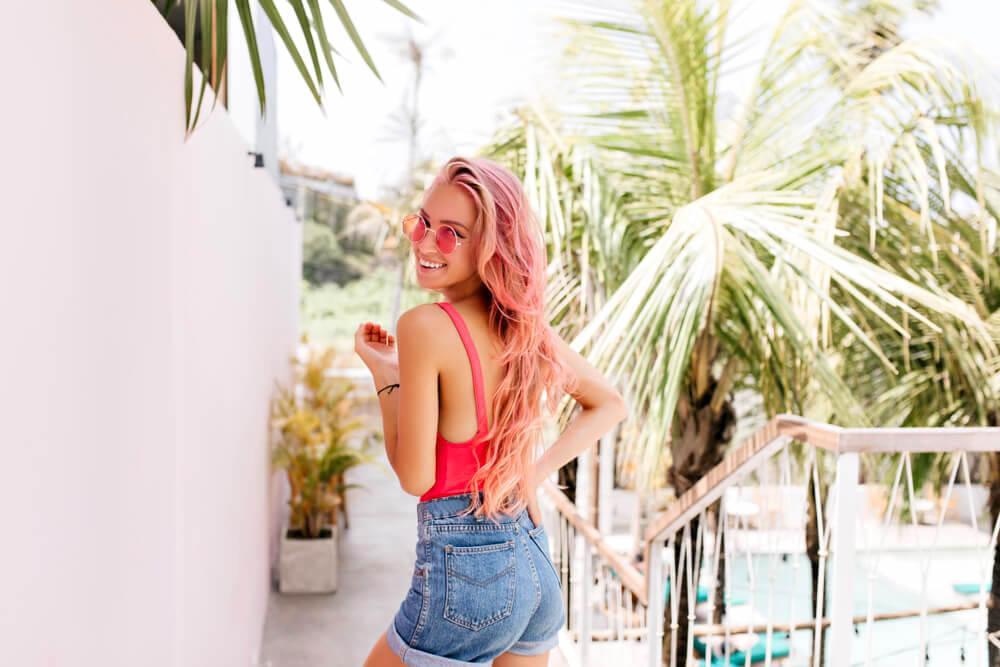 Giving your hair a new color can completely change your look, and this can be a fantastic way to get yourself out of a slump. 
If you want to make a statement…
Go for a more unexpected color, such as pink, blue or green.
Not sure if these would suit you? 
It all depends on your skin tone, as well as your skin undertone…
Your skin tone is the color that you see when you look at the surface of your skin, while your undertone refers to the subtle hue beneath the surface of your skin. It is easy to identify your skin tone, but determining your undertone can be a little more challenging. 
Here are a few guidelines: 
Warm Undertone: veins on the inside of wrists look green, skin tans before burning in the sun, eyes are brown, hazel, or amber
Cool Undertone: veins on the inside of wrists look blue or purple, skin turns pink or burns easily in the sun, eyes are blue, gray, or green
Neutral Undertone: veins on the inside of wrists are between blue and green
So, how do you match your hair dye to your skin tone and undertone? 
Here are some tips on what will suit you best:
Fair skin and cool undertones – light pink dyes and sunset tones, such as orange and strawberry. If you have freckles, peach could flatter your skin 
Fair skin with warm undertones – hues in shades of blue, from aqua to lavender, are perfect 
Medium skin with cool undertones – saturated and vivid tones are best, such as ruby or magenta
Medium skin with warm undertones – jewel shades, such as emerald, work well. If you are seeking something lighter, try dyeing your hair a jewel shade and giving it some time to fade 
Dark skin with cool undertones – vivid purples will flatter you. Pastels can also work, but try to include a blend of colors rather than just one 
Dark skin with warm undertones – deeper shades, such as ruby or plum, will work well for you
Scared to leap? 
Try going for a temporary hair dye formula instead, as this will give you the chance to see whether or not your chosen shade works for you. 
A Straight Bob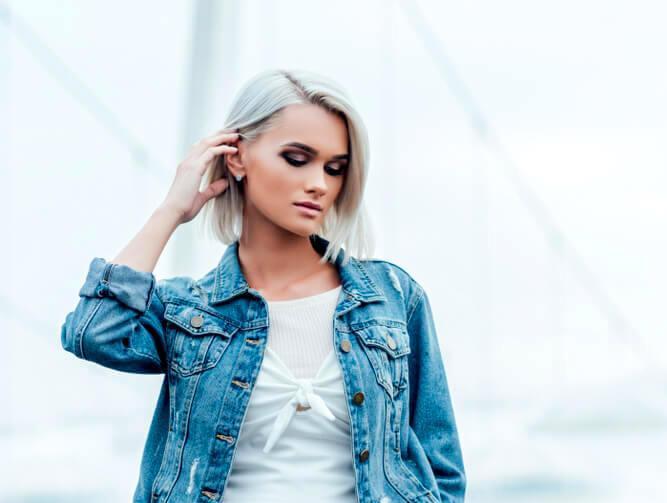 Going short can feel as though you have had the weight of the world, or your hair, lifted off your shoulders. It can make you feel so much lighter and freer, making this the ideal way to beat the blues. 
As you know, there are so many different short haircuts out there, but the most popular one is the bob. 
Why is this particular style so popular? 
Because it is simple and easy to maintain, yet still feminine and sexy. 
When it comes to the bob, hair can be either curly or straight, but straighter bobs tend to be more universally flattering. 
To ensure that your bob is well and truly sleek, it always helps to use a flat iron over it. 
Begin with wet hair and some heat protectant spray, blow-drying your hair until it is completely dry. 
Then, beginning at the back of your hair, straighten small sections of your hair, making sure that you are placing a small amount of pressure on each section as you run the flat iron over it. 
Do you have bits of hair that are too short to properly straighten? 
Don't worry, all you need to do is close the flat iron over those hairs, taking care to ensure that the iron doesn't touch your face. Hold it closed for a couple of seconds before releasing it, and you should find that those hairs are now straight. 
A Floral Headband
The great thing about floral headbands is that they can work with just about any hair type, texture, color, or style, making them so versatile. 
They make such a beautiful statement, and the sight of that gorgeous bloom will no doubt cheer your day up. 
Wondering about the placement of your headband? 
There is no right or wrong. Some choose to wear theirs lower down on their forehead, while others prefer wearing them further back on the head. Give some different placements a try so that you can figure out what flatters you the best. 
The Hair Bow Bun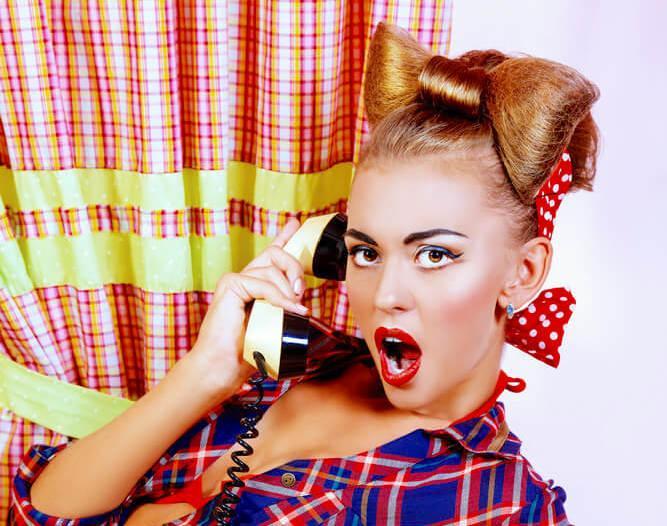 The hair bow bun is a ridiculously sweet hairstyle that you can't help but smile at. 
It is casual but looks as though it takes some time to create, even though it only takes about five minutes once you have mastered the style. 
Want to give this style a try? 
These are the steps to follow: 
Make sure that your hair is tangle-free, and then gather it all up onto the top of your head, making sure that there are no bumps anywhere
Use an elastic band to start tying a ponytail, but, when it comes to the last loop, don't pull your hair all the way through. Leave it to form a loop, with the ends of this loop pointing towards your forehead 
Split the loop into two even sections, before taking the ends of your hair back through the middle of these sections. This is to create the center part of the bow 
Tuck in the ends of your hair into the elastic behind your bow, so that they cannot be seen from the front 
Then, use your fingers to gently pull on the two loops, to create the main bow shape 
Finish off the style with a spritz of hairspray
Pigtail Braids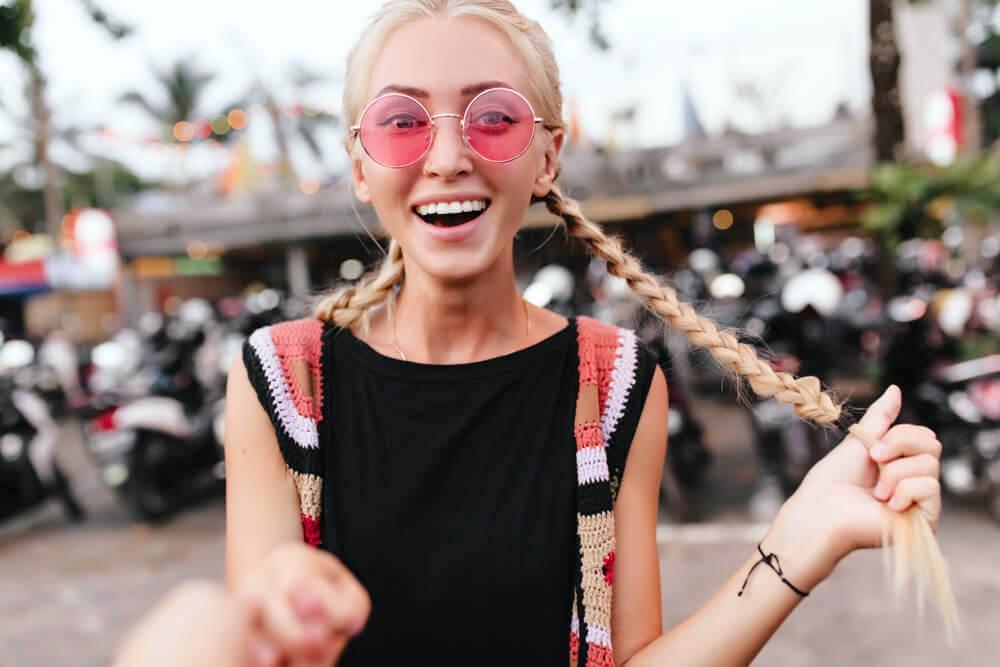 Pigtail braids have such a youthful appeal to them, and this will help to bring out your inner child, enabling you to see all the positives in the world around you. 
This is a style that can be customized, depending on the placement of your braids, as well as the type of braids that you decide to do. 
For fun and bouncy look, try placing the braids higher up on your head. If you would like something more sophisticated but casual, lower braids will work well. 
When it comes to the different types of braids out there, you have a few options for this style: 
Three-strand braid
Four strand braid
French braid
Dutch braid 
Twisted braid
Pull through braid 
If you aren't great at braiding, a simple three-strand braid should be easy enough for you to master. However, for those who want to give their braid more texture and complexity, give some of the other braids on that list a try. 
Wacky Wigs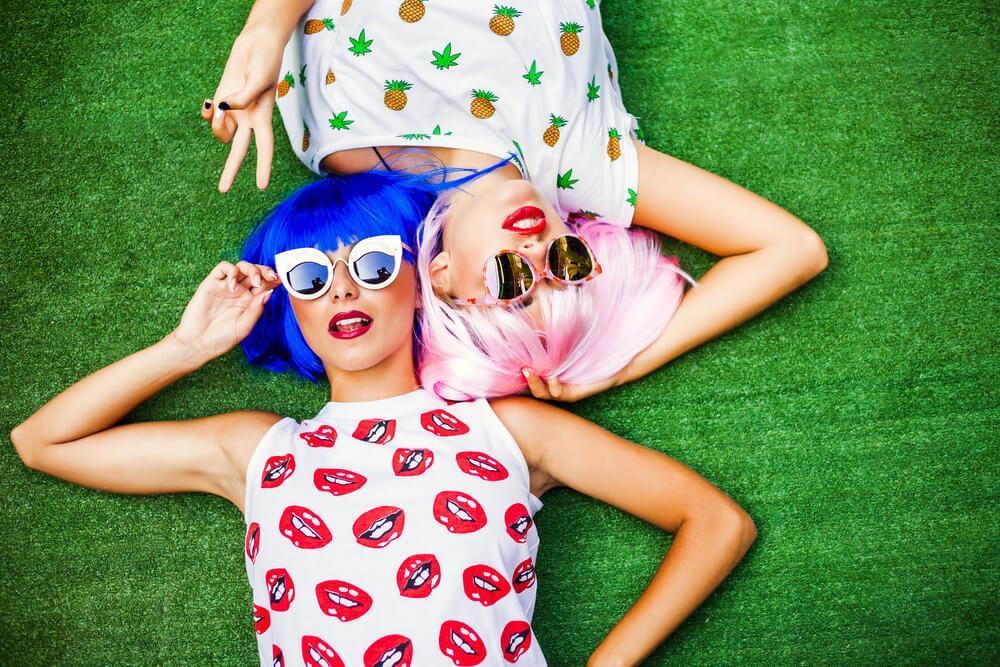 Countless celebrities have been wearing wigs lately, from Kylie Jenner and Kim Kardashian to Katy Perry and Gigi Hadid. 
Why?
Because they are such a fun and easy way to completely transform your look, without having to worry about making any permanent changes. 
Always wanted to give short hair a try? Or how about straight long locks, or even tight ringlets? 
Wigs enable you to enjoy all of that and more and can be so exciting to experiment with. Not only that but, when chosen correctly, wigs can help to balance your face shape and flatter your face. 
Never purchased a wig before? 
Here are the steps that are generally involved in the process: 
Choosing a hairstyle – there are so many available, from short to long, straight to curly, so spend some time taking a look at all of your options 
Choosing a wig size – while most wigs are adjustable to an extent, measuring yourself for the correct size will help your wig to look more natural 
Choosing a color – each wig hairstyle is usually available in a range of colors, giving you even more choice
You will also need to decide on a budget…
Some wigs can be quite expensive, but this only means that they are of a higher quality. 
Wondering how long your wig will last? 
Assuming that you are taking proper care of your wig, a synthetic wig will last for about a year, while a human hair wig can last for more than three years, making these quite a worthwhile investment. 
Long Bangs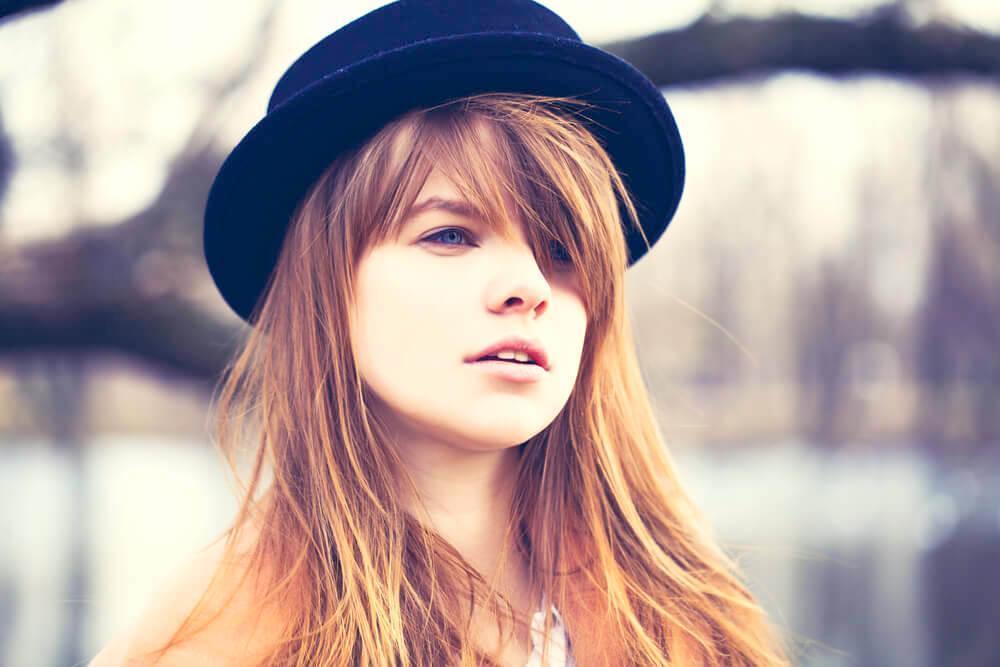 Long bangs can often feel as though you have some extra protection between you and the world around you, giving you the extra confidence you need to perk your mood back up. 
Compared to shorter bangs, long bangs can sometimes take a bit more time to style, especially if you don't want them to keep falling in front of your eyes. 
However, they look great with both a side and a center parting, and mixing up your part can transform how the bangs look. 
When it comes to styling your bangs…
Try not to apply too much product to them. This may seem like an easy solution if your bangs don't lie flat or frizz up, but this will only weigh them down and make them look limp rather than full. 
Regular trims are also important, and you will need to have your bangs trimmed every six weeks or so, depending on how quickly your hair grows. 
Tempted to trim them yourself? 
This is tricky but doable, especially with all of the handy tutorial videos out there that will teach you exactly how to go about doing this. 
Many people don't realize that their hairstyle can have quite an effect on their mood. However, you can now use this to your advantage and give one of these fun hairstyles a try the next time you are feeling blue. 
---