How to Deal with Frizzy Hair in 4 Easy Steps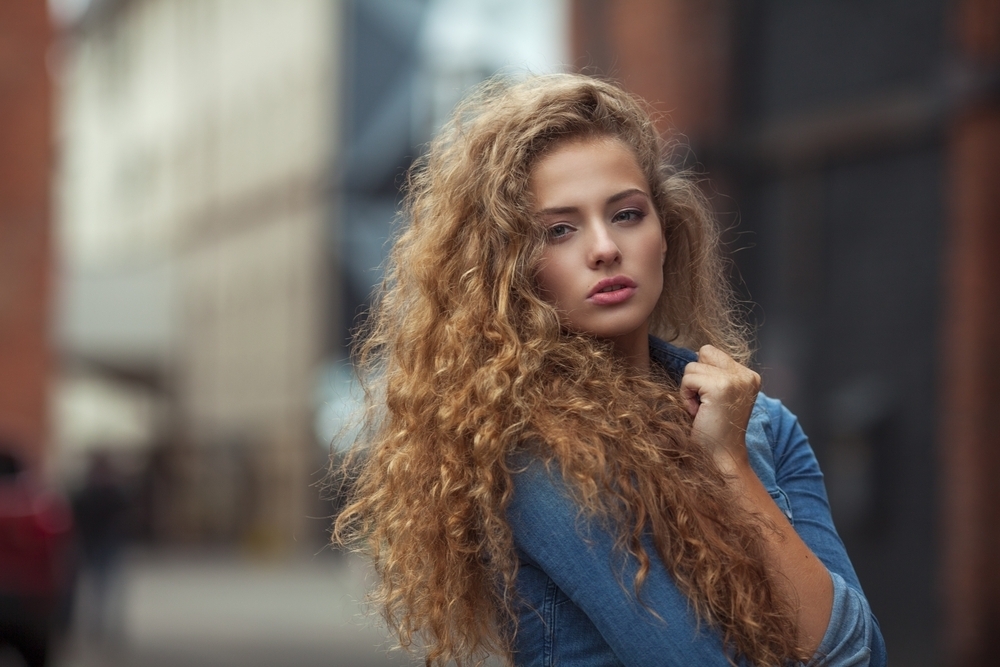 Unmanageable hair is depressing. In addition to the time that you spend on makeup and your outfit, no one wants to spend hours trying to do hair that won't just give in or even worse, spend the entire day fighting off stray and bulgy strands. That's frizzy hair for you. The good news is that you can deal with frizzy hair in 4 easy steps.
For you to do this successfully, it is important to note that frizzy hair starts with dry hair which is then made worse by the presence of moisture, yes, that humidity in the air could just be what is messing with your hair but just before you put on your boxing gloves to fight that frizz, you might as well learn how to keep your hair from getting there in the first place.
What Causes Frizzy Hair?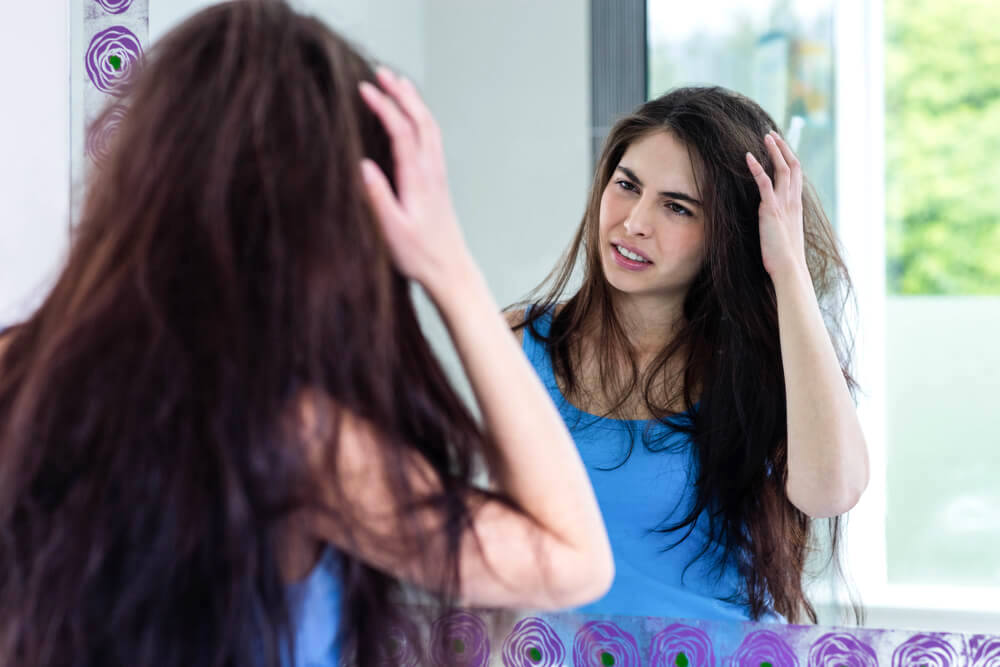 Frizzy hair can come with some unavoidable causes like the weather and genetics, but it can also result from your regular hair care routines. The constant factor in all these causes is dry hair. Just how much of that frizz is your fault? Find out below.
Washing Hair in Very Hot Water
Whether you are showering or just washing your hair, the temperature of the water that you use and the amount of time you spend doing it is a key factor. Hot water strips your hair of the natural oils that keep your hair moisturized.
This can further be aggravated by frequent washing. If you wash your hair every day, you are likely to suffer from frizzy hair. You are better off washing your hair 2-3 times per week and using warm water.
Overusing Hairstyling Tools
Just like the heat in water, the heat produced by your blow-dryer, curling, or flat iron can also trip oil from your hair and leave it dried out. If you are already suffering from frizzy hair, you are better off without them or if you must use them, apply a heat protectant product and ensure that they are set on low heat.
Not Getting Rid of Split Ends
When was the last time you trimmed split ends? The longer you have damaged hair, the more messed up your hair strands will be. The frizz that you are seeing especially at the ends of your strands could just be split ends seeking attention. A regular hair cut every 6-8 weeks and hair oils at the ends could prevent the situation.
Drying your Hair the Wrong Way after Washing
Do you like scrunching your hair into a towel turban after washing it? That does no good to frizz-prone hair and neither does roughly rubbing it to get rid of moisture since wet hair is at its weakest point. A microfiber towel would do a better job at blotting out the moisture while air will do the rest of the drying.
In a nutshell, any hair care routine that strips your natural oils or shreds your hair to expose the cuticles leaves your hair dry and too weak to fight off atmospheric moisture that leads to frizzing. If the frizz is already here, what do you do?
How to deal with Frizzy Hair In 4 Easy Steps
Frizzy hair needs as much care as your normal hair plus a little bit more. Each of the steps below will thoroughly cover everything you need to know.
# 1. How To Wash Your Frizzy Hair
Now that you already know that washing and shampooing your hair every day will wreck your frizzy hair, limit the washing too as few times as possible in a week, and use warm water instead of hot. Frizzy hair calls for a careful selection of shampoos and conditioners.
Shampooing
When you do, keep off shampoos that contain sulfates or alcohol; sulfates dry your hair making it thirst for the water in the atmosphere while alcohol makes your cuticle swell hence creating a frizz. Where does that leave you? You're better off with a glycerin-packed shampoo; the higher the concentration, the better for your hair.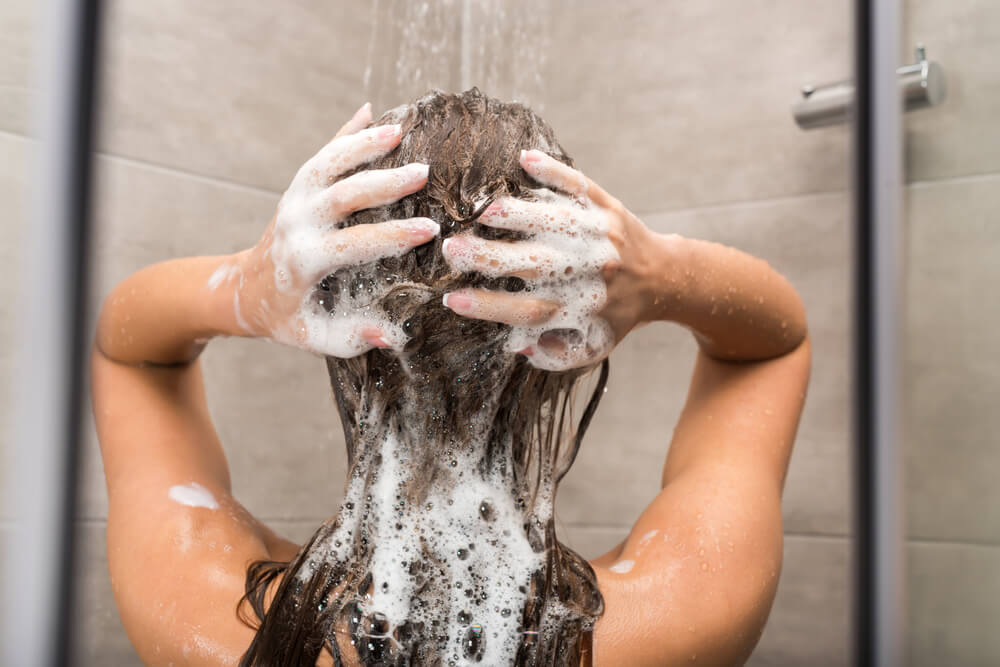 Glycerin is absorbed deeper into your hair shaft and helps to hydrate your hair from within. Besides this, it provides your hair with an external protective cover. When you are not washing your hair, dry shampoo can help you get rid of oil buildup and also add some volume and texture to the roots.
Conditioning
Frizzy hair needs all the hydration it can get. The last thing you want to do to it is skip conditioning. Deep conditioners are usually packed with glycerin, oils, and butter that provide intense hydration. Once you slather your hair with it, give it at least 5 minutes to allow it to coat and get absorbed into the strand.
Sometimes, you can skip shampooing and rinse off your hair with conditioner especially when your hair is not too oily. Some contain a little cleansing ability that does not strip natural oils from your hair.
Drying
Once you rinse off your hair, dab a micro-fiber towel over your hair to absorb excess moisture. Keep off the normal towel as it may rough up your cuticle and use a T-shirt instead if you don't have a micro-fiber towel at hand.
#2. How to Style Frizzy Hair
Your hair will need some help with styling. A silicone-based serum can help maintain a smooth feel by coating your strands. You can then air dry or blow-dry your hair, concentrating more on the roots and less on the hair shaft and the tips. This way, you can give your hair a lift without drying it out entirely.
Before blow-drying your wet hair, make sure it has air dried up to 90% of the way.
Other products that can help with styling include hairspray, moisture-locking dry oil, mousse, and hair serums. Opt for products with natural ingredients as they are less harsh and by all means, keep off those that contain alcohol. For a shinier finish and to get rid of stray strands, spray your rat-tail comb or hairbrush with shine spray before using it.
#3.What if you need to Heat Style Frizzy Hair?
Heat styling frizzy hair can make it worse because heat takes away moisture from it. However, a heat protectant that works by boosting your hair's moisture can help you not to miss out on the heat styling option. For thicker hair, creams and lotions work better but you can opt for sprays for any type of hair. To help spread the product throughout your hair, use a wide-toothed comb.
Blow Dryer
You can then use a blow dryer to dry your hair and again, leave it to air dry for a better part (90%) before doing it. Anionic blow drier works faster so your hair doesn't take long to dry. You should take precautions however and know when to stop to avoid over-drying your hair.
Flat Iron
A flat iron is another heat styling option. When done properly, it closes up the cuticle, leaving it very smooth. An iron with ceramic plates evenly distributes the heat and is, therefore, a great option. You will need to use it when it is not hotter than 410 degrees and should be used on completely dry hair.
Curling Iron
For naturally curly or wavy hair, there is no need to straighten it. A curling iron will be a handy tool. You can choose to curl the entire hair or just the frizzy sections. Small-barreled curling iron suits tight and precise curls while a larger barreled one works for looser waves.
#4. Giving Your Frizzy Hair Special Treatments
Special treatments are not a daily routine for your hair but when done regularly, say weekly or biweekly, they can help boost your efforts in the fight against frizz. Among the numerous options out there, here are our best picks;
Hydrating Mask
While conditioning goes a long way in hydrating your hair, you need more help when your hair requires extra hydration. This is where a hydrating mask comes in. When choosing a mask for your hair, the ingredient list is of great importance since you want maximum benefits for your hair. A mask with oils, proteins, and glycerin can give you shinier, healthier, and frizz-free hair when used weekly.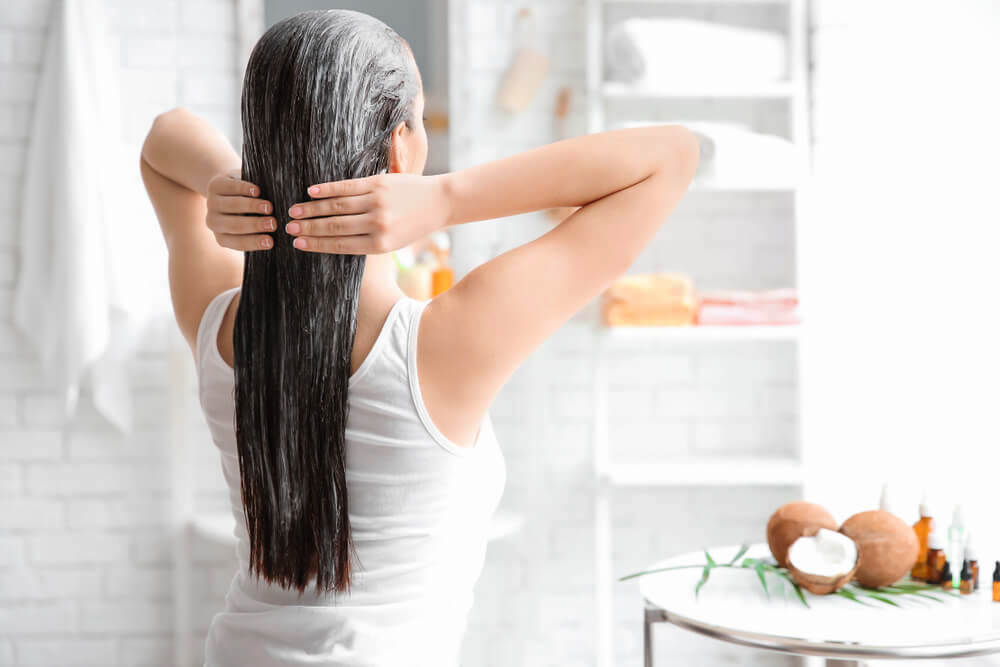 Apply your mask of choice to wet hair (though it can be used on dry hair too), comb with a wide-toothed comb to distribute, and let it sit for about 20 minutes. Putting on a shower cap and sitting under a hooded dryer can give better results. Wash off and condition your hair and follow your routine.
Home Remedies
Ingredients that you probably have in your kitchen can provide a world of good for your hair care needs. When it comes to frizzy hair, the list is endless. Here are a few options that you can try:
˜a) Apple cider vinegar rinse- Besides its anti-fungal and anti-bacterial properties that work wonders for your scalp, apple cider vinegar lowers your hair's pH which helps to control rough cuticles and fight off split ends.
After rinsing off all traces of shampoo, mix 1 part vinegar with 4 parts water and put it into your hair from root to tips and give it about 30 seconds before rinsing it out with cool water. For frizzier hair, increase the ratio to1part vinegar and 2 parts water. Condition your hair as usual and repeat this weekly.
b) Carbonated Water Rinse- Carbonated water also works more or less the same as apple cider vinegar due to its acidic nature. The only difference is that you should use carbonated water, also known as sparkling water as a final rinse after shampooing and conditioning.
C)Raw Egg for Hydrating hair- The most important components of egg yolk for your hair are protein and fat content. The ingredients are good for hydrating and nourishing dry and frizzy hair. You can enhance the results further by mixing with honey, olive oil, coconut oil, or banana.
Beat1-2 whole eggs with any of the above ingredients until the mixture is frothy. Apply generously throughout your hair, put on a shower cap, and let it sit for about 20 minutes. Use cool water to rinse it out and follow with your usual shampooing.
d)Hot Oil Treatment- Pre-made hot oil treatments are easier to use and come with instructions. This doesn't however limit you to their use if you can access healthy oils such as coconut, extra-virgin, almond, castor, and avocado oils among others.
Put your chosen oil in a container and set it in a pot of near-boiling water to heat it. When the oil becomes hot, let it cool down to a temperature comfortable enough on your scalp and then massage it into your entire hair. Wrap your head with a hot towel and leave it on for up to 1 hour. Shampoo and condition your hair as usual.
Pro Tips When dealing With Frizzy Hair
A lot has been covered in the above major steps. However, adopting certain habits can either enhance or wreck all your efforts. Here are several tips to nudge you in the right direction.
When using a blow dryer and especially for curly or wavy hair, using a diffuser helps to reduce the direct heat and keeps hair from blowing all over, thus reducing friction and over-drying
Don't over-process your hair; when bleaching, dying, relaxing, and heating your hair is overdone, it opens up your hair cuticles, makes your hair brittle, and creates room for frizzing
A mascara wand and an alcohol-free spray can help you take care of frizz that affects small sections of the hair especially when you are on the go
Rub a few drops of hair oil and smooth them over the ends of your hair to tame frizzy ends and to add a little shine
Sleep on a silk pillowcase that is smooth and gentle enough to preserve moisture in your hair. Alternatively, you can wrap your hair in a silk scarf
Don't brush your hair when it is dry, you will only increase the frizz. Don't brush when it is wet either, only work with damp hair
Brush your hair upside down regularly to distribute its natural oils
Many women deal with frizzy and messy hair. Besides giving you a rugged look, the hair may test your patience to the limits when it comes to managing it.
You may not have much control over the humid air which is a huge factor but some of your innocent hair care routines can cause your hair to frizz or make it worse if it is already frizzy.
The good news is that the right routine when you wash, style, or treat your hair can put you on the path to enjoying your shiny mane once again.
---