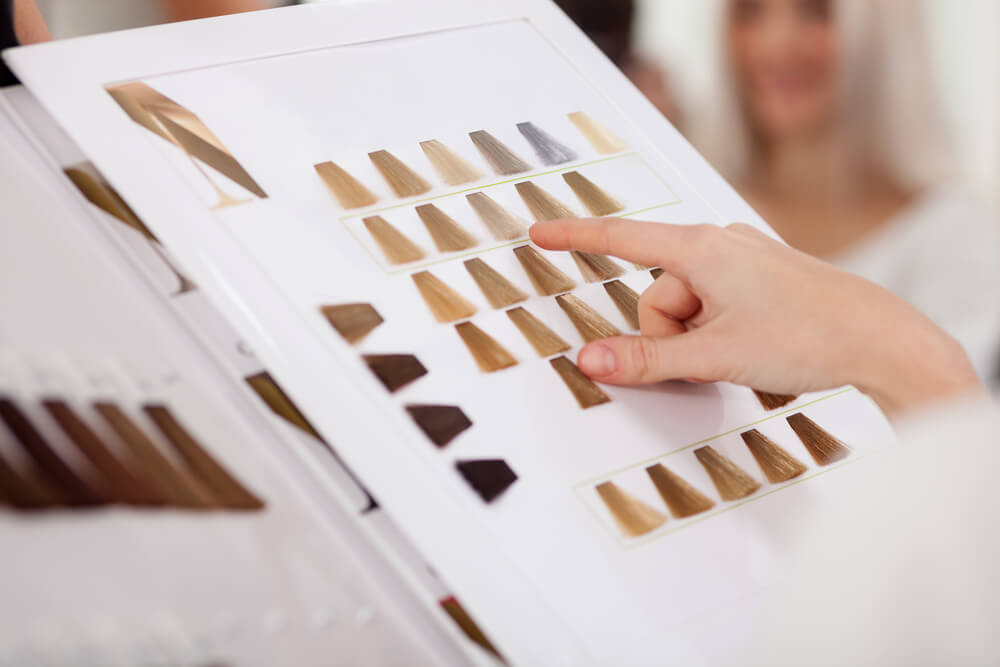 Trends change, but one thing doesn't – the success of your look will always depend on your eyebrows.
Whether they are thin or thick, whether they are tattooed or natural, they are the thing that rounds up your look, and make everything fall into place.
However, one thing that remains unclear for many women who desire to achieve a perfect symbiosis between their hair and eyebrows, is what color they should be for their hair to match them.
So many choices, so many fashionable styles, so many unresolved questions. Well, let's see what can be done about that.
Rules to Follow When Choosing Your Hair Color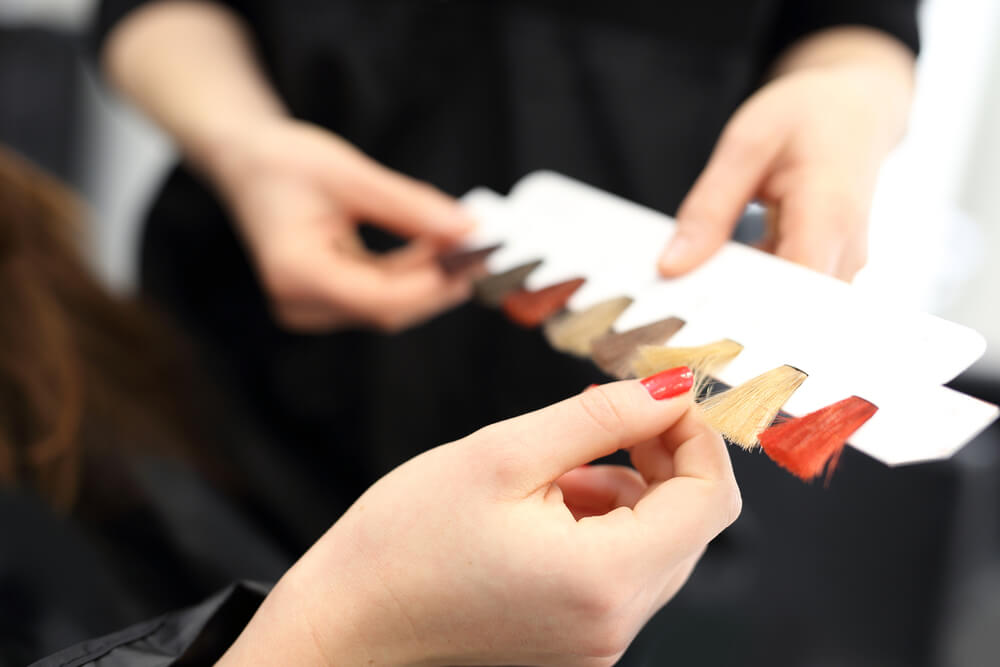 There comes a time in our life when we want a change – something new that must be done to turn things around. Something that will help you feel better about yourself and give you the courage to do something that you have been wanting to do for a long time. It usually starts with something seemingly simple – our hair.
Hair is a symbol of new beginnings, and almost every person alive has done something, sometimes, drastic with their hair, which has brought them back from whatever pit of despair they have fallen into.
And, let's be honest – it usually helps.
However, sometimes it can be a cause of even greater despair, when you realize you have gone too far and made a terrible mistake, for example, choosing the wrong hair color.
But how can you resist? It looks so good on that celebrity you saw on Instagram the other day!
Yes, on them.
Don't forget – they have a few (if not more) personal stylists, trained professionals that know what will best suit their client. They are aware of many rules that need to be followed for their clients to have a perfect head of hair that will make their look absolutely perfect.
Do you have a personal stylist?
If your answer is yes, then good for you.
However, if your answer is no, allow us to be your temporary stylist and help you make a change you will be happy with. As we said, there are certain rules that need to be followed, so be sure to go through all of them, before making your final decision.
1) Mind the Base
The golden rule of any color change is to stay within your base "range."
You may wonder what that means. Well, basically, it signifies that, if you really want to make a change that will perfectly suit you, you shouldn't go further than three of four shades lighter or darker than your own color.
"But, I really want to go full blonde!" – says a brunette.
Of course you can, who are we to judge?
We are just talking about general rules that serve as guidelines to many hairstylists. But, with every rule, there is an exception to it, so if you really want to go full blonde that badly, go right ahead and regret nothing!
Hair grows back, it can be re-dyed.  So, even if you opt for the wrong shade, you will have an opportunity to change it right back.
2) Mind Your Skin Tone
The second golden rule of choosing the right color is, of course, your skin tone. This might seem more complicated than it really is, especially now, when there are so many different shades at the store. You just can't help but feel a bit lost, right?
On the other side, even if you know your skin tone and what the proper hair color you should choose, what if you simply don't want to? We know that the old rules simply cannot apply in this day and age. However, in order to choose the best one, and look absolutely your best, it will be useful to know how to choose a color that will, ultimately, be a perfect fit for your skin tone.
For those of you who are not sure what their skin tone is like, there are a few steps towards determining it:
Clean your face –

If you want to see what your skin undertones are,

your face needs to be completely clean

. So there should be no makeup on, that can possibly change its natural shade.

Find proper lighting –

Skin looks different under different lighting, so it is important to observe your face under a natural one. Go to a room that has a big window or other source of natural light, and look at your face there.

The truth is in the veins and eyes –

There are two basic types of skin tones – warm and cool. To determine which one you have, it is

best to look at the inside of your wrist

. If the veins have a green tint, then your skin is probably of a warm tone. If your veins are blue, or blue-ish, then you have a cool tone. If your skin is likely to burn, that is proof you have a cooler skin tone, and if it is likely to tan under the influence of the sun, then it is proof your tone is warm.
This means a lot when it comes to choosing the proper hair color. The hair colors that suit a warm skin tone include gold, honey, caramel, copper, red, mahogany, strawberry blonde, chocolate, ginger, orange based red and rust. With the cool skin tone, you should opt for platinum, ash-blonde, cream, sandy, coffee, jet black, fawn, mid-level blonde, flat brown, wine and burgundy.
3) Beauty is in the Eye of the Beholder
And, lastly, if you truly want to choose a good shade for your hair, you have to take a look at your eye color.
Eye color, hair color and skin tone usually work together. Blonde and light brown color will be a perfect fit for the ones that have light skin and blue eyes. Hazel eyes go well with darker blonde or copper, whereas green eyes stand out best with red hair. Brown eyes look amazing with brown or black hair with copper or brown highlights.
How Do Eyebrows Fit the Picture?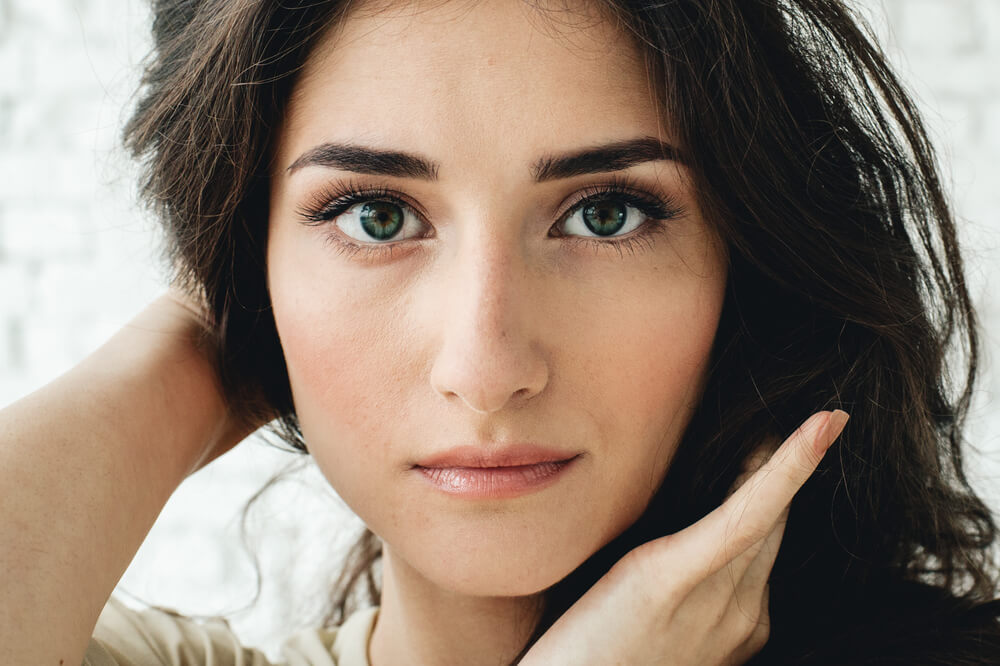 As we have previously mentioned, eyebrows can make or break your look. Your whole appearance can sometimes depend on the shape, the color and the thickness of your eyebrows.
In a situation where you have been yearning for a certain color change for a longer period of time, you certainly shouldn't disregard the color of your eyebrows. If you choose a color that will make your eyebrows completely stand out, but not in a good way, you need to find a way to match the two, and help them achieve perfect unity.
As we see it, you have two options…
One includes dyeing your hair according to the nuance of your brows. That is, picking the hair color that will go better with the eyebrows.
The other option includes choosing the hair color that you have been dreaming of for quite some time, not allowing the eyebrow color change your decision, and simply dyeing the eyebrows, too. Most people will choose the latter option, which is just fine.
But let's see what hair color fits different eyebrow colors best.
Blonde Hair
If you are a bold blonde, then you should follow the number one rule of hair-eyebrow harmony – your eyebrows should be darker. Don't forget – everything in moderation. Don't make them too dark, it will make your face seem too harsh, and your eyebrows too unnatural.
If you are a natural brunette turning blonde, don't' try to bleach your brows to match your hair. It will not just look unnatural, it will completely change the look of your face.
Brown eyebrows go perfectly with blonde hair, the real trick is finding the right shade. In order to perfectly match darker brows with blonde hair you need to soothe things a bit, maybe by choosing a shade that is one level brighter than your brows. It will warm up the entire look.
Brown Hair
If you are a natural brunette with darker eyebrow color, you don't need to change the color of your brow to a lighter tone. Your natural color is actually following the aforementioned 101 rule of matching hair and eyebrow color, which says that eyebrows actually need to be one tone darker.
On the other hand, if you are changing your color from lighter tones to darker brown, then you should consider darkening your brows a bit, to make everything fall into place.
Don't forget you shouldn't go too far – one or two tones lighter or darker should be quite enough for your whole look to appear more natural and not too harsh. It is again best to check the skin tone lists of appropriate colors. There you can find the answers to your eyebrow problems.
Red Hair
The hair color most difficult to match is definitely the red one. This is because even naturally redheaded people very rarely have completely red eyebrows. That is why finding an eyebrow color that will be a perfect match for red hair is quite challenging.
It depends on so many variables that sometimes people give up from going fully red. You are never sure whether it is going to be a good fit for your skin tone, eyebrows, or your complete look, for that matter.
However, if you are bold enough, you shouldn't allow something like that deter you from achieving what you wanted, but see what additional changes you would have to make if you decided for such a step.
As unbelievable as it may seem, if you are turning from a brunette to a redhead, you shouldn't worry that much. Brown tones go well with red hair.
Again, you do have to take into consideration the following: if your brown hair was in the "lighter" spectrum, and you dyed your hair to dark red, you may need to darken your brows a bit, and vice versa.
If you changed from dark brown to a lighter shade of red, with a pumpkin tone to it, you will need to lighten them up a bit. This hair color goes well with copper eyebrows. 
Black Hair
The simplest thing to match, when it comes to hair and eyebrows is most definitely the black color. If your hair is black, then your eyebrows need to be black too, or at least dark brown.
If you decide to change your hair color from brown to black, you have an easy task. You might not even have to change your eyebrow color at all, depending on the shade. If you have a darker shade of eyebrows, leave them be. They will be a perfect match for your new style. However, if you changed from a lighter brown to black, you might need to add a bit of a darker tone to your brows. This can easily be accomplished with a brow pencil. Just choose a dark brown tone, that best matches your skin tone and your new hairstyle.
However, if you decided to make a more drastic change and go from fully blonde to raven black, let's just say good luck to you. This change is not that easy to make, especially if you are not a natural blonde. It is extremely difficult to shift from dyed blonde to black, so you may need more than one hair appointment to get that shade of black you want.
If you are a natural blond going black, you may also need to dye your eyebrows, because chances are, they are too light. 
However, if you try to dye your eyebrows lighter, it will just look completely off and weird. So, you really need to follow this advice.
Of course, you don't need to change everything about yourself to get a perfect match, especially when it comes to dyeing your eyebrows.
There is an easier way of getting the desired look, which doesn't have the same, long-lasting effect – the brow pencil. The best thing about it is that you can try out different shades and choose the one that fits you best, without having to use chemicals.
---