Can You Use a Hair Mask on Dry Hair?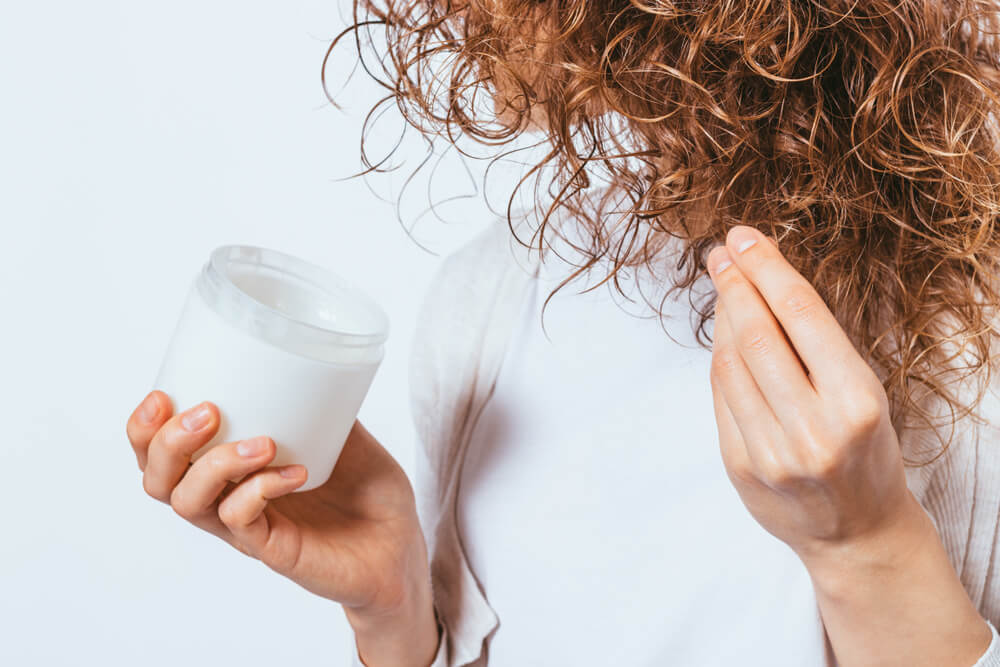 When it comes to hair care, you can't go wrong with a good hair mask that suits your hair type.
Hair masks can help you achieve the healthy-looking, smooth-feeling hair that you've always wanted, but there is a lot of care involved while using a hair mask. It's important to know the proper way to incorporate it into your haircare routine so you can make the best of it.
Evalectric is here with a quick, informative read on whether you should be using a hair mask on dry hair or wet hair. We'll also be taking you through the basics of this haircare product so you have all your facts right!
If you don't know much about Evalectric, our brand provides premium formulas and styling tools to elevate your haircare routine. We incorporate research-backed ingredients to give you the confidence you need to step out with your hair in all its natural glory!
What Is a Hair Mask?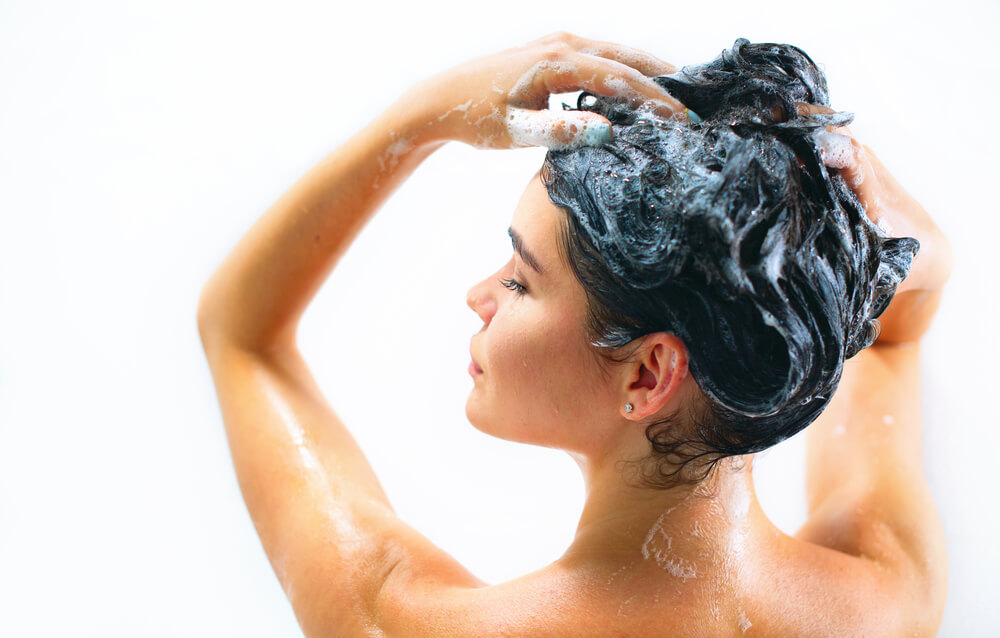 Before we proceed to answer the question, "Can you use a hair mask on dry hair?" let's establish the basics…
What are hair masks? They're basically special haircare formulas that contain active ingredients to target your specific hair concerns. These ingredients typically include natural oils, proteins, and essential vitamins to help alleviate the signs of damage caused by environmental aggressors and encourage healthy hair growth.
When you use hair masks regularly, they can help alleviate the signs of your concern over time. They're perfect for adding moisture to dull, dry hair and making the hair follicles appear stronger.
A hair mask should be applied to washed hair, and for that, we have a great product! The Evalectric Moisturizing Shampoo features an advanced formula to help rid your hair of the appearance of impurities, dirt, and excess grease. It infuses proteins derived from argan oil and plant botanicals to assist in reducing the visible signs of damage. Argan oil is also excellent for making your hair feel smooth and easily manageable.
Our Moisturizing Shampoo is also enriched with citric acid. Citric acid is wonderful for easing signs of an itchy scalp and strengthening the feel of the hair fibers. We're confident that this splendid cleansing formula will wash away the look of impurities while leaving your hair feeling more hydrated from root to tip!
How Is a Hair Mask Different from a Conditioner?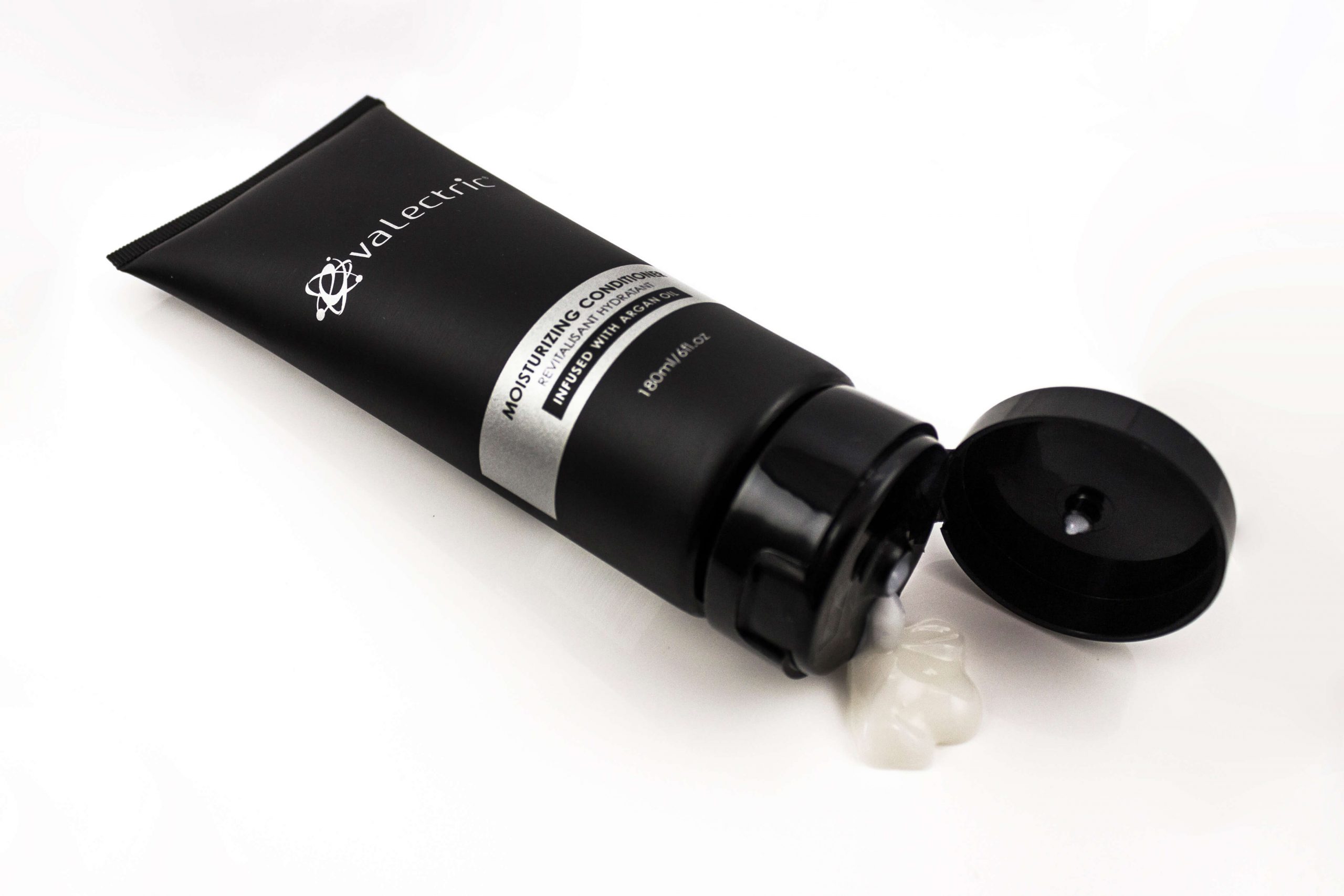 Hair masks and conditioners are two very different haircare formulas. They both indeed help you achieve well-moisturized locks and encourage their smooth feel. However, a conditioner merely "conditions" your hair (makes it easier to manage) while a hair mask helps treat your hair concerns, making it appear healthier and stronger in the long run. You can find special hair masks for dryness, oiliness, damage, split ends, frizz, and more! Each formula is designed to help you achieve a different result as per your specific needs.
If you want to add a good conditioner to your haircare routine, you should check out our Moisturizing Conditioner! The formula is enriched with fatty alcohols and hair-enhancing oils to keep your hair looking smoother and silkier than ever. It incorporates argan oil which is an excellent haircare ingredient to reduce signs of damage and smooth the feel of your hair.
Cetearyl alcohol, a fatty alcohol infused in this conditioner, works well to help moisturize your hair and can reduce the appearance of dandruff and frizz. It has strong emollient properties that make it excellent for making your hair feel smooth and soft.
Citric acid is also included in this unique conditioning blend which can make your hair appear shiny. It's a great ingredient to get rid of that oily look in your hair, making it look fresh! This premium combination of treating agents in the Moisturizing Conditioner will help you achieve the healthy and sleek look you want!
Types of Hair Masks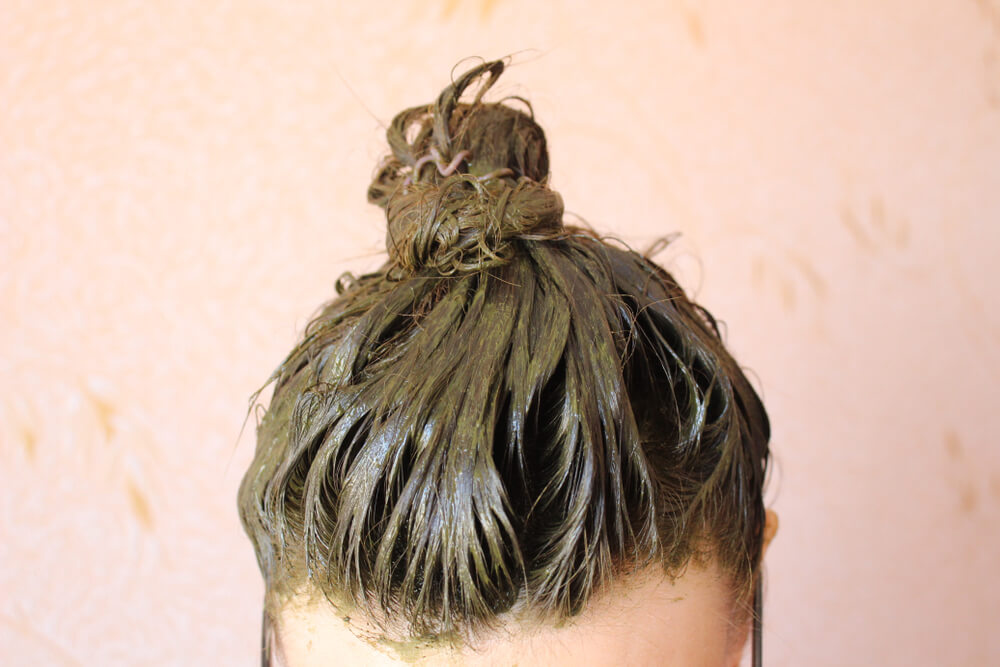 When we talk about whether you can use a hair mask on dry hair or wet hair, it's not a simple yes or no answer. Different hair masks come with different application techniques to ensure their optimal use. Let's talk about common types of hair masks to address basic hair concerns:
For Damaged Hair
When your hair has been overexposed to environmental aggressors day in and day out, it can experience significant damage. Similarly, if you've treated your hair to chemical coloring or use heat styling tools too often, it can result in weakened, brittle hair strands. But there are hair masks specifically designed to help ease these signs of damage over time. This type of hair is typically very dry with split ends.
Hair masks for this type of hair are primarily oil-based. They include keratin, essential fatty acids, proteins, vitamins, oils, and hydrating ingredients. These ensure that the look of your hair appears to grow stronger and stay moisturized and hydrated from root to tip.
For Oily Hair
If you have oily hair and scalp, you will benefit from a water-based hair mask that contains special ingredients to take care of excess oils and regulate sebum production. Essential oils like tea tree, lemongrass, and lavender work great to control the production of oil. They can make your hair appear a lot fresher. Vitamins B2 and B6 also work great to ease the look of greasy, weighed-down hair. Be sure to avoid any heavy, oily hair masks to keep your hair from being weighed down and looking greasier.
For Dry, Curly Hair
If you have naturally curly, dry, and frizzy hair that lacks definition, you need an oil-based hair mask that includes curl-defining ingredients. Jojoba, argan, and coconut oils are good options to keep the hair moisturized and tame the frizz. Shea butter is also a sensational ingredient to bring out the best of your curls while making the hair appear shinier and smoother.
To Strengthen the Feel of Your Hair
To strengthen the feel of your hair, you need a combination hair and scalp mask. The best option is to choose one with natural and safe ingredients to strengthen the feel of your hair follicles. Fatty acids, amino acids, and vitamins A, C, D, and B7 help encourage the look and feel of healthy hair growth. For this concern, you can choose an oil-based hair mask if you have a dry, flaky scalp or a water-based one if you have an oily scalp.
Hair Mask on Dry Hair or Wet Hair?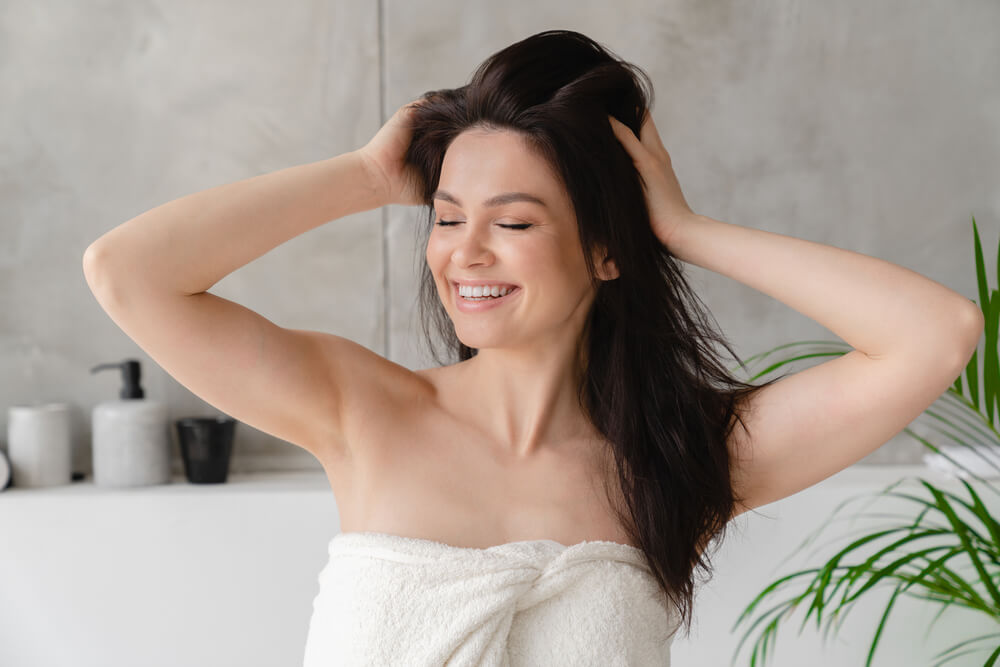 So, what's the verdict? Should you use a hair mask on dry hair or wet hair? It all depends on the type of hair mask you're dealing with.
Typically, applying a hair mask to slightly damp hair is a good option as it helps enhance the absorption capability. And because you've recently washed your hair, the absence of dirt and grease allows the ingredients to do their job properly! But this is the case with a water-based mask. You can use it on damp hair and it will work perfectly to enhance the look and feel of your hair. However, the rules are a bit different when you're using an oil-based hair mask.
It's best to use an oil-based hair mask on dry hair as water repels oil. If you use it on wet hair, the dampness will prevent the oils from doing their work. The mask won't be able to penetrate your hair as the oils will be pushed away. That's why you should always use an oil-based hair mask on dry hair!
When to Use a Hair Mask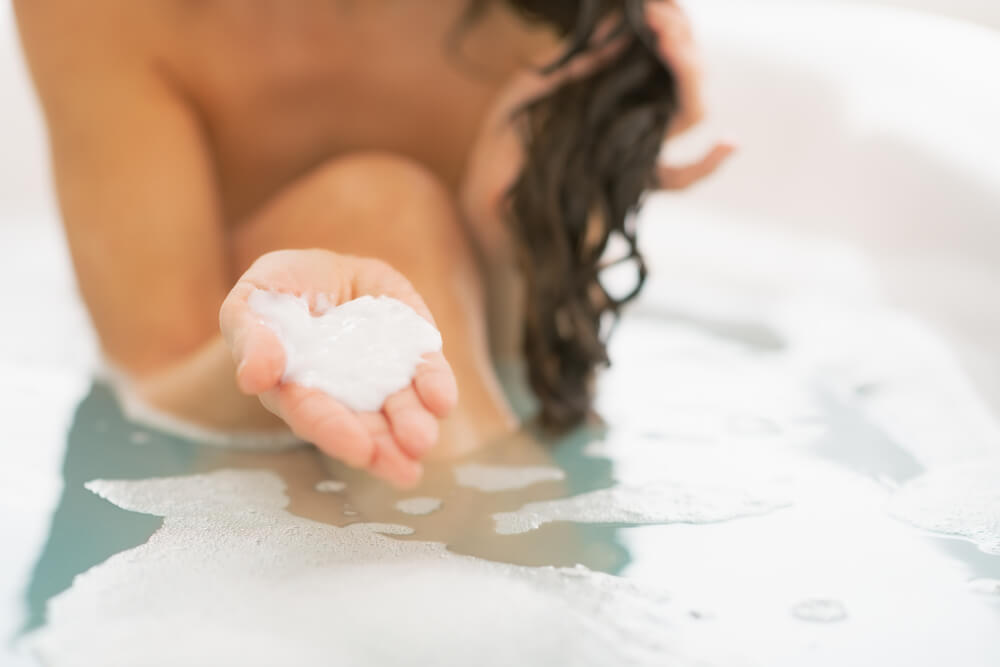 You have shampooing, conditioning, and masking your hair as the basic haircare steps, but what's the correct order of using these products? It's obvious that you need to start with clean hair so shampooing always comes first, just like cleansing in your skincare routine.
The next step would be to use the hair mask, not the conditioner. Why is that so? Hair masks are used before conditioners as they treat your hair with moisturizing and hair-enhancing nutrients that need to be absorbed. A conditioner will prevent that from happening as it tends to leave a thin film behind that helps the hair stay moisturized for a long time. It wouldn't let the healthy ingredients of hair masks do their work on your hair, rendering the hair mask useless. So, the correct process is to use a shampoo, then hair mask, and then conditioner.
How to Use a Hair Mask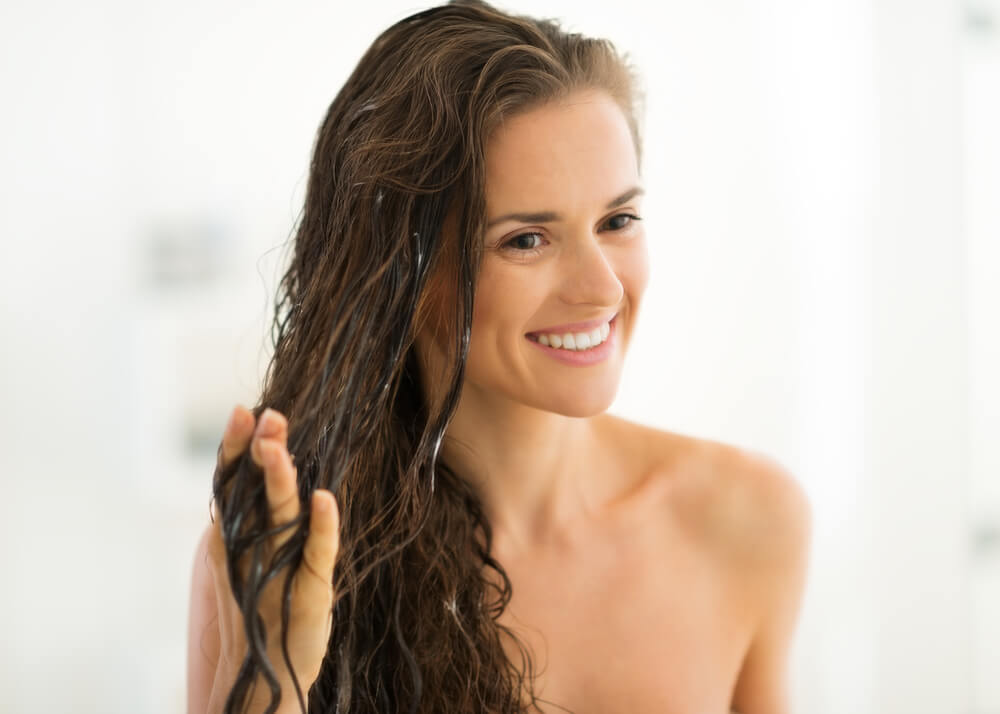 Here is the proper technique you need to follow to make the most out of your hair mask:
Shampoo your hair properly, making sure that all dirt and grease are washed away.
Apply the hair mask.
For Oil-Based Hair Masks
If you're using an oil-based formula, use the hair mask on dry hair. Use a towel to properly dry your hair. Do not rub it as that causes friction and can damage your hair. Gently dab your hair and wrap the towel to let it absorb the moisture. You can also wait a while to make sure you use the hair mask on dry hair. When it's dry, section out your hair and start massaging the hair mask near your scalp and move down to the tips. Go back to your scalp and continue applying the mask.
One thing to note here: if you're using the mask specifically to ease the signs of dandruff, you should start with the scalp first.
For Water-Based Hair Masks
If you're using a water-based formula, do not use the hair mask on dry hair. Leave the hair a little damp and then divide it into sections. Start applying the hair mask to the middle of your hair shafts and massage your hair down to the tips. Since you're dealing with oily hair here, you should avoid the scalp to prevent a buildup of oil and keep the hair from being weighed down.
Once you're done applying the hair mask, take a wide-tooth comb and run it across your hair to make sure the mask is evenly spread. Cover your hair up with a shower cap and leave the mask in for 20 minutes (or as indicated on the product label).
Afterward, rinse thoroughly with cool or lukewarm water depending on your hair. Cool water works well on dry hair as it won't cause any frizz and helps trap moisture. But if your hair is oily, the hair mask should be washed off with lukewarm water to eliminate excess oils from your hair. Make sure to get all of the hair mask out.
Use your conditioner afterward as you normally would and enjoy smooth-feeling, stronger-looking hair!
Throw in a Hair Serum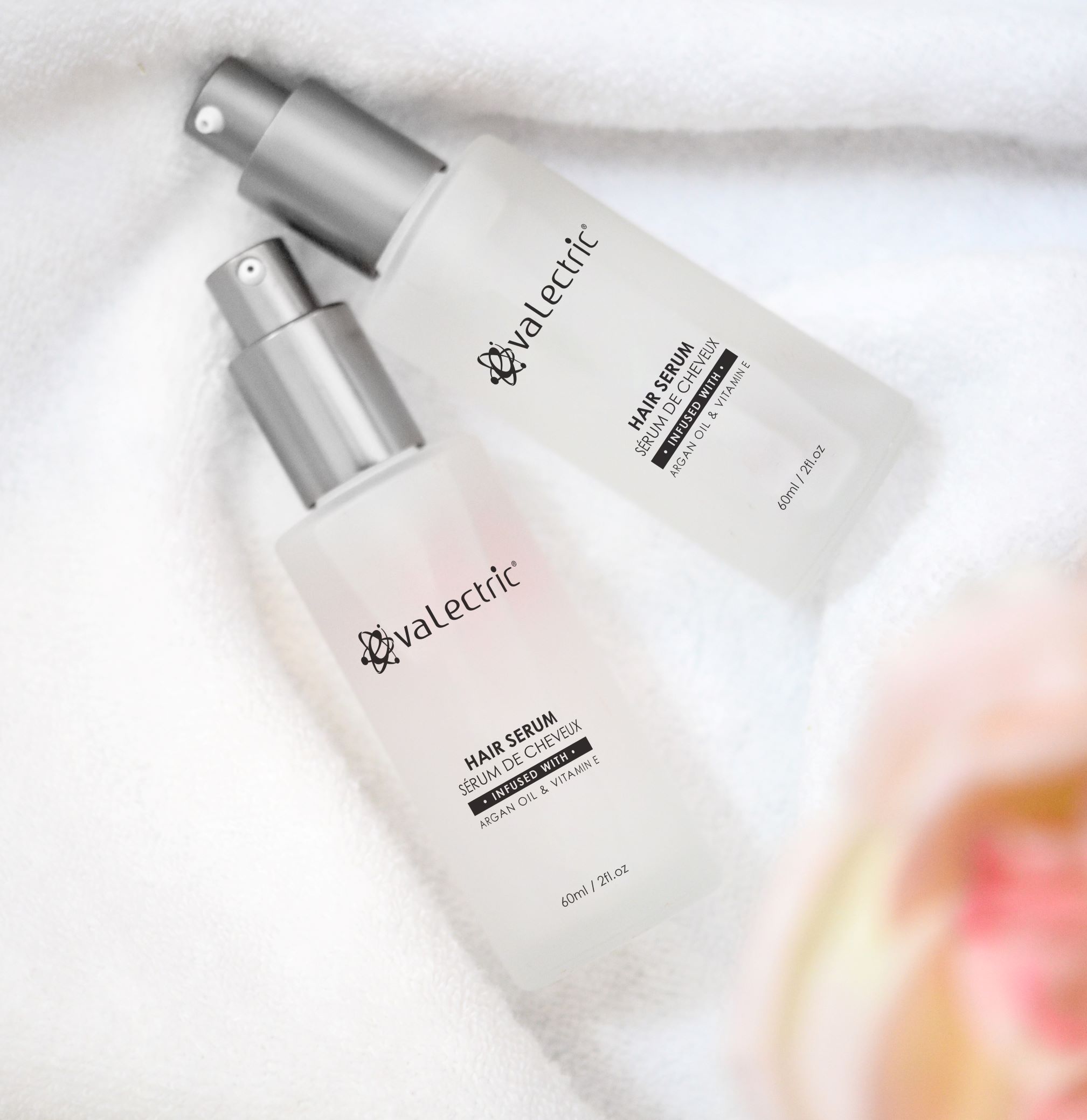 You can also use a hair serum to help you get the look you need for an important event! The Evalectric Hair Serum would be a great option as it's formulated with aloe vera and vitamin E to revive the appearance of dull, dry hair. Remember to use a small amount; a little goes a long way! Apply it before styling to experience a shiny, professional look!
Get the Perfect Look with Evalectric!
We've told you all about using a hair mask on dry hair vs wet hair. We hope this read has helped you figure out a fitting haircare routine to suit your needs. In the meantime, you should take a look at our bestsellers section to discover a world of advanced formulas and styling tools!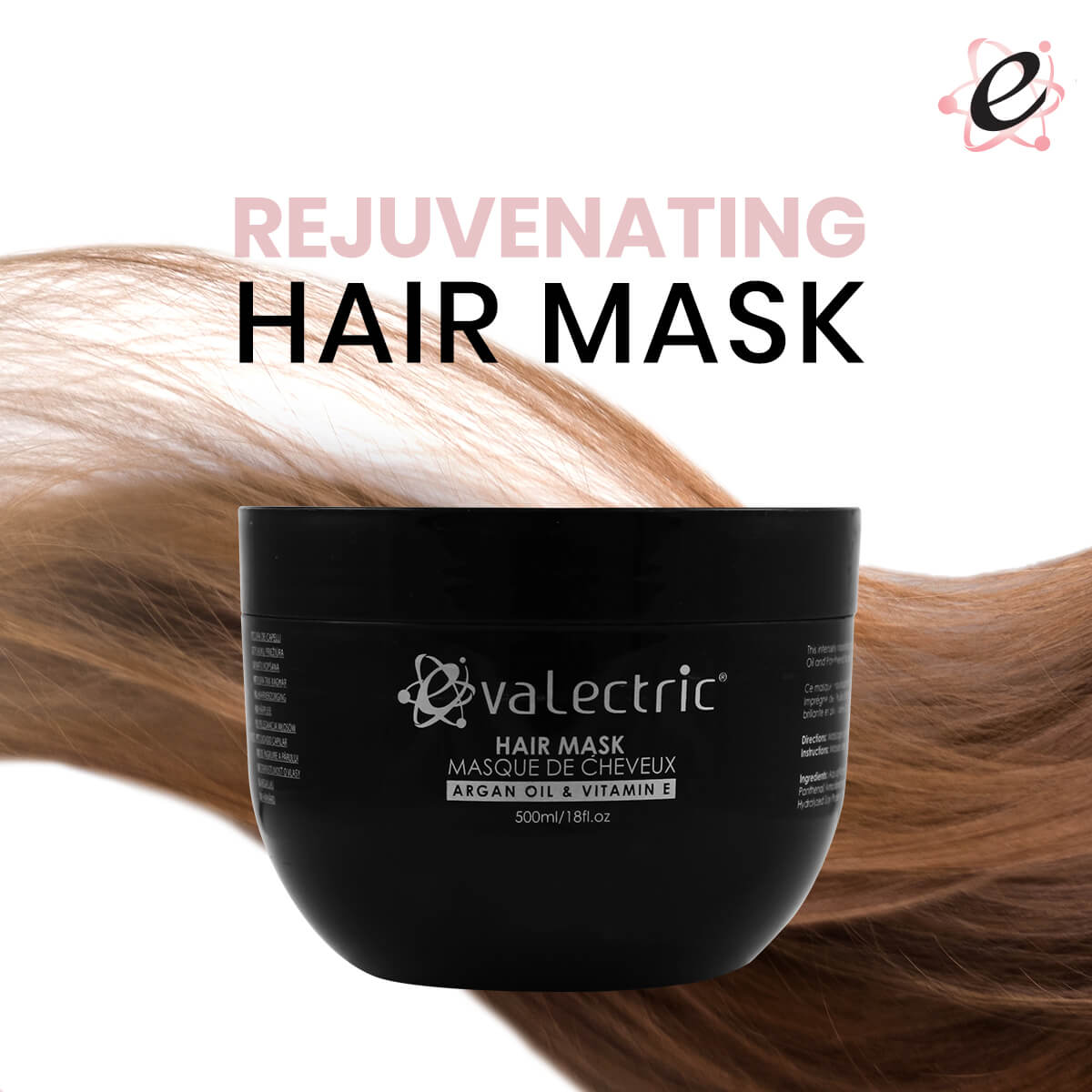 ---