6 Ways to Use a Hair Mask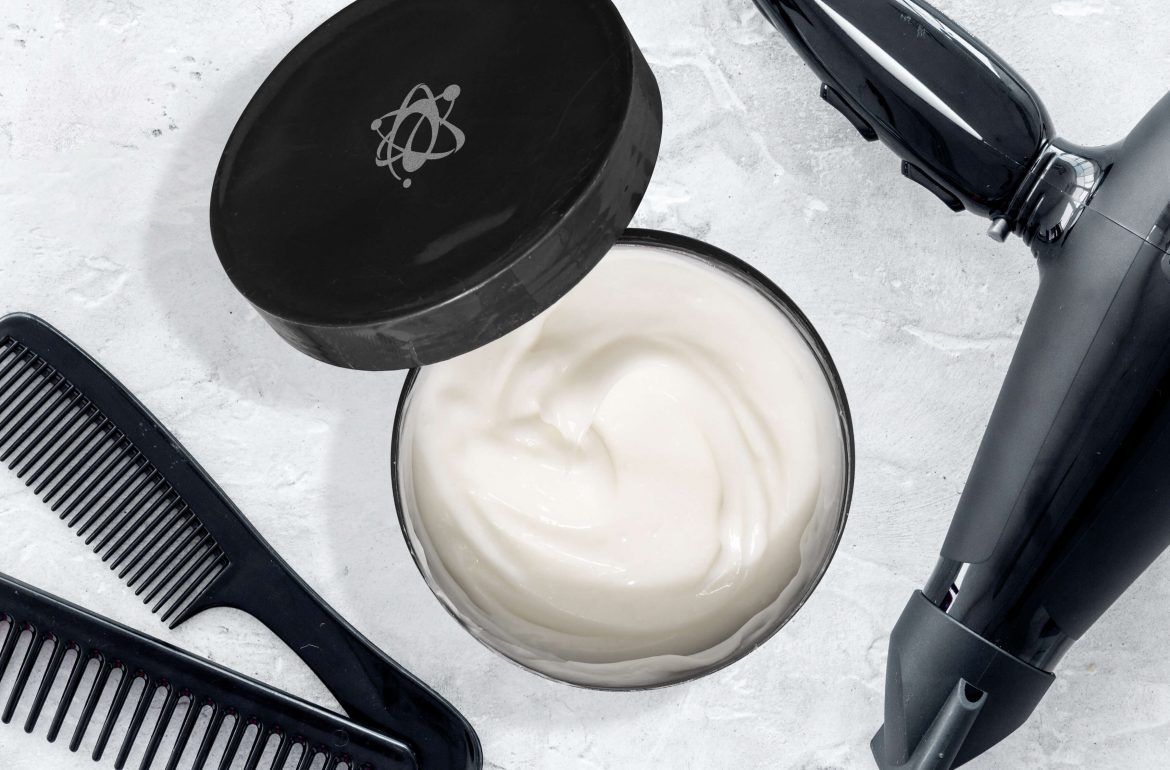 Too much straightening and curling with heat can leave your hair looking dry, damaged, and super frizzy. That's a big no-no in any glam girl's book! And when that happens, sometimes even the best moisturizing conditioner you have isn't going to be enough to repair and replenish it with strength and moisture.
Sure, you can lean on things like your protein-rich leave-in serum or even a nice hot oil treatment from your favorite salon. But something you can use to give your hair that deep, intense moisture it deserves is a high-quality hair mask. It's inexpensive, fuss-free, and can be used in the comfort of your home!
Lots of people think using a hair mask takes up a lot of their time. And while there are deep conditioning methods that take hours (or even overnight!), there are ways to easily incorporate a mask into your daily routine too. And regardless of how you use it, you'll end up with glossy, hydrated, healthy-looking hair!
Today, we'll be taking you through the different ways of how to use hair mask. Plus, stick around for the 411 on our own bestselling deep conditioning formula, the Evalectric Hair Mask.
A Hair Mask is a Very Versatile Conditioning Product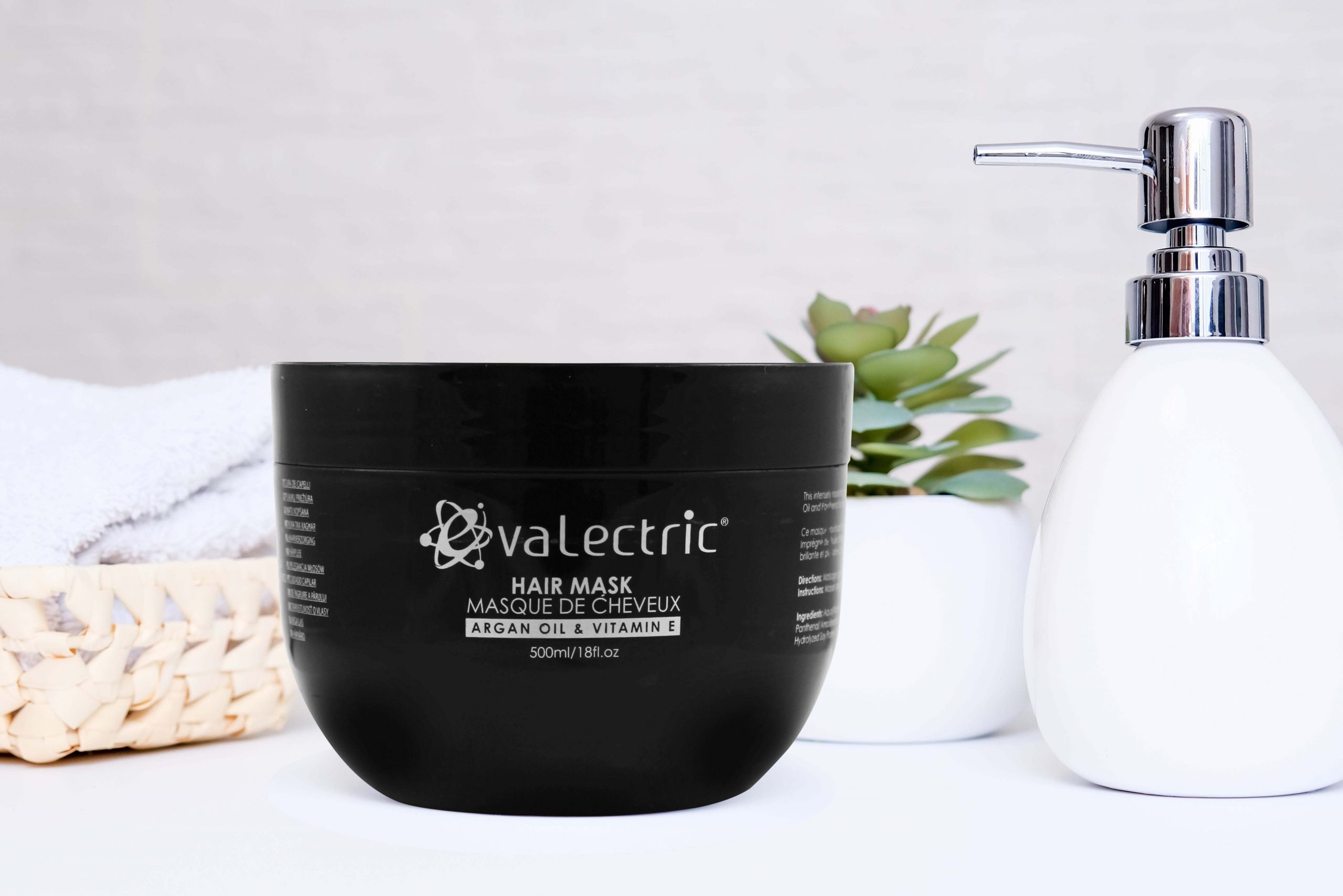 Hair masks, also known as deep conditioners, provide intense moisture to your hair when it's feeling incredibly dry. Much like a face mask, it's a once-a-week product you should be giving to your hair, regardless of your hair type.
These masks have a plethora of benefits for your hair. The most obvious ones are moisturizing and strengthening the feel of your hair when it's weak, dry, and damaged — so it's a must after you dye your hair.
A mask helps add smoothness and softness to your locks, making them oh-so-touchable and never frizzy. It makes your hair look extra shiny and light-reflective as well!
A hair mask is different from your regular conditioner because it's formulated with richer, lusher ingredients to give your locks deep hydration. It's also meant to stay in your hair longer than your everyday two-minute conditioning routine (anywhere from half an hour to several hours).
What's cool about hair masks is that you have tons of different options. You can combine kitchen ingredients, like coconut oil, bananas, avocados, and shea butter, together for a quick DIY hair masking session! But if you don't have that much time on your hands, you can always go for the more convenient ready-made hair mask from your favorite hair brands.
Different Hair Masks Have Different Benefits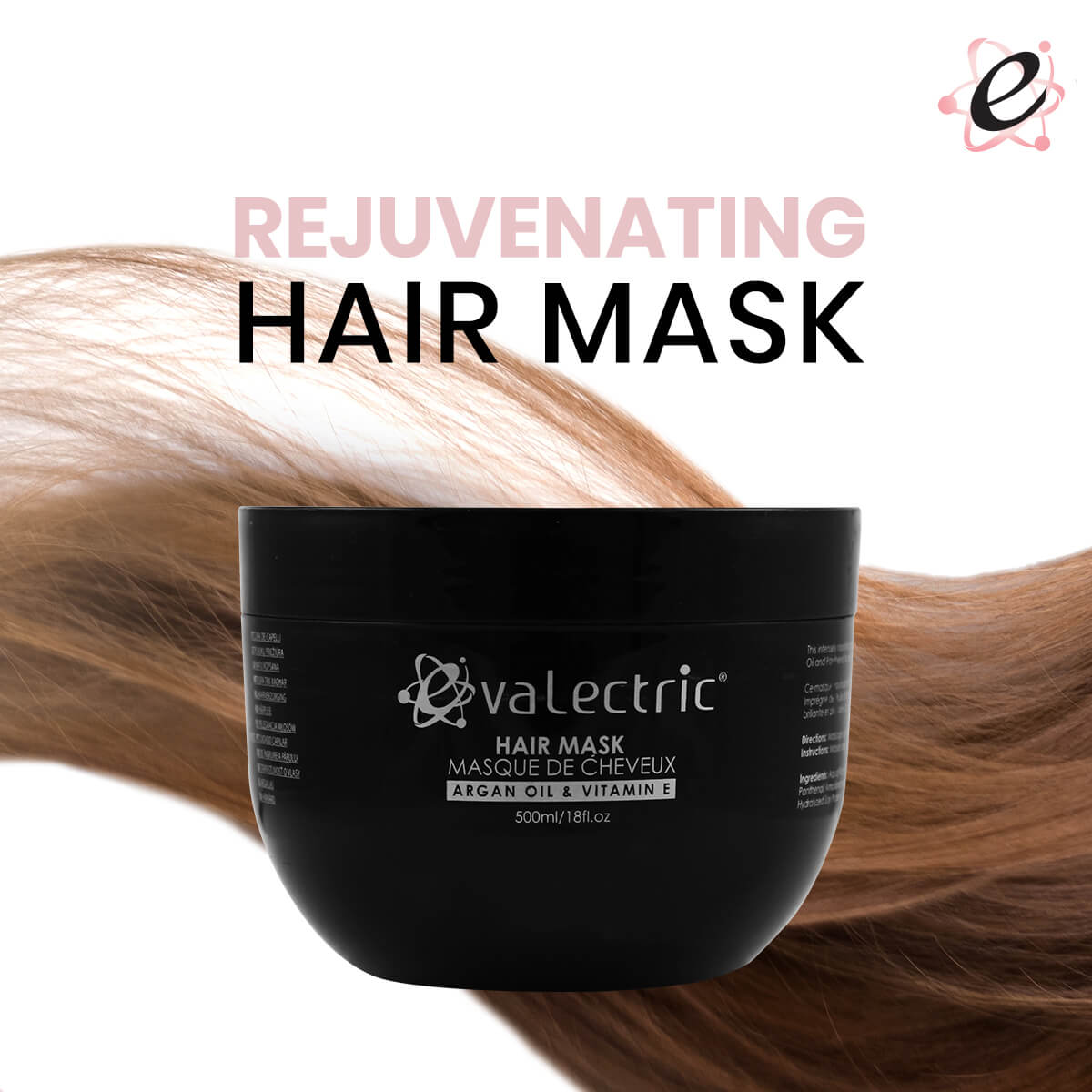 Not all store-bought hair masks are made equally. Some have better slip or richer ingredients in them. But believe us when we say that the Evalectric Hair Mask is one that you and your hair will end up loving.
This hair mask is designed to repair the look and feel of your hair when it's a bit too damaged from chemical treatments or daily heat styling. It's infused with luxurious argan oil, which is known to protect the look of your hair from outside forces that can cause it to feel dry and brittle. Argan oil also helps moisturize the hair and even retain the appearance of color from your most recent dye job.
You'll also find good ol' panthenol — aka pro-vitamin B — in the ingredient list. This vitamin helps make the hair look thick and lush for your most voluminous hairstyles yet!
The Evalectric Hair Mask has tons of benefits for your locks, like hydrating it when it's feeling extra dry and exhausted, or adding shine back to lifeless-looking hair. Some of our happy customers even call it "miraculous" in their reviews!
But using it can be intimidating for some. How do you even begin? Won't it take up so much time?
We've made a step-by-step guide on how to use hair mask in the past. But that's not the only way how to use hair mask. Different people have different amounts of time they can spend pampering their hair. They also have varying reasons for using the Evalectric mask to begin with.
Here are six ways how to use hair mask, depending on how much time you have and what hair concern you want to target.
1. On Wet Hair as a Replacement for Everyday Conditioner
The first way how to use hair mask is probably the fastest way. This is the method you want to try if you only have a few minutes to add moisture back to your hair and can't be bothered to carve out hours at a time just to squeeze in a deep conditioning sesh. All you have to do is replace your regular conditioner with the hair mask, and you're done!
Start off with the Evalectric Moisturizing Shampoo to wash the gunk and grime out of your scalp and strands. Instead of reaching for the matching conditioner, grab that hair mask tub instead.
Scoop out a generous amount and cover your hair with it, focusing application on the ends rather than the roots. Try not to use too much product — this will make your hair look super greasy.
Leave the hair mask on for about five minutes, or however long it takes you to wash the rest of your body in the shower. When you're done, rinse out as usual with cold water.
This is an awesome once-a-week alternative to your usual Evalectric Shampoo and Conditioner combo. It's pretty much the same shower routine you have, but with a small tweak to make your hair feel ultra-hydrated and healthy-looking again!
2. As a Heavy-Duty Detangler Before or During Your Shower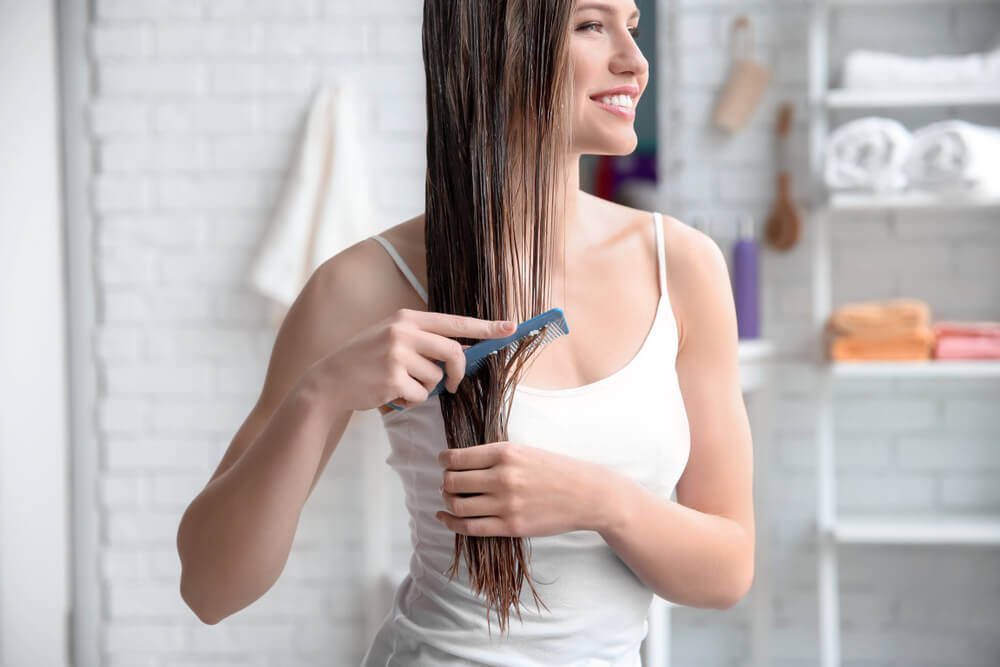 Using it as a detangler is a great way to make the most out of your hair mask. The Evalectric mask has intense slip, so you can easily eliminate the tangles in your hair in a safe way. That makes this hair mask a must-have product for those with curly hair, which is prone to frizz and knots.
Here's how to use hair mask as a detangler. You can do this before or during your shower. Either way, you'll want your hair to be a little damp before you do it. If you're doing it before your shower, spritz your hair with a bit of water to get it damp but not sopping wet. In the shower, you'll want to do this right after shampooing.
Take a small amount of the mask and apply it carefully to the lock of hair with tangles. Use either your fingers or a wide-tooth comb to gently untangle the knot. The mask's slippery texture should make it easy for you to do so in mere seconds! Then, rinse out with cool water.
By doing this method, you're hitting two birds with one stone. Not only are you getting rid of those stubborn tangles that make your hair look frumpy and unkempt, but you're also adding more moisture back to your tired strands.
3. As a Pre-Poo Before Jumping Into the Bath
Pre-pooing is the method of moisturizing your hair with oils or a deep conditioner for half an hour before you jump into the shower and shampoo your locks. That way, you're moisturizing your hair while giving it a layer of protection against harsh shampoos. This is an excellent way how to use hair mask for those with naturally dry hair.
To do this, dampen your hair by spraying it with water. Never apply the hair mask to dry hair — that's one of the biggest don'ts of using a hair mask. Your locks won't absorb the mask's ingredients unless it's at least a little damp.
Apply the mask all over your hair, either with your fingers or an applicator brush. If you have an itchy scalp, use your fingers to massage the mask into your scalp to give it extra moisture too.
Cover your head with a plastic wrap (or use a trusty shower cap!) and let your hair sit and absorb the mask for 30 minutes. Then, hop into the shower and rinse it off. Proceed with your usual wash routine.
4. Under Your Hooded Dryer to Make it Extra Hardworking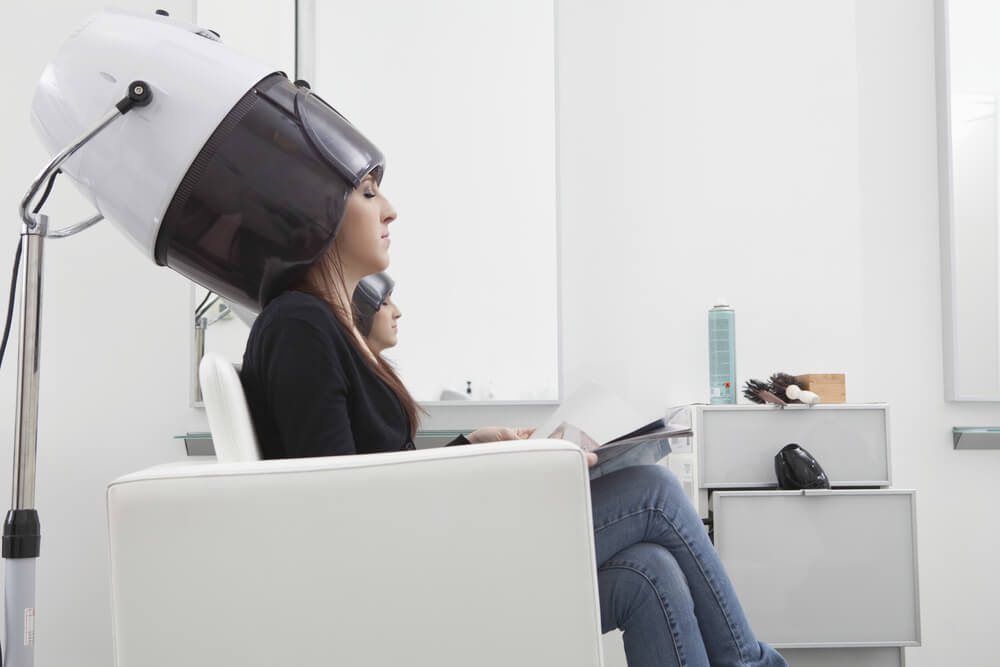 Adding heat to your hair masking process is a great way to get your cuticles to open up and absorb more of the lovely ingredients in the mask. Sitting under a hooded dryer while your hair is covered in the stuff helps out with that. This is how to use hair mask to ensure that you're getting the maximum benefits.
Heat is an amazing tool for any hair treatment. It allows hair-loving ingredients to penetrate your strands more, helping them work their magic more effectively. That's why hot oil treatments are all the rage in salons!
To do that with your hair mask, apply it all over your hair first and cover it up with a plastic wrap, much like in the previous item on this list. Then, sit under your hooded dryer for about 30-45 minutes. Read a book or catch up on some emails during this time.
Lastly, hop into the shower and wash it off. You'll feel how soft and silky-smooth your hair is immediately after!
5. With a Hair Dryer to Heat it Up More
But not everyone owns a hooded dryer. We get that. So how to use hair mask with heat at home, you ask? One of our favorite ways to do so is with a regular blow dryer!
Once your hair is slathered with the hair mask, cover it up in a towel and point your blow dryer directly onto your head. This heats up the mask and your hair, allowing the mask to penetrate your locks more efficiently. Just make sure your hair doesn't get too hot. This could end up damaging your locks (and even your scalp!) even more.
Scared of pointing a hot tool directly at your head? You can also heat up the towel by pointing your hair dryer there instead, and then cover up your hair with a hot towel. Wait 30 minutes and rinse out in the shower.
We love using the Evalectric Pro Beauty Dryer for these techniques. It's lightweight and has a long cord. It also has three temperature settings and two speed settings to choose from. All that makes heating up your hair easy, hassle-free, and easily customizable. And you can use it after your shower for styling, too!
6. Leave it on Overnight for the Deepest Treatment Possible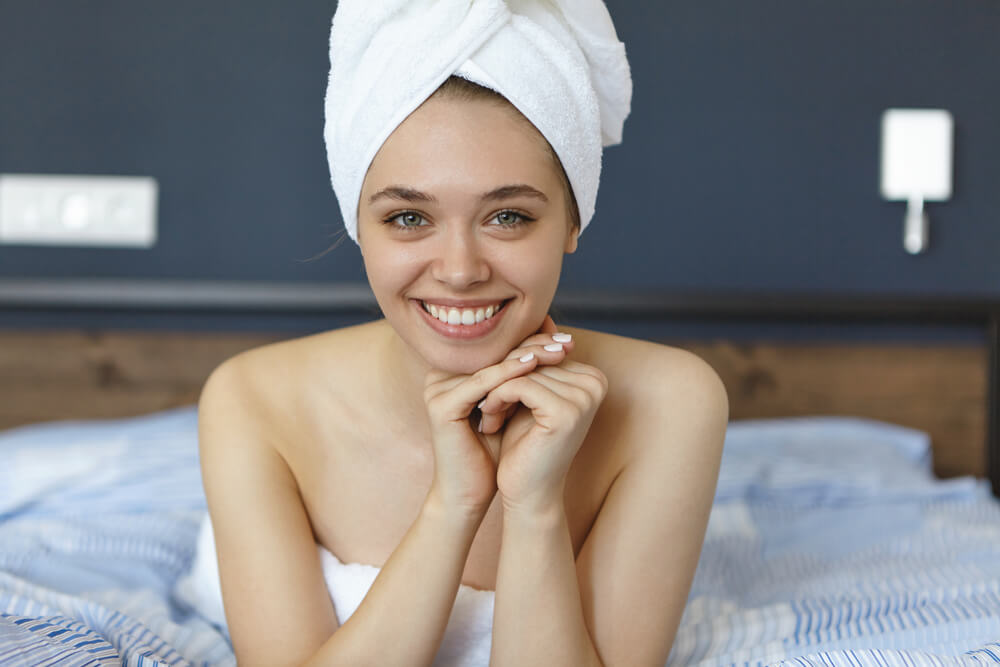 Leaving your hair mask in your hair overnight gives it a chance to penetrate as deep as possible into your hair cuticles. Your hair thoroughly drinks up all the moisturizing ingredients as you snooze. And when you wake up, you'll have soft, shiny hair that you won't be able to stop looking at!
The treatment is pretty straightforward. It's kind of the same as doing a pre-poo, but instead of doing it before a shower, you do it before going to sleep. Apply the mask to your hair, cover it up, and go to bed — that's it!
It's sometimes frustrating to sleep with wet hair because of impending breakouts, not to mention getting your sheets and pillows all messy. So, make sure your hair is wrapped well in a shower cap or plastic wrap, and then cover it up a second time with a towel, bonnet, or scarf to keep it secure. When you wake up, jump into the shower right away to rinse the mask out.
This method may be the messiest among all the ways how to use hair mask on this list. But since it keeps the mask in your hair the longest, you'll get the smoothest, silkiest results when you're done.
This is a terrific option for those with severely damaged hair that needs intense moisture. It's also a must during the wintertime, when your hair tends to feel incredibly dry and brittle.
Conclusion
The many benefits of the argan oil and panthenol-rich Evalectric Hair Mask can blow any hair care lover away. It adds moisture and shine back to lifeless, dehydrated strands while adding the feeling of strength when your hair is looking a bit damaged from all that heat styling. It's your ultimate weapon for achieving those healthy-looking, glossy, exquisite-feeling tresses!
There are lots of different ways how to use hair mask, whether it's replacing your usual rinse-out conditioner with it or leaving it in your hair to soak overnight.
Just choose which method is most convenient for you (or whichever you have the most patience for!). However much time you have to pamper your hair, there's a way to use it and still reap all its glorious, hair-loving benefits!
Click here to browse more bestselling hair care products from Evalectric.
---