How to Use a Hair Mask: A Step-by-Step Guide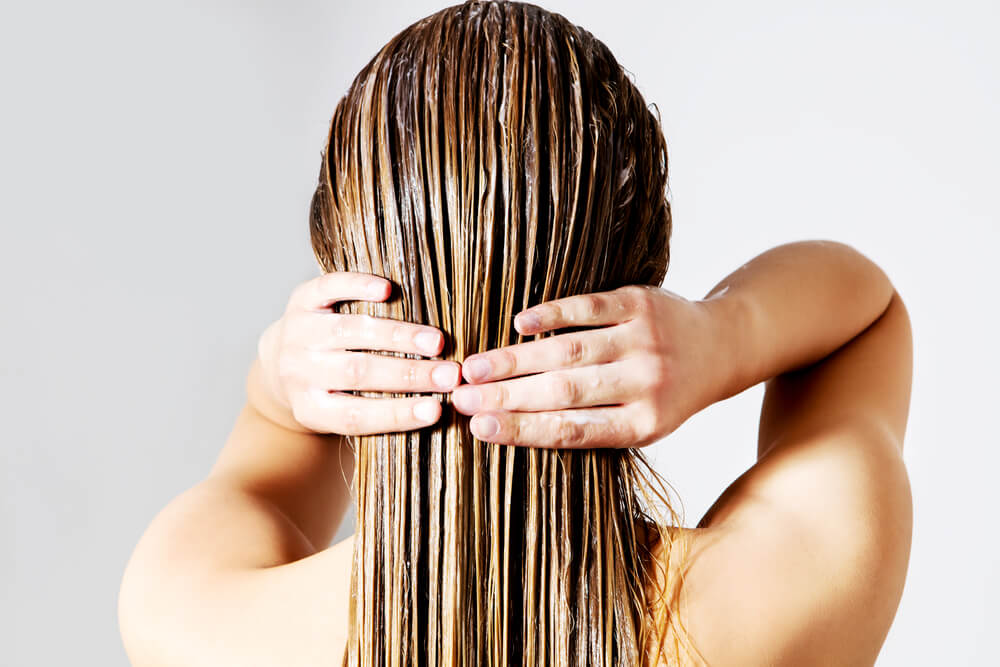 Shiny, hydrated hair is everyone's goal, but we'd be lying if we said it was easy to maintain. No matter how healthy-looking you try to keep your hair, there's always something that might make it feel more dehydrated and brittle than usual.
Whether it's the constant use of your straighteners and curling wands for day-to-day styling before work, or exposing your hair to harmful chemical processes like bleach and dye every month, you might be damaging your hair a little more than you think.
Even those who don't style their hair often but take long walks in the park every morning might find their hair drier than normal (that's because UV rays are bad for the hair!).
But not to worry; there are tons of hair-loving products you can use to make your tresses feel shiny, moisturized, and resilient again. One of these is the classic hair mask, otherwise known as a deep conditioner.
Deep conditioning isn't anything new in the world of hair care, but it's something that many of us might take for granted. Today, we'll take you through how to use hair mask products step by step. Plus, stick around for the 411 on one of our bestselling products, the ever-popular Evalectric Hair Mask.
What is a Hair Mask and What Does it Do for Your Locks?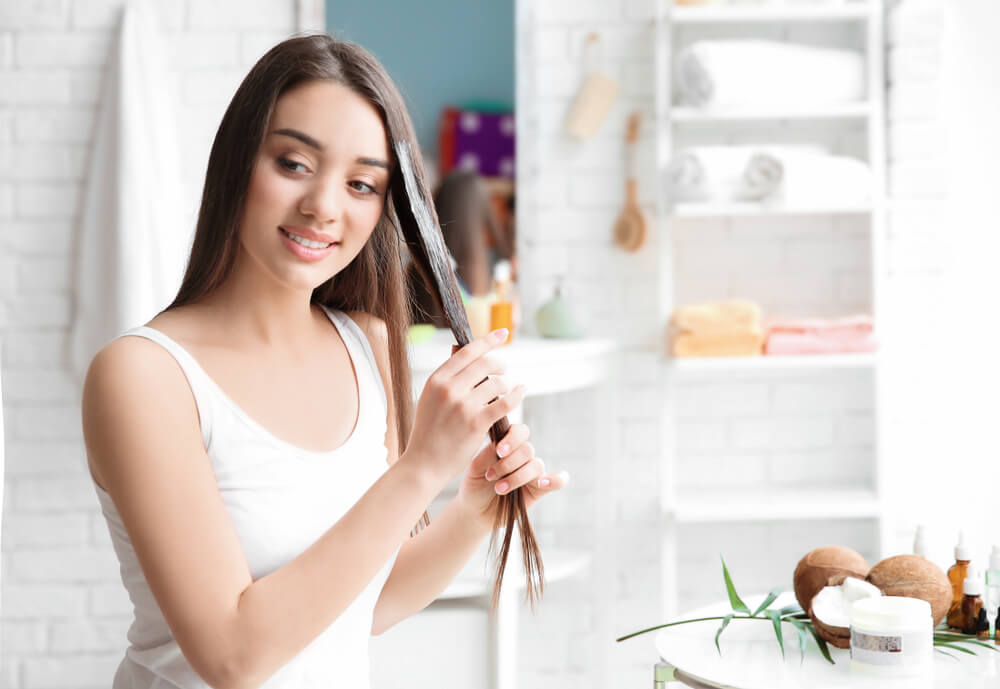 But before learning how to use hair mask products, there might be a more basic question in your mind — what is a hair mask in the first place, and what can it do for my hair?
Hair masks, also called deep conditioners, are similar to conditioners, but they're way more potent and concentrated. They're usually made of rich, emollient oils and butters to deeply moisturize your dry hair, making them more intense than your daily conditioner or leave-in cream.
And while you're supposed to rinse out your everyday conditioner after a minute or so, hair masks are meant to stay in your hair a little longer. Some are designed to absorb into your hair after 5-10 minutes, while others work best when you leave them for half an hour.
The Benefits of a Hair Mask
So, what does a deep conditioning hair mask do for your mane? The main purpose is to infuse your hair strands with moisture. The main ingredients in a hair mask are usually super hydrating and can penetrate your hair shaft, moisturizing it from the inside out instead of merely on the outer surface.
This is excellent for repairing the feel of bleached, relaxed, and permed hair, which tends to look fragile and parched after a treatment. A single hair masking session can make your hair feel strong and fortified again.
It's also a must during the winter months, when your hair can feel so dehydrated because of the dry, chilly weather.
A hair mask also gives your hair a gorgeous, glossy shine and bounce. This is terrific for hair that looks a bit dull and lifeless due to all the heat-styling and chemical processes it might be exposed to.
Because hair masks are designed to feel incredibly rich and moisturizing, they shouldn't be used every day the same way you would the Evalectric Moisturizing Conditioner. Instead, they should be used about once a week — maybe twice if your hair is severely dry and damaged.
Why You'll Love the Evalectric Hair Mask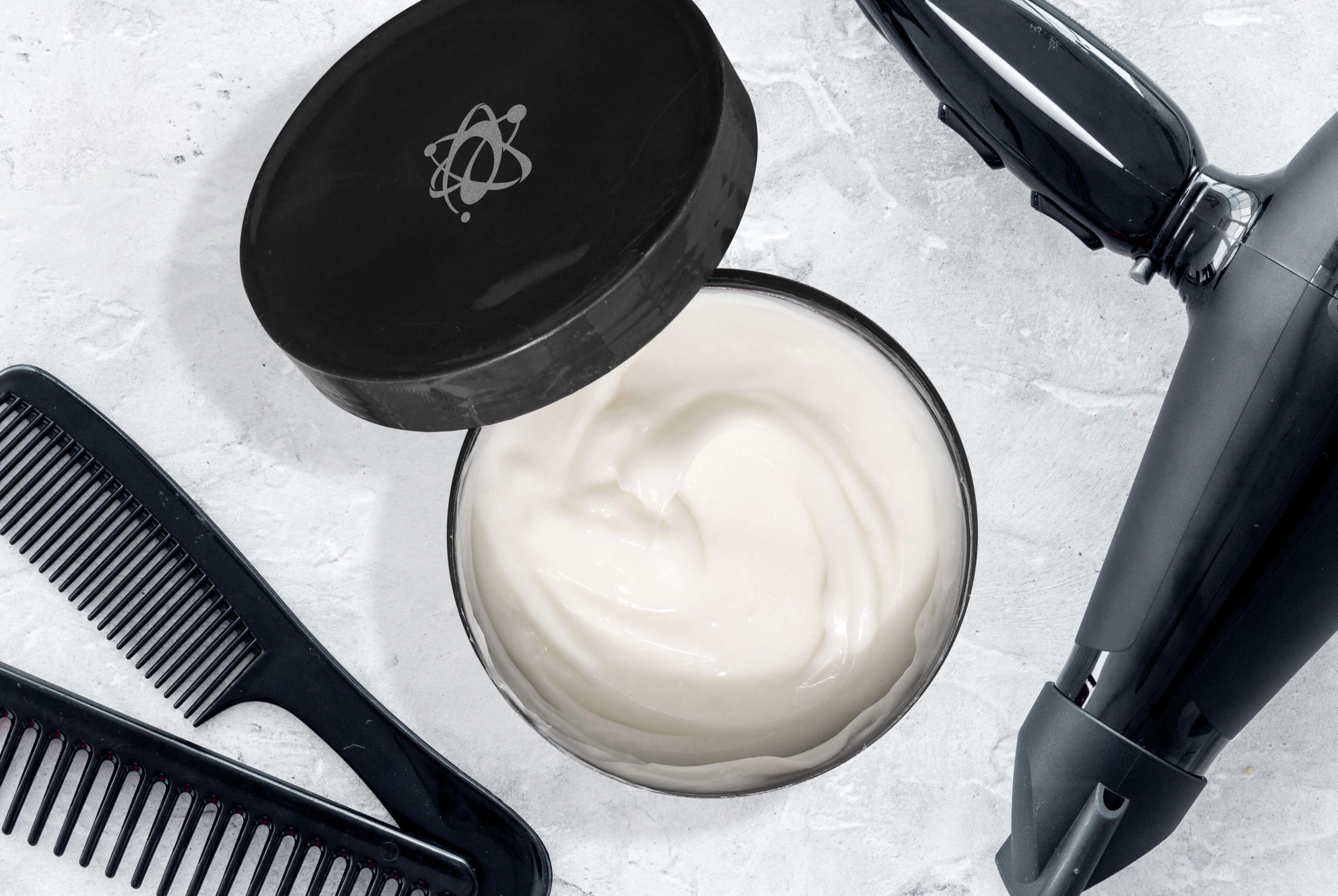 Many people like to make DIY hair masks in their kitchen using staples like coconut oil, honey, yogurt, and even eggs. But this is risky because it's unpredictable how your skin will react to such concoctions. Internet tutorials detailing how to make your own mask at home might not be suitable for all hair types.
So, it would be wiser to stick with formulations created by professionals. Our top recommendation? The Evalectric Hair Mask. This hair mask is perfect for tired, dry, over-processed strands that need to be brought back to life.
One of the key ingredients in this hair mask is argan oil — a very hyped ingredient in the hair care world that is fondly called "liquid gold." Argan oil is full of fatty acids, such as oleic and linoleic acid. These are excellent for moisturizing dry hair and making strands feel silky soft once more.
Argan oil is also known to add a beautiful shine to the hair. It also helps tame frizz, making your mane look smooth and flyway-free.
The hair mask also has panthenol in it. Also called pro-vitamin B5, panthenol helps strengthen the feel of the hair. It's even known to conceal the look of thinning hair.
To make the most out of your Evalectric hair mask, you should know how to use hair mask products properly. Here's how to properly apply this deep conditioning treatment, step by step:
Step 1: Wash Your Hair with a Hydrating Shampoo
Sometimes, it's not about how to use hair mask products as it is how to prep for your hair masking session. And good preparation always starts with proper cleansing of your hair.
Hair masks work a lot better on freshly cleaned hair. That way, you can be sure there's no product build-up blocking the oils and hydrating ingredients from penetrating your strands.
For this first step in how to use hair mask products, it's a good idea to use the Evalectric Moisturizing Shampoo. It washes your hair thoroughly to remove dirt and debris, but also hydrates it with ingredients like argan oil.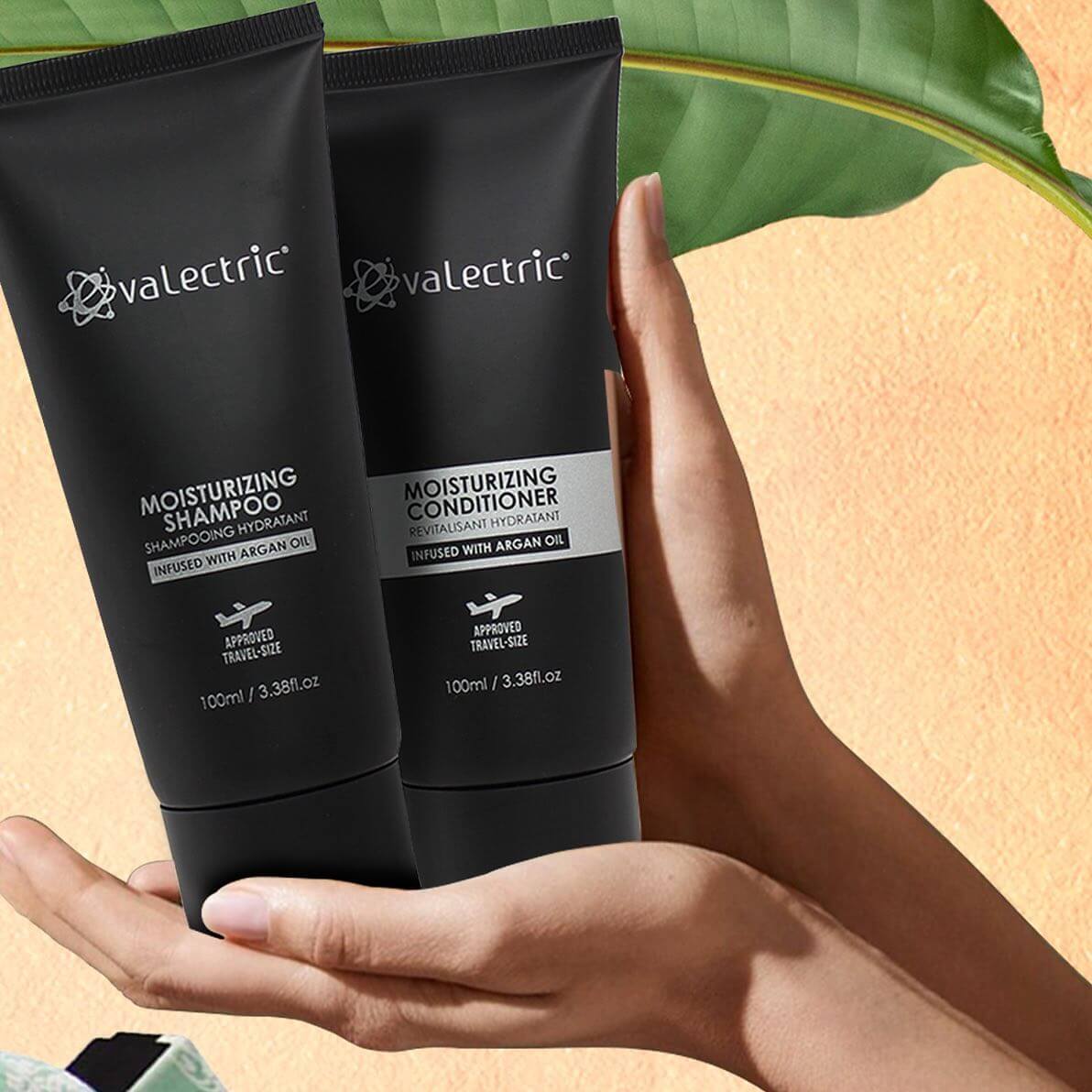 Step 2: Squeeze Out the Water in Your Hair
Some people might apply their hair mask right away, but this isn't the proper way how to use hair mask products. You first need to pat your hair with a towel or squeeze out the water from your hair to ensure that there isn't any excess moisture in it.
It's ideal for your hair to be damp with moisture, never sopping wet. If your hair is too wet, the hair mask will simply slide off your strands instead of penetrating them.
You can gently "dry" your hair a little with a microfiber towel or old cotton T-shirt to make sure it isn't soaking wet before moving to the next step.
Step 3: Section Off Your Hair for a More Organized Masking Session
If you have thicker hair, it might be a good idea to section your hair into 2-4 chunks. This makes applying the mask easier and more organized later on, so you make sure no part of your mane is left out.
You can do two sections, one on either side of your head. Or if you have super thick locks, you can do four sections quadrant-style. Clip up your sections once you're done.
Step 4: Apply the Mask to Every Section of Hair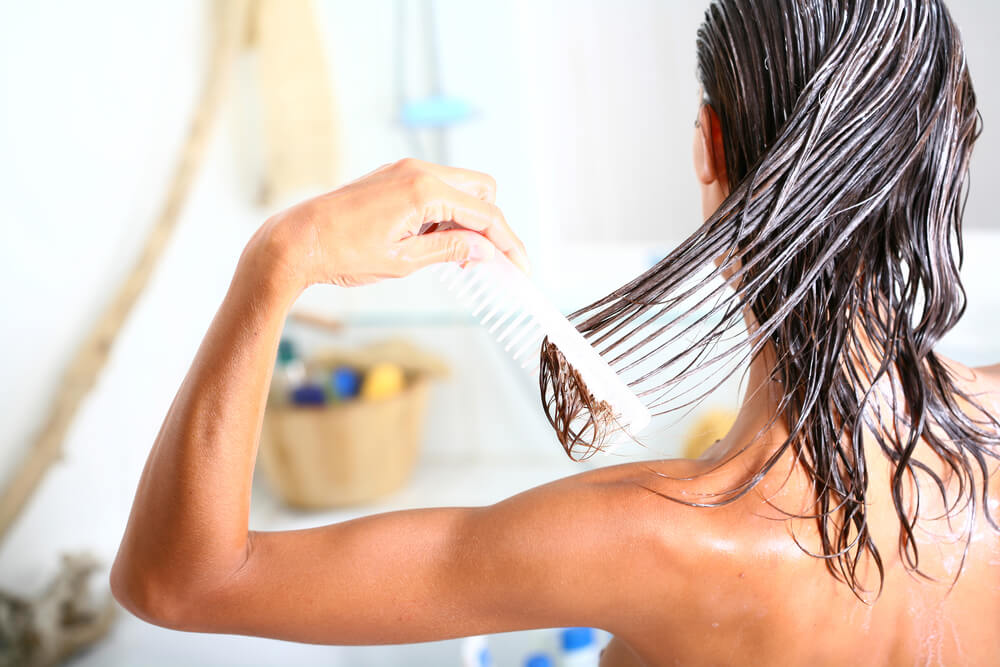 If you're out there Googling how to use hair mask products, you probably mean "what is the best way to apply a hair mask?" Lucky for you, it's not that complicated.
Apply the mask directly to your hair, going section by section. Make sure your strands are saturated from root to tip. It's best to apply the mask at the ends first, which are the most dehydrated part of the hair. Then, work your way up to the mid-lengths.
Try not to apply too much of the mask to your roots. This can weigh the hair down and make it greasy when you're done. Plus, your roots are already the most moisturized part of your hair because of their proximity to your sebum-producing scalp, so there's no need to go overboard in that area.
Avoid using too much of the hair mask. A little goes a long way since the formula is already very moisturizing.
Step 5: Detangle Any Stubborn Knots in Your Locks
Detangling is a must for frizzy hair. There's nothing more frustrating than trying to get rid of a stubborn knot or tangle in your hair, only for you to be forced to cut it off with scissors.
Hair masks are known for their amazing slip. When a product has "slip", it means they're rich and creamy enough to help loosen up the most difficult knots without you having to chop them off.
While your hair is saturated with your hair mask, run your fingers through your hair to get rid of any tangles. You can also use a wide-tooth comb to smoothen out your strands. Don't be forceful about it; be very gentle. Just let the hair mask and gravity do the work as you detangle.
Combing through your hair while the hair mask is on ensures that the product is evenly distributed throughout your locks.
Step 6: Let it Settle for 5-8 Minutes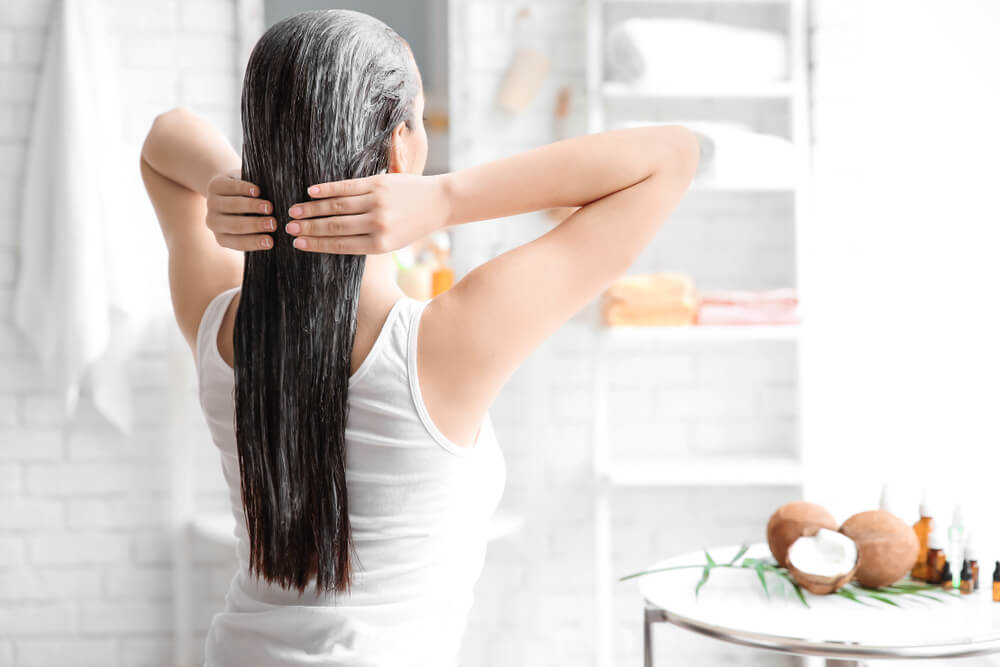 Now, we wait. Every hair mask has instructions on how long you should leave it in your locks. The Evalectric Hair Mask should be kept in your hair for about 5-8 minutes, but feel free to keep it in longer depending on your need.
If you have super dry, damaged hair that needs a lot of moisture back, you can extend your hair masking session to half an hour. Otherwise, the 5-8 minute mark should be enough.
Either way, use the time wisely in the shower! Treat your skin head to toe with that exfoliating scrub you've been meaning to use, or shave your legs.
Some people even prefer to keep their hair mask in overnight. To do this, put your hair in a plastic wrap and bonnet. Make sure it's secure so that you don't make a mess all over your pillowcase as you sleep.
For a more intensely moisturizing session, sit under a hooded dryer. Adding heat is one of our biggest tips for hair masking. Heat helps open up your hair cuticles, making it easier for the hair mask to penetrate your strands.
Step 7: Rinse with Cool Water
When time's up, rinse out the hair mask in the shower. Use cold water — the coldest you can tolerate. Cold water helps seal the hair cuticles, as opposed to hotter temperatures that open them up. With cool water, you can lock in the hydration from the hair mask, boosting moisture retention.
Cool water also helps add more shine to your hair. So, if you have dull-looking strands that need rejuvenating, don't miss this step.
Step 8: Style as Desired
Now, you're done with the masking process and can move on to creating the edgiest or most romantic hairstyles with your newly conditioned and softened locks.
If you're planning to style your hair with heat, use the Evalectric Hair Serum. This will help lock in the moisture from your hair mask even more, while simultaneously serving as a heat protectant. It'll keep visible damage at a minimum when you use your styling tools. This serum is also infused with aloe, which helps hydrate your hair a little more.
Then, you're free to dry your locks as normal with the Evalectric Pro Beauty Dryer. And that's it, you're done! Those eight simple steps are how to use hair mask products. Easy, right?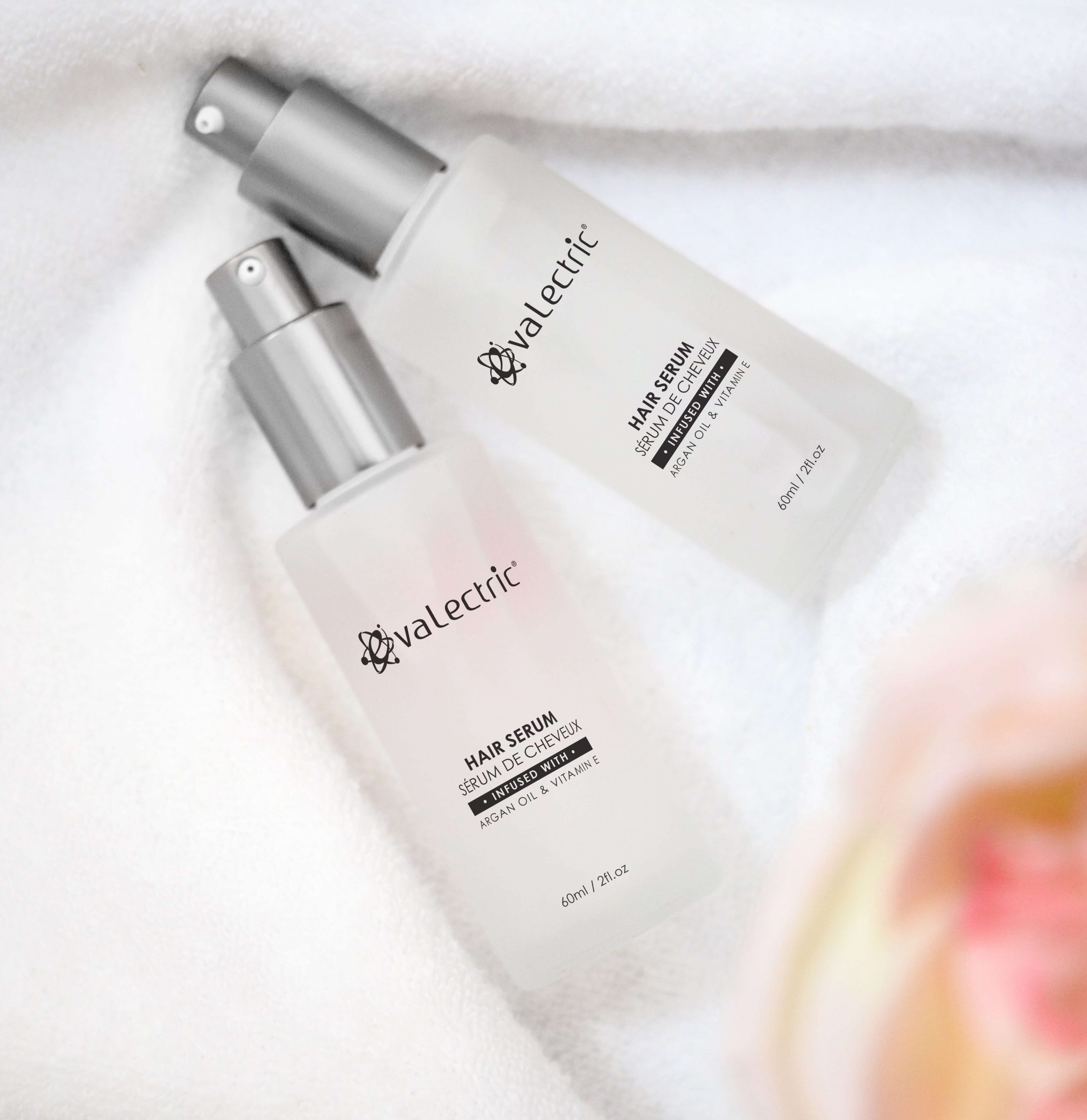 Conclusion
A hair mask isn't always a top priority when shopping for shower products; shampoo and conditioner will always be the top one and two in that regard. But if you're sleeping on a deep conditioner, you're surely missing out.
You get a ton of benefits from using a hair mask in your weekly regimen. Your damaged, tired hair can feel replenished with essential moisture, boosting the look of elasticity and shine. It also helps make your hair more manageable. This is a must for thick, frizzy, unruly hair.
How to use hair mask products is very easy. It's basically like using a rinse-out conditioner, but you need to make sure to apply it generously across all strands and wait a little longer until you wash it out. Use our step-by-step guide for how to use hair mask products above, and you'll be well on your way to ultra-moisturized locks.
---