How to Care for Extensions: 5 Tips from Celebrity Hairstylists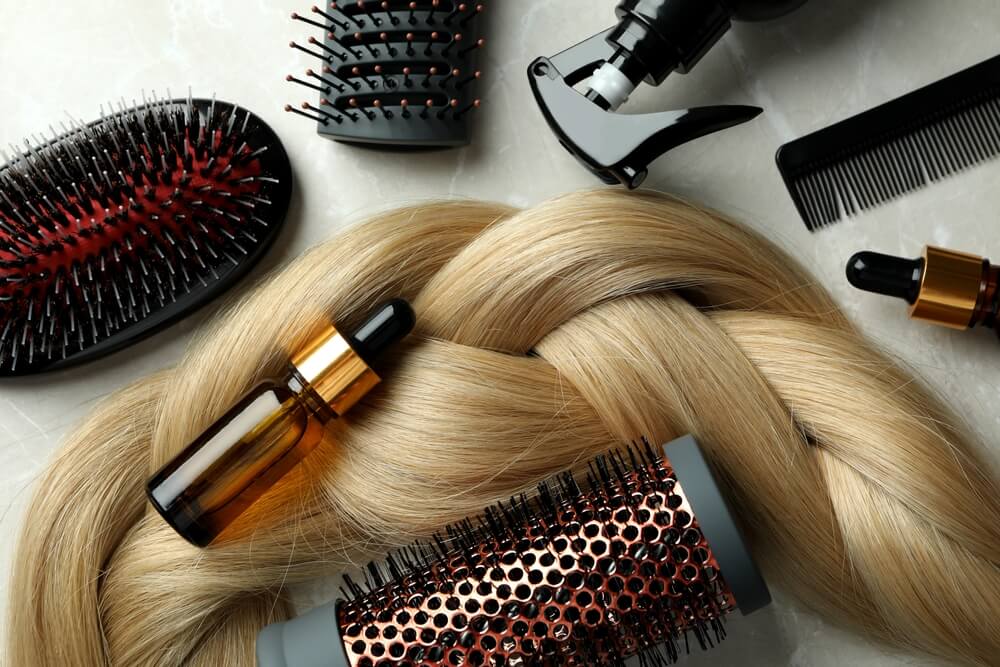 In the fast-paced world of beauty, it may seem like trends come and go at a moment's notice. Crimped hair, bleached blonde locks, pastel tones, balayage…These are just some of the many looks that have surfaced and fizzled out (and in some cases, resurfaced once more) in the past few years. However, there are some products and processes that never quite go out of style. They transcend trend status and becoming a fixture in the lives of many. One such example: hair extensions.
Historically, hair extensions can be traced back to 2700 BCE. Back then, they were crafted out of human hair and wool by the Ancient Egyptians. In the modern era, however, a woman named Christina Jenkins patented hair weaving in 1951. Since then, hair extensions have never quite left the spotlight. They're now more popular than ever, with so many different types to choose from.
If you're looking to get hair extensions soon, look no further for expert-approved know-how. Below, Evalectric breaks down five tips to help you care for extensions from the people who work with them most often: celebrity hairstylists.
Wash Your Extensions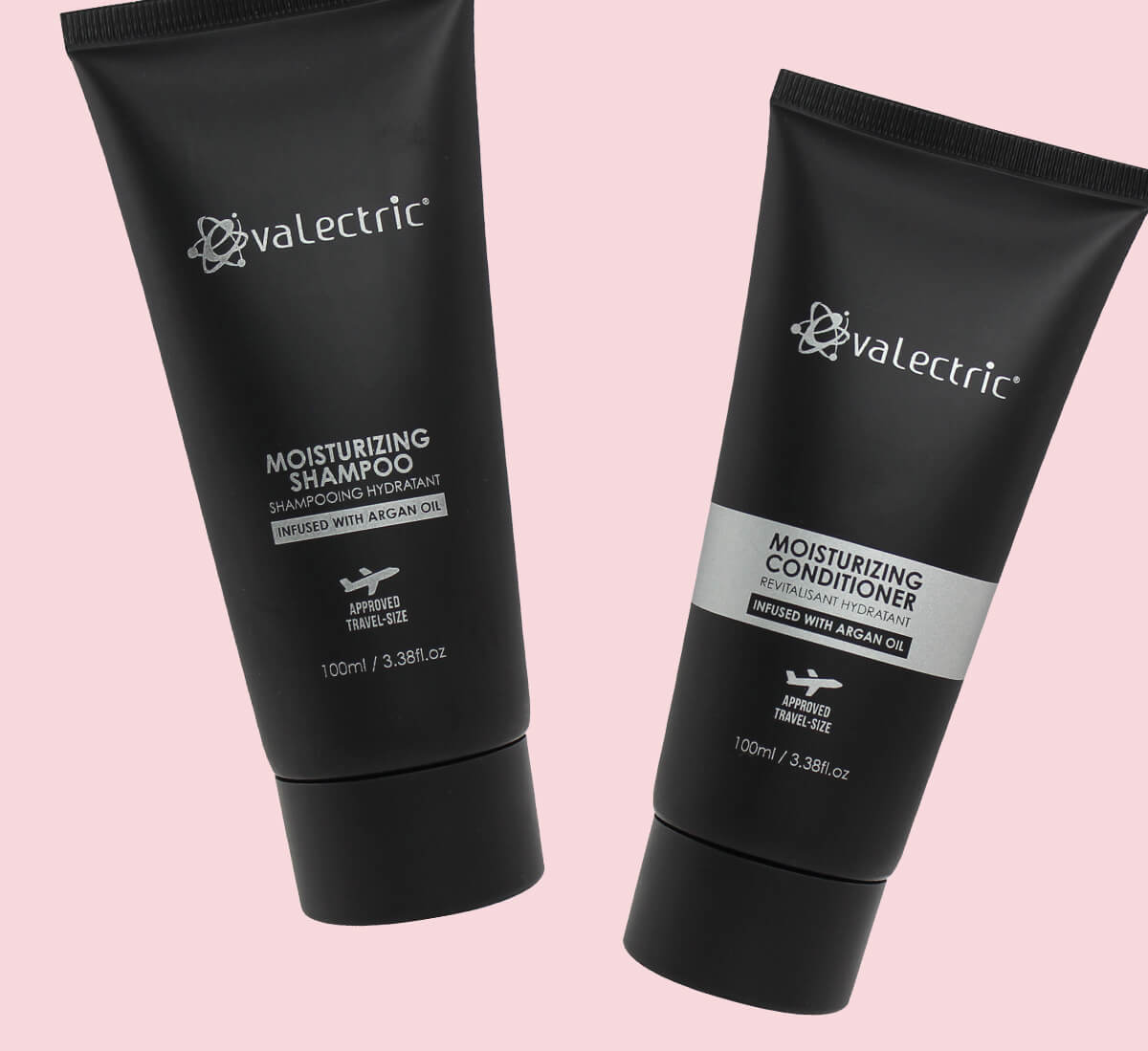 The basics of how to care for extensions aren't all that different from caring for your locks — at least if your extensions are made out of real human hair. Human hair extensions need to be washed frequently. This is especially the case if you use heat or styling products to get them into shape.
According to Chrissy Teigen's hairstylist, David Lopez, extensions need to be left dry for a day or two after being installed. This can help them properly adhere to the head. Thereafter, use a shampoo to get rid of debris and a conditioner to smooth out the ends.
What Should You Use to Wash and Care For Extensions?
Looking for a good shampoo and conditioner to help you care for extensions?
Consider Evalectric's Moisturizing Shampoo and Conditioner. Both are fortified with plant proteins and Argan Oil, which has been dubbed "Morocco's liquid gold." Argan Oil is made up of 80% unsaturated fatty acids and has abundant antioxidants — roughly twice as much as olive oil. These components work to bring moisture to the hair. Your extensions will feel so much softer and smoother after each wash.
The effects of a good shampoo and conditioner can be further amplified by an equally rich hair mask. Like the Moisturizing Shampoo and Conditioner, Evalectric's signature Hair Mask is formulated with Argan Oil to quench the feel of dry, damaged strands. Use this on your extensions just as you would your real hair.
Unlike permanent extensions, clip-ins are not designed for regular washing. Cleansing them after six to eight uses should suffice. To dry, simply lay them flat on a plush towel. Don't try to rush the drying process. It needs to happen naturally.
Synthetic extensions, which typically have less volume, can benefit from a good wash now and then. You'll want to wash them less frequently than human hair extensions, only resorting to washing to eliminate dullness or when you've used styling products. After washing, use a wide-toothed comb to get rid of tangles gently.
Pre-Mist with Styling Spray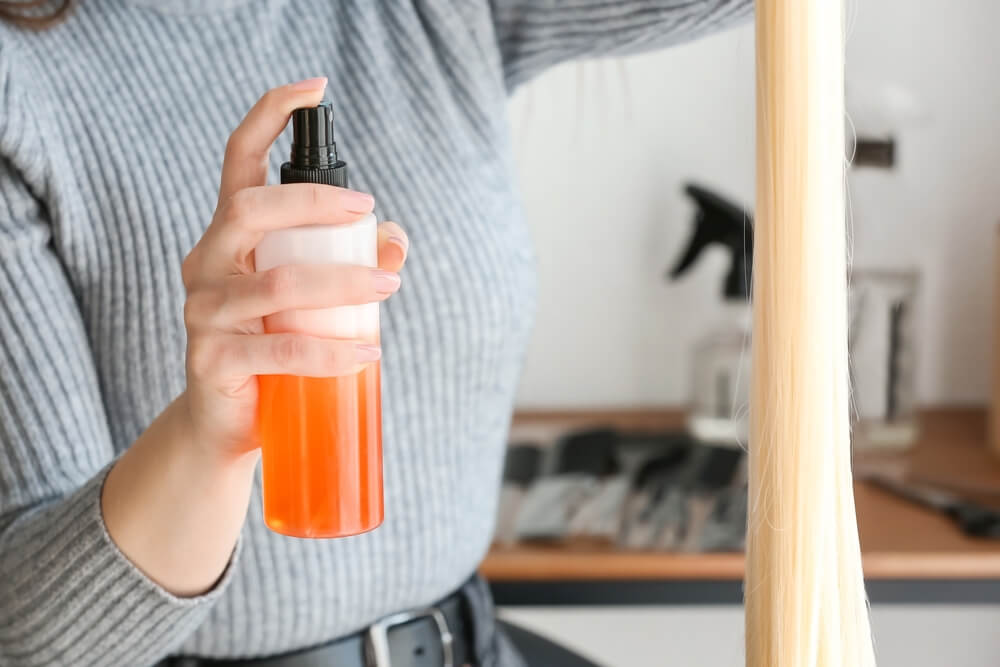 In an interview with Us Magazine, celebrity hairstylist Justine Marjan (who has worked with the likes of Khloe Kardashian and supermodel Olivia Culpo) shared some of her tips for how to care for extensions. The main character of some of Marjan's best tips is none other than a good styling spray.
When dealing with human hair extensions, Marjan stresses the importance of treating them the way you'd treat your natural mane. Apart from washing, this includes styling prep. Before exposing human hair extensions to heat, give them a little extra body with Evalectric's Hair Styling Spray. 
While primarily used to maintain hairstyles for long hours, the Evalectric Hair Styling Spray is also formulated with hair-loving ingredients. The two main ones are Argan Oil and Hydrolyzed Soy Protein. Like Argan Oil, Hydrolyzed Soy Protein contributes to the look of your hair's shine and moisture.
Replace Your Extensions Regularly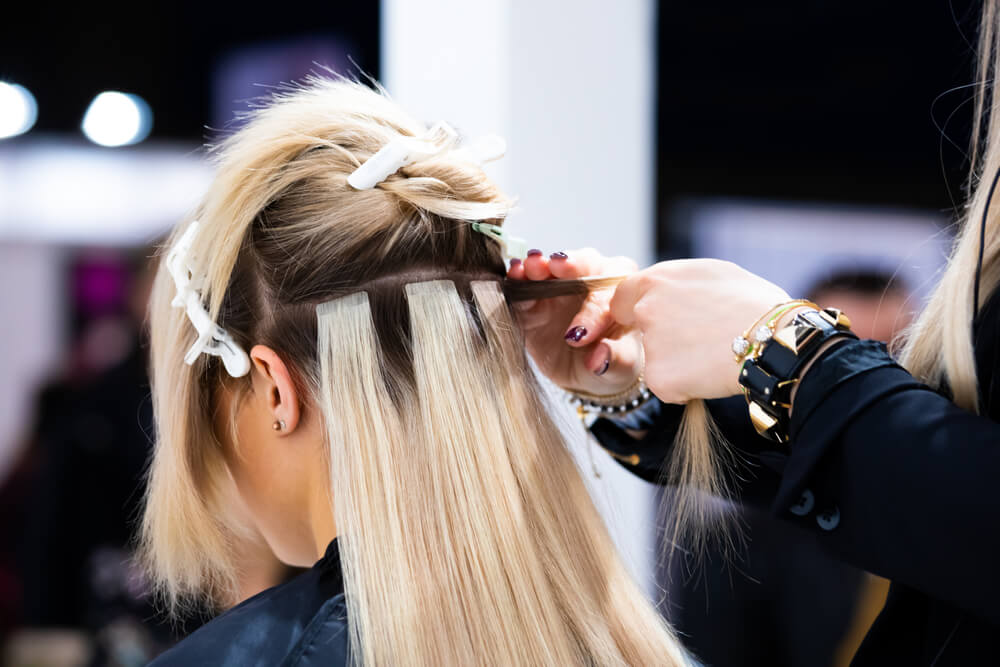 Recall how we specified the lasting power of the various types of hair extensions earlier. Just like makeup products and their expiration dates, it's important to remember that no extensions are meant to last forever. 
However, even with prescribed durations for certain extensions, each person's hair grows at a unique rate. So, how can you tell when it's time to get rid of your current extensions?
According to Kim Kimble, an expert who has worked with Zendaya, Tyra Banks, and Beyonce, it's simple: once your hair has grown long enough for your installation to show, it's time to visit your stylist.
Brush Daily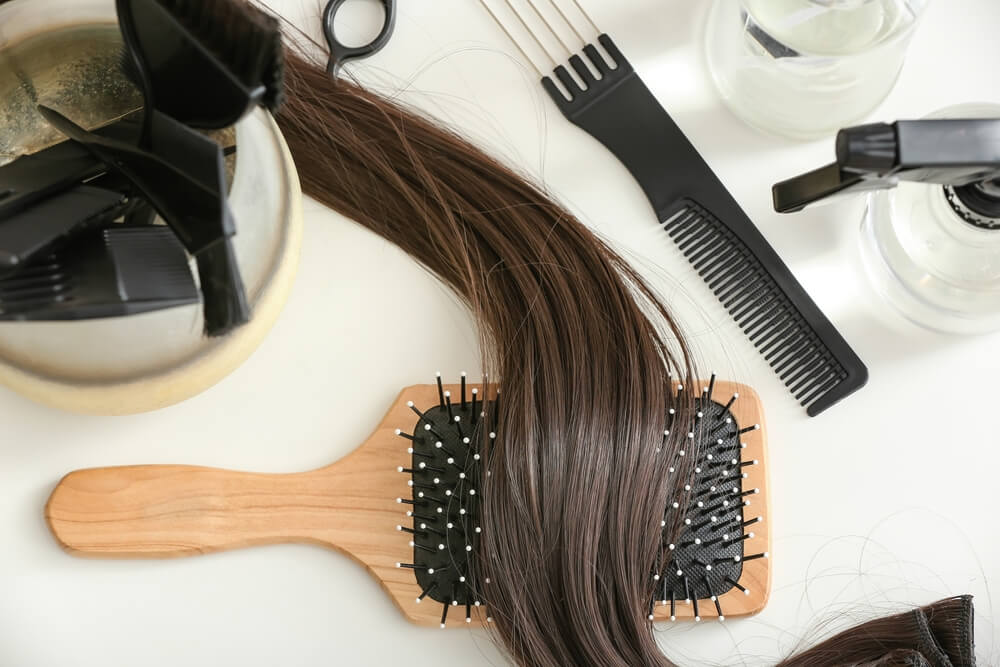 When you don't practice the right care for extensions, they are more likely to get knotted or matted. One way to minimize the chances of this happening is by brushing out your extensions — with the utmost care, of course. 
In an interview with Allure, hairstylist Marcus Francis shares the importance of brushing out any tangles each time you use your extensions. Straight extensions can be brushed out with a paddle brush, while a wide-toothed comb generally works best for curly extensions. Do this gently. After all, you don't want to unintentionally cause any damage!
Style with Care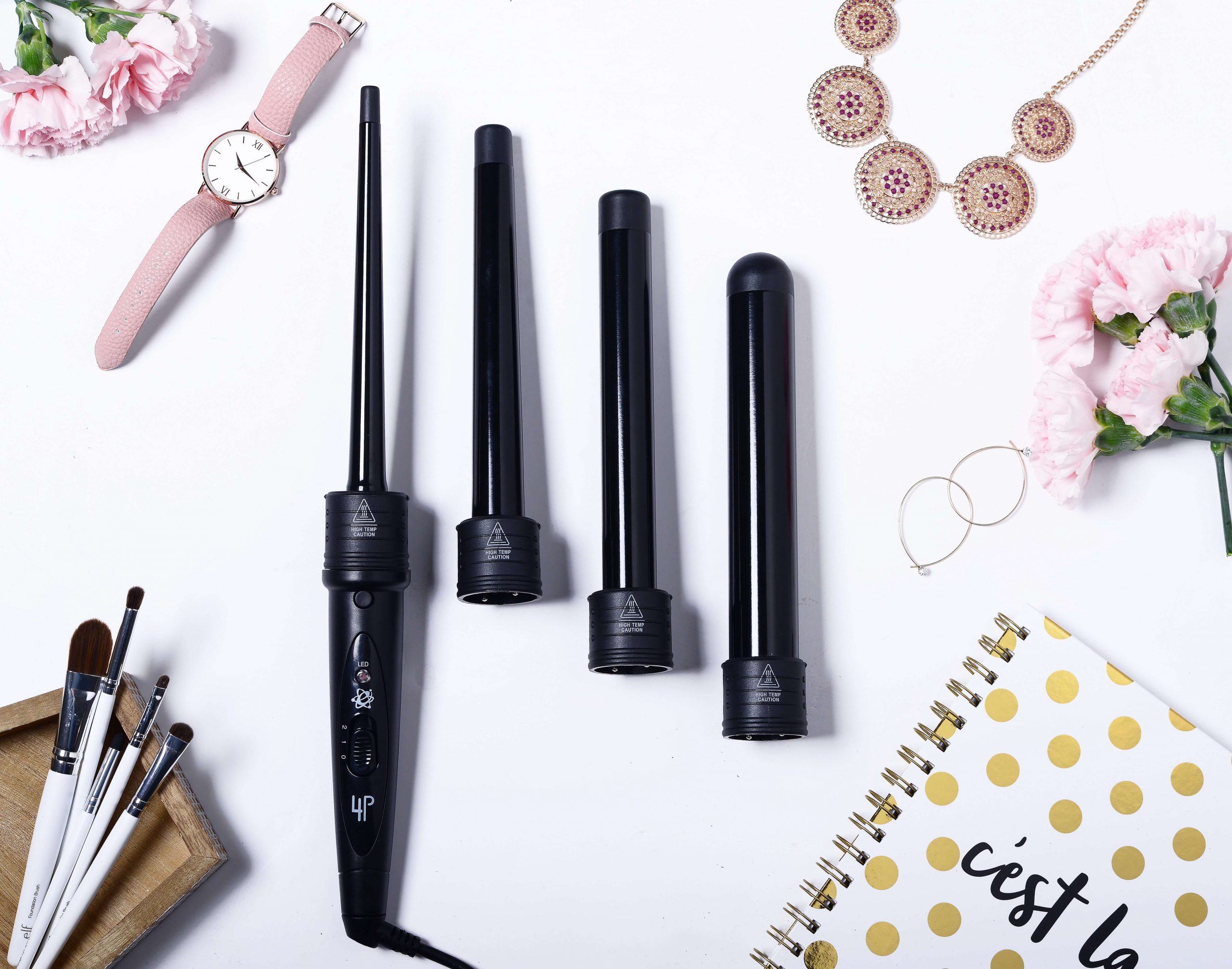 Human hair extensions can withstand bleaching, dyeing, and heat styling. However, that doesn't mean that you can haphazardly style them without taking the necessary precautions.
For one, celebrity hairstylist Sabrina Porsche cautions against piling on too many styling products. Sticking to a styling spray and a potent hair serum should suffice, otherwise, you may just end up weighing your extensions down. This will end up shortening their lifespan, which you definitely don't want to do!
Another styling tip: choose your hot tools wisely. Read on to learn how!
Choosing Heated Styling Tools for Extensions
Tourmaline flat irons are an ideal choice for styling hair extensions as they can:
Smooth out the look of the hair. You won't have to deal with a frizzy finish anymore!

Equally distribute heat across the iron plates. This makes styling much easier.

Enable the hair to hold on to moisture with

Negative Ion Technology.

This gives you glossier-looking extensions.
If you're looking to achieve dynamic curls, consider Evalectric's Grande and Trenta Curling Wands. Both equipped with patented tourmaline technology, these irons distribute heat evenly to make for quick, effortless styling. Measuring 25mm at the base and 18mm at the tip, the Grande Styling Wand can be used to create curls of various sizes. It's the perfect tool for executing romantic hairstyles. Meanwhile, the 32mm 25 – 18 Curling Black is ideal for achieving bounce and volume. It'll give your hair some gorgeous texture!
The Different Types of Hair Extensions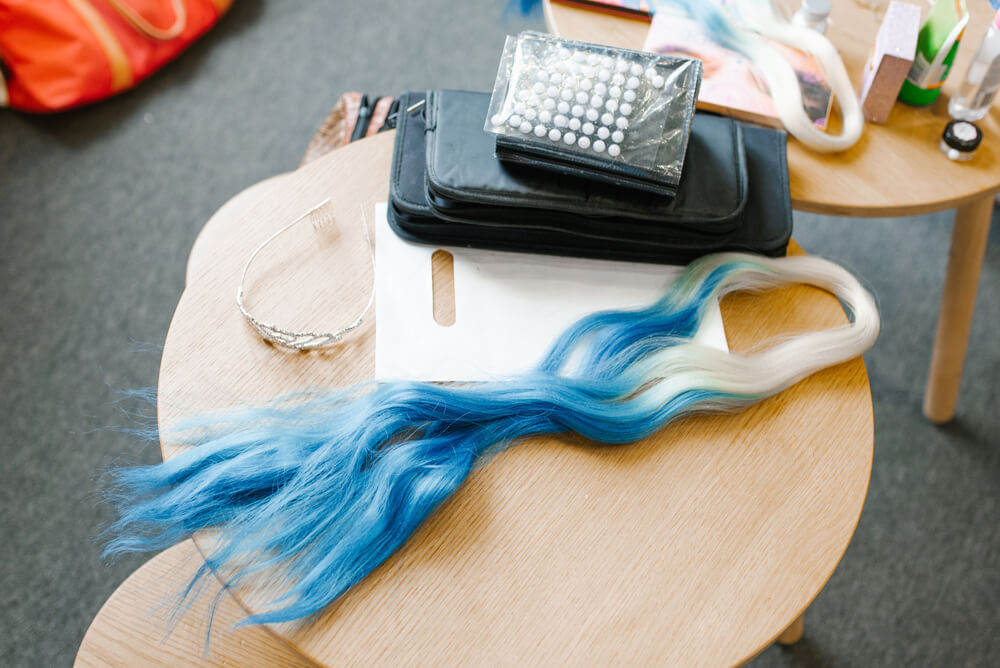 When learning how to care for extensions, it's important to understand the different kinds of hair extensions available on the market. Different extensions may require different care methods. It's always a good idea to get a clear understanding of what you're committing to.
The first thing to consider is what your hair extensions are made of. There are two kinds on the market: synthetic and human hair. They both have their own pros and cons. Let's take a closer look at each:
Synthetic Hair Extensions
Synthetic hair extensions are crafted out of a blend of fibers. These are typically made out of ultra-fine plastic. While these extensions may look like human hair from afar, there are a few telltale differences, such as texture and movement. Synthetic hair extensions have a stiffness to them, which makes them blend into the hair less naturally. Depending on the quality of the extensions, they may also feel stringy or rough.
Other characteristics of synthetic hair extensions include:
Typically more affordable than human hair extensions. This is one reason why they're so popular.

They cannot be bleached or colored. This limits their versatility.

They cannot be styled with heat. Why? Because plastic tends to melt when exposed to high temperatures.

May be damaged by friction and sun exposure. This shortens their lifespan.

More prone to damage, and therefore less durable than human hair.
Human Hair Extensions
On the other hand, human hair extensions are made from real locks sourced from human donors. While human hair extensions often come with a heftier price tag, they outperform synthetic extensions when it comes to quality. Because of the difference in caliber, human hair is usually the go-to choice of celebrity hairstylists.
Unlike synthetic extensions, human hair can:
Be cut, colored, and bleached. 

Be styled using blow dryers, irons, and other hot styling tools. This makes them more versatile.

Blend naturally with the wearer's hair. You won't be able to visibly see the extensions.

Feel as soft and smooth as the wearer's natural hair.
Regardless of the material they are crafted out of, hair extensions can fall into a few different categories. Because of the continuous development of the beauty industry, stylists have over ten kinds of hair extensions to choose from. After all, variety is the spice of life! Among them, these are the five most popular types:
Clip-ins

Tape-ins

Sew-ins

Cold-fusion or micro-link

Hot-fusion or pre-bonded extensions
Clip-In Extensions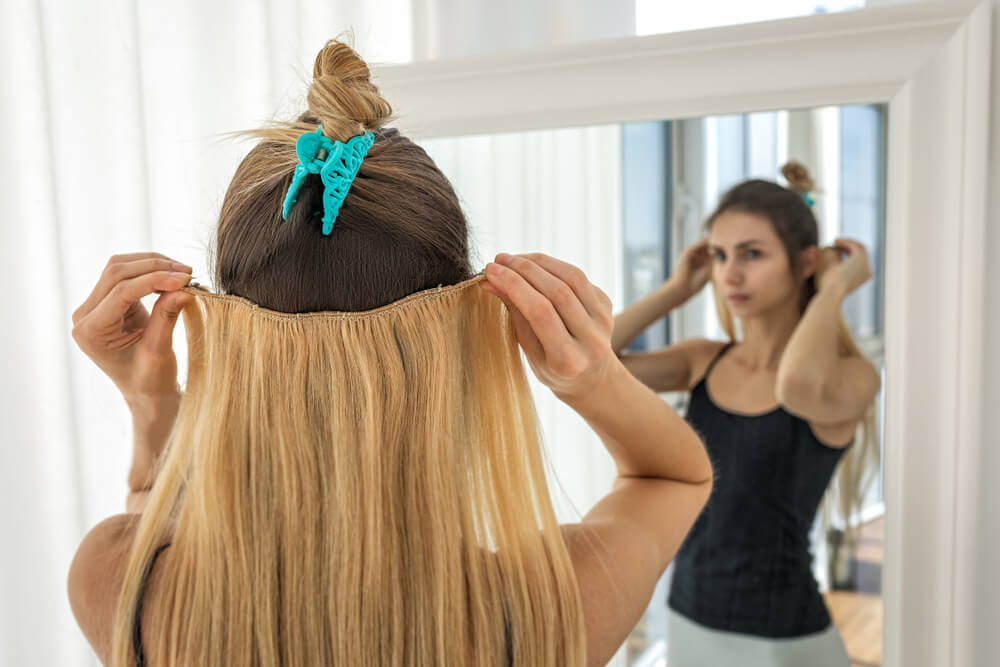 Clip-in wefts are a celebrity favorite because of how simple and non-committal they are. Clip-ins are the least permanent kind of extensions, specifically designed for easy application and removal.
Installing these extensions takes anywhere between five to fifteen minutes. It doesn't require a professional hairstylist's assistance. So, you can do them yourself at home. This simplicity is because clip-in wefts do not require any chemicals, heat, or other potentially damaging elements for installation. If practicing the right care for extensions, clip-ins can last between three to six months.
Tape-In Extensions
Tape-ins are another common option for hair extensions. As the name suggests, these extensions have strands of hair pre-bonded to a band of tape. These are then attached to your natural hair to give the illusion of fullness. Unlike clip-ins, tape-ins must be installed by a professional.
Tape-ins last for four to eight weeks. Thereafter, you'll have to visit your hairstylist for removal or reapplication. If you weren't happy with your tape-ins, try a different type at your next salon appointment.
Sew-In Extensions
As intimidating as they might sound, sew-ins (otherwise known as weaves) are one of the most well-loved kinds of extensions. Why? Because of how sturdy and seamless they are.
Unlike tape-ins and clip-ins, sew-in extensions are sewn into your natural hair. You won't have to worry about them falling out! These extensions can essentially last for longer periods. That said, we would still recommend removing them every six to eight weeks. Get them re-done and they'll look so much better this way.
Cold and Hot Fusion Extensions
The last two types of extensions are cold- and hot-fusion:
Cold-fusion extensions go by many names, such as micro-link, i-tips, and nanobeads. Cold fusion involves attaching the hair extensions, which are sectioned into small bunches, to the natural hair using a small bead. While this method is not necessarily damaging, it involves a painstaking process that can span up to four hours. It's not for those of you who are impatient!
Hot-fusion, on the other hand, involves fusing the extensions to natural hair using adhesive. This process, while meticulous, can create an illusion of seamlessness. Like cold-fusion, hot-fused extensions can last for up to four months. They're pretty long-lasting and durable. However, it is important to note that this method is not the most suitable for those with fine or brittle hair types. It could end up doing more harm than good.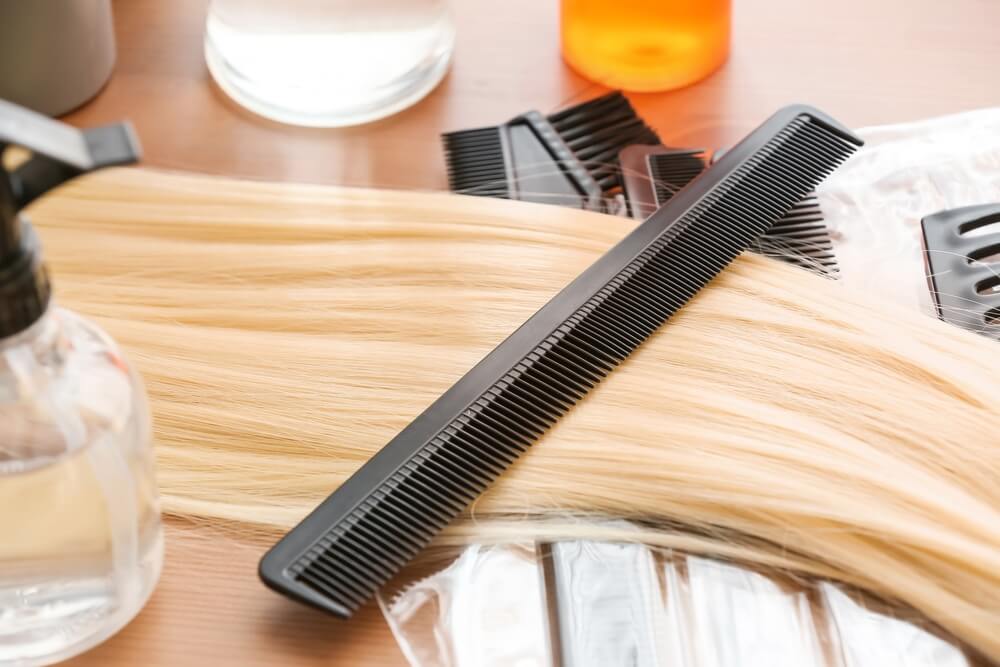 Summary
Here at Evalectric, we are dedicated to creating innovative tools and products that can help you take better care of your locks, regardless of whether they're clip-ins, tape-ins, or your natural locks. When at a loss for how to care for extensions, don't forget to navigate back to this list of hairstylist-approved tips!
Discover more hair styling tools and haircare products online with Evalectric.
---