What's so Special About the Evalectric Shampoo and Conditioner?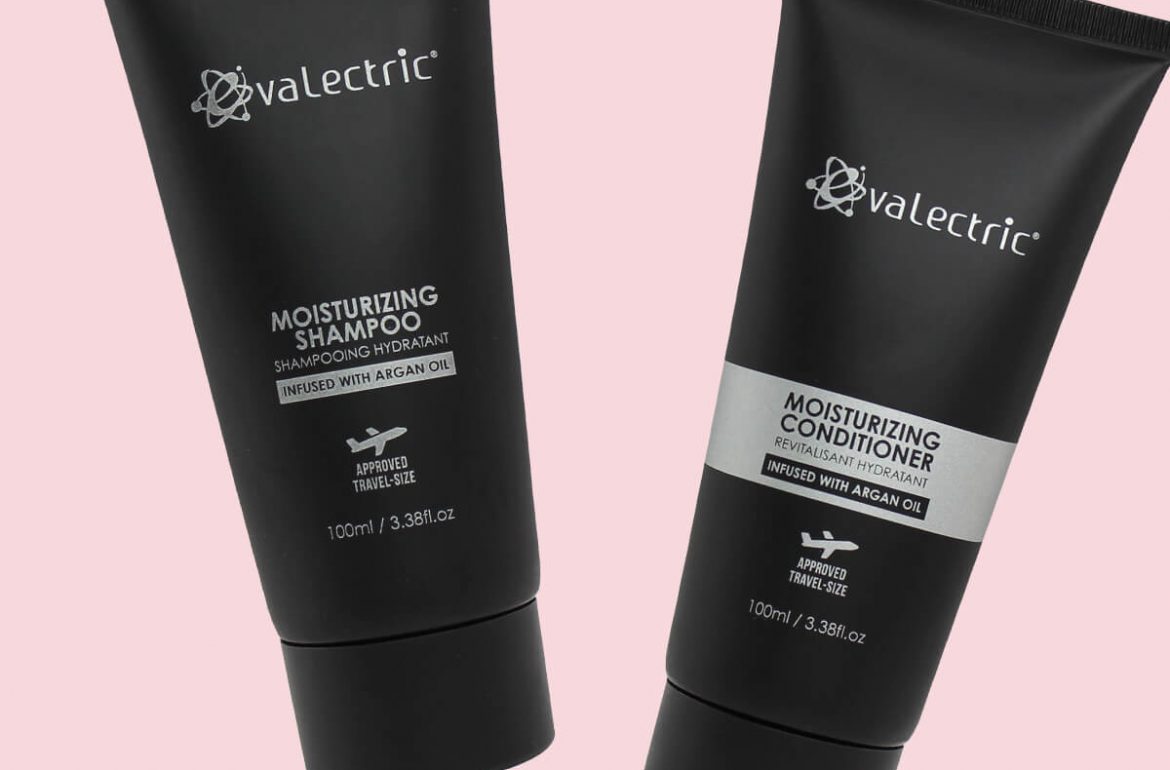 There are way too many options for shampoos and conditioners in drugstores. Sometimes, we just add the first thing we find to our carts without really reading up on what shampoo can do, or what ingredients that conditioner has. They all pretty much do the same thing anyway, right?
Not exactly. It's unwise to trivialize what a good shampoo and conditioner can do for your hair. You'll only realize how big of a difference a high-quality, nutrient-rich shampoo and conditioner combo can be to your hair once you try it for yourself.
Stop relying on just any shower products to give your hair the care it needs to feel soft and luscious. In this Evalectric shampoo and conditioner review, we'll break down what you'll love about this lush, luxurious combo and how it will help bring the look and feel of your hair to life on wash days.
Why a Good-Quality Shampoo and Conditioner is Essential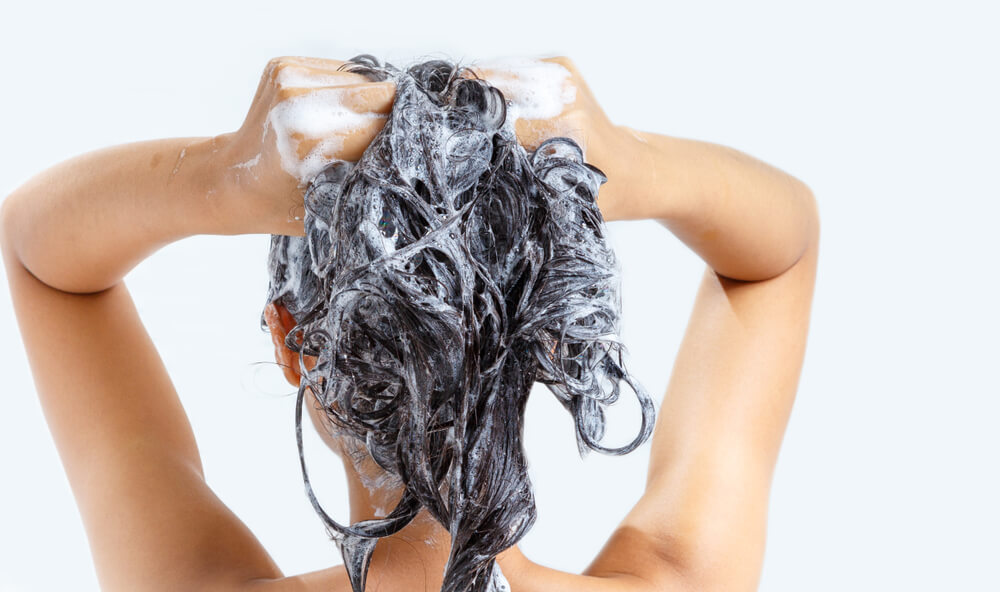 Picking a good shampoo and conditioner combo matters because it's the foundation of a good hair care routine. If you mess up on wash day, styling your hair can prove to be frustrating, especially if your shampoo leaves your hair in tangles or your conditioner isn't moisturizing enough.
They're both known to be non-negotiables in any hair care routine. They have specific roles to play in refreshing your hair, so they always come in tandem.
What Do They Actually Do?
Shampoos contain cleansing agents called surfactants to wash out the gunk and grime in your locks, which can accumulate over time from sweat, oils, and hair products. Because it's meant to wash away impurities, shampooing can leave your hair feeling rough and dry. That's where conditioner comes in.
Meanwhile, conditioners soften the feel of the hair with moisturizing ingredients, like oils, butters, and proteins to smooth down your hair cuticles and make them feel strong and silky. Following up with conditioner after shampooing your hair is crucial because it gives back the moisture it lost.
If you're lucky, your shampoo will also have conditioning ingredients that soften and moisturize the feel of your hair as you wash it. Shampoos like this don't leave your hair feeling dry and stiff. Continue reading this Evalectric shampoo and conditioner review to see what we mean!
Why You'll Love the Evalectric Shampoo and Conditioner
What's so special about them, you ask? In a nutshell, the Evalectric shampoo and conditioner are infused with fine, hair-loving ingredients that moisturize and strengthen the feel of your locks at the same time. Sounds simple, but it's actually pretty rare for shower products to be this hardworking for your hair. Let me explain.
The Evalectric Moisturizing Shampoo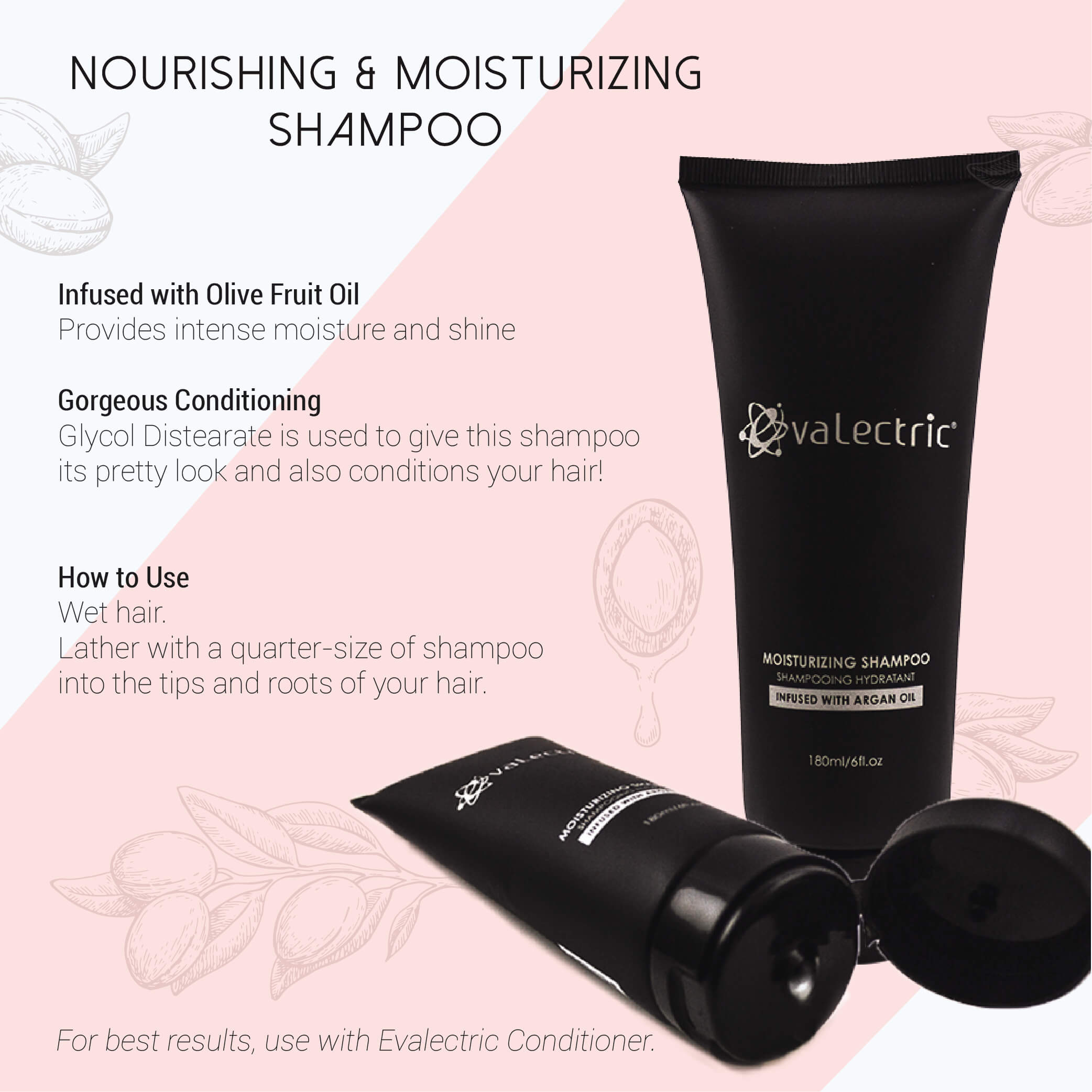 The Moisturizing Shampoo works to wash away stubborn dirt and impurities from your scalp. But cleansing your hair of all the nasty build-up is not its only benefit.
It's formulated with conditioning ingredients like plant proteins and argan oil to hydrate and smoothen out the feel of your hair as you wash it, so it doesn't feel tangly and difficult to manage, like freshly shampooed hair usually does.
The Evalectric Moisturizing Conditioner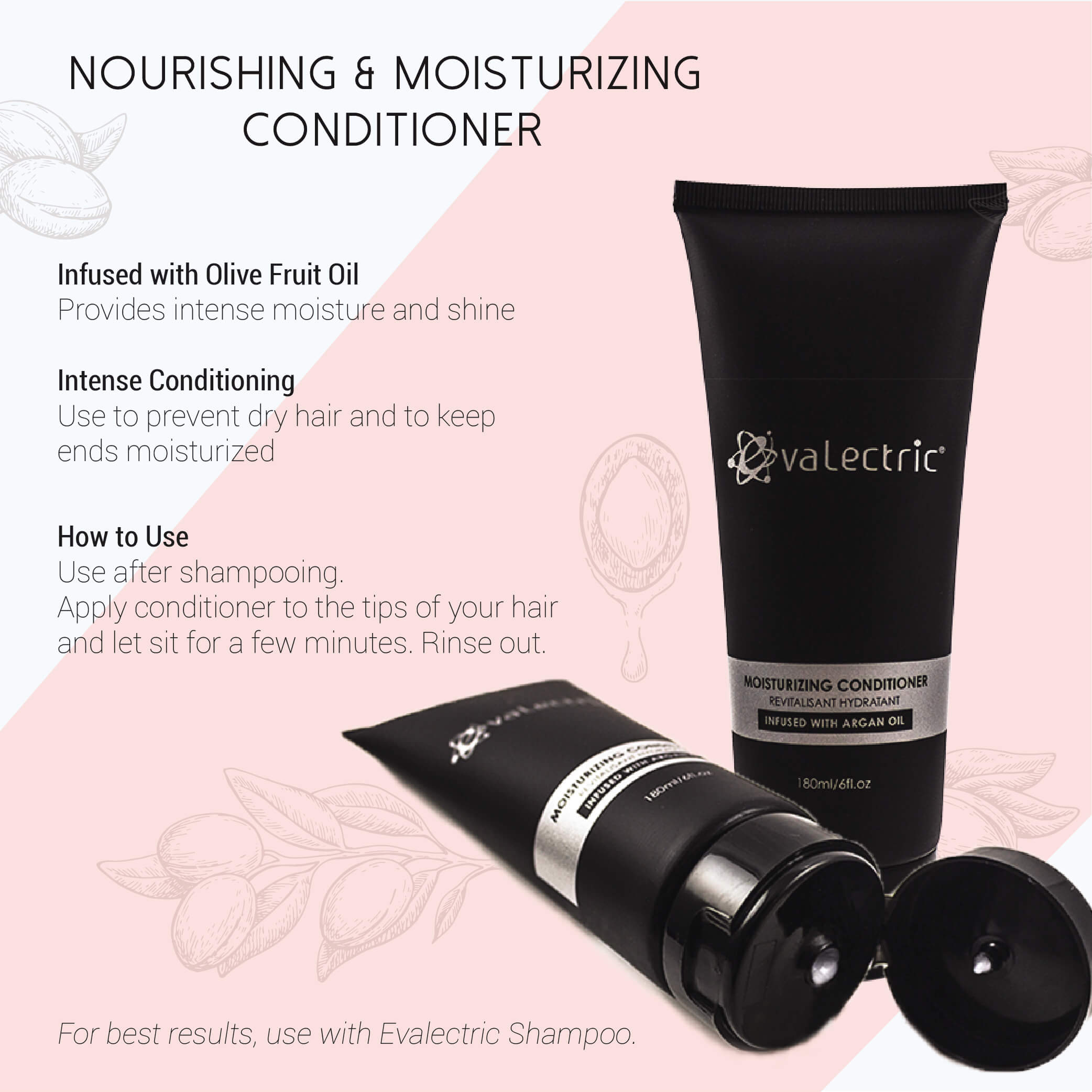 Next up, we have our Moisturizing Conditioner. It's made with the same fine, high-quality hero ingredients as its matching shampoo: luxurious argan oil and plant-derived proteins. These ingredients work to pamper and fortify the hair, leaving it feeling stronger and bouncier after you rinse.
Another cool thing about this conditioner is that it prevents static, which tames the look of frizzy and unruly hair. It also adds an immense gloss to your hair, leaving it shiny and healthy-looking.
Anyone can benefit from this shampoo and conditioner combo. It's designed to be suitable for all hair types. So whether you have an oily scalp, dry ends, or have curly spirals, you'll find something to love about this wash day duo.
Not convinced with our quick Evalectric shampoo and conditioner review? Don't worry; there's still much to learn about how fabulous this combo is for your hair!
They Replenish Your Hair with Much-Needed Moisture
The most important thing our shampoo and conditioner provide is a whole lot of moisture for thirsty hair. Hydration often spells the difference between dull, weary-looking hair and a shiny, bouncy-looking mane.
Moisture is your hair's biggest lifeline. If it can't retain water, your hair will feel dry, straw-like, and rough to the touch. It will also likely have zero shine. But the worst part is that it will be more susceptible to breakage because of the lack of elasticity. No one wants their delicate strands snapping off like twigs!
It's also tricky to style dehydrated hair. That's because it will likely be more tangly, so it won't be a walk in the park trying to get the smooth and sleek look you want. What's worse is it may have trouble holding curls and waves when you heat-style.
So when looking for hair products, it's smart to go for ones that list water or aqua as their first ingredient. This assures you that the product is water-based and will help you get the hydration your hair needs to be smooth and strong again.
Evalectric's moisturizing shampoo and conditioner contain deeply moisturizing ingredients to smoothen the feel of your hair and bring its appearance back to life from dullness. Not only are both products water-based to give you intense hydration, but it's also rich in ingredients to seal in all that moisture, like oils and silicones.
The argan oil works as a sealant to lock in all that moisture, while the silicones create a protective layer around your hair to keep it feeling strong. The shampoo and conditioner's moisturizing ingredients also contribute to the overall plumpness and shine of your hair's appearance.
They Restore the Feeling of Protein-Moisture Balance in Your Locks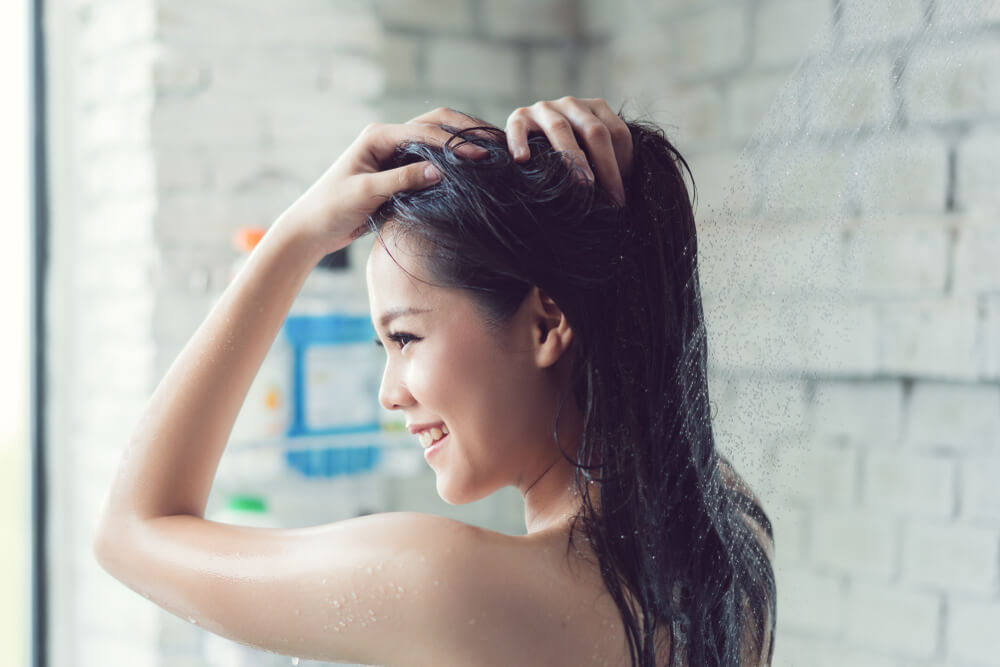 But moisture isn't the only thing these provide. The products in this Evalectric shampoo and conditioner review are infused with plant-derived proteins, too.
Moisture isn't the only thing your hair needs to be beautiful and luscious. It needs to be in equilibrium with proteins as well. This is called protein-moisture balance.
See, while moisture makes your hair more elastic and keeps it from breaking off, it doesn't necessarily mean that your hair fiber is strong and fortified.
That's the job of protein—the substance that gives your hair its structure and strength. Without protein to give it body and bounce, your hair will feel gummy, limp, and fragile.
So while moisture is responsible for the elasticity, shine, and plumpness of your hair, protein holds it all together by strengthening and fortifying your hair's structure. If you want salon-beautiful hair after your shower, you can't have one without the other in your routine.
Proteins Strengthen and Repair the Look of Damaged Hair
Let's take an even closer look at protein. Why is it so important, and why is it a star ingredient in this Evalectric shampoo and conditioner review?
See, your hair strands are made of protein as it is. When your hair gets damaged by too much heat or chemical treatments, your hair proteins (also known as keratin) get broken down. You'll need to replenish it to fortify the feel of your hair and make appear resilient again.
There are tons of ways to give your hair more protein. For example, you could load up on chicken, eggs, and fish for dinner. Or treat yourself to a protein mask twice a month.
But it's much more convenient to incorporate it into your hair care routine. Luckily, the Evalectric shampoo and conditioner both contain proteins to restructure the feel of your hair for a stronger, longer appearance.
So if your hair is feeling a little weak and tired from all the heat styling and sun exposure, give it extra love with the products in this Evalectric shampoo and conditioner review. Who knew washing and conditioning your hair can let you kiss the appearance of split ends and breakage goodbye?
Argan Oil Adds Hydration and Shine to Your Locks
Argan oil is an exotic and luxurious oil fondly called "liquid gold" in the hair care world. It got its nickname because of its plethora of benefits for your hair.
It's rich in vitamin E, fatty acids, and antioxidants that hydrate and condition the feel of your hair. It's popular as a finishing oil after styling because it keeps frizz at bay while adding a glossy shine to your locks. 
Needless to say, argan oil is definitely the star ingredient of this Evalectric shampoo and conditioner review. Both products are infused with this liquid gold, adding moisture, strength, and shine to your hair's appearance all at once. It's one of the main reasons why this shampoo and conditioner combo is so sought-after.
They Keep the Look of Static and Frizz at Bay, Leaving Your Hair Feeling Smooth and Tame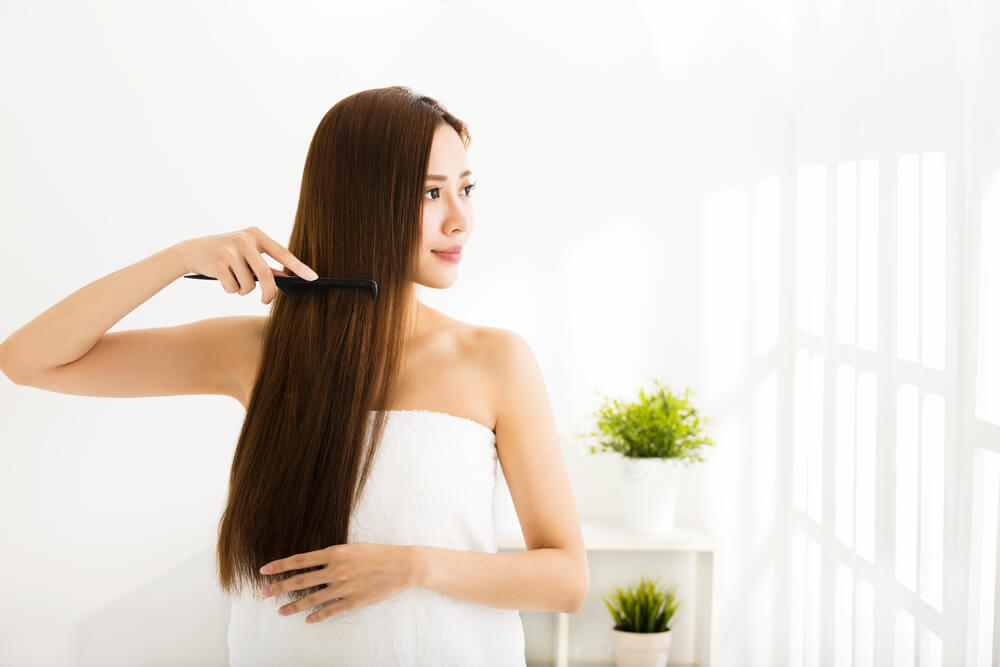 Static is one of the biggest culprits of frizzy hair. When static has an electric charge because of friction or humidity in the environment, it forces your hair strands away from each other. This causes insane frizz and an overall unruly look to your hair.
In the colder, drier season, your hair can get frizzier because there's no humidity in the air. This can amp up static. So the best way to avoid frizz-causing static is to moisturize your locks. The hydration helps fight static and lock out humidity that can aggravate frizz.
The Evalectric shampoo and conditioner work to fight the visible effects of static with their moisturizing and sealing ingredients, like argan oil, proteins, and silicones. When you use them in conjunction with each other, they'll leave your hair looking sleek, smooth, and immune to the horrors of static and frizz.
Detangling is So Much Easier Afterward
If you have long hair that's prone to tangles and fairy knots, you know how challenging it is to keep your hair feeling smooth and silky. Tangles can lead to breakage and split ends in the long run. But a good conditioner should be able to detangle your hair, no matter how many knots there are in your mane.
At Evalectric, we believe that both shampoo and conditioner should have a hand at keeping your hair feeling smooth and tangle-free. That's why both of our products hydrate and smoothen the feel of your locks to make sure detangling is made easier as you wash your hair.
One of our favorite ways to detangle hair is in the shower. Wash with the Moisturizing Shampoo and follow up with the Moisturizing Conditioner. Let the conditioner soak into your hair for a few minutes, and then detangle with your fingers or a wide-tooth comb.
You should be able to detangle even the most stubborn knots because of how smooth the argan oil and proteins make your hair.
Don't Settle for Anything Less!
Shampoo and conditioner might be among the most basic hair care steps, but you should never sleep on high-quality formulations that will make a difference in how your hair feels and looks. Take it from this Evalectric shampoo and conditioner review—some products are better than others.
Yes, you should use a shampoo that will eliminate all the gunk and oils from your scalp and a conditioner that will pamper your strands.
But you should always look out for cheap shampoos that will strip your hair of all its moisture or, on the other side of the spectrum, a conditioner that will leave your hair greasy and with a sticky residue no matter how many times you rinse.
Luckily, the products in this Evalectric shampoo and conditioner review don't do any of those. Instead, they focus on their tasks of cleansing and moisturizing, all with the added bonuses of hydrating and keeping frizz at bay. You can't ask for a better daily product for your hair!
Conclusion
Picking out shampoo and conditioner is a mindless task for most people. But if you truly care about the shine, beauty, and moisture levels of your hair, you won't sleep on excellent shower products.
If there's anything you should take away from this Evalectric shampoo and conditioner review, it's that you can't scrimp on your shower products. It's important to give your hair moisture and protein right as you hop into the shower, and that's exactly what this product combo strives to do.
So if you want only the crème de la crème of shampoo and conditioner, check out Evalectric's well-loved duo. You'll finally get to say goodbye to the look of frizz and dullness, and hello to beautiful shine and bounce!
---