5 Ways to Style Your Hair With a Flat Iron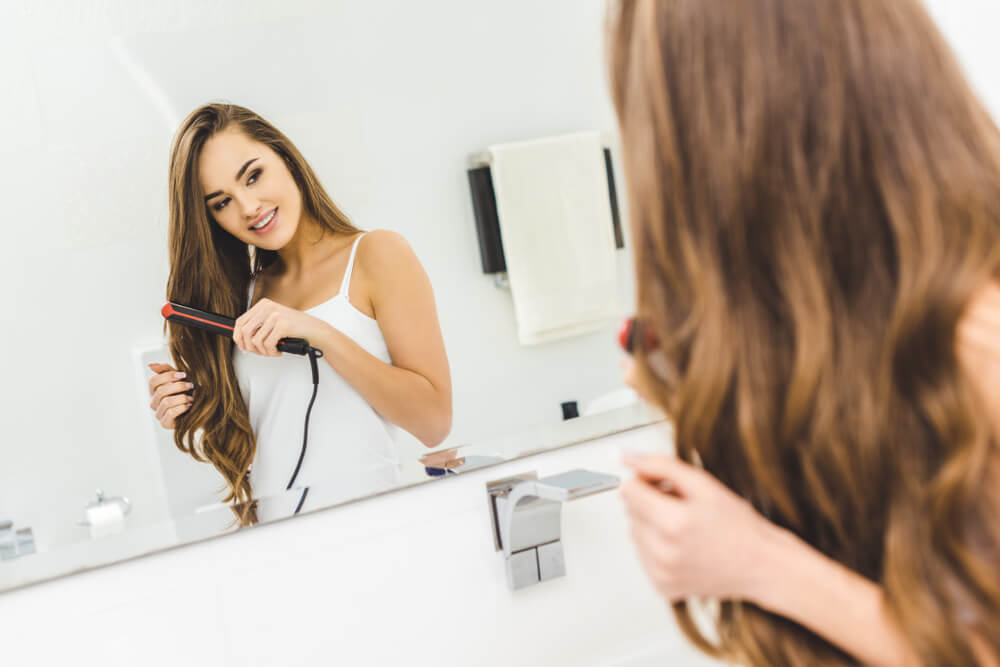 Ah, the humble flat iron. How did we ever live without its ability to straighten out and smooth our lengths at a moment's notice? Well, it turns out, that's not all we should've been relying on it for all this time!
That's right, your straightener is capable of so much more than just, well, straightening. Evalectric is here to share with you some of the amazing styles you can achieve together. Plus, how to create them step by step. Get your Evalectric Classic Styler 1.25 at the ready, your hair is about to look more beautiful than ever…
Straight and Sleek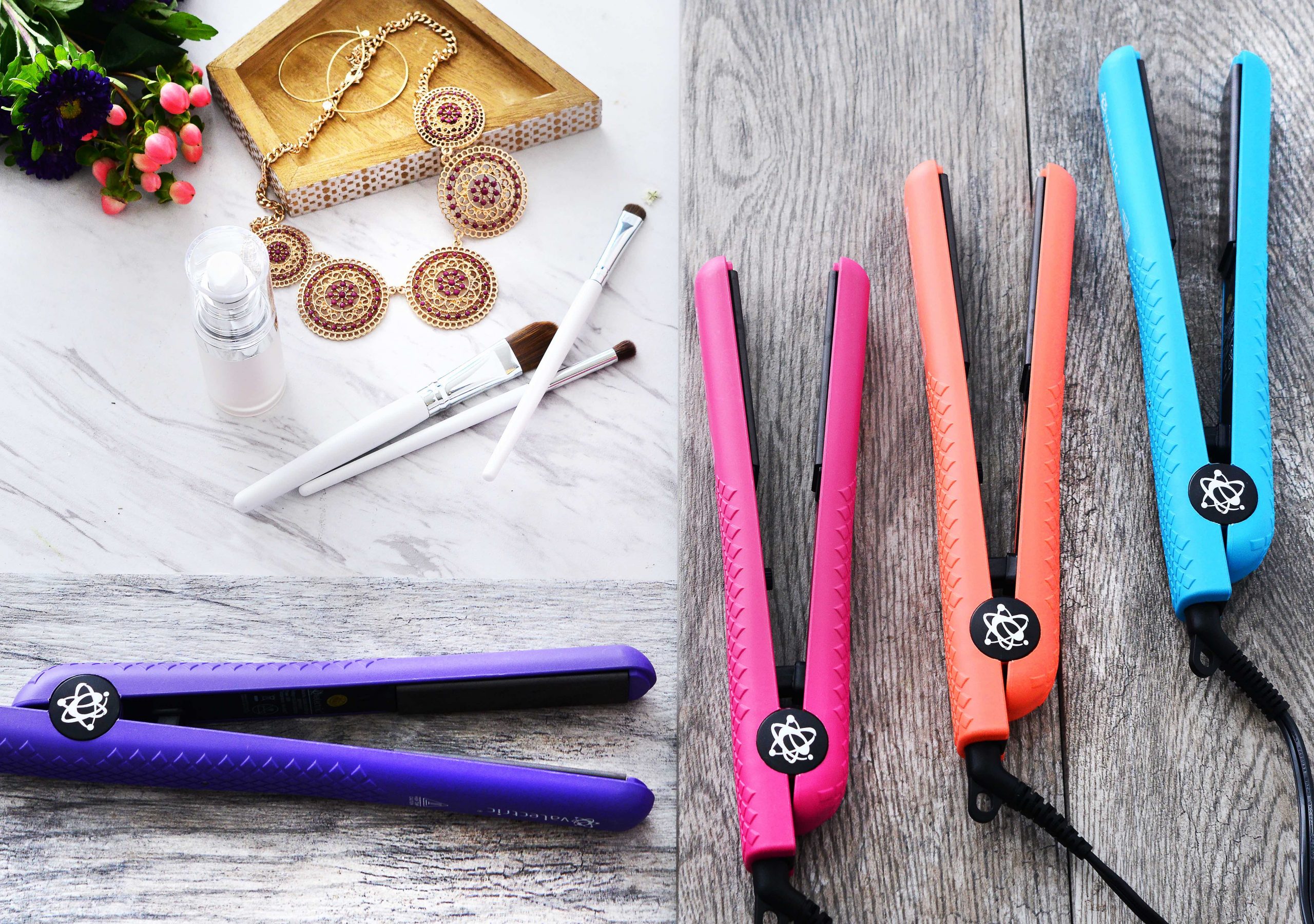 Now, before we dive into all of the other amazing styles the Evalectric Classic Styler 1.25 can help you to create, it's no secret that it was made first and foremost, to straighten your hair. After all, it's what flat irons do best. Thanks to its 100% ceramic plates, infrared technology, and an adjustable 460ºF temperature setting, it's a task this flat iron achieves better and quicker than most!
So, how do we recommend you use the Evalectric Classic Styler 1.25 to get smooth, shiny, beautifully straight hair that lasts?
It all begins when you wash it!
Prepping Your Hair
Start by prepping your hair in the shower. The best way to do this is by using a shampoo and conditioner combination designed specifically for moisturizing and smoothing out the feel of your locks. Additionally, once applied, comb your conditioner through and let it absorb into the mid-lengths and ends of your hair before rinsing with lukewarm water.
Pat your hair dry in a downwards motion. And when we say pat, we mean pat! No dragging the towel down your hair, this can cause lasting damage. Meanwhile, scrunching at the hair with your towel will enhance any natural curl you have so be sure to avoid this too so your Evalectric Classic Styler 1.25 can do its thing!
De-tangle your hair before blow-drying. Use a detangling brush on particularly knotty locks but reach for whichever brush or comb you know works best for you. Brush from the ends and work your way up instead of dragging the brush through wet hair. Once again, this can damage your hair and certainly won't provide a good base for straightening with a super hot flat iron!
Protect and dry your hair. Whether you opt for blow-drying your hair or you simply leave it to air dry to lessen the amount of heat you're applying regularly, you always need to make sure your hair is completely dry before going in with your flat iron.

Applying these kinds of temperatures to wet hair will always cause damage and breakage and you'll know it's happening as you see the steam and hear the sizzle!

Additionally, we always recommend treating your hair with a heat protection spray or cream before drying or heat styling, This will prep your hair to receive the heat and stop it from looking dry and frazzled as you go. That goes for every style on our list!
All prepped and ready?
Let's get onto the straightening itself!
The Straightening
Section out your hair. There's no one size fits all when it comes to hair sectioning because we all have different hair in terms of length, texture, and thickness. As a rule of thumb, however, we recommend, dividing out your hair into at least three sections from bottom to top, then taking smaller sections one at a time from these larger ones to pass through the plates.
Hold the hair straight and taught. As you straighten each section of the hair, make sure you're holding it straight and taut either with your hand or with a brush/comb. This action allows the plates to glide more easily and evenly over your hair meaning they'll straighten it better and more quickly. This ultimately helps as it means you'll need to pass the plates over your hair fewer times resulting in less heat on the hair which, as well all know, can damage it over time.
Finish off with a serum once your hair has all been straightened. This will add shine and softness to the appearance of your locks, not to mention it'll seal the hair cuticle for healthier-looking hair from the inside out.
Beachy Curls For Summer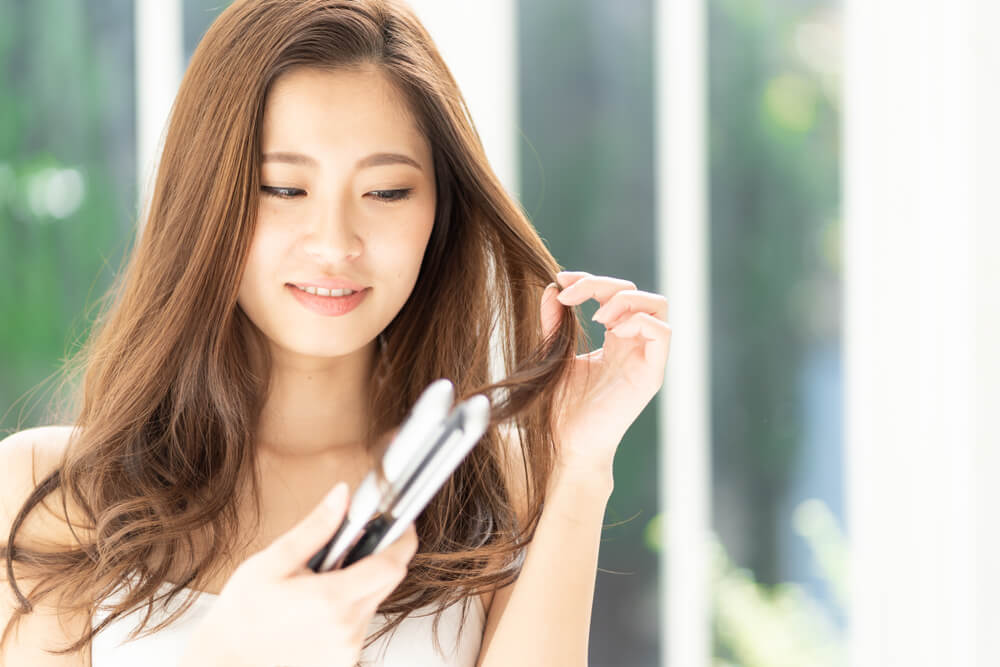 Summer has all but arrived. For those of us not lucky enough to live by the ocean, finding other ways to achieve beautiful beachy curls is a summer hair ritual we've come to know and love thanks to our favorite Evalectric Classic Styler 1.25 flat iron.
Wondering if it'll take all day?
You're in luck, it's actually pretty simple!
How to Create This Look:
Start by sectioning out your hair as you would creating any other heat-styled look. Begin with the bottom section loose and start your curling here.
Next, with the cord end of your straightener facing up, gently clamp the flat iron onto your first section of hair. Immediately turn it away from your face in a curling action. Pull the iron gently down and away from your head so the hair passes through the plates at an angle. It should wrap around the curve of your Evalectric Classic Styler 1.25.
Once you release the curl, don't touch it or try to tease it out into a more relaxed look just yet. Leave it to set as the beachy-ness comes later!
Repeat the process all over your head. Once every section is curled, leave the hair to completely cool. Once it has, go ahead and use your fingers to pull the curls apart. Tousle them up so they resemble a more nonchalant, laid-back style. You can even throw your hair into an impromptu side parting. This will provide a more convincing beach style.
Finish off with a little salt spray to get that quintessential 'I got out of the ocean, flipped my hair over and this magically happened' look. Then, spritz on a little of the Evalectric Hair Styling Spray to make sure your style stays curled all day long.
Super Sleek Ponytail
We all love a classic ponytail. Luckily for us, the Evalectric Classic Styler 1.25 makes achieving that look easier than ever!
How to Create This Look:
Once you've decided on the height of your desired style, use a brush or comb to sleek your hair back into a neat and tidy ponytail. If you have any flyaways or wavy pieces beforehand, use the Evalectric Classic Styler 1.25 to take care of them first.
Once your ponytail is secure, make sure it's brushed through and tangle-free.

Then, section off small pieces at a time. Run your flat iron over them once or twice until smooth and sleek.

Once you've covered each section, you'll be left with a chic, straight, up-do that really does takes just minutes to create!
Voluminous Curls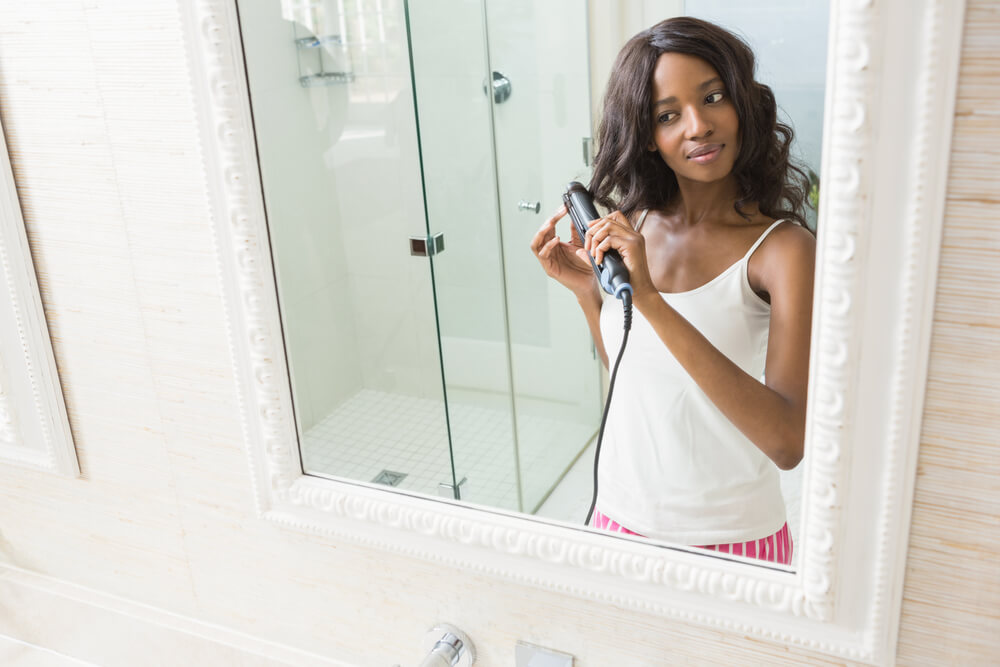 Achieving glamorous, voluminous curls is not all that different from how we created our loose beachy curls. However, there are a few specific and vital differences that will take your curls from pretty, to unforgettable! 
This look is perfect for everything from evenings out to work functions. Once you know how to achieve this style with your flat iron, you'll never look at it in the same way again!
How to Create This Look:
Begin by separating out your hair once again. However, for this look, you're going to be taking larger sections of hair in order to create a more glamorous looking, luxurious, substantial curl. Keep this in mind when you section out your hair. Take bigger pieces out to pass through the plates.
Before the actual curling begins, give your hair a generous spray of hairspray all over. This will help set your curls as you go. It will also keep them intact much longer once you're done with the flat iron.

Now, start with the bottom section again. Take your first piece of hair and make sure it's well combed through (do this every time). This will ensure the final curl is smooth and bouncy like a Hollywood star, rather than wavy or uneven like you slept on it all night!

Next, start closer to your head than before. Make sure the cord end of your flat iron is facing up. Clamp your first section of hair, twisting the flat iron away from your face as you go. If you can, and your hair is long enough, go ahead and keep rotating the curling iron as you slowly pull it through the hair.

This will create a stronger, more prominent curl with extra bounce and plenty of shape.

Go ahead and do this all over your head. When you reach the top section, don't be afraid to keep starting those curls nice and close to the roots. This will give your final curly style heaps of volume and will look super glamorous!

Don't forget about the hair closest to your face either. If you have very long bangs you can certainly curl those too adding more height and shape to your style. If they're on the shorter side, simply set your flat iron to its lowest temperature. Use it to gently tease these pieces subtly away from your face.
80's (or 2000s) Crimped Hair
Feeling nostalgic for the super-fun styles of your youth?
Us too!
And, whether that means the 80s original or its 2000s reoccurrence for you, we're more than here for another go at the beauty that is crimped hair. What's more, thanks once again to our favorite Evalectric Classic Styler 1.25, it couldn't be an easier style to achieve.
Before you get started, decide how large or how small you like the crimps to be. This might not sound that important but it can really make a difference to the overall finished look. So, be sure you know what you want. For example, finely crimped hair is generally more voluminous and sometimes even wispy resembling that of a mermaid! Meanwhile, larger crimps look a little more relaxed and even boho in style.
How to Create This Look:
Begin with clean dry hair.

Next, begin braiding your hair into small sections. The smaller the plaits, the smaller your crimps will be, so just bear that in mind. Evalectric recommends at least 8-10 braids to get a decidedly crimped look over one that simply appears wavy (though that of course will depend on the thickness of your hair).
This process can take some time if you're going for lots all small sections. So, be patient. The alternative is to braid larger sections. Or, braid it and crimp with your flat iron as you go. However, we've found that can be trickier as the loose hair gets in the way!)
When all of your hair is braided, take your Evalectric Classic Styler 1.25 and begin clamping the plates down onto the first section of hair. Work from top to bottom. Be sure to only hold the plates down for one second at a time so you don't damage or accidentally burn your hair.
Going over each braid once should be enough. However, very thick hair may take a couple of goes. Once you've heated every braid, allow them to cool properly before releasing them so they can set in place.
Once cool, let the braids out and enjoy your new crimped hair look! A drop or two of serum 

is recommended to keep them looking soft and shiny!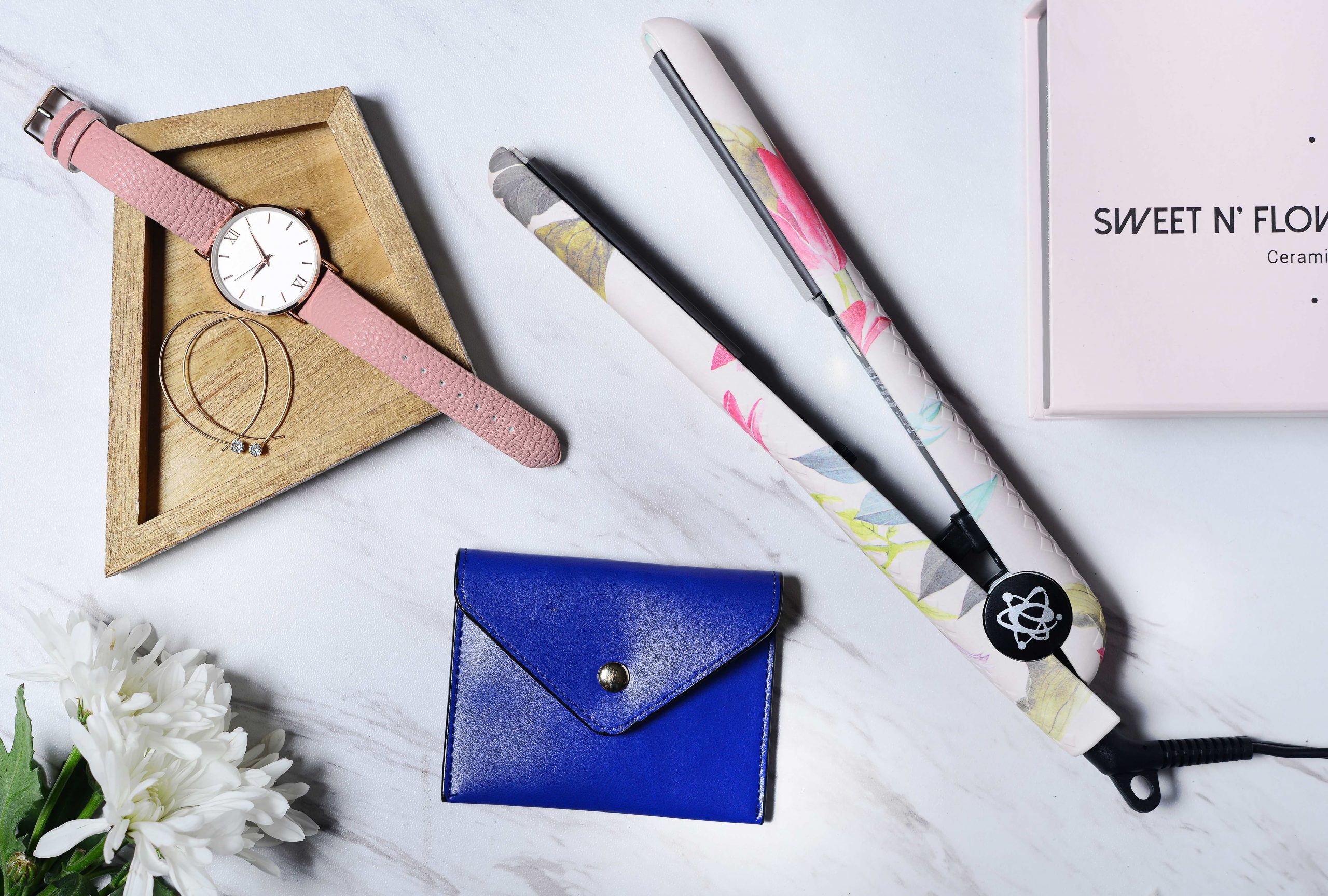 So, which of our styles has caught your eye? Will you ever refer to your flat iron as 'just a straightener' ever again? We think not! Don't be afraid to try new things with your Evalectric Classic Styler 1.25 going forward. You can even experiment with the angle you hold it at to create different curl shapes and seizes. The world is your oyster, and, as we've all discovered, your flat iron is without a doubt your most prized heat tool!
---