Which Evalectric Flat Iron is Right For You?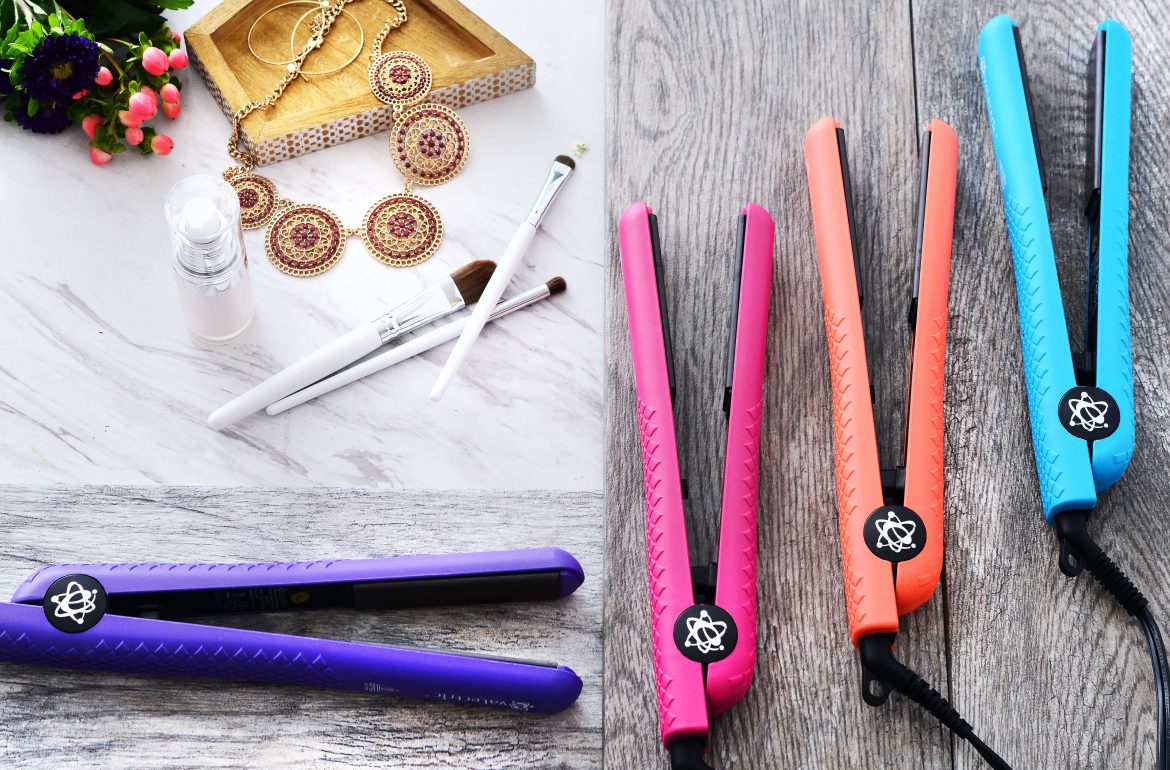 When it comes to picking out a new flat iron, we here at Evalectric can confidently say that no matter your hair length or type, one of our Evalectric flat irons will be perfect for you. 
The only question is, which one? How do you know which will work best for your hair type and get the job done without damaging your precious locks? Which will do all you need it to do from straightening your lengths to curling them? And, how can you possibly choose just one of these stunning designs when all of them would look so pretty on your dresser?!
Okay, so that was more like four questions, but don't worry. We're about to help you answer them all…
Things to Consider Before Purchasing Your Evalectric Flat Iron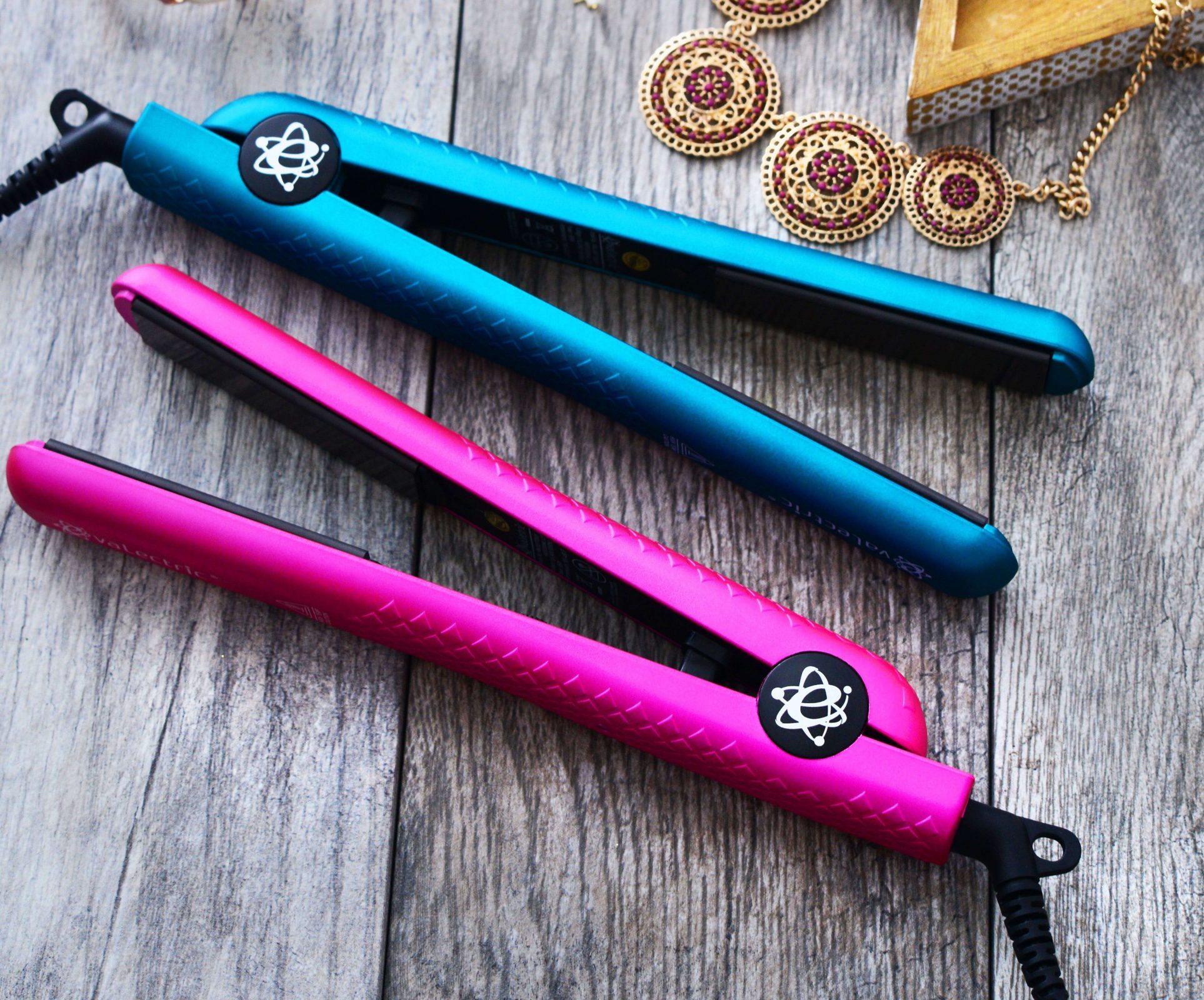 Before you even begin browsing any Evalectric flat irons, you'll want to ask yourself the following questions and know the answers. That way, you can make an informed decision and be sure that whichever flat iron you choose is not only going to do all you wished it to do when creating your favorite hairstyles, it'll also be at the right price point and will work perfectly for your specific hair type. 
Deciding on the spur of the moment or simply picking out a straightener just because you like the way it looks will rarely result in you getting what need out of your new heat tool!
What is Your Price Range?
When you're really feeling lost about where to begin on your journey to the perfect flat iron, we always recommend starting out by deciding on a rough price point. This way, you immediately know which Evalectric flat irons are and aren't a possibility for you, and you can begin looking through all the ones you actually might purchase!
Evalectric flat iron prices range from $125 – $350 so there's something for every budget. What's more, you can be sure that no matter the straightener you end up choosing, you'll have purchased a quality product that's not only beautiful on the outside but will straighten (or curl or wave) your hair to a professional standard every time. 
The Length of Your Hair
Regardless of whether your hair is super fine or incredibly thick, slightly wavy, or very curly, considering the length of your hair is vital when selecting a new flat iron. 
Those with super long tresses may want to opt for thicker plates or higher temperatures to get the job done. Meanwhile, those with finer or shorter locks may want to go for thinner plates or even a mini styler.
The Condition Of Your Hair
Whether you're a regular user of hair masks and serums or the wash-and-go approach is more your style, we highly recommend considering the condition of your hair before purchasing your flat iron. Some plate finishes will have more modest temperatures and will therefore be much kinder to fine or damaged hair. Meanwhile, others with thicker or incredibly healthy locks can take a little extra heat. 
Know your hair before you make your purchase, then you can research the right flat iron for you knowing your hair won't get damaged in the process of using it. Yes, even if shampooing your hair happens to be the only step in your weekly haircare routine. 
Wondering which plates are best for which hair type?
Keep on reading…
Which Of The Many Flat Iron Materials Is Right For Your Hair Type?
Beyond choosing the style and color you'd like for your new flat iron, the most important step in the selection process is all about the plates. What they're made of, which hair type they work best on, and how high of a temperature they're capable of reaching. 
To ensure you can make an informed choice for your beautiful and precious tresses, we've categorized some of our top Evalectric flat iron picks by their plate material for you to choose from…
Tourmaline Flat Irons 
Firstly, are you wondering what in the world tourmaline actually is?
We can help. 
Tourmaline itself is a gemstone. This gemstone is ground down into a powder where it is then infused with ceramic to form tourmaline flat iron plates. Due to how it generates extra negative ions (responsible for locking in moisture) these plates are perfect for those looking to smooth out the look of their hair, reduce the appearance of static and frizziness, and achieve overall more sleek and moisturized-looking locks. 
Therefore, they're also a great choice for those with very curly, or very wavy hair. This type of flat iron is probably your best bet when it comes to fully straightening out your natural hair texture.
What's more, since this type of flat iron retains and distributes moisture so effectively. This means that you can even use it at lower temperatures. This results in less damage to your hair. Ideal for those with locks that could use a little TLC!
Evalectric Tourmaline Flat Irons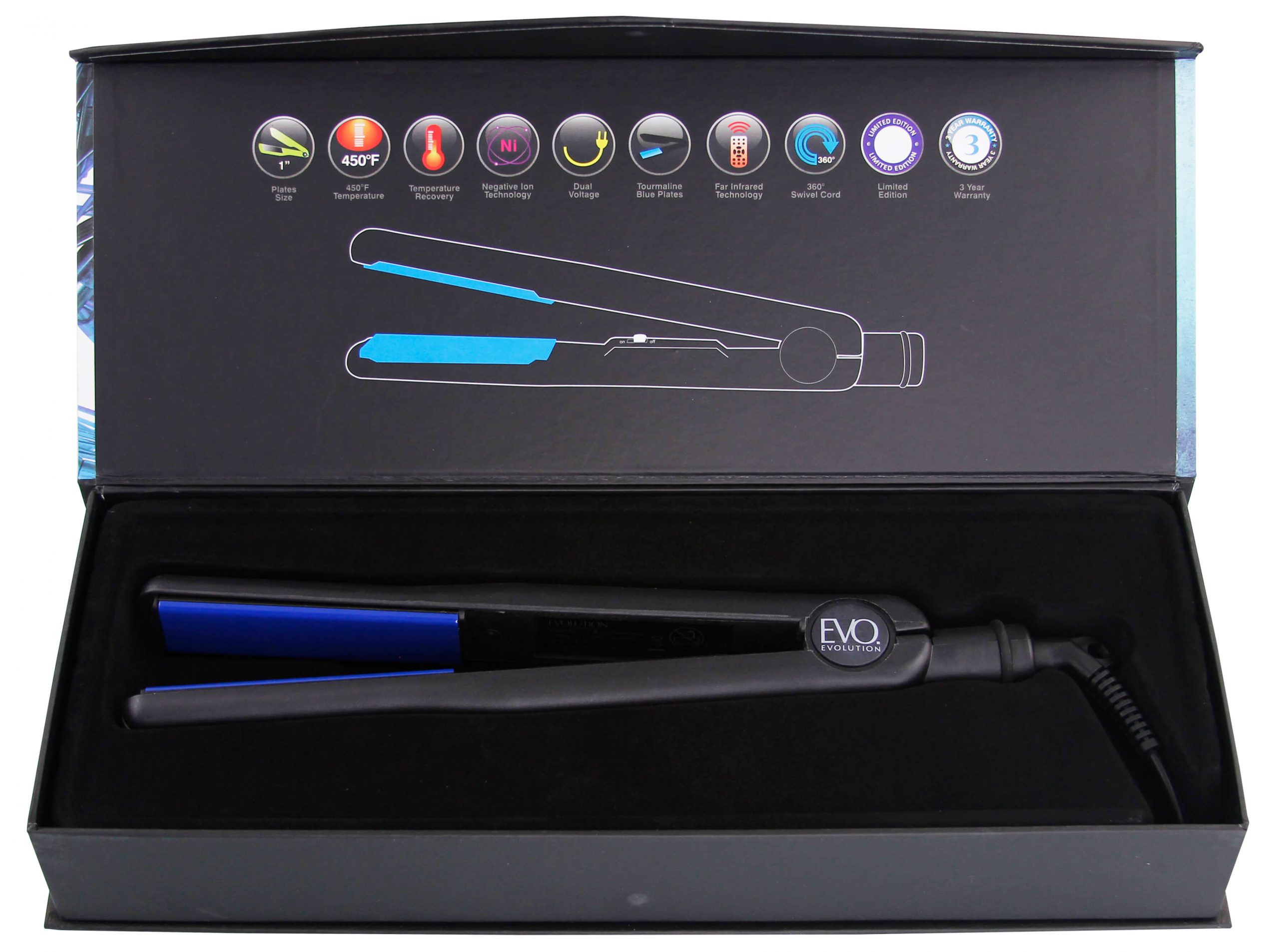 Convinced that tourmaline flat irons are for you? You'll probably be wanting to know which of our straighteners we recommend with these miracle-sounding plates…
The answer is either our 1" or 1.25" Blue Tourmaline flat iron, depending on the width you feel your hair type needs. If your hair is on the thinner or shorter side, the 1" will be ideal for you. Those with longer or thicker tresses should consider going up a size to our 1.25" plates.
This incredible heat tool heats up to an impressive 460°F. This means, styling your hair into the straight style of your dreams can often be achieved in just a few minutes. 
Plus, thanks to the smooth curved edge of the straightener itself, creating different hairstyles from straight to wavy to curly will be simpler than ever. 
LED Flat Irons
Understandably, your hair might not be the first thing you think of when it comes to the benefits of LED lights. That said, those benefits are well worth knowing and once you discover them, we're certain an LED flat iron will be at the top of your to-buy list.
To start with, red LED lights are often used in hair care to promote thicker-looking hair. They also help to encourage a scalp that feels healthy as they glide over your strands. This happens as the red light works to reduce the feeling of inflammation. This gives your strands a stronger and healthier appearance.
Evalectric LED Flat Irons
If this sounds like something you need in your life ASAP, we're right there with you. In fact, it's the very reason we recommend our Iconix LED straightener so highly!
This Evalectric flat iron with its aluminum plates and ceramic oil coating helps to eliminate the look of split ends, static, and frizz, and also works to deliver sleek shiny-looking strands and salon-quality results. Additionally, who are we kidding? It's gorgeous to look at and comes in three amazing colors, Aqua, Coral, and Lavender!
Ceramic Flat Irons
If there's one type of flat iron plate you've heard of before, it's most likely ceramic plates. The reason this particular type of flat iron is so popular is all thanks to its high temperatures, even heat distribution, and ease of use. Basically, they'll glide beautifully over your hair and deliver long-lasting results. 
Evalectric Ceramic Flat Irons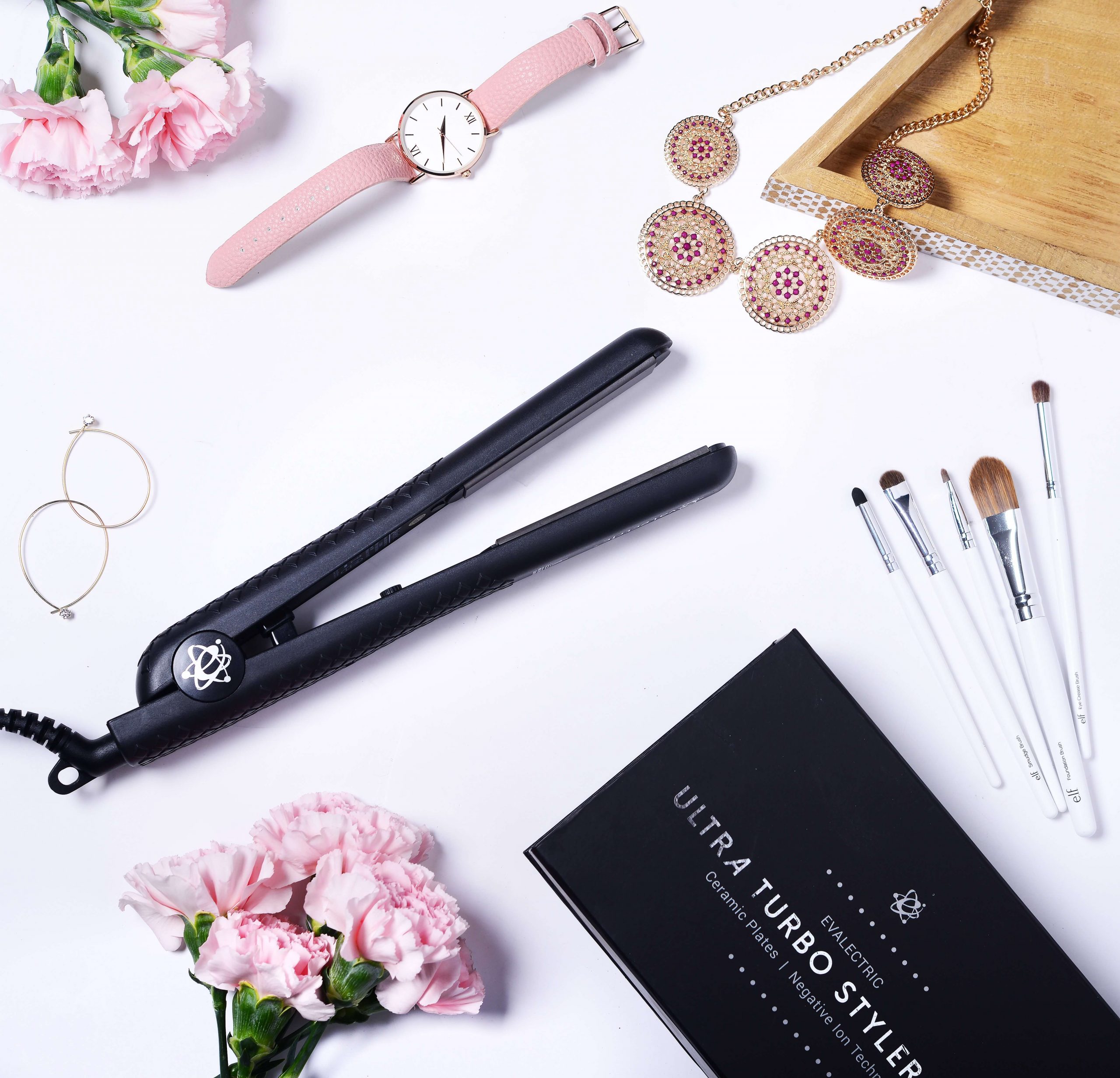 When it comes to recommending the best Evalectric flat iron with ceramic plates, it's incredibly difficult to choose! 
Of course, our Classic Styler 1.25" is always a go-to for us. It has 100% ceramic pates, an adjustable temperature dial that reaches up to 460°F, and a super comfortable grip that makes styling your hair into the silky smooth style you've been wishing for an absolute breeze! You're guaranteed to achieve beautiful healthy-looking hair every time with this straightener.
What's more, those having a hard time choosing the style they'd like will be spoiled for choice. This classic flat iron comes in Baby Pink, Crazy Pink, Christmas Red, Peach Please, Ocean Blue, and Deep Purple. 
Another recommendation we just have to make when it comes to ceramic flat irons is our Ultra Turbo Styler. Those high, high temperatures we were talking about really shine here as this straightener reaches an incredible 500°F. 
This Evalectric flat iron is therefore unbeatable for those looking to create beautiful, healthy-looking styles from straight to wavy to curly, in a flash. Especially since its 360-degree swivel cord makes moving the heat tool around so easy. 
Additionally, we adore that the 100% ceramic plates reduce heat exposure for your hair. This means that although your tresses reap all the benefits of super hot plates, they won't be subjected to what could be the damaging effects that sometimes go with it. 
Titanium Flat Irons
For those thinking they'll never find a straightener that actually works for their super thick or even coarse hair…
Titanium plates are perfect for you. 
Why?
It's all about the heat!
Though we only recommend using very high temperatures on hair that's properly prepped and treated beforehand and also thick and healthy enough to withstand it, titanium plates are ideal for those who've had trouble straightening their hair in the past. Whether that means it takes forever to get through or your straight style just never seems to last for very long. 
These plates will heat up incredibly fast. They'll also stay that way so you can straighten your hair in record time and be confident the style with remain. 
Evalectric Titanium Flat Irons
We have a couple of favorites when it comes to our titanium straighteners. The first is our Ultra thin flat iron, which comes in black, peach, and pink. 
This lightweight Evalectric flat iron is super simple to use and produces straight, wavy, or curly hairstyles as needed with ease. The plates distribute heat evenly and effectively. This ensures that your chosen style is frizz free from morning until night! 
Alternatively, if you're hoping for a titanium flat iron that reaches higher temperatures…
Opt for our Titanium pro, available in coral, peach, and lavender. 
Will You Be Traveling With Your Flat Iron?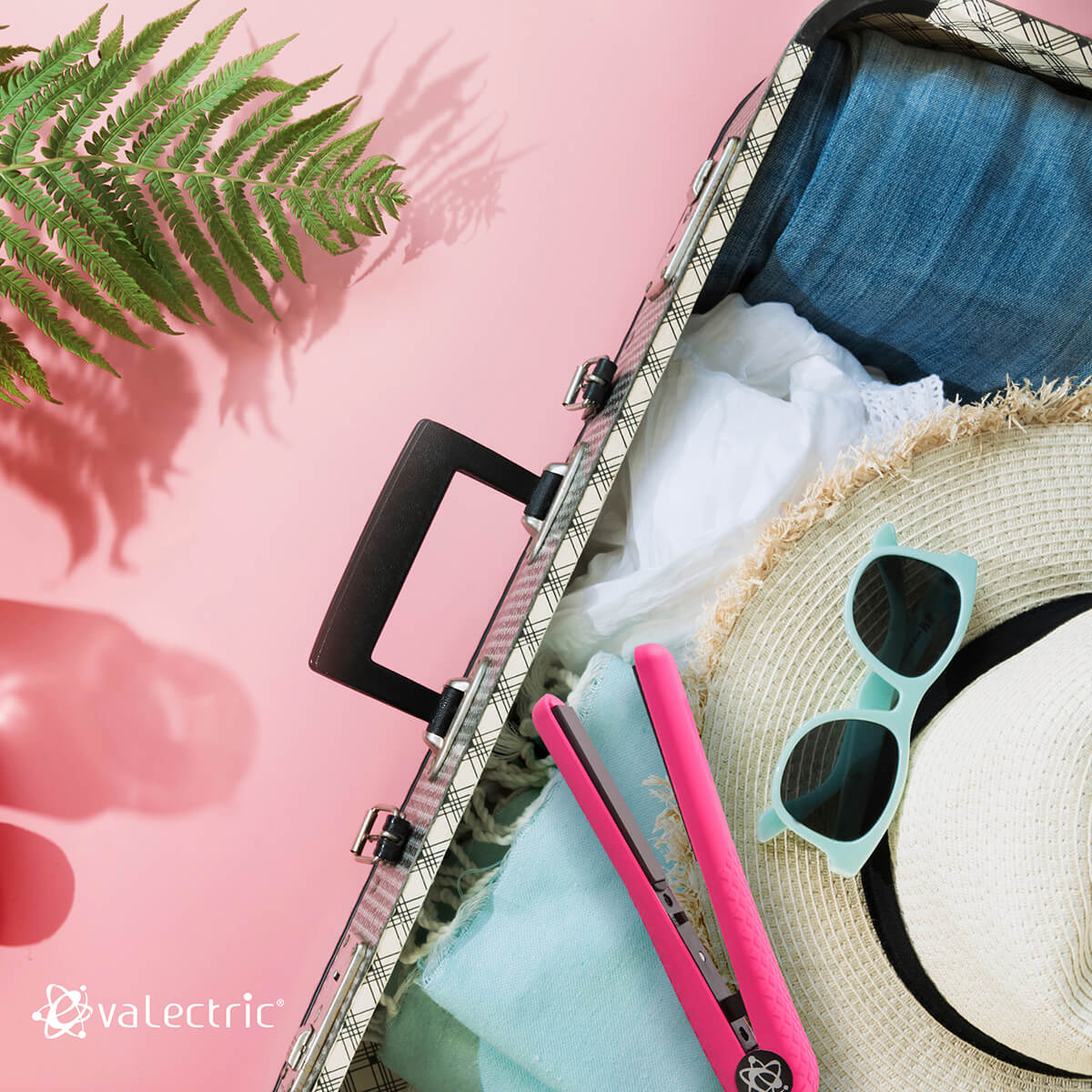 Ask us this question a few months back and the answer for us all would've been a resounding, no! However, as things start to open back up again and we begin to make travel plans in the not too distant future, traveling with your flat iron may be something you need to consider.
Perhaps you travel for work and so need something super small and lightweight to carry with you from place to place. Or, maybe you'll only be traveling now and then on vacation. Whatever your travel itinerary looks like for the foreseeable, we can help you decide which Evalectric flat iron will be best for the size of your luggage and the frequency of your trips away from home. during these COVID times, it's best to check the safety of where you are traveling to beforehand.
Our top recommendation?
The Mini Classic Styler in pink or blue. This Evalectric flat iron is ideal for frequent travelers thanks to its overall smaller size and 1/2" ceramic plates. Take it with you on vacation or even throw it in your purse for easy styling on the go! It's also a perfect option for those wanting to precision style their bangs owing to its smaller than usual plates.
For those looking for something larger but still lightweight, the Ultra Beauty Titanium flat iron is the one for you. 
Are You All About Style?
Though we'd never recommend you compromise on quality over the look for your straightener, luckily, with Evalectric flat irons you really don't have to!
We have some of the most beautiful-looking flat irons you've ever seen available. Here are a couple of our favorites that we know you'll love too…
Firstly, we have our unmissable Peacock flat iron. It's perfect for all hair types and textures, what's more, it looks just incredible! This heat tool also boasts 100% ceramic plates and floating plate technology to minimize the appearance of any damage to your locks. 
Fancy an undeniably pretty Evalectric flat iron to display on your dresser?
Choose the French Lace classic styler. It has all the benefits of our beloved classic flat iron. Only this one is designed to catch your eye and make you immediately smitten with its black and pink pattern. 
That said, it's also an incredibly impressive flat iron that will help you to achieve stunning, silky-looking locks in just a few minutes. This is all thanks to its amazing negative ion technology that reduces the look of frizz and promotes a shiny finish, and an adjustable temperature dial that reaches up to an impressive 485°F.
Hopefully, you'll now have a good idea as to which Evalectric flat iron is best suited to your hair, as well as your needs. If you have any questions about which Evalectric flat iron to buy, feel free to get in touch with us here at Evalectric!
---