The Best Styling Tools for Short Hair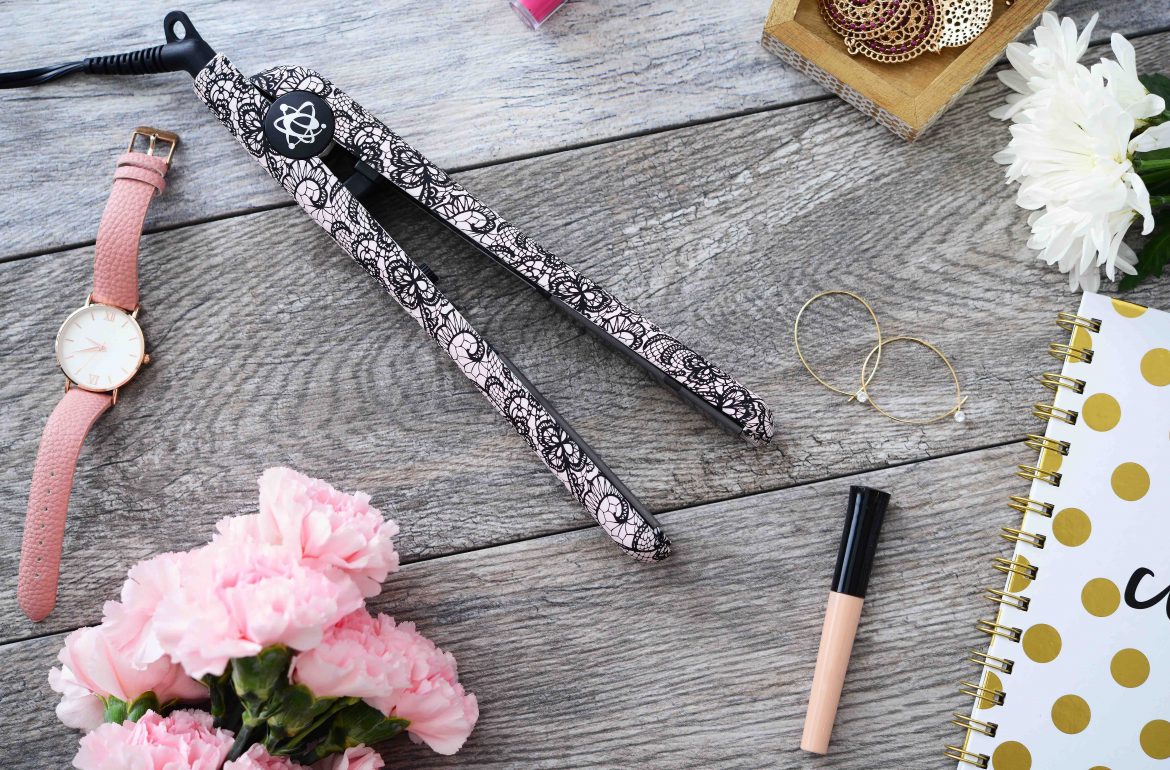 Chances are that you've contemplated chopping off your luscious tresses in exchange for a short, trendy bob. However, you may have decided against it because you were worried about maintaining a short hairstyle. Evalectric reviews the best ways to style short hair.
Yes, it is true. Short hair does require a little extra finesse, but it is trendy and fashionable. Donning a hairstyle a la Jada Pinkett-Smith or Dua Lipa will grab the attention in a room and bring out your already gorgeous facial structure and features.
Whether it's an edgy pixie cut or a layered bob, you can be sure that a short hairstyle will give you that confidence boost. It also gives your mane a reset if you've damaged your hair from too much bleaching or heat-styling!
If you're rocking that short mane, Evalectric's got your back. Even if you're a total newbie to short beach waves or you've had them for years, we've got a ton of styling tools and curling irons that are excellent for day-to-day use. We've even got raving reviews about how excellent Evalectric products are. Read on to find out more about which tools can give you the desired look you want!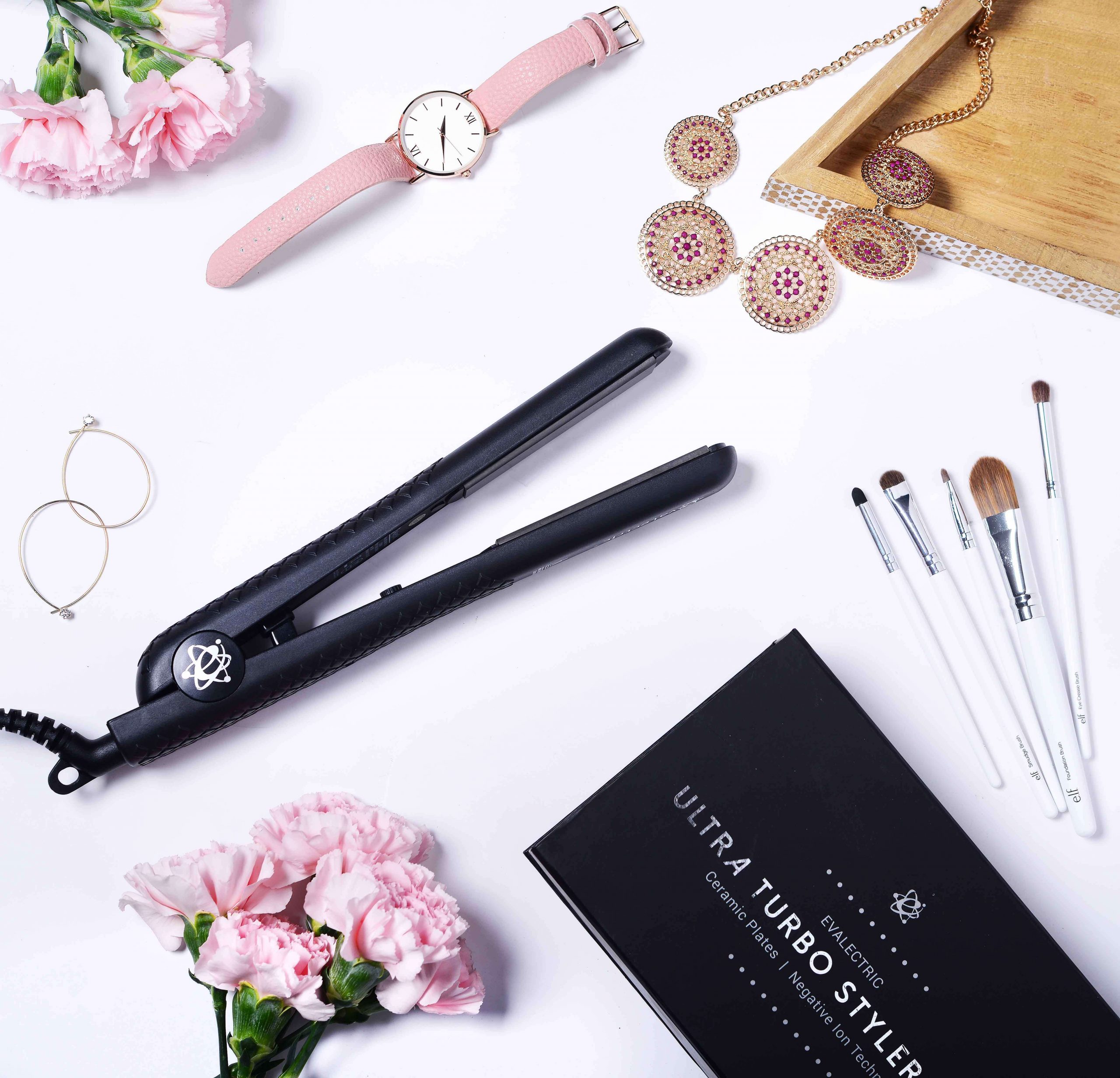 Using a flat iron on your short hair to create waves and bends instead of curling irons saves you so much time when you're getting ready. The heated ceramic plates on the Evalectric Ultra Turbo Styler help ensure that you can get the waves in your desired direction.
The best part about ceramic straighteners is that they emit negative ions, which are very beneficial for your hair in the long run. Straighteners that emit negative ions help neutralize or counteract the positive ions created when your hair is subjected to heat. This also seals your hair cuticles, reducing the look of frizz, leaving your hair appearing shinier and smoother!
A customer of Evalectric reviews this product, saying, "This is an absolutely amazing straightener, I've never used one that leaves my hair as sleek and lightweight as this. I absolutely love it and highly recommend it."
Are you looking for a more sleek hairstyle to tie your look together? Just use the Evalectric Ceramic Silk Straightener in Teal! Also, don't you think that its gorgeous hue will totally make a statement on your dresser?
To get that femme fatale, silky straight bob look, just blow-dry your wet hair, and separate your hair into small sections. After that, just use the straightener to straighten your hair. A straight bob is a no-fuss hairdo that requires little to no maintenance. It's perfect for those who want a minimal effort look that's still chic.
This device comes with ceramic plates as well.
Ceramic is an ideal material for tools like hair straighteners because it has good heat retention properties. As a result, the ceramic hair straighteners heat up quickly, which is excellent news if you're constantly on the go.
In addition, it heats evenly. So, you won't have to worry about patchy, irregular heat in your hair straighteners.
Ceramic stylers are also great for the hair because it doesn't cause as much damage as metal ones. After all, metal is a combustive material. Using metal stylers on our tresses can result in a frazzled mop top, or worse, burnt hair!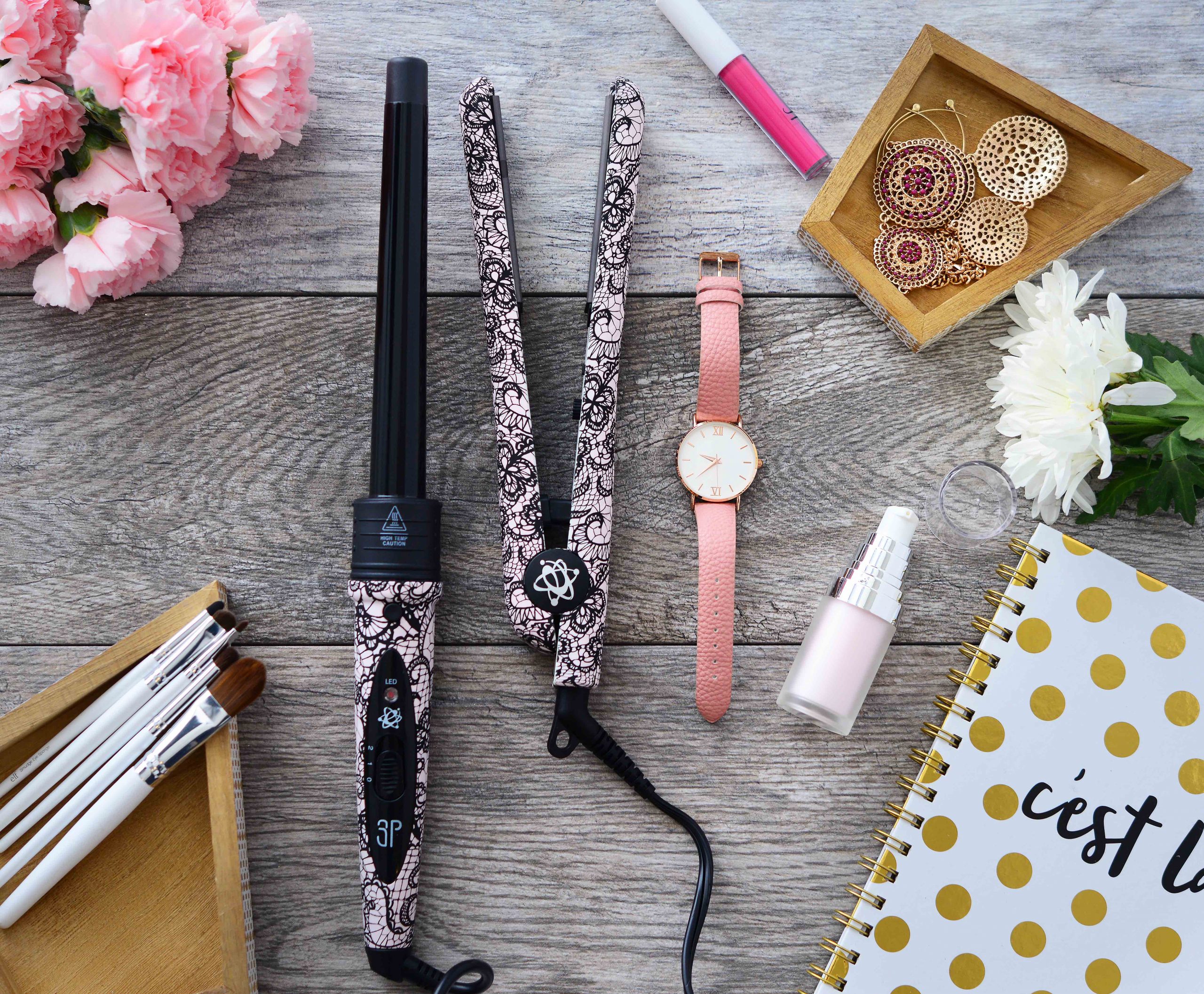 If you think short curly hair can't make a statement, well, think again! The curly shag is a layered cut for curly hair designed to mimic the 1970s hairstyle but softened to give off a more casual wearable vibe.
When it comes to the shag, volume and texture are essential. Use a diffuser when you dry your hair for those with curly or wavy hair. However, if your hair is straight, hold your hair upside down and use your fingertips to dry it while moving it back and forth. This way, you'll maximize your hair's texture.
When the hair is mostly dry, use a round brush to smooth the ends. For shaggy, undone waves, use a flat iron or curling iron and curl in a few different directions.
The French Lace Classic Styler looks chic with a print that showcases the intricate details of French Lace over a pink background. In addition, it comes with ceramic plates that heat up to 485°F so you can style your hair in an instant.
It even has dual voltage. This makes it easy to travel with. Also, you'll receive a protective heat-resistant glove along with the straightener.
If you're growing out a bob, you're most likely dealing with a lob. A wavy lob is a simple 'do that can frame your face, depending on how you style it. We'd say it's probably the most versatile hairstyle, too, because everyone can rock it.
To create a wavy lob, choose your desired parting and use the hair curler to create loose bouncy waves.
This professional curling iron has a 25mm barrel diameter, which results in beautiful, long-lasting curls. To avoid damaging your hair, the tool has Teflon barrels that act as a shield to protect the look of your hair while still maintaining high heat.
This limited-edition curling iron's Teflon-coated barrels can also prevent your hair from getting snagged and prevents your strands from sticking to the barrel. Ouch!
Additionally, this device is built with Far Infrared Technology. This is an innovative heating method that is gentle on your hair.
Want to recreate a gorgeous hairdo with tight curls? The voluminous curl bob is your best bet! This hairstyle gives you ample volume in your hair. So, if that's what you're looking for, then keep on reading.
When styling your hair, use the Skinny Curl Wand 9/18 to create those fabulous curls. It's that simple.
This curling wand is manufactured with clip-less barrels, all so that you can enjoy consistent heat throughout the barrel as you curl your hair.
Looking For Alternative Products? Evalectric's Got More In Store For You!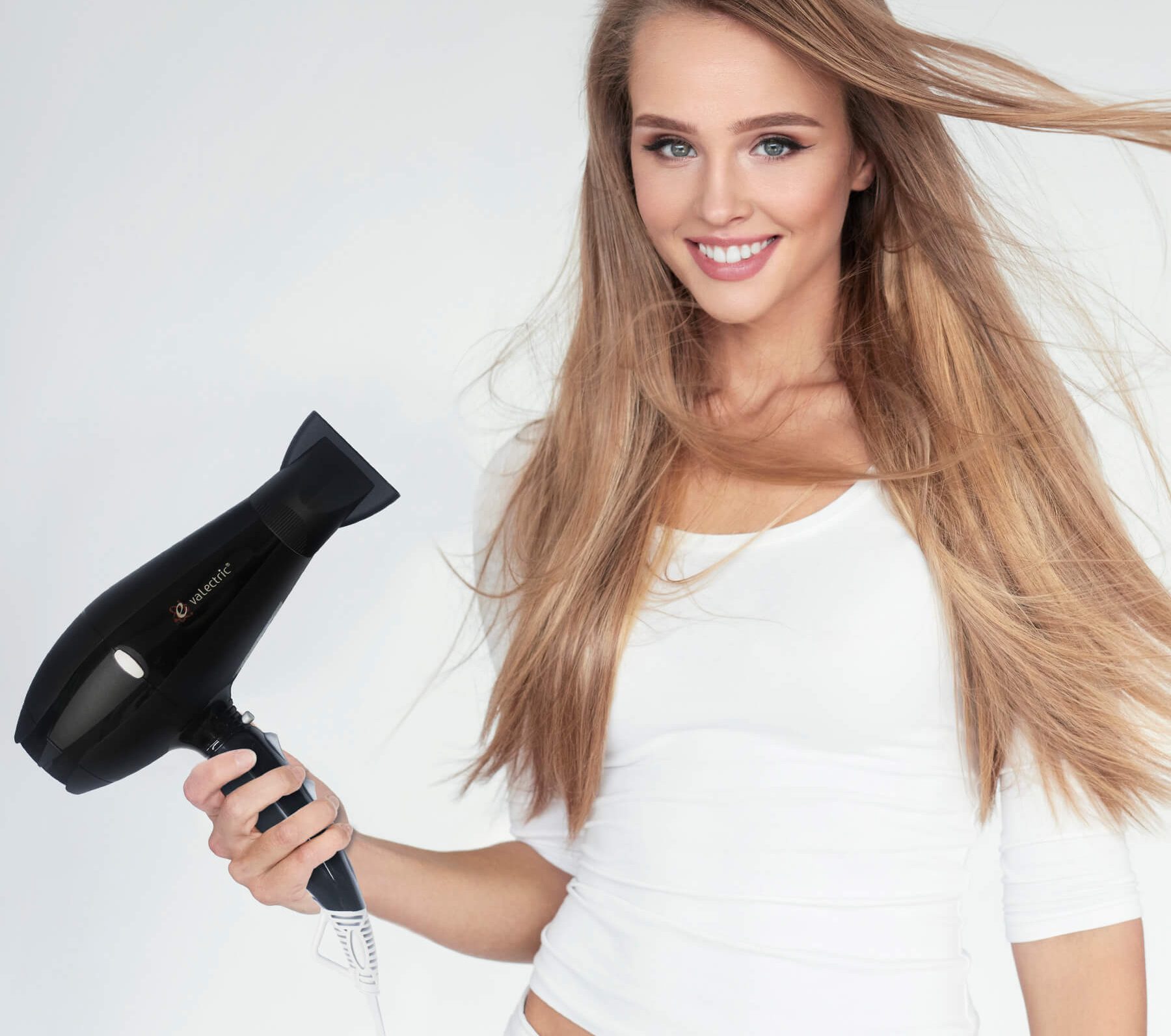 Evalectric has a few other types of styling tools that will be a great addition to your hair routine. Evalectric reviews for these products ensure you'll love your tool too!
The LED-illuminated high-powered tourmaline hairdryer speeds up hair drying by drying it quickly while it glows red. In addition, this hairdryer has built-in Negative Ion Technology, which can eliminate the look of frizz, fluff, and static flyaways. It gives each hair strand a glossy appearance.
Tourmaline hair dryers use infrared heat and negative ions to create gentler heating that helps to retain more moisture in the hair, leading to a shinier, smoother look. This also helps hair withstand heat at much higher levels without damaging it.
The 100% ceramic plates that heat up to 460°F will quickly give you well-defined, silky hair. Besides that, this hair styler incorporates floating plate technology to provide you with styling versatility. You can get this hair straightener in the 1" size as well, depending on how you want to use it.
The ceramic plates of the flat iron are coated with ground-up Tourmaline gemstone, which helps keep the heat more consistent, giving your hair a shinier, straighter appearance that lasts longer. Additionally, these types of flat irons can also better hold onto the moisture in your hair and prevent hair damage and dryness.
Tourmaline flat irons can help you straighten your hair even when you use them at lower temperatures. This is because the Tourmaline plates produce less friction, which reduces the amount of tension in hair that passes between them. As a result, less hair is prone to snap or snag when you use this tool.
This hair styling tool comes in a beautiful blue color that's sure to add a pop of vibrance to your hairstyling routine.
The best part? This range of hair straighteners comes with red LED lights.
It can heat up to 450°F, and this flat iron has a 360-degree swivel cord. This gives it a sleek appearance and makes moving around while styling your hair so easy. Also, it is a lightweight tool, so say goodbye to those sore arms after a long styling sesh!
Want shiny, lustrous-looking hair? This hair straightener that comes with titanium plates will do just the trick!
Titanium is a great heat conductor and will heat up so much faster than any other metal or ceramic plate, cutting on downtime when you're styling your hair. This means that it offers more even heating because of its thermal properties, making it more stable than other hair straighteners.
Frizzy, damaged hair is overcharged with positive irons, and when titanium plates are heated, they release abundant negative ions that repair or neutralize the look of damaged hair. So say hello to hair that looks shiny, smooth, and sleek!
Styling Your Hair Is Fun, But Don't Forget To Shower Your Tresses With Some TLC
Evalectric reviews the best ways to keep your hair happy and healthy.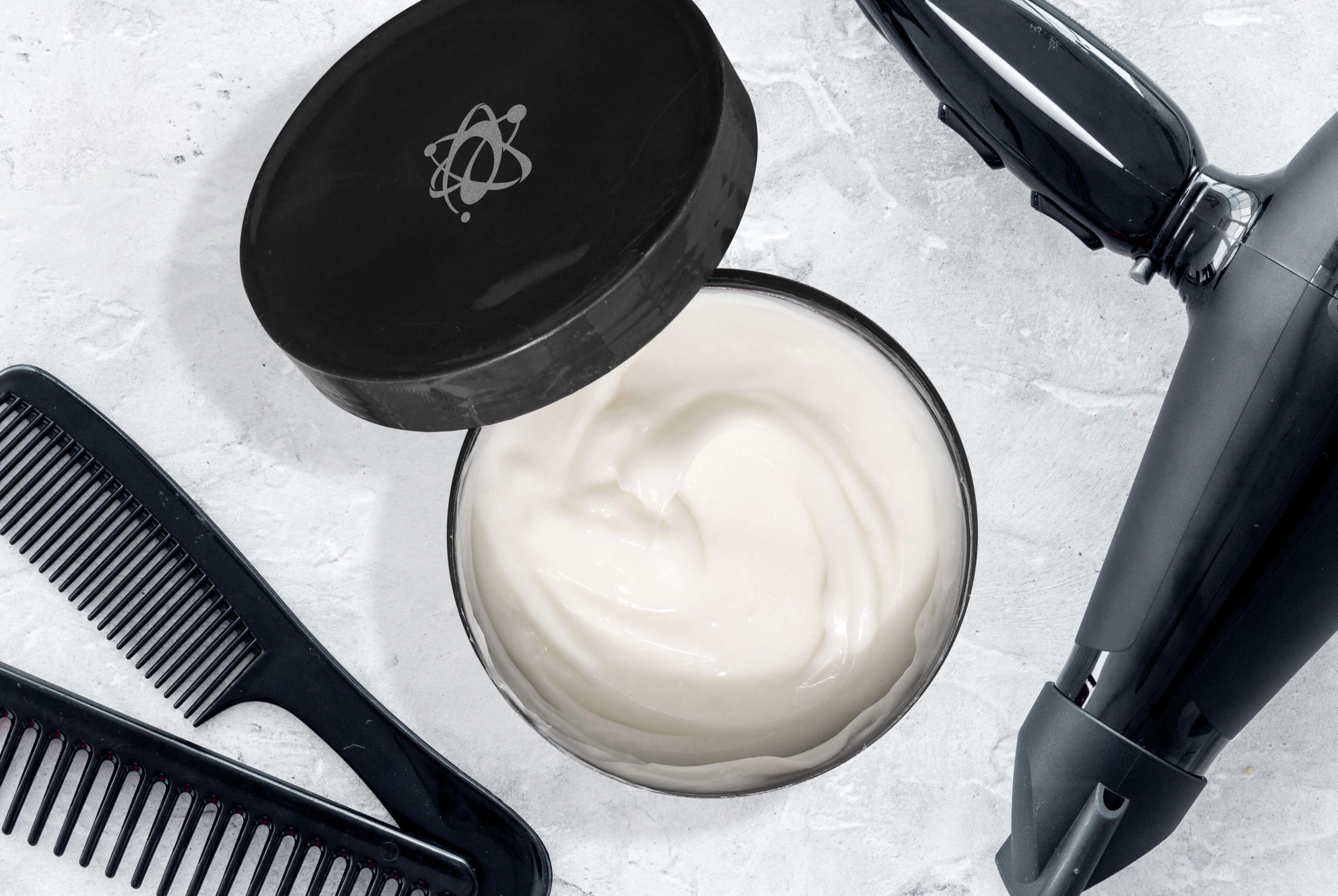 Evalectric has a line of hair care products that you can use together with these hair styling tools to prevent heat damage.
This mask aids the appearance of hair that has been damaged by over-processing, dryness, and environmental damage, preventing further breakage. Panthenol, which is commonly used in skin and nail treatments, is also found in the formula, which is effective at pampering even the most processed hair, resulting in a thicker, shinier appearance.
This highly-rated hair serum is enriched with aloe vera extract. It is a light, non-greasy serum that can give you soft, glossy-looking hair in seconds.
Customers of this product rave about this serum, with reviews saying that it makes their hair look shiny and silky. Another customer of Evalectric reviews this product and says, "I've been using this serum since 2018 and it still the best thing out there! Makes my hair look shiny, silky smooth and it keeps my hair from getting damaged when I use it before straightening it. Doesn't make my hair greasy and keeps it straight for a long time! It's worth every penny!! Thank you so much and I love my straightener as well!"
This conditioner contains a unique combination of ingredients, including proteins from plants and argan oil. These ingredients help to pamper the scalp and deliver moisture to fight dehydration and breakage. Using this conditioner regularly can restore the appearance of shine to your healthy-looking hair, prevents the visibility of static, lessens the look of frizz, and rejuvenates the feel of your hair structure.
Another customer of Evalectric reviews this Moisturizing Conditioner, and comments that this conditioner saved her hair.
"This conditioner saved my hair. My hair is naturally curly and thick and I straighten my hair a lot and only trust a handful of conditioners being treated on hair. But this is by far the best conditioner I have ever come across! I've used up two bottles over the past couple of months and my hair has never looked more strong and healthy. The smell of the conditioner is great as well. The price is worth the quality. Best product so far."
All in all, your journey to looking well-groomed with short hair is made possible with Evalectric. With our huge range of products, we hope to make our customers happy by catering to every one of their needs. Evalectric reviews from customers ensure you'll get amazing results and keep your hair looking happy and healthy.
---