5 Hair Care Gift Sets for Any Occasion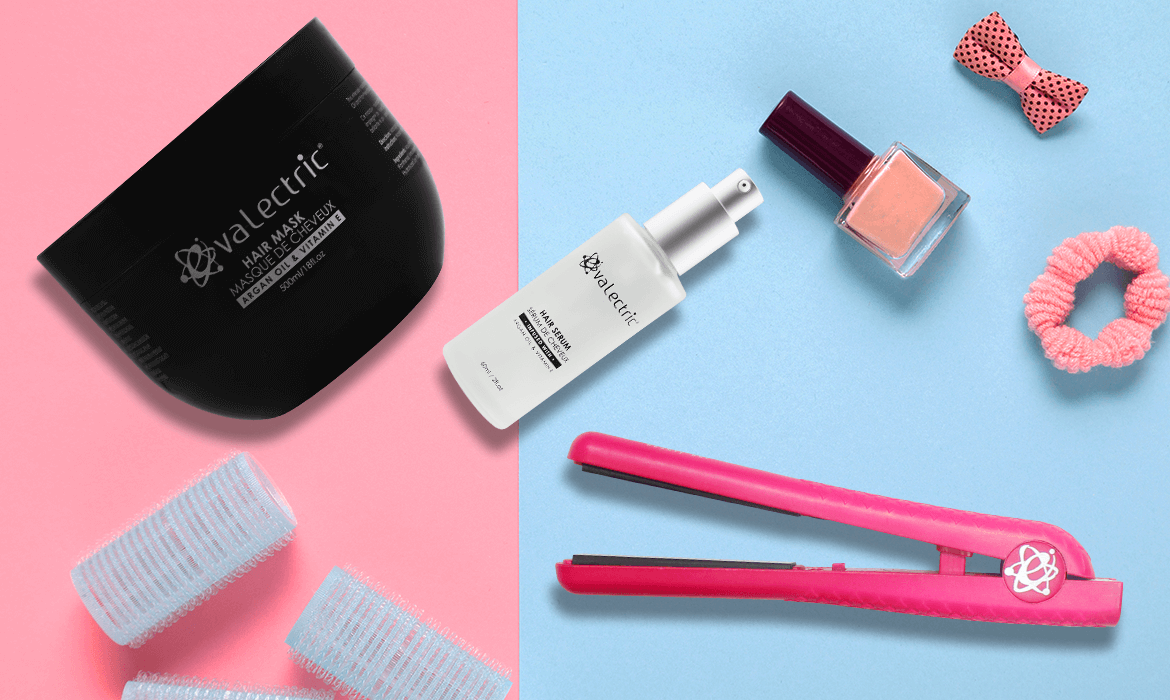 Been racking your brain for the best present to give your mom, sister, or best friend? Don't settle for any old gift card or picture frame you won't even be sure they'll use. Instead, get them something to amp up their hair care routine to make their locks look luscious and salon-beautiful.
Hair care gift sets should be a no-brainer when you're looking to give the special women in your life a little treat. It makes a fabulous birthday present to help them get ready for their big bash. They're also perfect for a simple Mother's Day gift as a token of appreciation.
Evalectric has five different hair care gift sets you can choose from. There really is something for everyone. From your little sister who doesn't know how to choose shower products yet, to your BFF who loves rocking heat-styled curls and waves all day long.
Read on to see what each of the lovely Evalectric hair care gift sets has to offer!
Give Your Loved Ones the Gift of Fabulous-Looking Hair!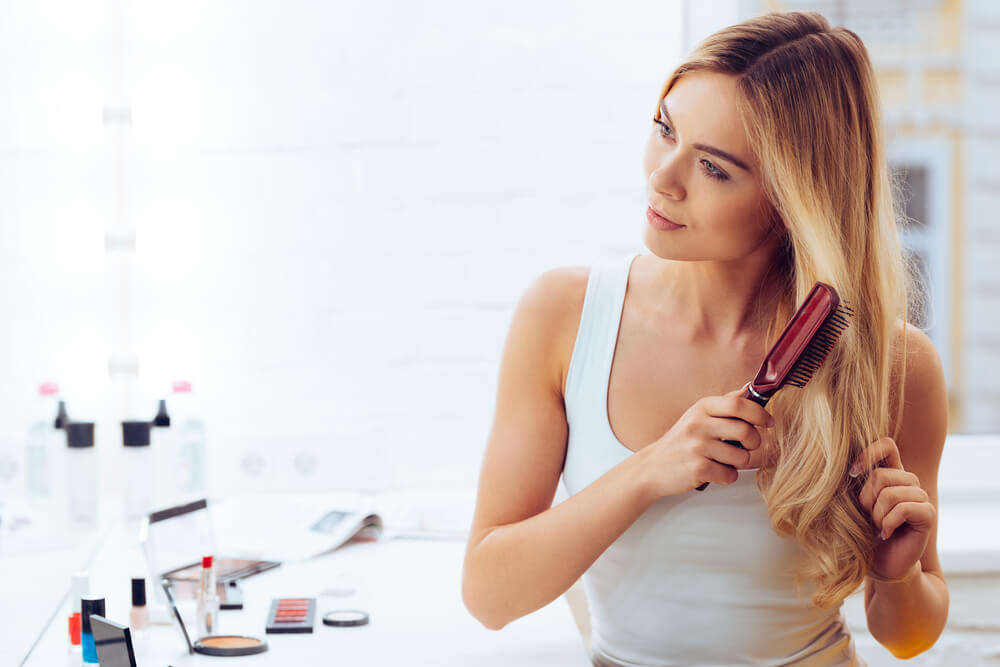 Beauty and hair care gift sets may sound like a cliché. However, it's super useful and beneficial to anyone who receives it. Tons of women feel a deep relationship with their hair, creating an innate desire to care for it and make it look gorgeous the best way they can.
It's not just a vanity thing — hair is a part of any woman's identity. That's why we feel a bit down in the dumps when we're going through a bad hair day or when our bangs don't cooperate! For many women, their mane is also their trademark feature. So, styling and taking care of it properly is a must.
Women love hair care. In fact, the average woman can spend around $50,000 or more just for beefing up their hair washing and styling regimen. And that's just those who are well-versed with hair care and styling!
Many other women need help elevating their hair care routine somehow. This makes a hair care package a fantastic gift to give.
Not sure where to start? Don't fret. Here are five hair care gift sets from Evalectric that you can choose from to give your loved ones:
The Starter Set: For Someone Tired of Drugstore Shower Products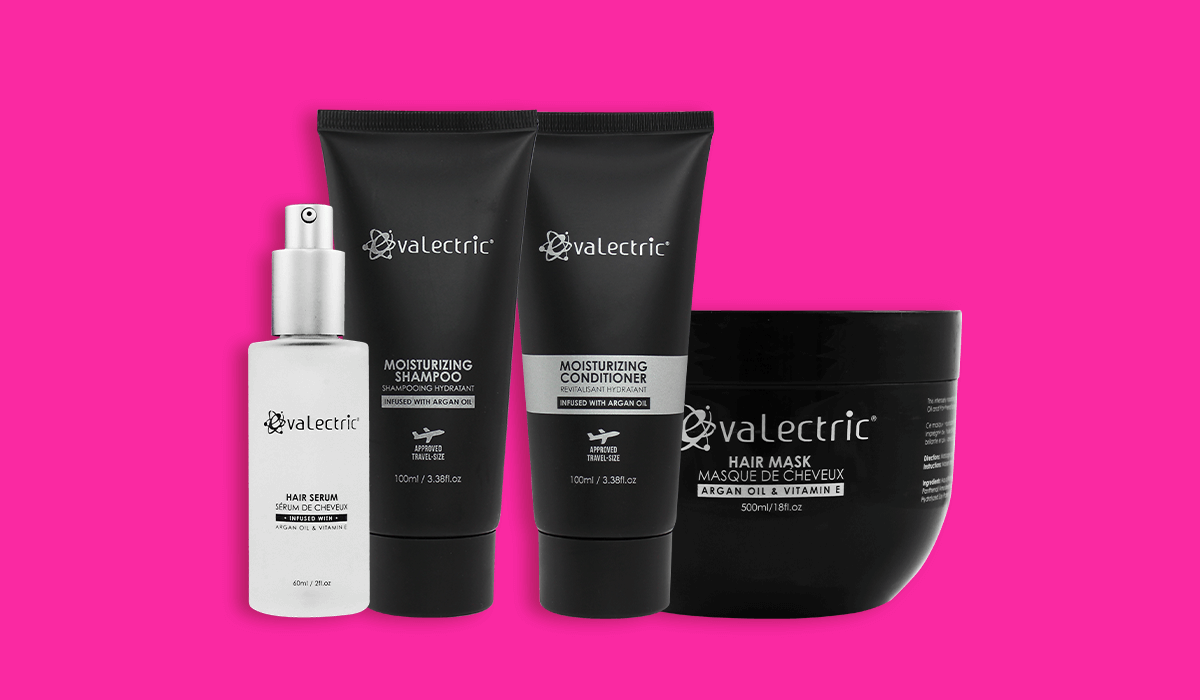 This Starter Set is the most universal of the five hair care gift sets we'll be talking about today. Anyone with hair can use this one — even those that aren't big on styling their hair. It only includes the basics of a proper hair regimen:
All four of these products are infused with argan oil. This helps smooth down the appearance of frizz and adds a luminous shine to the hair. Since argan oil is rich in fatty acids and vitamin E, they also help provide the feeling of deep moisture and elasticity to dry, dull hair.
These products are excellent for repairing the look of hair that's been damaged due to excessive heat-styling. When hair is exposed to high temperatures regularly, the strands can feel fragile and weak. Heat can break down the keratin in your hair, aka the protein that gives your strands structure.
To strengthen and fortify the feel of your hair once more, you need to feed it some protein. Luckily, the shampoo and conditioner in this set are laced with plant-derived proteins to help minimize the appearance of damage caused by heat.
This set is also absolutely perfect for anyone who wants to toss out their harsh, drying drugstore shower products and go for something more pampering for their locks.
The Hair Care Set: For That Friend Who Forgets to Pamper Their Heat-Damaged Locks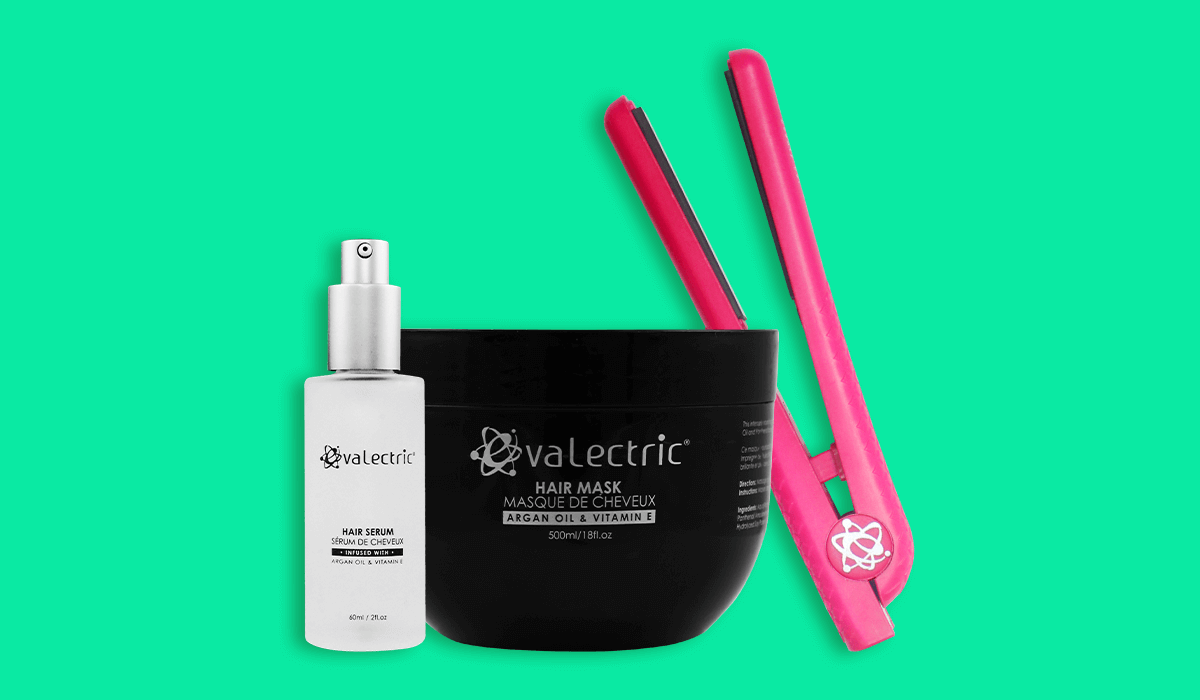 Looking to introduce your younger sister or cousin to the world of hairstyling? Gift them the ultimate Hair Care Set! It comes with a classic mini hair straightener to start practicing different hairstyles. It also includes a serum and deep conditioning mask to replenish the hair of moisture lost from ironing it out.
The pink Mini Classic Styler the set comes with has half-inch ceramic plates. These are excellent for smoothing down unruly hair and taming flyaways. It's perfect for creating straight, sleek locks or cute curls. And thanks to its small size, it's suitable for fine, low-density hair.
Ceramic plates are excellent for leaving your locks looking shiny after ironing them. They're also popular for their efficiency in even heat distribution, so your iron won't have any spots that are hotter than others, causing an uneven texture as you heat-style your hair.
And since this hair care gift set includes a moisturizing serum and deep conditioner, you're giving your loved one everything they need to ensure their hair still looks soft and hydrated even if they heat-style constantly.
The Styler Set: For Someone Who Loves Both Straight and Curly Hair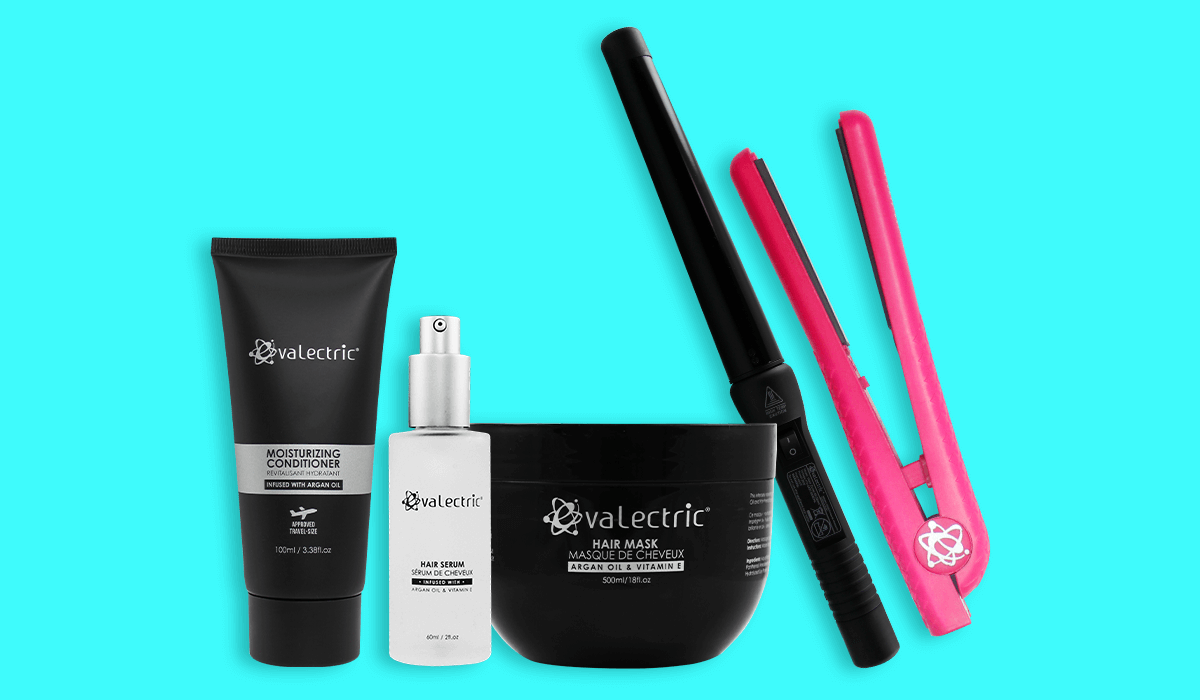 The Styler Set is a fantastic gift for someone who loves to change up their hairstyle every time they doll up. It includes a classic styler and a Venti curling wand, giving them the flexibility to create pin-straight hair or loose, sexy waves. The set also comes with a hydrating conditioner, serum, and hair mask.
The Venti curler has a large 1-inch barrel. This allows you to create natural-looking, flowy waves and curls for a glamorous look. Meanwhile, the classic flat iron will be your BFF for straightening frizzy hair.
But the more you play around with your hair with hot tools, the higher your chance to overdo it and end up with some sort of dryness and breakage. That's why it's important to have an arsenal of moisturizing products, like the ones included in this set.
While the conditioner and serum provide light moisture to your hair, the vitamin E-rich, argan oil-infused hair mask can give you deep hydration. After all, that's what your once-a-week deep conditioning treatments are for — restoring rich moisture and bounciness to the look of dry, damaged tresses.
The Deluxe Set: For the Avid Traveler Who Loves Styling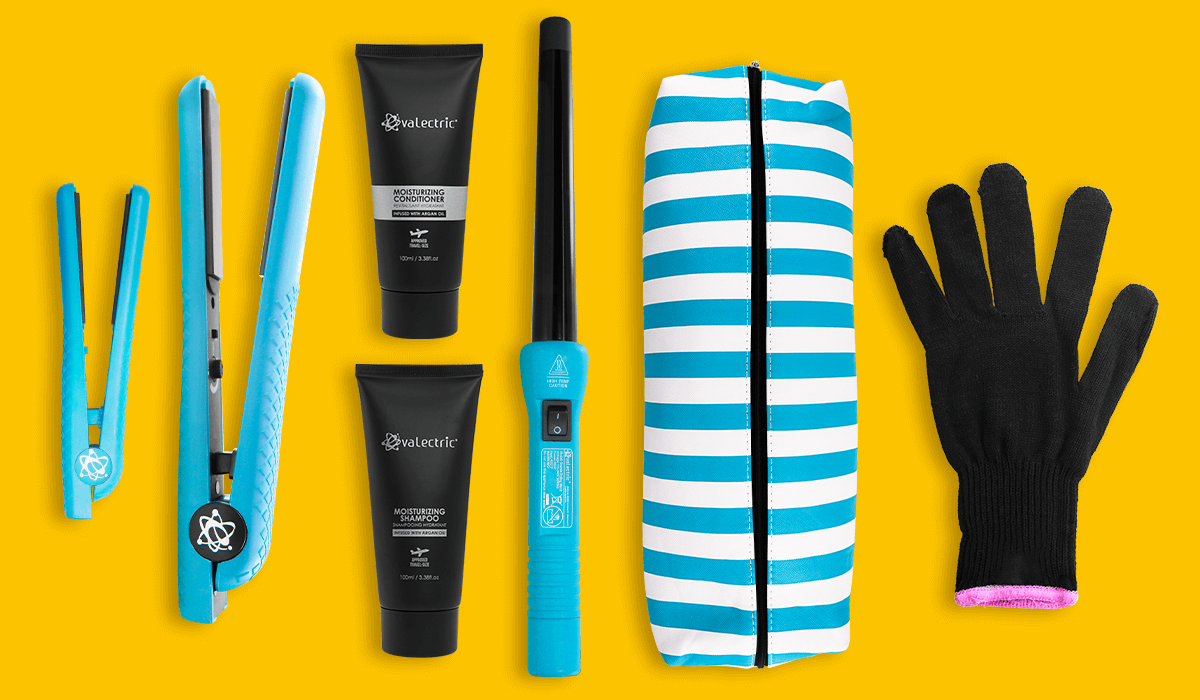 Anyone who loves traveling knows how big of a hassle it is to pack up huge bottles of shower products. And if you throw in your big heat-styling tools into the mix, it becomes a bulky mess in your luggage.
To help out, give your travel bug loved one this Deluxe Set as a thoughtful present. It comes in a blue and white zip-up pouch filled with shampoo, conditioner, and a trio of heat-styling tools — a mini iron, a full-size straightener, and a trusty curling wand.
The set also comes with a sleek, black glove that is the perfect companion to curling your hair. It makes sure you don't accidentally burn your fingertips as you wrap your locks around the curler. While you can use oven mitts or a handtowel for protection, they're not always the most convenient thing to wrap around your hand.
The Essential Set: For the Perfectionist Who Wants a Precise Style and Glossy Finish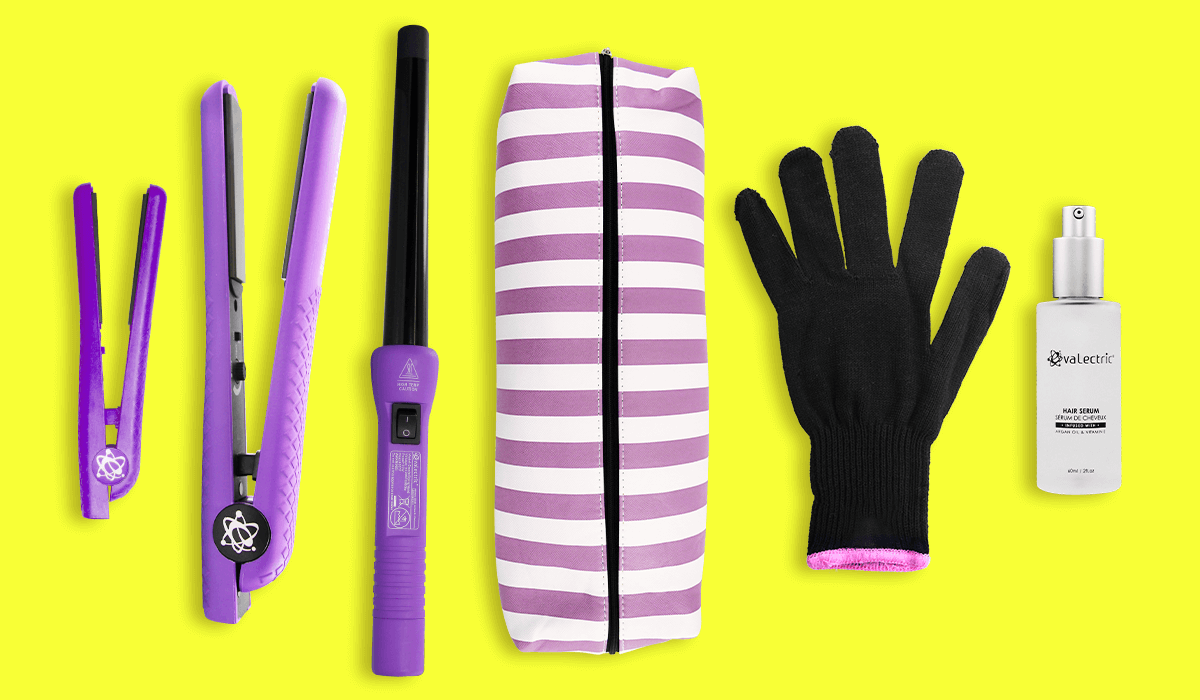 If it's the glossy finish and precise wave or curl that matters most to your friend during their hairstyling routine, then you should get them the Essential Set for their next birthday.
This gift set has everything you need for flawless, salon-beautiful styled hair. The high-quality straightening irons and curlers will allow for any kind of texture and hairstyle, depending on your mood. And when you finish off with the hydrating hair serum, your hair will look smooth and shiny all day long.
You can use this argan oil-infused hair serum in two ways. First, you can use it as a heat protectant before you start styling. Like any top-notch smoothing serum, this one coats the hair to protect its appearance from the damage your hot tools can incur.
Then, you can use the serum after you're done curling or straightening your hair. This adds luminous shine to your locks while keeping the look of frizz at bay. It's the perfect way to cap off your styling routine.
Why Gift Someone a Set Instead of Individual Heat Styling Tools?
Individual heat stylers like curling wands and flat irons are also terrific gift ideas. However, heat-styling can be dangerous if you don't do the proper aftercare or build up your hair's moisture levels beforehand.
See, when you heat-style with any hot tool, you can end up with cracks and gaps in your hair cuticles. This damage can lead to split ends, breakage faded hair color, frizziness, and intense dehydration. You could even end up "cooking" and burning off your hair if you don't heat style safely.
And that's where your hair care products like serums, deep conditioning masks, and shampoo come in. Not only do they clean or add gloss to your hair, but they also protect the appearance of your strands from the heat-styling that's about to occur.
So if you're going to gift someone an iron or curling wand so they can heat-style to their heart's desire, you should also be responsible enough to teach them how to care for their hair to keep it healthy. Gifting them a set of styling tools paired with the right shower and hair care products is the perfect way to do it.
Remember, hair care isn't all about styling and beautifying your locks — it's about ensuring its overall wellness, too. Your mindset should be the same when you gift hair products to your favorite women as well.
Who Would Love Hair Care Gift Sets?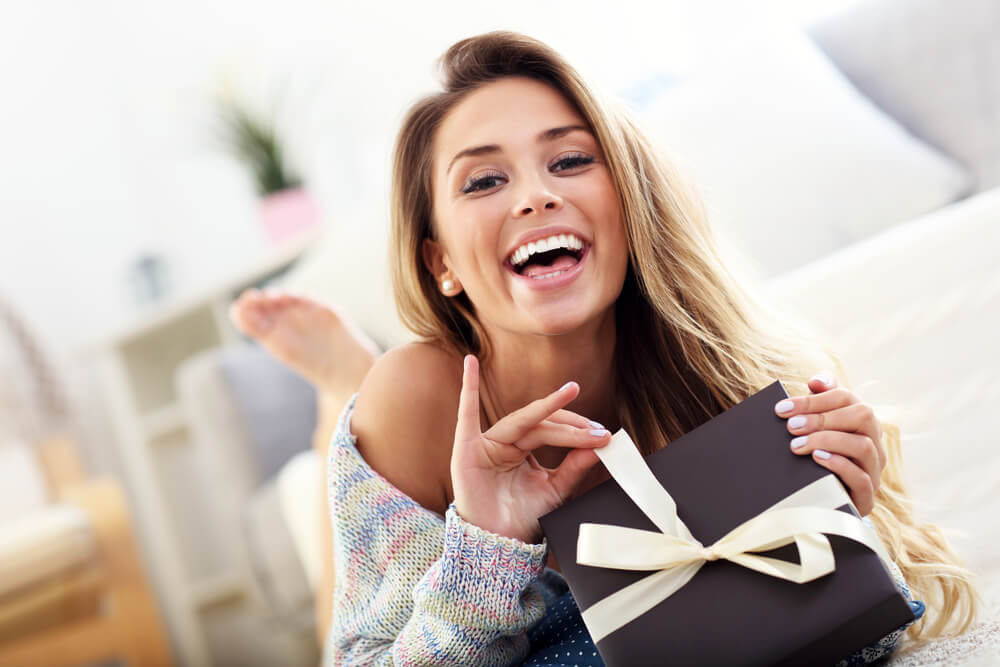 Anyone under the sun who loves their hair to some degree will love any of these hair care gift sets. That said, they're extra useful for certain groups of people.
You could give any of these hair care gift sets to those who are in the beginning stages of their hair care journey. This includes younger girls who want to take care of their hair better but don't know how to start shopping for better shampoos and conditioners. It's also excellent for someone wanting to learn about heat-styling for the first time.
You may also want to gift some of these sets to your friends who love curling and straightening their hair but have no idea how to repair the heat damage that comes after.
If you have any avid travelers as BFFs, it's super thoughtful to gift them with a full hair care kit. This saves them the extra time packing different bottles and hot tools in bulky bags.
Always remember as well that hair care isn't exclusively for women. Any man who puts in the effort to maintain and sport a longer haircut will appreciate basic hair care gift sets, too!
Leave Your Loved Ones Extra Tips for Heat-Styling Their Hair
If you're giving these hair care gift sets to someone who isn't so well-versed with heat-styling, make sure you add some last-minute reminders on your gift tag! These are sure to help them out as they start experimenting with hairstyles with their new Evalectric tools. Don't forget to tell them to:
Always use a heat protectant

before your plates touch your locks. It doesn't have to be anything fancy. As long as you apply a serum or any moisturizer on your hair beforehand, it helps create a protective barrier around your hair cuticles, keeping the heat damage at a minimum.

Don't heat-style every day. If you apply heat directly to your hair on a daily basis, your hair will dry out super fast. You might even get stuck with a crispy, straw-like texture in your strands. Instead, try to space it out to two times a week or so.
Since you're already putting your hair under so much stress with all the tugging and pulling with your heat stylers, be gentle to your locks in other ways. Detangle from the bottom of your mane going upwards, avoid too-tight ponytails, and sleep on satin pillowcases that won't tug on your hair the way cotton does.
Conclusion
Anyone who cares about their locks will appreciate any of the hair care gift sets above. Whether it's for someone who's low-maintenance and only cares about a proper hair wash, or a friend obsessed with styling their hair, there's an Evalectric hair care set for your gifting needs.
Next time you're trying to look for a gift for the women (and men) in your life who love taking care of their tresses, don't hesitate to snag one of these hair care gift sets for them. You'll be helping them heat-style beautifully with high-quality tools while promoting hair that looks and feels healthy with hydrating products.
---