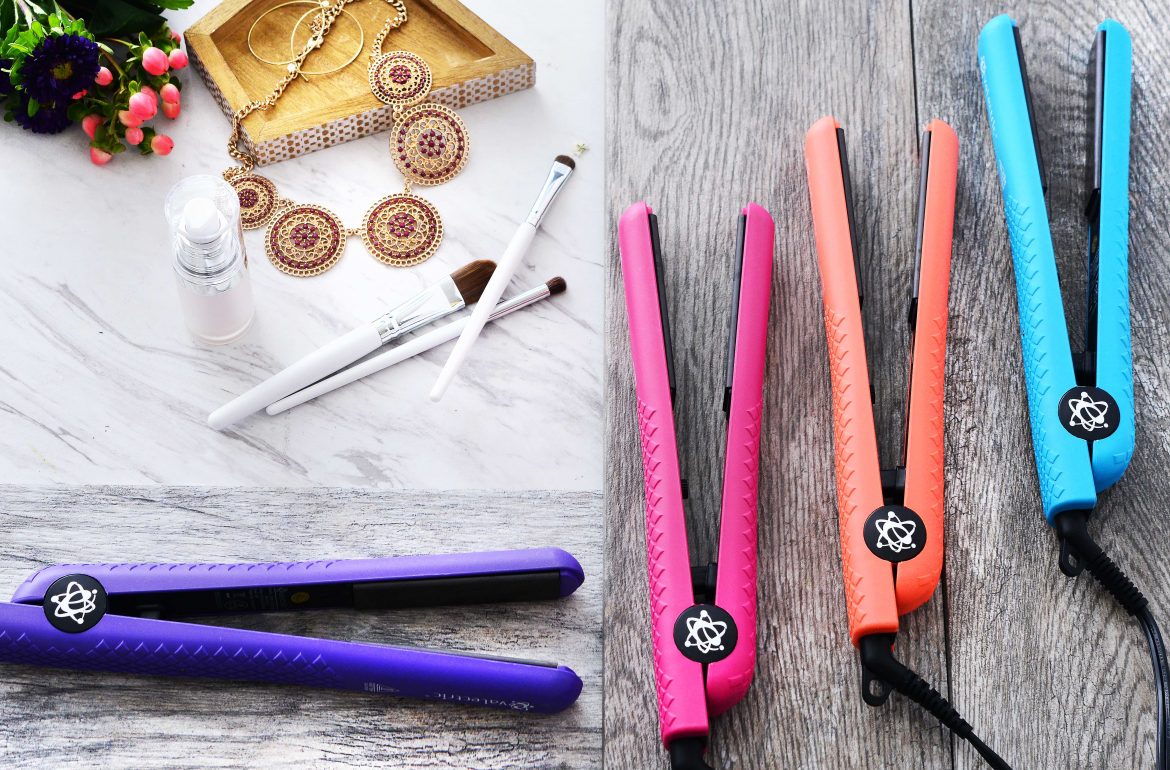 Let's be honest, no matter the length, texture, style, or color of your hair, totally transforming your look is no mean feat. That is, of course, until you discover Evalectric's Classic Styler – then all bets are off! From the moment you introduce this professional heat tool into your kit, your hair styling routine will be instantly transformed. From curls and waves to epically smooth and silky straight locks, no matter the style(s) you're dreaming of, you can be sure they're fully in reach with the Classic Styler.
Don't believe us?
Keep reading!
Evalectric is about to fill you in on the seemingly endless benefits this epic straightener provides. From multiple styling options (yes it's perfect for straight and curly hair!) and adjustable heat settings, to the many different versions of the Classic Styler that will keep your hair looking red carpet ready whether you're at home or away. The best part? We'll even fill you in on how you can create different bases for multiple eye-catching styles with this must-have heat tool. The result? You can instantly transform your locks day or night!
Why Choose the Classic Styler Over Other Heat Tools?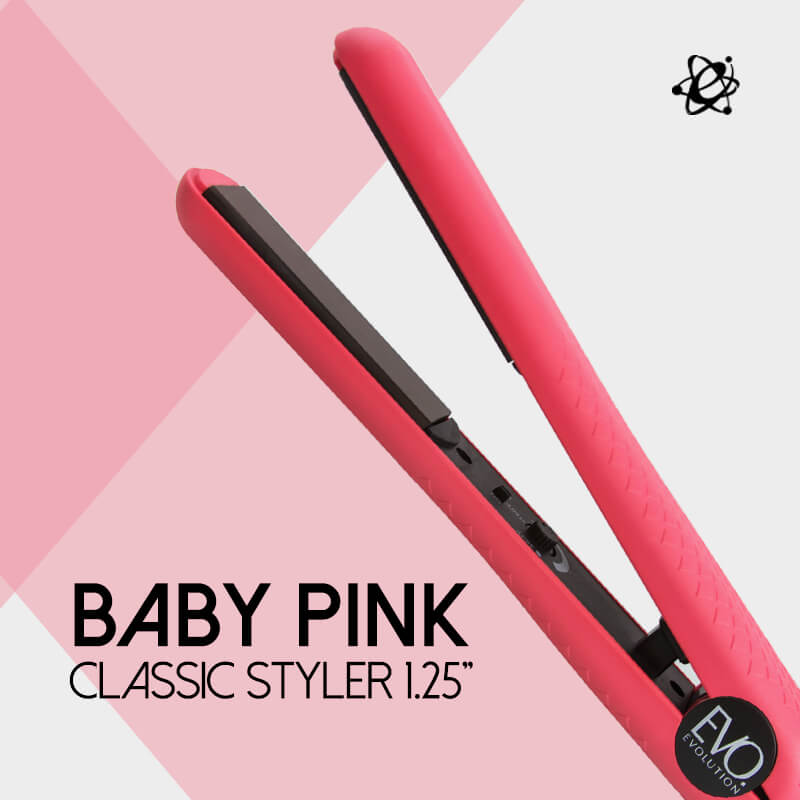 Before we dive into all of the reasons we think (sorry, know) that the Classic Styler belongs in your daily and weekly hair styling routines, let's talk specifics! After all, purchasing a new hair straightener means doing your research and making sure it'll actually do all of the things you need/want it to do. Luckily, the Classic Styler does pretty much everything, so you won't have anything to worry about!
The Heat
When it comes to heat styling your hair, it'll come as no surprise that the temperature your chosen tool is capable of reaching is a super important factor. After all, if it barely gets warm, how will it create a style that lasts more than a few minutes?!
This is especially important for those with super long or particularly thick/heavy locks. You'll need flat iron plates with a higher temperature capable of penetrating through all layers of your hair. 
So, since the Classic Styler can reach an impressive 460°F, it can successfully style even the longest, thickest locks out there! And yes – that goes for the mini version too!
The Plates
Believe it or not, the temperature isn't the only important thing to look out for when picking out a new heat styler. In fact, knowing what the plate is made of or coated in is just as important. Not only for how it will style your hair but for how good of a condition it's likely to keep it in. 
Luckily for us, the 1.25" Classic Styler plates are 100% ceramic.
What does that mean exactly?
Ceramic plates are such a popular choice as they're suitable for all hair types. They also provide plenty of other benefits that we need to look out for when it comes to our hair.
Firstly, they heat up gently and evenly. This means that the heat gets evenly distributed through the hair as you glide the plates over your locks. This prevents areas from becoming overheated, which can lead to dry locks and frazzled ends!

Secondly, ceramic plates hold heat for longer than most others. This means you're not only getting even heat distribution but also a constant stream of that even heat. This will give you a consistently smooth (or curly) style every time you use them.

Thirdly, they're kinder to damaged hair. Though we don't generally recommend heat styling for damaged locks, we know that sometimes it's unavoidable (or the temptation is just too strong!). In this case, we recommend using ceramic plates as they heat up your hair from the inside out. This is much kinder than other plates, such as those made from titanium, which do the opposite and can cause further damage by first heating up the outer layers of an already damaged hair shaft. 

Lastly, as you can imagine, we recommend these plates even if your hair isn't damaged. After all, heating the hair in this way means you stand the least chance of harming your precious locks, especially if they're particularly fine or thin. 
The Colors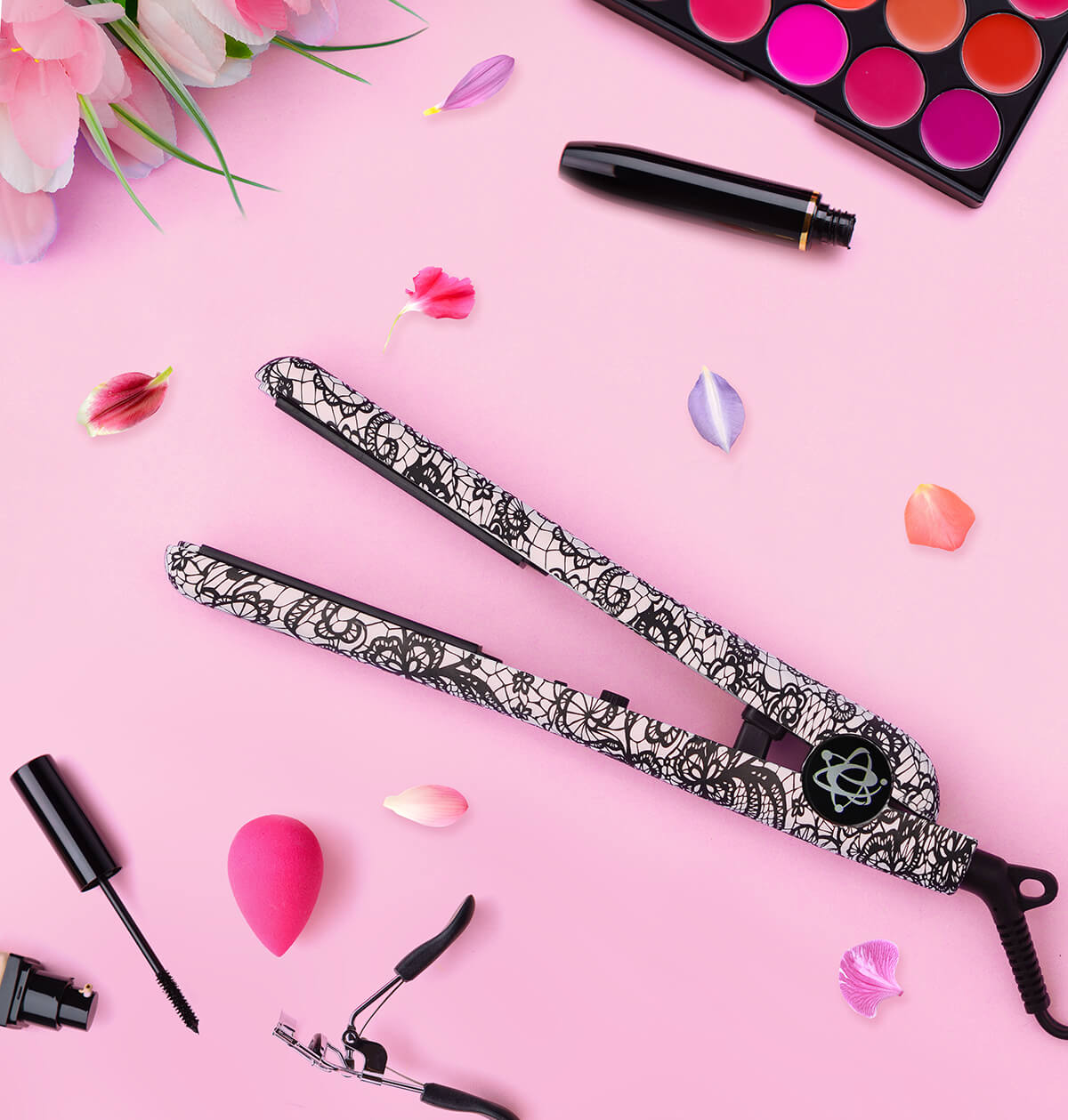 Okay, so we know that how your heat tools look isn't exactly the most important thing. However, picking out a color and style that you like should influence your decision a little! Remember, it'll be out on your dresser most days, so matching the color with the other bits and pieces you have out, or even with your room décor, is always a fun and stylish idea.
Luckily, the Classic Styler not only comes in different sizes (more on that soon!), but it also comes in different colors. So, you can pick the one that best matches the rest of your hair styling kit! 
Which colors?
We thought you'd never ask!
The Classic Styler is available in Crazy Pink, Baby Pink, Ocean Blue, Deep Purple, Peach Please, Christmas Red, and French Lace. Therefore, there really is something for everybody, no matter your fave shade! Do we think the French Lace version might be the prettiest, most opulent-looking straightener out there? Yes. Are we still tempted by every other shade and wish we could own them all? Absolutely! And we bet you are too.
Different Sizes
Yes, the rumors are true, the Classic Styler not only comes in different colors, but different sizes too! The Mini Classic Styler is (or very soon will be) your go-to heat tool to pack with you for all events and trips you need to get ready for away from home! 
It has small but perfectly formed half plates that make the Classic Styler much easier to transport. They're lighter and won't take up much room in your bag! Additionally, you won't be losing out – although the plates are shorter, making them perfectly precise, they remain 1.25" wide and reach a slightly cooler, yet still amazing, 410°F. So, you can style your locks with ease!
Additionally, we highly recommend the Mini Classic Styler for those with shorter or finer locks, as well as those with bangs. After all, these shorter plates are perfect for precision styling. You'll find your shorter hair is much easier to control through these plates. It makes smaller sections easier to style too. When it comes to your bangs, the mini styler allows you to get closer to the root without burning your skin. It also gives you more control over how you shape the smaller sections of hair around your face!
And just in case you were wondering, the answer's yes. The Mini Classic Styler comes in both Pink and Blue!
Use the Classic Styler for Super Straight Hair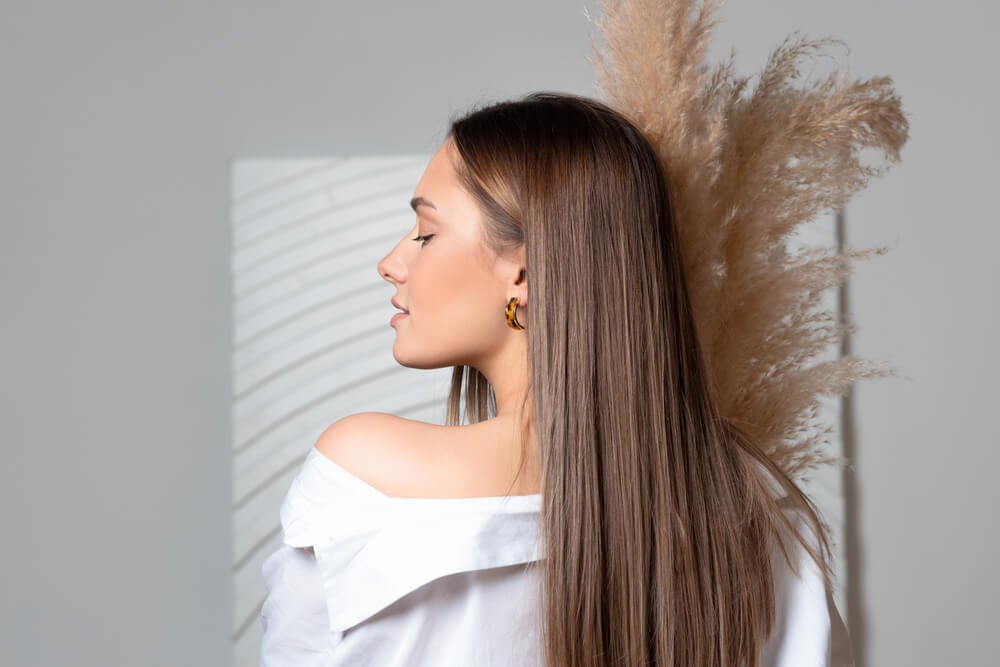 One of the main reasons we adore the Classic Styler so much is for how effortlessly and precisely it straightens out our hair. As we mentioned, it reaches an impressive temperature of 460°F and boasts 100% ceramic plates for gentle styling throughout.
Additionally, it uses Far Infrared and floating plate technology. Both of these are kind to your hair and prevent snagging as you go. Also, the Negative Ion technology eliminates static to make your hair look and feel smoother and softer than ever before! Therefore, any time you want super straight locks with minimal frizz and an epic shine, this is the hair straightener to reach for.
Use the Classic Styler for Curls
If you prefer curls and waves or just like to have the option to rock straight or curly locks as the mood takes you, don't go thinking you also need to pick out a curling iron to go with your Classic Styler. Oh no, this tool can do it all! 
By simply passing your hair through the plates and twisting the straightener up and away from your face as you go, you can create gorgeous, smooth, long-lasting curls that look just as beautiful as those you can create with a curling wand. 
Click here for more top tips on how to curl your hair with a straightener.
Styles to Transform the Look of Your Hair With the Evalectric Classic Styler
Now that you know how the Classic Styler works and how it can transform the look of your hair, we're ready to deliver on our promise. Incoming: our top hairstyles and how to create them with the Classic Styler. Trust us – they'll instantly transform your look! 
Super Straight Center Parted Lengths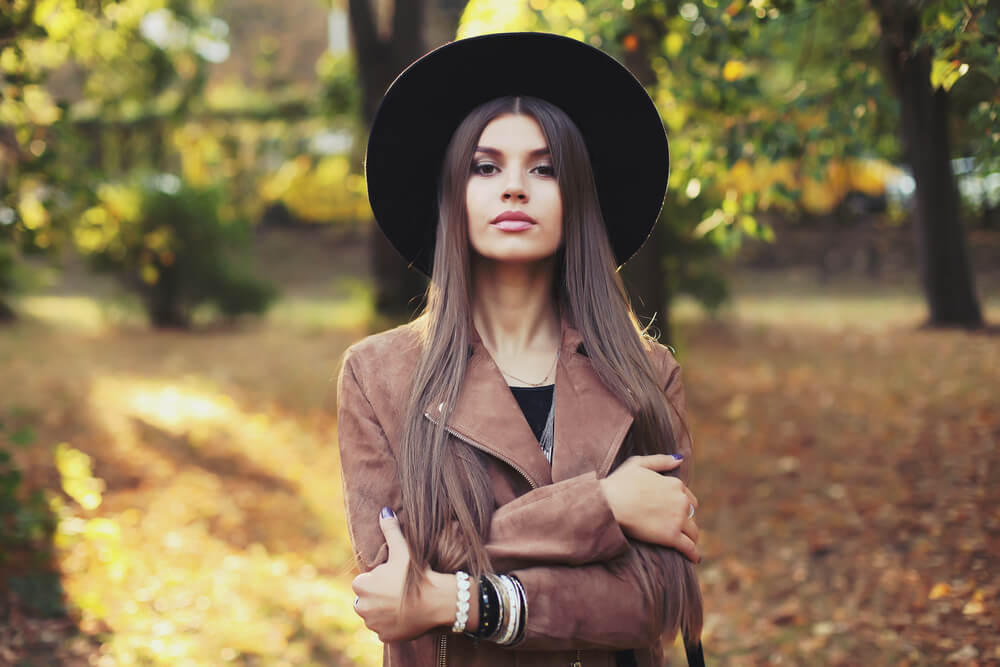 The beauty of super straight locks? They always look incredibly chic! Yes, whether you're rocking straight locks for work, weekend plans, dinner dates, or anything in between, you're always going to look effortlessly stylish and put together. The other great thing? This style is so easy to create but will totally transform your everyday aesthetic.
Make sure your hair is freshly washed and conditioned with the Evalectric Moisturizing Shampoo and Conditioner for an extra smooth look and feel. Then, blow dry your locks to get the perfect base and ensure it's tangle free. 
Then, depending on the thickness and length of your hair, separate it into manageable sections that will pass through the plates of your classic styler with ease. Once you've straightened all of your hair from root to tip, it should stay straight and shiny until your next hair wash!
Pro tip: the center parting is key! This adds a modern edge to your straightened hair and will add to the transformation. Use a comb to get it nice and neat so you look effortlessly elegant at all times.
Glamorous Curls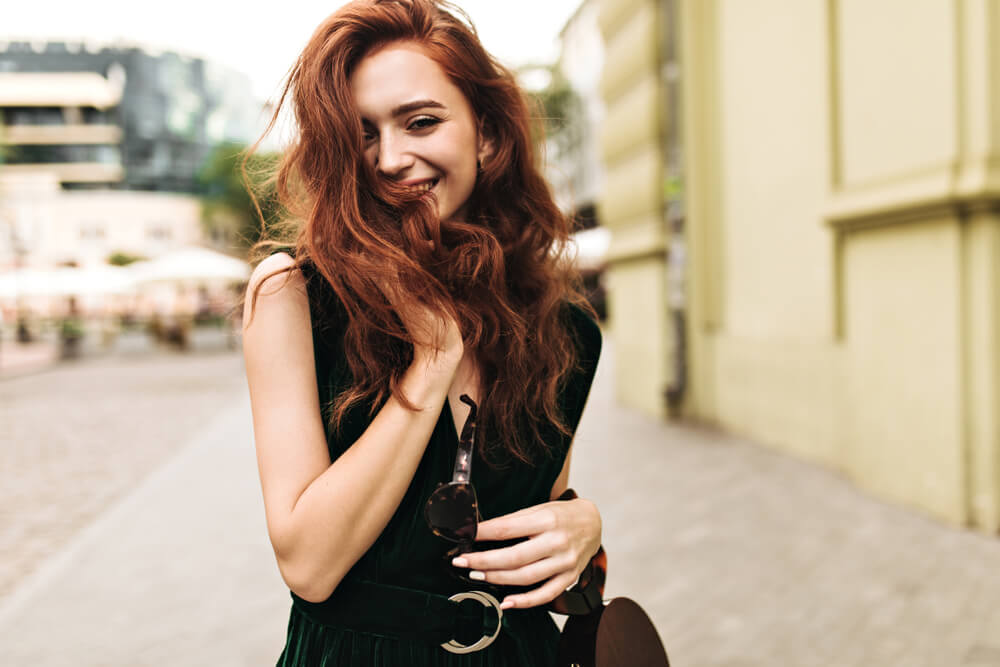 Believe it or not, red-carpet-worthy curls are actually achievable with a straightening iron. Well, provided you use one as amazing as the Evalectric Classic Styler, with its super high temperature and 100% ceramic plates that is!
This look is sure to draw attention and gain you an endless stream of compliments. Best of all, much like the previous look on our list, you can pretty much wear it anywhere! We also love how these voluminous curls look so good left long and loose but also style really well in an up-do or even a half-up style. Perfect this look and get ready to wear it for everything from workdays and weekend plans to wedding celebrations!
To create this sought-after hairstyle, start once again with clean, dry, tangle-free hair. Then, take your time. You'll want to separate out small sections, one at a time, to pass through the plates. As you do so, rotate the Classic Styler 360 degrees as you move your hair through to create an epic curl. The key is to take it in turns to curl away from your face, then towards it, with each alternate section of hair. 
This prevents your curls from falling into one another and will create tons of dimension and volume through your style. Finally, though it's totally down to preference, we like to finish off this transformational style with a side parting. But, don't do this before creating your curls, do it after. This way will give you more height and volume in your parting for a more glamorous finish! A total hair transformation? We think so!
Summary
So, which one of our hairstyles is your favorite and when will you be creating the look for yourself? We're gonna go ahead and guess that both are on your to-do list for the new season ahead! The key ingredient? The Classic Styler of course. 
This tool will not only transform your look and allow you to create a million more styles with a beautiful base of curly or straight locks, but it'll also protect the look and feel of your hair from possible damage. It'll also save you loads of getting ready time with high temperatures, an adjustable heat setting, negative ion technology for smooth styling, and ceramic plates that evenly distribute heat for a sleek-looking style in minutes. 
Our advice? Treat yourself to this heat tool or add it to your upcoming holiday wish list. It's a must-have for sure!
Click here to browse more of Evalectric's bestselling heated styling tools.
---