6 Styles to Create With Your Skinny Curling Wand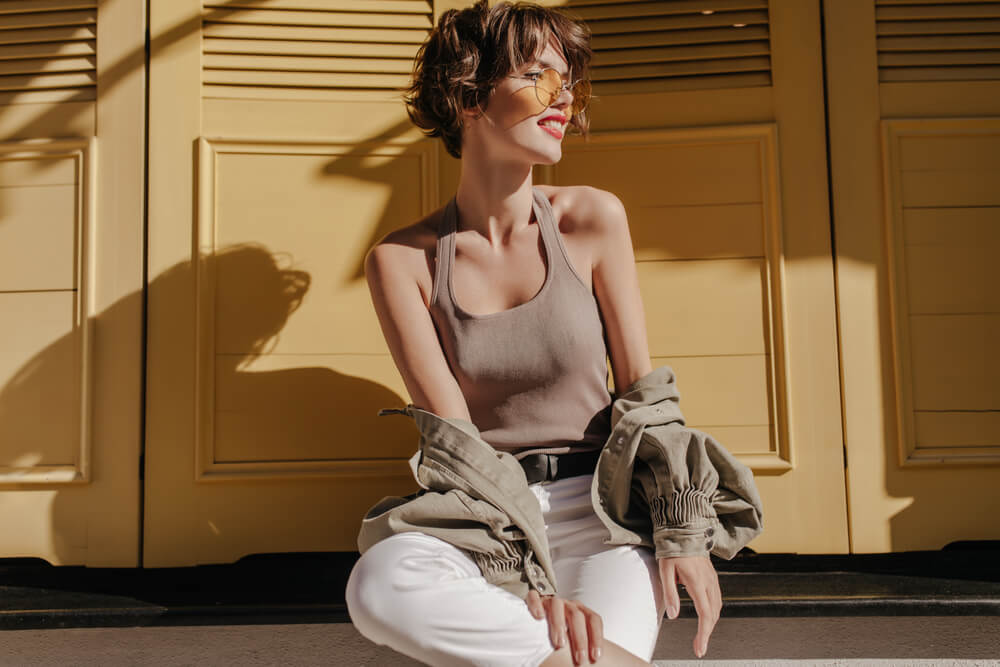 Thinking about purchasing a skinny curling wand? Or have you had one for ages but just aren't sure how to create new styles with it? Either way, you're in the right place!
We here at Evalectric are about to provide you with all of the most irresistible hairstyles you'll be able to create with your skinny curling wand. We'll also share all the best styling tips and tricks we know. Trust us, once you're through reading, you'll wonder why your skinny curling wand didn't have a priority spot on your dresser from the start!
Loose Boho Waves & Braided Tendrils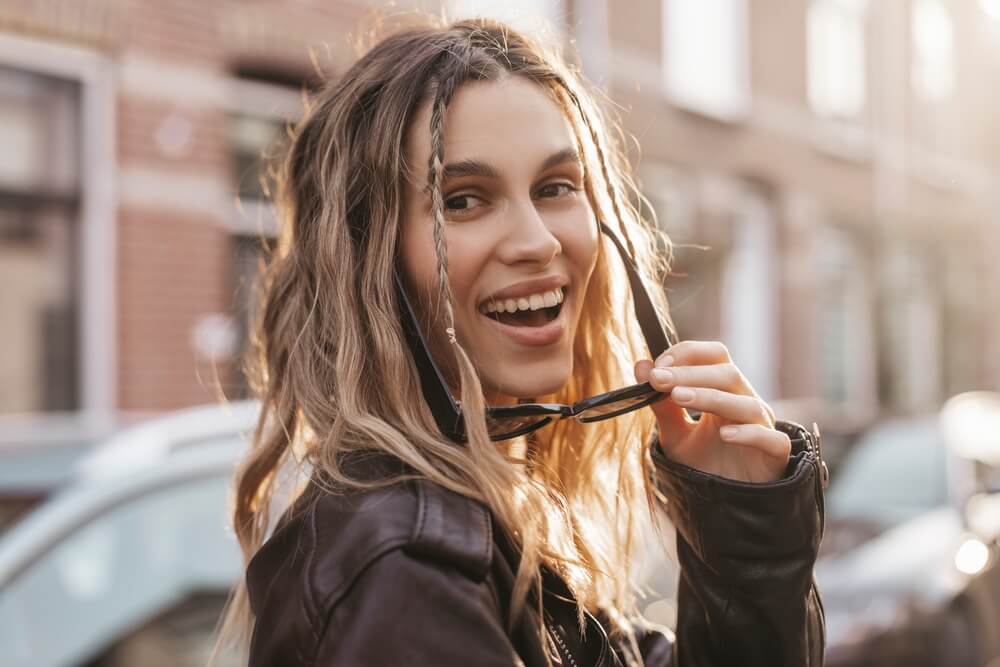 Super-soft, natural-looking beach waves + braided tendrils is a match made in heaven! It's also one of our absolute favorite hairstyles for summer and beyond. Laid back enough that you can definitely rock this look for your daytime plans, yet elevated enough that it works for the evening too. There's nothing not to love and all you'll need to get the look is your favorite Evalectric skinny curling wand and a couple of clear no-snag bands to secure your braids in place!
How to Get Loose Boho Waves & Braided Tendrils:
That's right! You heard it here first. We love to create loose boho-style waves with a skinny curling wand and it's much easier than you might think. 
To start, make sure your hair is clean, conditioned, and thoroughly dried. Using heat tools on wet or even slightly damp hair is an absolute no-no as it can quickly damage your precious tresses when they're in their most sensitive state! As for the washing and conditioning part, we recommend using the Evalectric Moisturizing shampoo and Moisturizing conditioner to make sure your locks are feeling the best (not to mention the softest!). 
Next, go ahead and switch on your 

Evalectric skinny curling wand

. This professional curling iron has a 9-18mm barrel. This means that you can place the hair at whichever point best suits the curls you're trying to create. For this particular style, we're looking to create looser curls and waves. Therefore, we recommend using larger sections of hair at the largest part of the barrel.
Then, later on, once it's all curled, you can go back and pick up smaller sections to curl around the smaller section of the wand. This will create an irregular pattern to your curls that looks random and therefore natural, as genuine beachy waves do!

Once you're done curling, switch off your curler and place it on a heat-safe mat. This particular skinny curling wand has a fast cooling method so it won't be too long until you can pop it away. 

Next, section off two small roughly equal sections at the front of your hair around an inch to an inch and a half wide depending on the thickness of your locks. Don't worry about being too precise, we're going for a laid-back, just-stepped-off-the-sand vibe, after all!

Braid your hair loosely, using the three-strand method, from top to bottom. Then, secure each in place around an inch or two from the ends. That way you can still see a small section of your curls at the bottom of the braid. Perfection!
Voluminous Curled Lob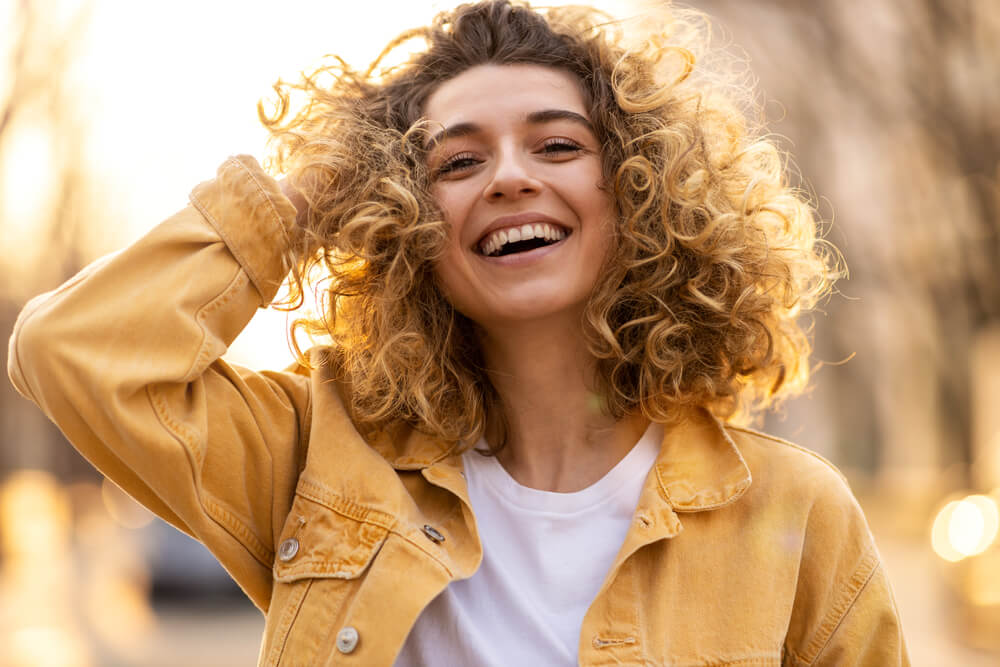 Another hairstyle we covet year-round is a tightly curled lob with plenty of gorgeous volume! It looks great on everyone and works just as well for casual occasions as it does for more formal ones. Luckily, once you've curled your locks with a skinny curling wand, the volume tends to follow with minimal effort! 
How can that be, you ask?
Let us fill you in!
How to Get a Voluminous Curled Lob:
Once again, we're starting with clean, conditioned hair that's fully dry. If you need an extra moisture boost or your hair is feeling a little dry (seawater, chlorine, and extreme summer heat will do that!), go ahead and treat your locks to a moisturizing treatment with our soothing Evalectric Hair Mask. It's intensely nourishing and designed to make your hair look and feel thicker and shinier! Not to mention, it's infused with dreamy ingredients, like Argan oil and panthenol.
Begin by making sure your hair is brushed through and completely tangle-free. Then, you can begin the fun part – the curling itself! 
Now we won't lie to you – this is going to take some time! You'll need to section out the hair layer by layer, taking out small pieces at a time. Make sure they're no bigger than a couple of centimeters wide, then you should have no trouble curling them around the wand individually. 
Hold each piece of hair on the wand for around 5-8 seconds only. The less hair you have, the less time it needs to form a curl

Curl away from your face then towards it alternately. This way, the curls bounce off of one another rather than slipping into each other and forming one giant curl!

Once you curl each piece, you can either unwind it and let it drop right away, or you can use the palm of your hand to gently hold the curl against your head to set it in pace a little better. Either is fine – just be careful not to burn your palm on your hot hair if you choose the second option!
Once all of the hair is curled (we promise it'll be worth all that time!), make sure it's completely cool before the next step

Once it is, use your fingertips to gently separate any curls that might be sitting together and create that extra volume you desire!
Super Tight Curls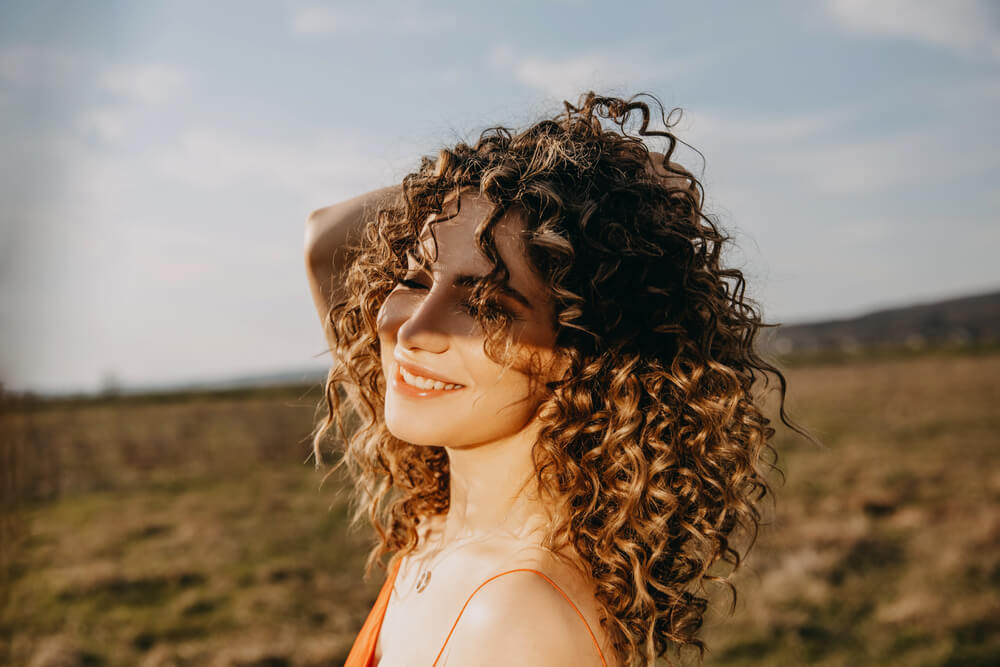 If you're all about those super-tight curls that give your hair a polished yet playful edge – a skinny curling wand is definitely the heat tool for you! Happily, it's a style that most of us can achieve, as long as there's a small amount of length to play with. 
Ready to make your hair cuter and curlier than ever?
Keep on scrolling!
How to Get Super Tight Curls:
Truthfully, achieving super tight all-over curls is pretty similar to our last style. However this time, we'll do a couple of things slightly differently!
Begin once again with freshly washed, conditioned, blow-dried hair for best results. Then, begin sectioning off the hair and curling those small sections around the barrel. 

Now, this time when your wrap the hair, pay special attention to the ends. Make sure they're wrapped fully around the wand as best you can – be careful not to burn your fingers!

This will create a tight, spiral-like curl that has tons of bounce yet is super tight. As you release each curl, push it back against your head using the palm of your hand and allow it to begin cooling there. This way, the curl remains intact for much longer. 

When all of the hair has been curled in this way – go ahead and skip the next step. Do not use your fingers to pull the curls apart. Instead, let them sit as they are so they remain nice and tight. If it looks a little too perfect for you when you've just finished, don't worry. The curls will loosen ever-so slightly whilst remaining perfectly defined from day to night!

Finish off with a few quick spritzes of the Evalactric Extreme Hold Hair Spray

 to keep them from budging as you go about your day!
Long Lengths With Curled Ends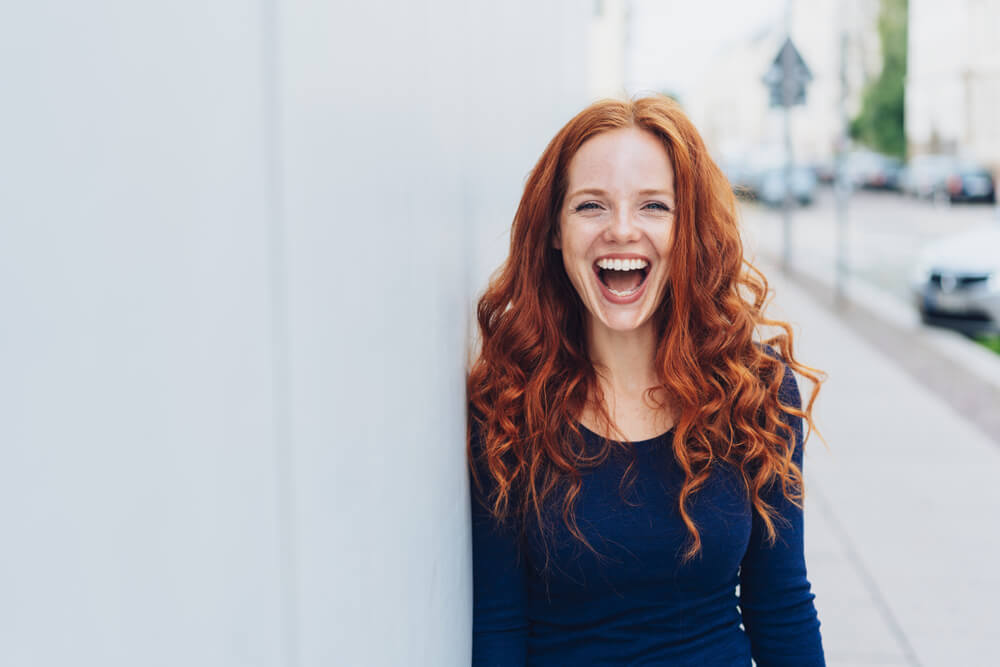 If you love romantic hairstyles that look as if they've materialized out of a fantasy novel, a skinny curling wand might just be the answer to your prayers! It'll help you create the prettiest long hairstyles out there with minimal effort. Plus, once the curls are in, they'll last all day and night!
With prepped, tangle-free hair, go ahead and begin sectioning out pieces of hair roughly an inch wide. Curl each piece individually but be sure to start wrapping the hair roughly halfway down (or in line with your ears.)

This will keep the top portion of your hair straight whilst the ends form the most beautiful, princess-Esque curls.

Curl almost to the ends of your hair. Keep just a centimeter or two away from the wand. This won't straighten your ends but it will define them, so you don't end up with a complete spiral all the way down. 

When you've curled all of your hair, use a little dry shampoo in your roots. Tease them with your fingertips to add a little volume

Finish off with 2-3 pumps of the Evalectric Hair Serum,

 depending on the length and thickness of your hair. Warm the dreamy formula in the palms of your hands then distribute it evenly over your curls for a healthy-looking shine! 
Airy Root to Tip Curls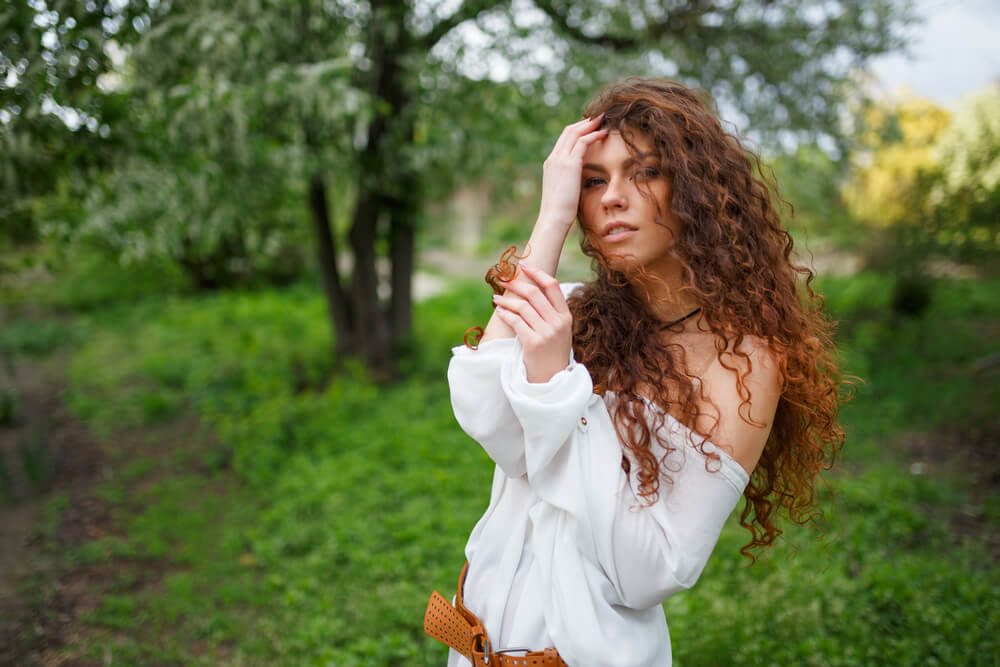 For a look that works just as beautifully in the summertime as it does in the fall, look to these airy root-to-tip curls for inspiration! They look sensational with your hair worn long and loose but will also make any updos (or half-up/half-down dos) look super elevated too!
How to Get Airy Root to Tip Curls:
Want a pro tip?
We thought so!
We know we've said it all along, but for this style, it really is so important your hair is freshly washed and tangle-free. It'll be pretty much impossible to achieve the initial floaty, curly look if you're working with hair that's already feeling a little oily!
As with a couple of the other styles above, start by sectioning your hair into layers. Then, take small sections of around 1-2cm wide, depending on the thickness of your hair. Wrap each one around the wand individually for 5-8 seconds and no longer. Sections of hair this tiny in size will create lighter, wispier curls that feel floaty and bouncy!

As you wrap the hair, pay special attention to the root. You want to make sure you're holding your skinny curling wand as close to your scalp as possible – but without getting close to burning yourself of course!

Wrap your hair from the root, then keep spiraling it around the barrel all the way to the ends to create that long beautiful twisted look

Curl all of the hair in this way, remembering to alternate curling away from then back towards your face. 

Then once it's done, use your fingertips to gently tease the curls apart. This will create a light, airy look and feel to your curls that allows for plenty of movement and volume!
Super Short & Chic Curls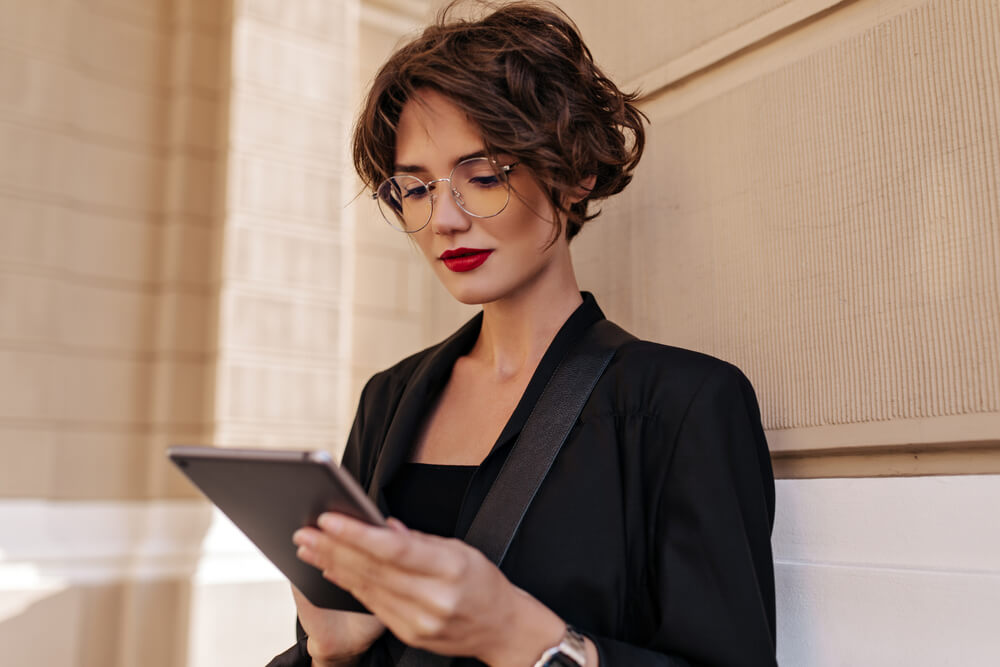 If you have shorter locks, a skinny curling wand should definitely be your go-to heat tool for curl creation! The thinner barrel will allow you to be more precise with where you position your curls. Additionally, you'll be able to create more curls and therefore more volume. This is because you can wrap smaller sections of hair at a time!
How to Get Super Short & Chic Curls:
To make the most of your curls and get tons of volume through your shorter length, we recommend styling your hair into a center parting! So chic, so effortless, so glamorous, it'll work for everything from office days to red carpet events.
Our advice?
Wait until the end to flip your locks into a deep center part to create even more lift!
With shorter hair, especially if it's layered, you don't need to be too precise or uniform when sectioning out the hair. So, go ahead and work your way through your hair taking small pieces at a time. 

Use the smallest end of the barrel to create curls and waves, making sure you have an equal amount of curls all around. 

Be sure that when you curl the front, you're curling away from your face instead of towards it. This will frame your features and give your shorter cut a professional-looking finish!

Finish off this look by flipping your hair into a deep side parting. Spritz on a little of the Evalectric Extreme Hold Hair Spray

 to keep your curls feeling intact!
What's Your Favorite Skinny Curling Wand Style?
So, which of our recommended styles has caught your eye? Will it be summer boho waves? Or do super-tight curls with plenty of shine take your fancy? Whichever you choose, we're pretty certain your skinny curling wand is in for a busy few months ahead!
Click here to browse more of Evalectric's bestselling heated styling tools.
---