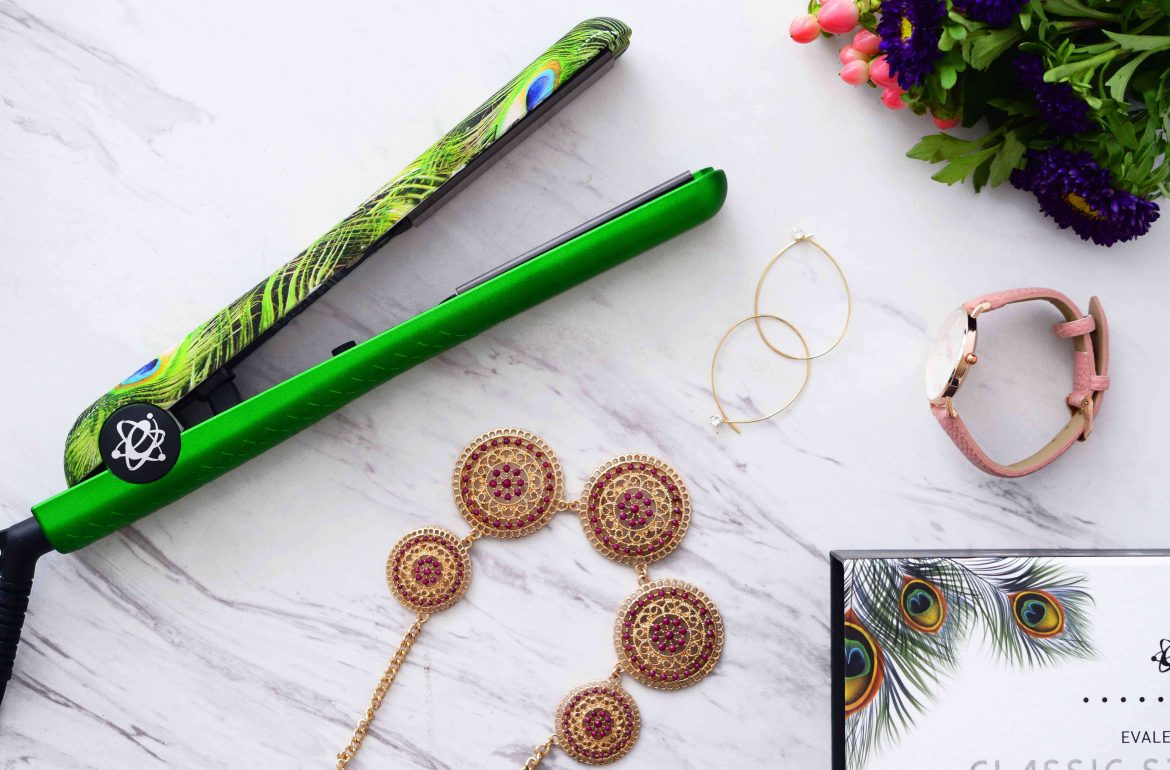 Straighteners are a staple you will find in any hair lover's arsenal of styling tools. It was probably the first heat styler you used back when you had frizzy locks in high school and wanted to look more grown up. And because there are so many ways to style your hair with it, it's still the first thing you grab today when you need to look put together for a Zoom meeting.
A trusty, high-quality straightener will always be a must for anyone who loves getting creative with their hair. It's also one of the most basic hair tools that professionals love.
But when buying a new straightener, you can't just pick one at random. You need to keep your eyes peeled for top-notch design, convenient features, and plates that are suitable for your specific hair type and length.
So, how can you tell which straightener is right for you? Read on – Evalectric is about to share several things you should keep in mind while canvassing for your next one.
Pick the Plate Material That Fits Your Hair Type Best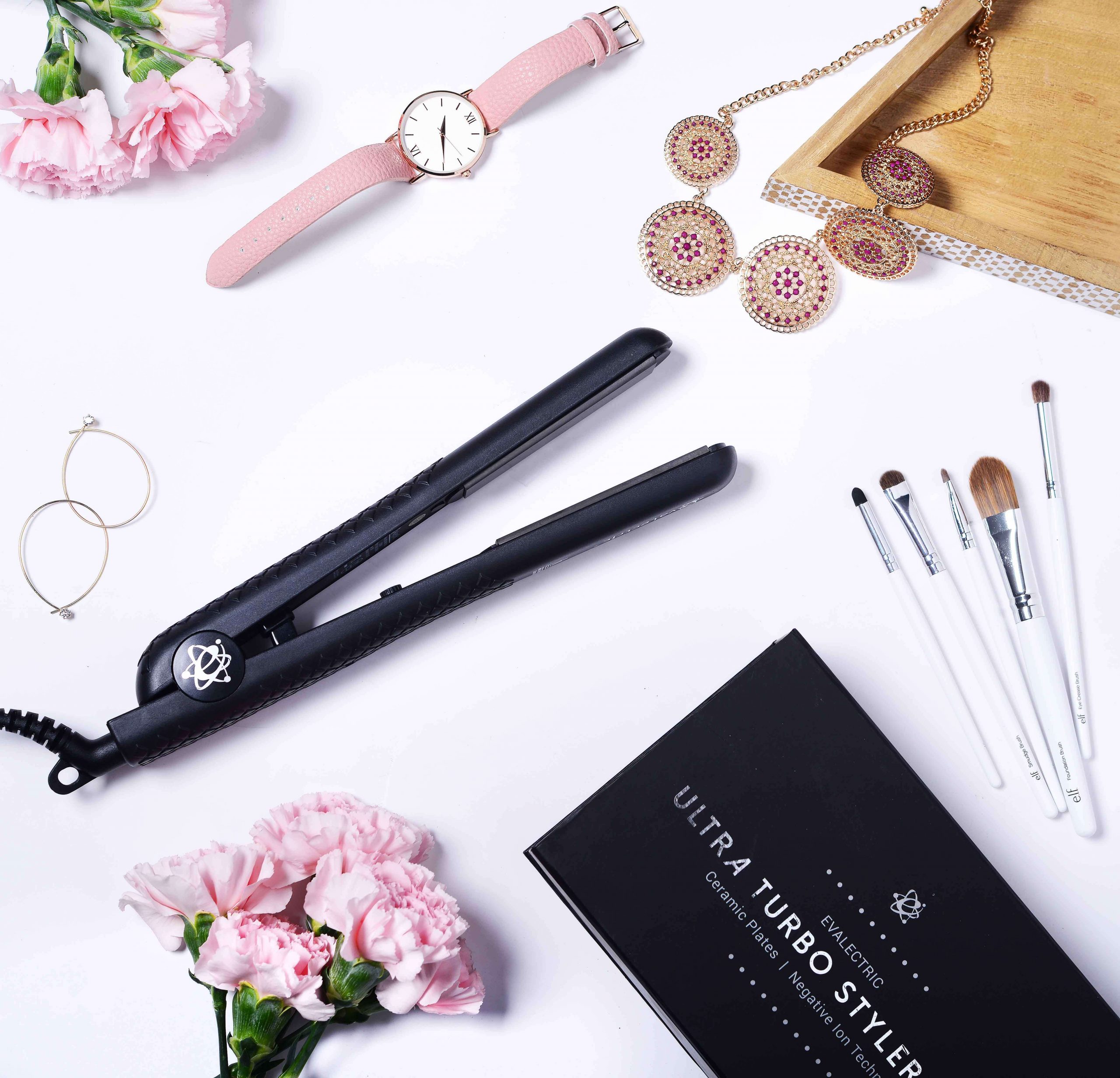 Repetitive use of a straightener can cause heat damage to your hair, especially if you use a kind of iron that's not suitable for your natural texture or density. There are a few ways to keep them from happening, like wearing a heat protectant. Another is to pick the right type of plates — ones that are a good match for your hair type.
The material used to make the plates on a straightener differs with each design. That's why you might hear about different kinds of flat irons. The most popular ones are ceramic and titanium straighteners, both of which you can find in the Evalectric collection. But what's the difference between the two?
Ceramic Straighteners
Let's talk about ceramic straighteners first. Ceramic plates are made of smoothened clay that distributes heat evenly across the iron. That way, it won't be too hot in just one area, which can end up burning one area of your hair. It's perfect for fine, thin hair that might be more prone to damage.
Ceramic plates also have the ability to heat up your hair strands from the inside out, instead of right on the surface of the strands. This is way healthier for your hair and leaves it looking shinier and smoother.
One ceramic straightener we highly recommend is the Ultra Turbo Styler. It has 1.25-inch ceramic plates that reduce your hair's exposure to high temperatures. They leave your hair looking smooth and sleek without frying and dehydrating it.
Titanium Straighteners
If you have thick hair that is harder to straighten (like say, coarse, curly hair), you might want to go for a titanium straightener. Unlike a ceramic straightener, titanium can immediately heat up your strands from the surface, which is a blessing when your hair takes a while to hold a new shape when heat-styling.
Titanium heats up much faster, so it can handle high temperatures that are required to style stubborn hair. It's also great if you tend to rush to do your hair in the morning! The Titanium Pro Coral is an awesome example of a straightener that can do this.
Choose Between Small or Regular-Sized Straighteners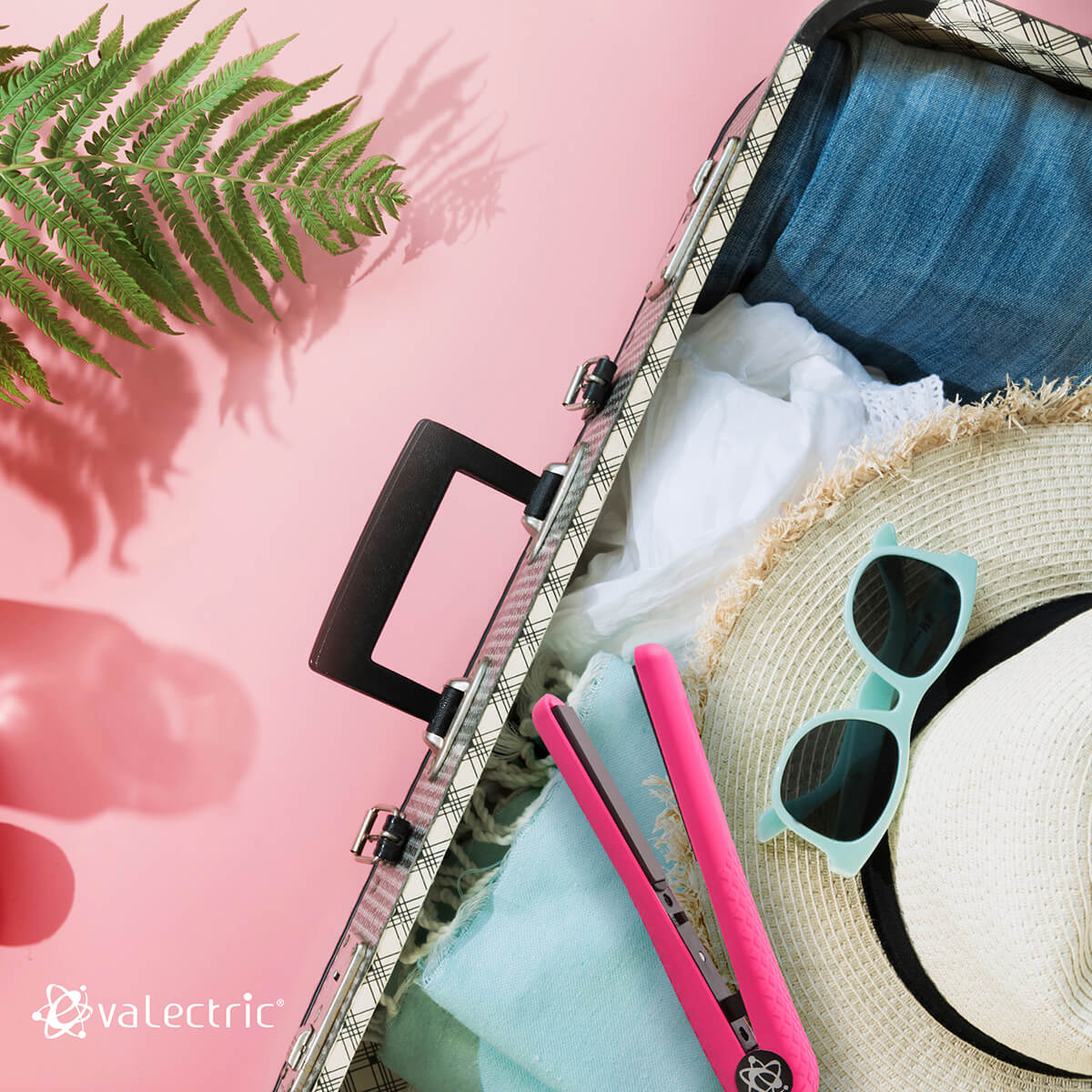 Another factor you should always consider when buying a new hair straightener is the size of the actual iron. A bigger, longer straightener with wider plates is perfect for straightening or creating waves in long, luscious hair. Meanwhile, smaller, more compact versions are best for short hair and bangs.
Let's take a look at two different straightener sizes you can find in the Evalectric line.
First up, we have the Ocean Blue Classic Styler. This regular-sized flat iron has 1.25-inch plates, which is excellent for everyday use. You can use it for creating new textures throughout your mane, no matter how long it is. It's also perfect for smoothing down frizz if you have poofy, unruly hair.
Meanwhile, the Mini Classic Styler Blue, aka the baby version of the previous flat iron, has half-inch ceramic plates. That means it isn't suitable for long hair. Instead, you should use this if you have a shorter haircut, like a chic bob. It also comes in handy when you're straightening a fringe.
You might also find a smaller straightener very helpful if you travel a lot. That way, you don't have a huge, bulky straightener taking up too much space in your luggage. But if you plan on keeping your iron at home all the time, a bigger size might be more up your alley.
Ensure That it Has Rounded Edges for Hair Curling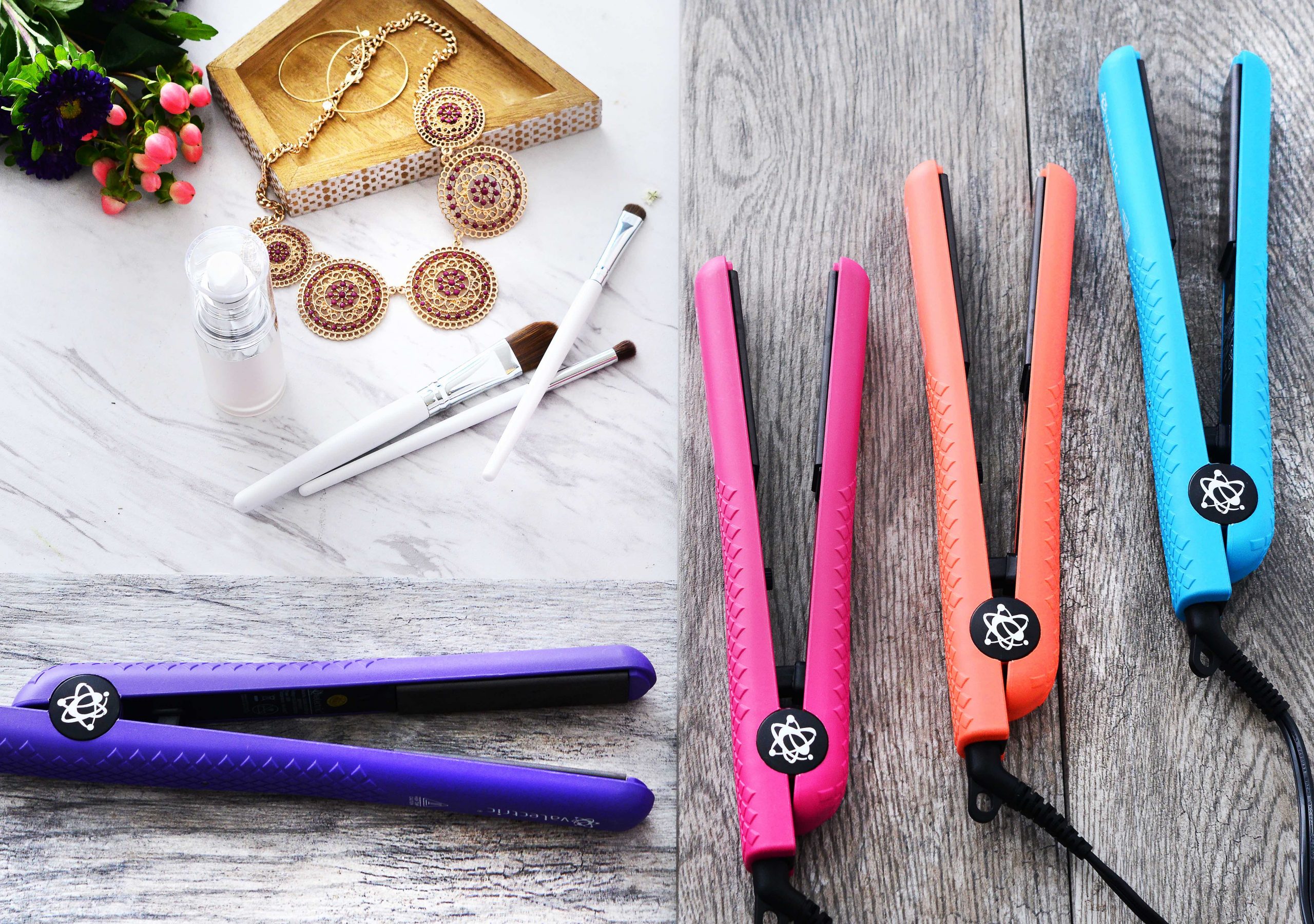 Despite what its name suggests, straightening your hair isn't the only thing a flat iron can do. Some of them are useful for curling your hair too, so you can create romantic, wavy and curly hairstyles with them. This is an awesome way to get the most out of your hair straightener.
All you have to do to curl your hair with a flat iron is clamp it down on your hair and flick your wrist so that you're holding the iron at a 45-degree angle as you pull it down. The result? Cute, luscious ringlets!
But not every straightener can do that. There's a very specific design you should look out for if you want a flat iron that can curl your hair too. You need to choose one that has rounded edges to get a smooth curl. If you attempt to create curls with a straightener with a boxy, square-like shape, your curls can end up with little bends and crimps.
An example of a straightener with rounded edges is the Baby Pink Classic Styler. Not only is the shape of this flat iron appropriate for curling, but it also has nice, standard size 1.25-inch plates to give you more control of how tight you want your curls or waves.
Want to learn more about curling your hair with a straightener? Check out our top tips here!
Check if it's Designed With Cutting-Edge Technology to Make Styling Easier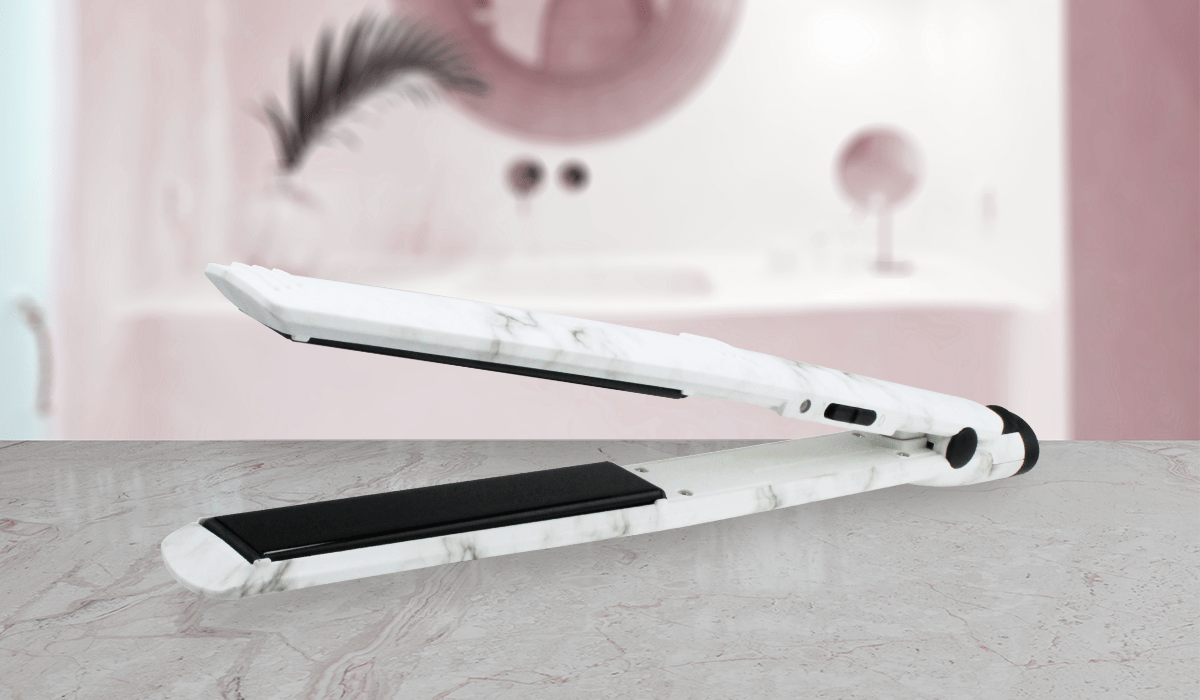 The build of your straightener is one thing — the science behind its design is another. Always go for a flat iron that is made with the newest innovations in hair care and styling. That way, you can have an easier time styling your hair and keeping its health in check.
One feature you might want to consider when you're buying a new straightener is whether it has floating plates. These plates aren't completely attached to the body of your flat iron. That way, they're more flexible and can move a bit and adjust to however you're holding your straightener.
This allows your plates to hug your locks properly and snugly as you style them. That means no snagging and tugging as you straighten or curl your tresses — just a smooth glide as you slide your straightener down your hair.
Another feature to watch out for when shopping for a straightener is negative ion technology. This helps smoothen your hair and reduce frizz.
See, heat-styling your hair usually leaves positive ions in the strands. These positive ions lift your cuticle and leave them wide open, making your hair prone to dryness and a rougher texture. By emitting negative ions, a hair straightener can neutralize the positive ones. This means your cuticles will lay flat, leaving you with smoother, softer-feeling locks.
These two cutting-edge features are things we try our best to include in every Evalectric straightener!
Pick a Color (or Print!) That Will Excite You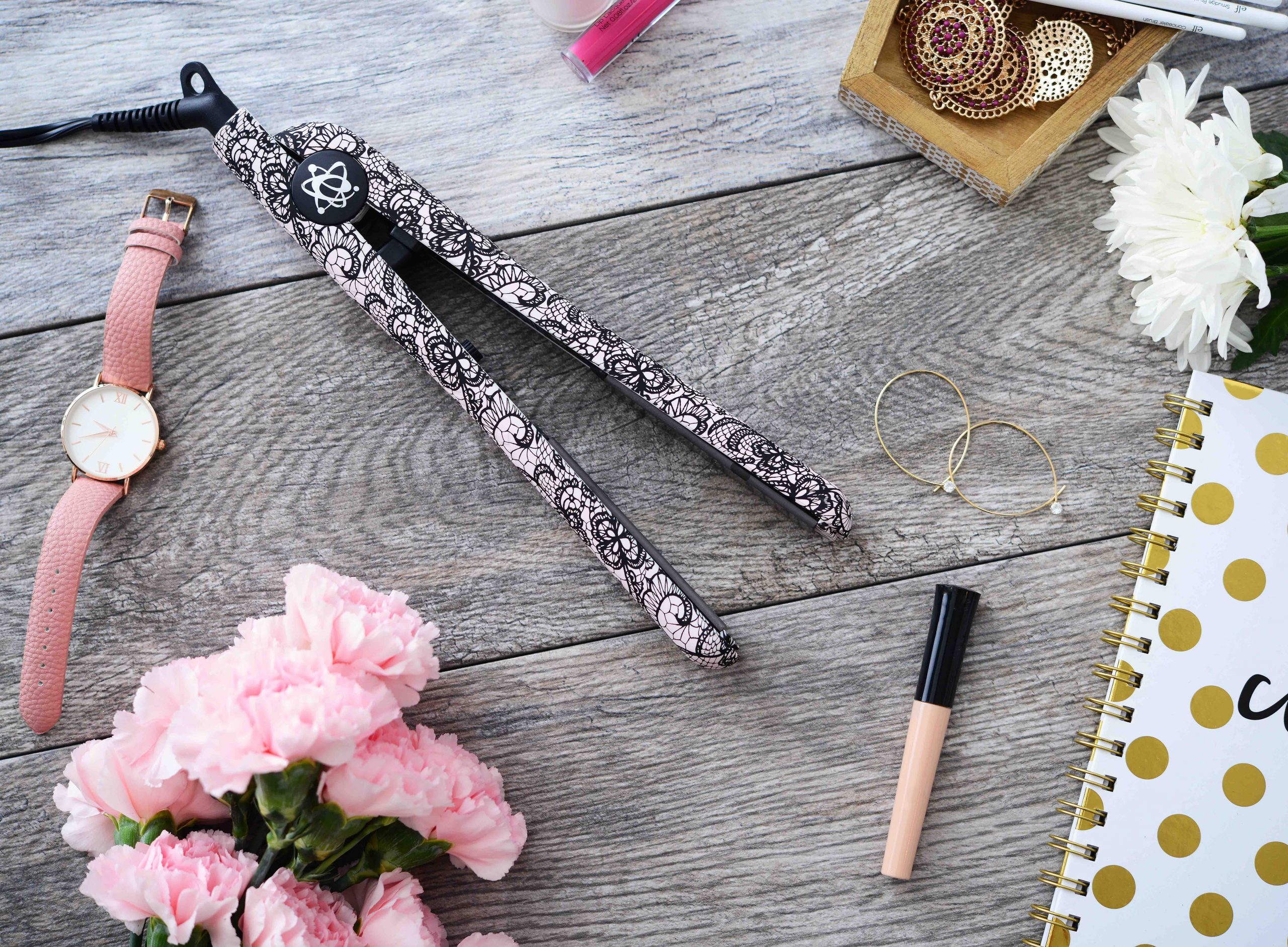 Enough with the technical talk! Let's go to something a little more fun — what your straightener actually looks like.
Everyone knows that there are days when you get up and don't feel like doing your hair. To be sure you're excited every morning to get that straightener out of the drawer and style your locks to perfection, make sure you buy one in a color or print that will make you look forward to it.
You can always go for something sleek and simple, like a classic black flat iron. But if you want a vibrant pop of color to get you pumped to straighten and curl your hair for the day, you can also choose bright, eye-catching colors, like a soft lavender one or a more energetic hot pink straightener.
If you're a little more daring and want a unique look to your flat iron, you can get one in a charming design or pattern. Evalectric has a whole range of straighteners with gorgeous prints.
Are you an animal lover? You might love our zebra design! Looking for something more fun, feminine, and flirty? Check out this one inspired by cheeky French lace!
Look for an Ergonomic Design and Other Convenient Features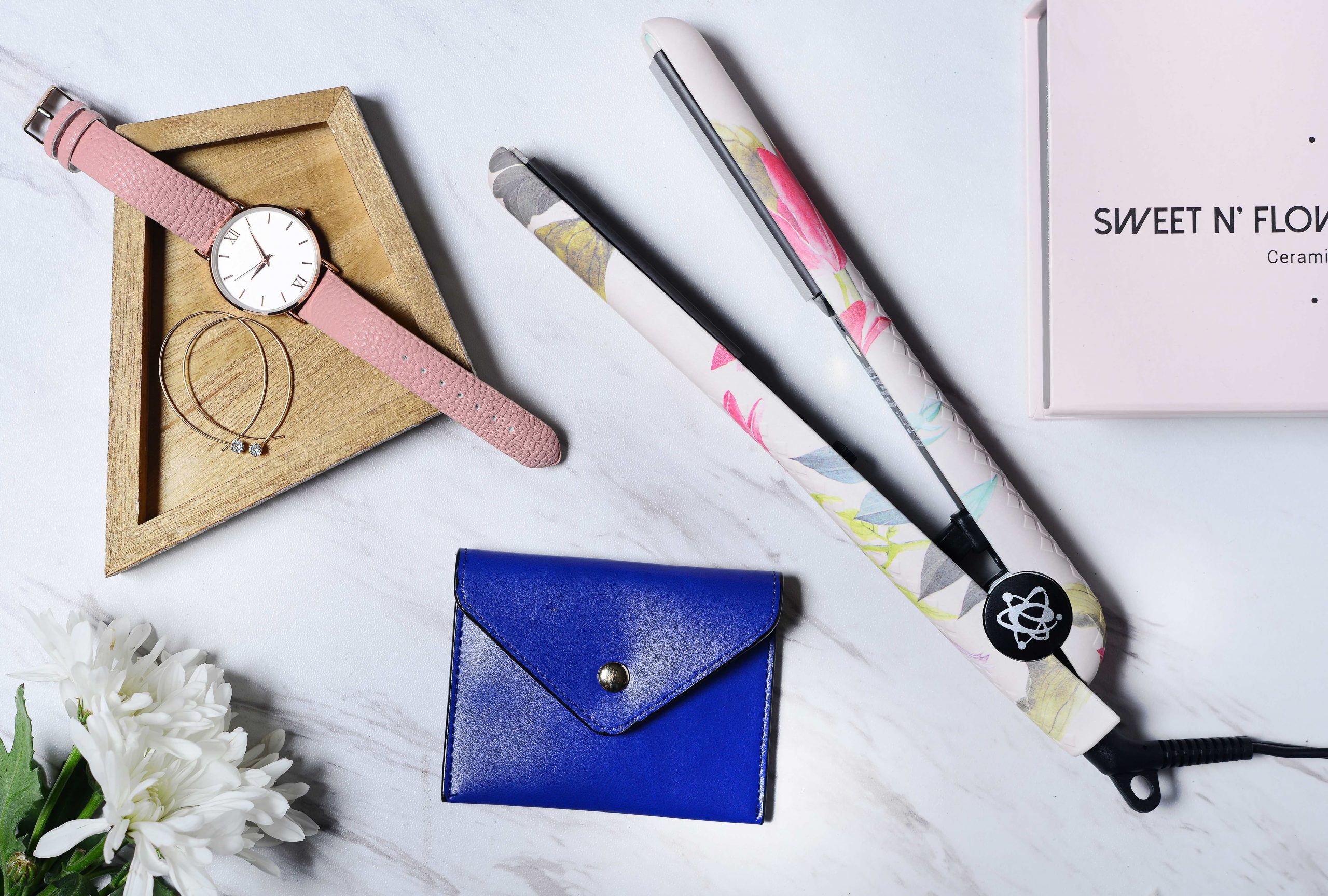 Convenience is key when you're using a straightener, especially when you're a newbie. So, make sure your new flat iron has at least some of the following features:
Adjustable heat settings: High temperatures can dry and damage your strands. That's why

experts advise people to use hot tools that allow them to choose the temperature.

This gives you more control of how hot the plates are, allowing you to care for your hair better.
360-degree swivel cord: When you're curling your hair with a straightener, you tend to twist and flick it at different angles. This can sometimes tangle up your cord, which can be a hassle when you need to twist it back around to its original shape. If you have a cord that swivels, you don't have to think about this. Your cord will never get tangled or twisted, and you can just focus on styling.
Hinge lock: If you don't have that much space for storing your straightener, look for one with a hinge lock. That way, you can lock it in a clamped-down position. This will save you some storage space wherever you intend to keep your flat iron.
Dual voltage: Planning on bringing your flat iron with you as you travel? Make sure it has dual voltage so that you can plug it in and use it in any country.
One of our fave straighteners that has three out of four of these features is the Ultra Beauty Titanium Peach. Not only does it have a stunning color and high-performing titanium plates, but it also has a swivel cord, hinge lock, and dual voltage. It's also super lightweight for ease of use!
Make Sure it Includes a Warranty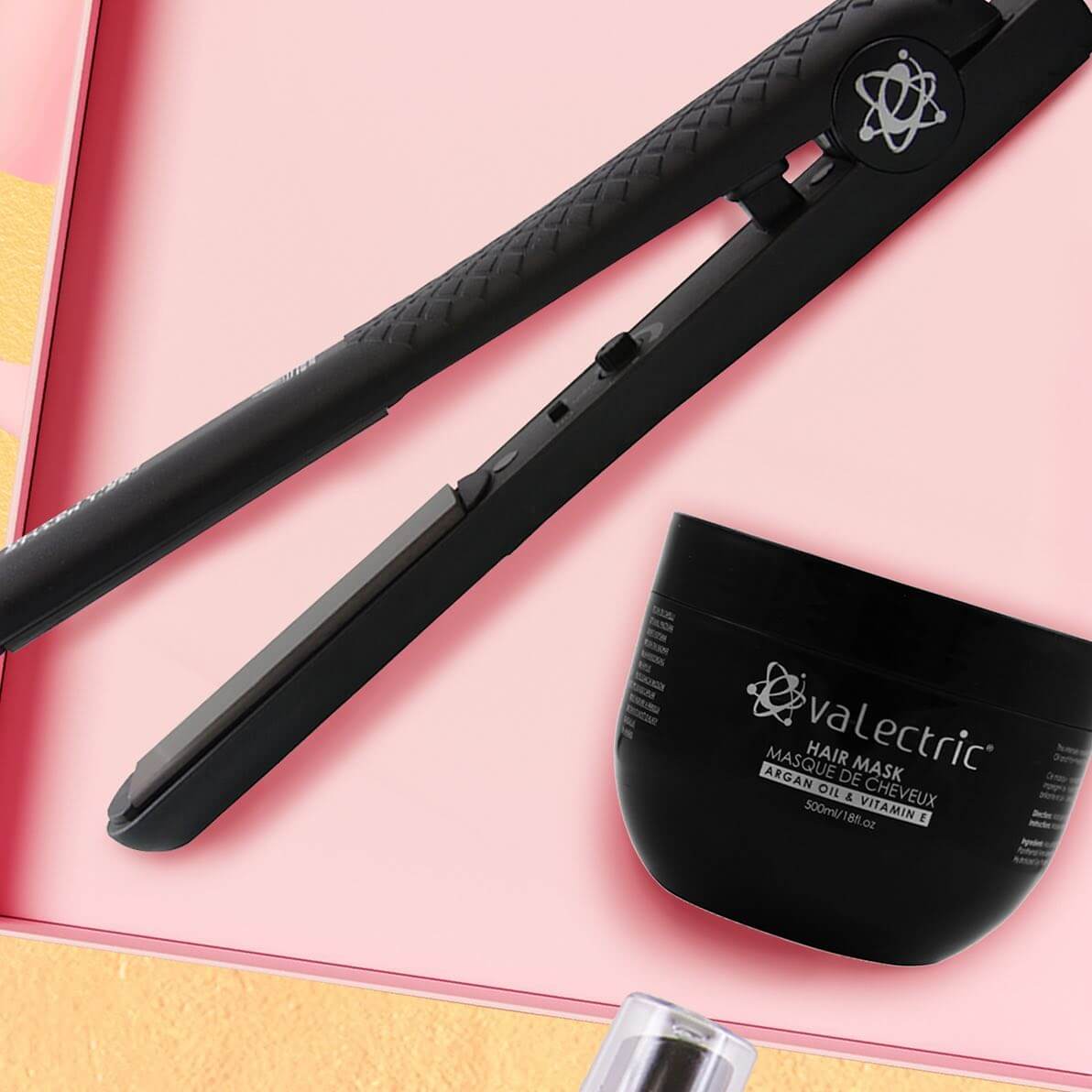 Flat irons don't come cheap. They can cost a pretty penny, especially when you want one that is high-quality and comes from a reputable brand like Evalectric. So, make sure you're protecting your investment by getting a warranty for it.
A warranty is a guarantee that if your product is defective or if you're having any technical issues with it, the company can refund you, or at least help you out with repairing and replacing the item with a new, properly functioning one. That way, your purchase is risk-free and you won't be wasting your money.
A warranty also proves that the brand you're buying from believes in their product. This gives you peace of mind that you're buying from a brand you can trust and that can help you if you're having trouble with your purchase.
Conclusion
Just like you would with skincare, clothes, or even a smartphone, you need to pick out the right size, design, and features when purchasing a new straightener.
It has to work well for your hair type and favorite styles to wear your hair in. It should also have innovative features to keep your hair as healthy-looking and shiny as possible, even after heat-styling.
Keep in mind all the things we listed above next time you're on the market for a new straightener. Make sure the one you're eyeing ticks all the boxes, and your hair will thank you for it.
The awesome thing is that because we at Evalectric know how important these key features are in a straightener, we've designed our flat irons to meet most, if not all, of these standards.
So, what are you waiting for? Shop some of our bestselling flat irons now!
---