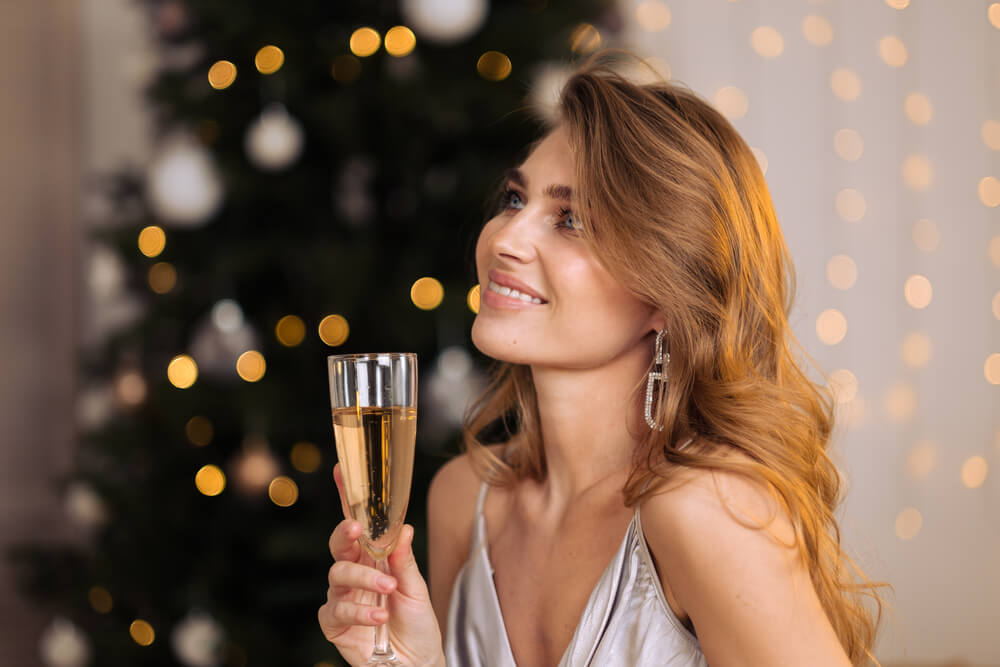 Though we're sure it'll come as no surprise, when the festive season rolls around we can't wait to try out new and exciting hair trends for holidays! 
From chic curled up-dos for evening events to sleek straightened styles that leave our hair loose and free for festive gatherings – Evalectric has all you need to make your tresses look their most stunning this season! Simply scroll on and discover all of our top recommended looks, along with tips on how to create them…
A Chic, Twisted Up-Do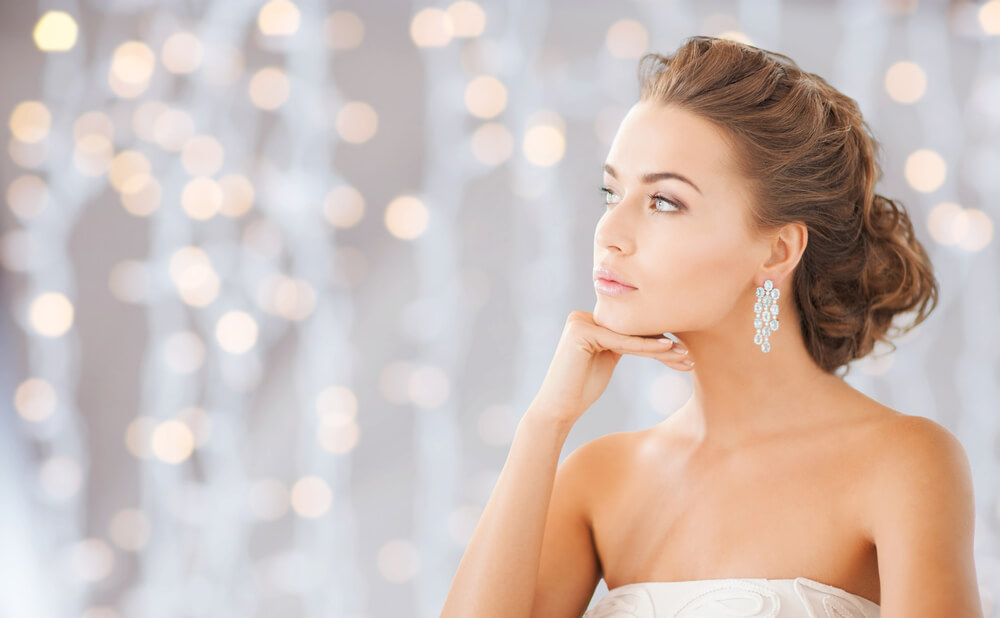 Want to learn some new and exciting hair trends for holidays? 
We have you covered!
Twisted styles are some of the prettiest hair looks out there. This one is simply ideal for party season! Chic and elegant, it's our go-to look for all formal parties and evening events during the holidays. Not to mention, although it looks complicated and intricate, it's pretty simple to learn. Trust us, you'll look as though you've had your hair styled by a professional when you get it just right. And with Evalectric's help, you will!
How to Get a Chic Twisted Up-Do
Much like the majority of the other up-dos on our list, we recommend starting with second-day hair for this look. This will form the basis of a stronger hold for your style, not to mention you should hopefully be free of the dreaded fly-aways on day two!

Part your hair into a relatively deep center parting to begin. If you usually part your hair down the middle you should have an amazing amount of lift! If you generally part your hair to the side, consider switching to the other side for this style. Trust us, you'll be surprised by how much extra volume you'll see

With your parting ready, begin on the side with the most amount of hair

Start at the front, and take a small section around two inches wide. Divide that into two

Begin twisting these two sections of hair over and around one another, moving towards the top of your ear

The key is to add small sections of hair to each twist as you go, so you end up gathering all of the hair by the time you reach the back

Once you do, secure it all in place with a clear elastic. Then, do the same on the other side

When you have your two twisted sections secured at the back, hold them together and twist them into a bun

Use bobby pins (or another clear elastic if you wish) to hold the bun in place

Finally, to get some volume (and wow factor) into your look, carefully tease out the twists and the bun, loosening the sections gently so they sit away from your head!
Soft, Center Parted Curls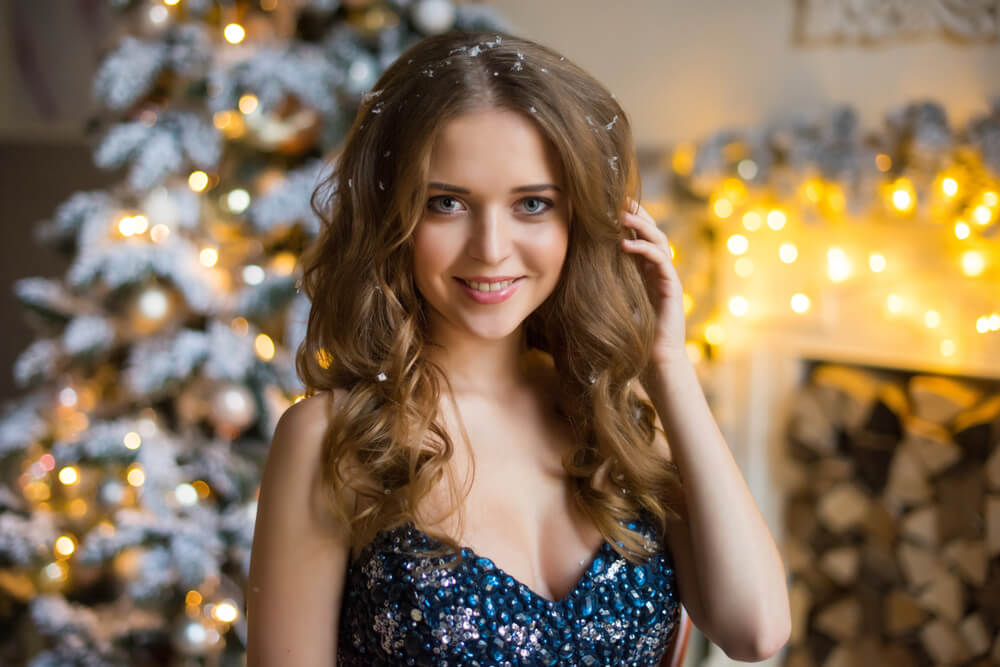 We love simple hair trends for holidays. Especially those that look as gorgeous and versatile as these super-soft, center-parted curls. This look is as perfect for spending the holidays at home with your loved ones in a snuggly sweater as it is for dressing up in sparkly evening wear for a festive party with friends.
Get ready to have the holiday hair of your dreams, Evalectric is about to talk you through how to create this stunning style…
How to Get Soft, Center Parted Curls
Before you get to the styling itself, make sure your hair is freshly washed and conditioned using the Evalectric Moisturizing Shampoo and 

Conditioner

. This will give it the soft, smooth, glossy finish we're after at the end!
Once it's clean and de-tangled, apply some heat protectant to your lengths so they stay hydrated and protected throughout the heat styling process
Next, 

blow-dry your hair

 but try not to direct the heat straight down. This can flatten the hair out. Instead, move the drier around to keep the warm air circulating through your hair so it stays lifted and bouncy

You can even flip your head over at the end and finish drying it this way for extra volume!

Once it's all dry, instead of sectioning it out and being overly precise with the pieces you curl, simply start taking small sections of hair one at a time (roughly an inch wide or slightly smaller if you have fine hair)
Choose your desired barrel from your

4P Infinite Styling Set

, then hold the curler diagonally with the corded end up. Wrap your hair from two thirds up the section, right down to the end
Hold this in place for no longer than ten seconds or you risk frazzling your precious tresses!
Release the curl, then gently hold it up against your head for 10-20 seconds to help it set in place (use a glove or be very careful not to burn your hand!)

Keep curling each section of hair, one forward, then one back. This will stop the curls from falling into one another and creating one giant curl on each side of your head!

Continue curling this way, making some sections slightly smaller and others slightly larger for a more relaxed look

Finish by volumizing your roots with your fingertips and adding a spritz of 

hairstyling spray

 for a gentle hold!
Long Wavy Ponytail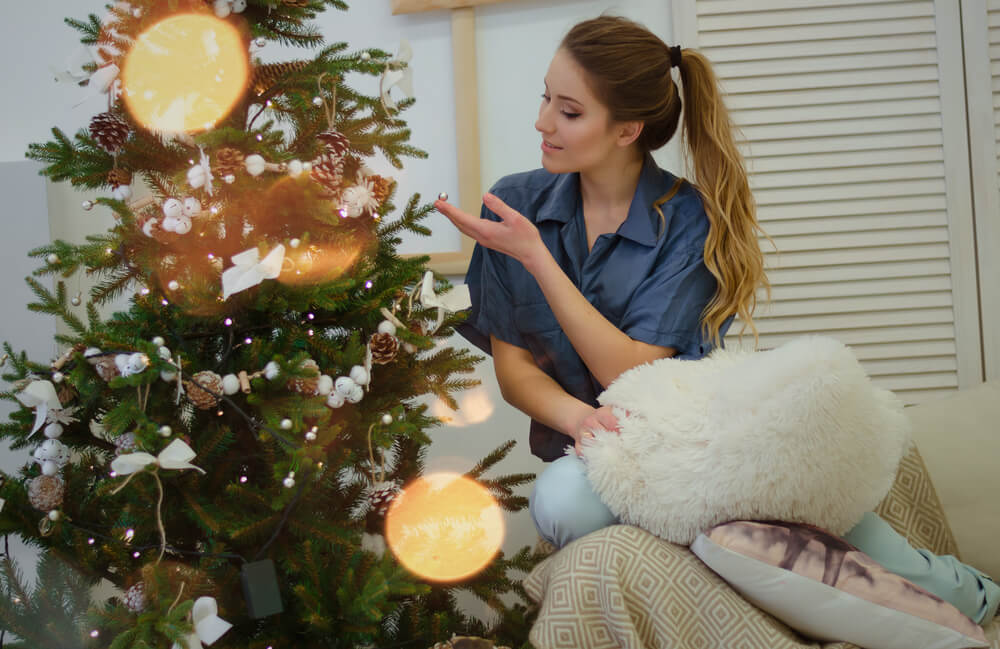 Though we love the beauty and romance of loose hair trends for holidays, sweeping all of our hair up is often a lot more practical and can look just as stunning.
Don't believe us?
Take a look at this gorgeous long wavy ponytail!
It's undeniably pretty and perfect for your holiday plans, whether they're super casual or require you to dress up for the evening. And don't worry, even if your hair isn't what you'd consider 'long', you can still rock this style with a few simple changes. Even better, it's easy to create and will stay put from day to night, thanks to the Evalectric 25-18 Curling Black Wand.
How to Get a Long Wavy Ponytail
For this particular style, we recommend you start with second-day hair rather than locks that have just been 

washed, conditioned,

and dried. The natural oils of your hair will have returned by day two, giving your tresses a little more grip and staying power!
Make sure your hair has been brushed through and is 

free of any knots or tangles.

This will make for a much smoother finish when you comb it all back.

Now for the clever part. This style needs plenty of lift to keep it from looking flat. To achieve this, separate the top half of your hair and secure the bottom section away.

Use a brush or comb to brush it all back, or use your fingertips if you prefer a more casual look. You can even go in for a little teasing on the back roots if you want to see some extra volume!

Take a hair elastic and secure this section of hair in place at the desired height of your ponytail. This will keep the volume at the top of your style without all of your hair dragging it down

Next, take the bottom section of your hair and brush it up to meet the first. Use another hair elastic to secure it in place, making sure to include the first section too

Now, add soft, subtle curls to your pony with the largest barrel on your 

4P Infinite styling set

 for bouncy curls that will last
Finally, smooth a few drops of hair serum through the lengths of your ponytail for a glossy finish that's perfect for the holiday season!
Side Parted Red Carpet Curls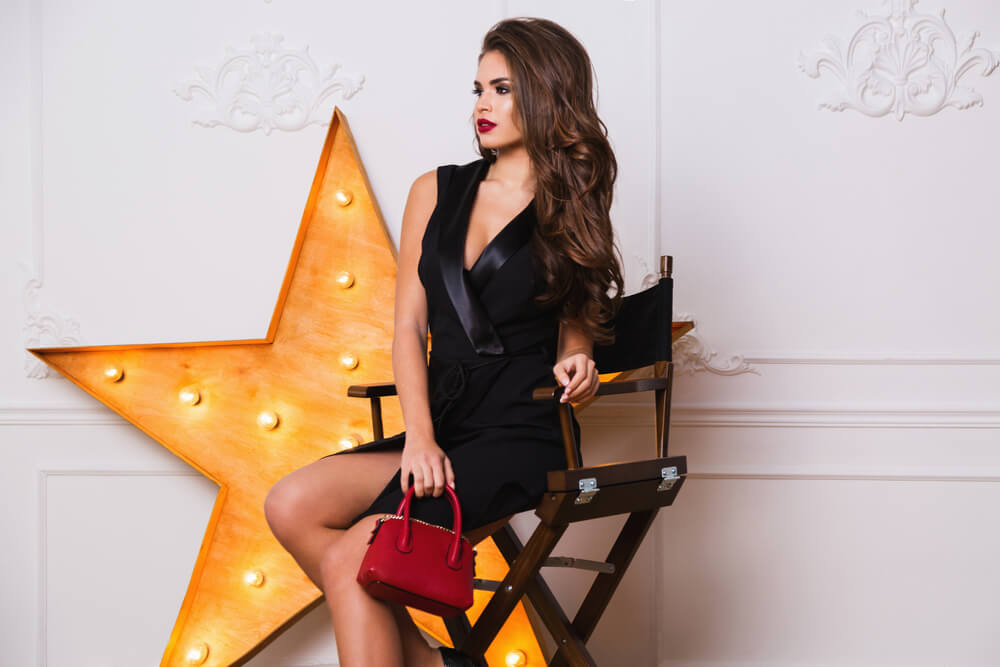 Need a little glamour with your hair trends for holidays?
Look no further than these sultry red carpet-style curls!
Not only are they seriously romantic, but they also take very little time to create. All you'll need is freshly washed and conditioned hair, an Evalectric curler of choice, and a little serum and hold spray for shine and volume at the end. If you hadn't guessed, this is one of our most favorite hair trends for the fall and winter seasons!
How to Get Side Parted Red Carpet Curls
Start by casually flipping your hair over to one side to get instant lift and volume in your roots

Once you have a rough parting, use a tail comb to gently neaten out the line for a more precise and polished look.

Once this is done, you only have the curls to attend to!

We suggest using a curler with a larger barrel such as the 

Grande Styling Wand

 for this look. It creates beautiful sleek curls with plenty of body, perfect for a Hollywood holiday look
Unlike other styles, this time we recommend curling all of your curls the same way for a more uniform look. Also, use larger sections of hair to create and curls that blend into one another for a smooth finish

At the front, curl your hair back, starting at the eye line and working towards the tips

As you reach your ear, start curling slightly further down your hair, so your curls have a sweeping effect from front to back

Once all your hair is curled, use a paddle brush to comb it through, so your curls look soft and glossy
Spritz a little 

styling spray

into your roots to keep the volume, and smooth a very small amount of

serum

 through your curls so they shine under the festive twinkle lights!
Half Up Half Down Bun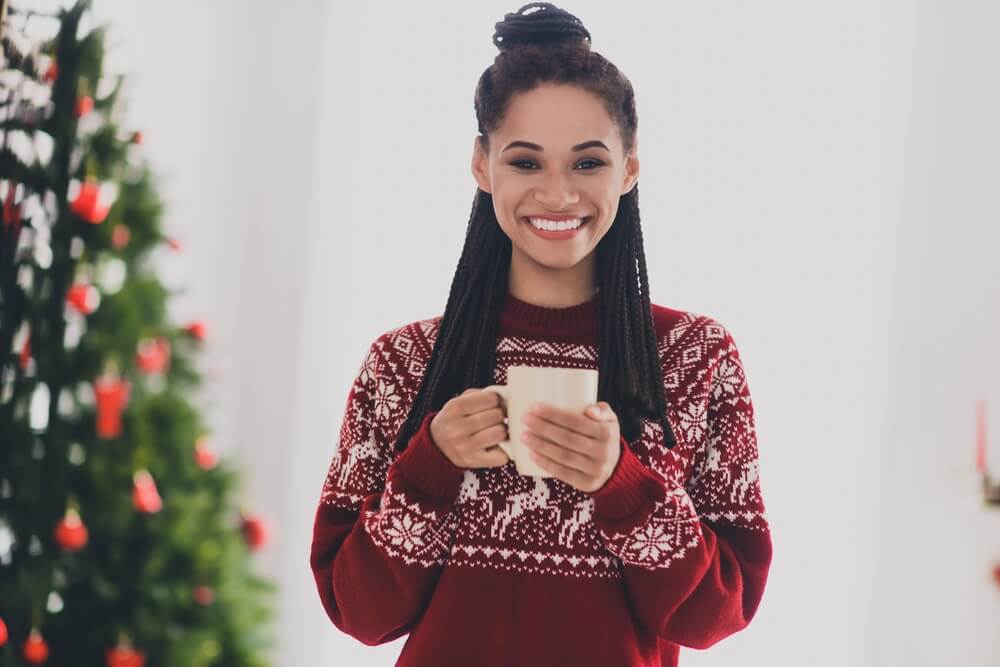 Need more casual hair trends for holidays?
The half-up half-down bun has you covered.
One of the many reasons we love this style is you can create it on any hair length or type! So, no matter if your long or short hair is wavy, curly, straight, the styling process will be the same. We also adore this look for last-minute winter holiday plans. It looks like you made an effort but takes no time at all to create.
How to Get a Half Up Half Down Bun
Start by separating the top section of your hair from the bottom, using the tops of your ears as a guide

Secure the bottom section away

Use a brush or your fingertips (depending on how polished you want the style to look) to get that top section of hair to the desired bun height

Twist your hair clockwise until you can wrap it around itself into a bun

Secure this in place with an elastic and let the bottom section remain loose

For extra style points, pull a few pieces lose at the front to frame your face. You could also add a festive barrette or ribbon to your bun!
Sleek, Straight Hair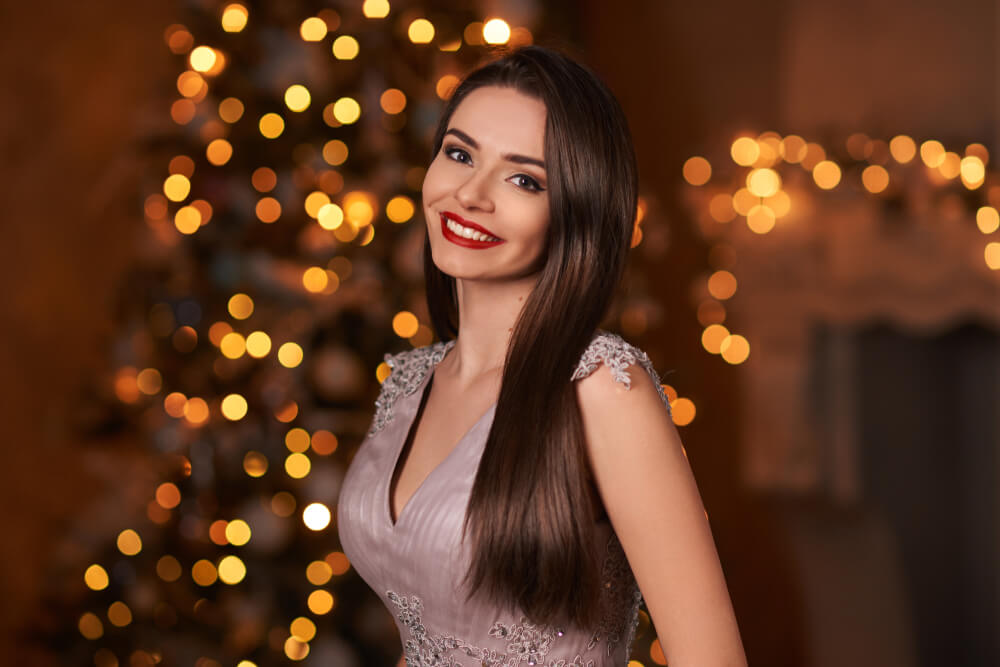 If you ask us, few hair trends for holidays feel as sleek and elegant as super straight tresses. Luckily, all you need is freshly washed hair, a heat protection product, and your Evalectric flat iron of choice to get this glossy look. We also recommend treating your tresses to an intensely pampering hair mask for an extra healthy-looking glow – it is the holiday season after all!
How to Get Sleek Straight Hair
Once you've washed, conditioned, and blow-dried your tresses, go ahead and add some heat protection spray
Next, section out your hair. Straightening one layer at a time will ensure you don't miss any curls or kinks that can ruin the look of your super-straight locks
Start at the bottom, then work your way up, smoothing your flat iron over your hair quickly and precisely so you don't burn any strands
Once all your hair is straight, add a little

serum

 to the mid-lengths and ends for extra shine. You won't believe what a difference it makes to how glossy your lengths look
A Braided Down-Do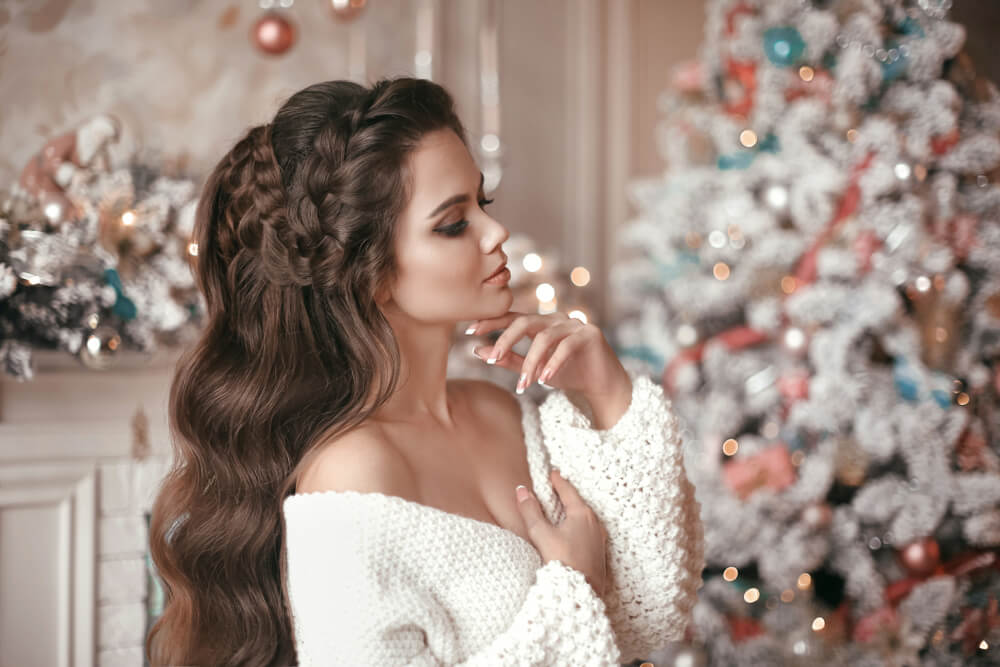 Whether you prefer Dutch or French style braids, we guarantee this will be one of your favorite cold-weather hair trends for holidays. It's the perfect mix of an intricate party look with all the laid-back charm of loose curls and we can't wait to try it out.
How to Get a Braided Down-Do
Start by sectioning out the top half of your hair and securing the rest (the part you want to leave down) away

Now, divide the top section into two larger pieces, one at the front, one at the back

Secure the back piece away for now so you can work on the front

Begin at the front of your parting and braid your hair back, towards the top of your ear. French or Dutch braids will look equally beautiful, just remember that the latter provides a little more volume naturally
Once you reach the nape of your neck, secure the braid here with a clear elastic underneath the section of hair you plan to leave down

Create your second braid and do the same, then repeat on the other side.

When all four braids are secure, let the bottom section of your hair down

You can wear this section straight or curly, but we always recommend bouncy barrel curls with the 

25-18 curling wand

! We love how glamorous and voluminous they are, perfect for the holiday season!
So, which of Evalectric's favorite hair trends are you most excited to try this holiday season? Remember – if you need any new go-to styling tools or hair care products, we've got your back – click here to check out some of our bestsellers.
---